Commentary
Imagine The Boss in Cleveland
Originally Published:
July 14, 2010
By
Jim Caple
| Page 2
The great irony behind George Steinbrenner's ownership of the Yankees is that they weren't his original target. He settled for the Yankees only after he couldn't buy his first choice, the mighty Cleveland Indians, the previous year.
What would have baseball been like had Steinbrenner been able to buy Indians instead? Off-Base takes a look at a parallel universe ...
1972: Steinbrenner purchases the Indians for $12 million and promises to not get involved in the day-to-day operations of the ballclub. He then fires recently-hired manager Ken Aspromonte and hires Billy Martin, which presents a tricky situation because Martin is unfortunately managing the Tigers at the time.
1974: Steinbrenner hires Frank Robinson, making him the first black manager in major league history.
1974: Robinson becomes the first black manager to be fired.
1976: Led by Steinbrenner's first crop of free agents, the Indians win their first pennant in 32 years but lose the World Series to their down-state rival Cincinnati. Steinbrenner, however, is named executive of the year not for that but for changing the Indians' uniforms to white with navy pinstripes from those all-red polyester nightmares.
1977: Cleveland catches New York in the final week and wins the AL East when new Yankee Reggie Jackson goes hitless in a season-ending four-game series, prompting Steinbrenner to describe New York's high-priced free agent as "Mr. August to the Third Week of September." The Indians go on to win their first World Series in 39 years, forcing columnist Terry Pluto to change the title of his future bestseller from "The Curse of Rocky Colavito'' to "The Cuyahoga is Burning.''
1978: The Indians rally from a 13-game deficit to beat the Red Sox for the AL East title, then win their second consecutive World Series, inspiring Frank Sinatra and Liza Minnelli to record the No. 1 hit, "Cleveland, Cleveland.''
1979: Cleveland falls into second place for the first time since 1975 but Steinbrenner says he still has no plans to hire Martin, who has just been fired from the Yankees again. "Only a fool panics by changing a good manager after a single disappointing season,'' he says. "I mean, you can't win every year.''
1980: After the Indians lose on Opening Day, Steinbrenner fires his manager and hires Martin.
1981: Steinbrenner signs Dave Winfield to the largest contract in baseball history but it pays off when Winfield hits five home runs in the World Series, including three in Game 6 when the Indians beat the Dodgers for their third title in five years. "I am so glad I signed a winner and a true champion, who stirs the drinks and always rises to the occasion under pressure,'' Steinbrenner says, "instead of signing Reggie Jackson.''
1983: John Elway refuses to sign with the Denver Broncos (who acquired his rights from the Baltimore Colts), deciding instead to stick with baseball and play for the Yankees, who signed him to play minor league ball the previous summer. "It would be different if I weren't already in the Yankees' farm system,'' Elway explains. "They may be coming off several losing seasons but that just means the path to the majors is wide open.''
1985: Steinbrenner signs another free agent to a huge contract but it pays off when Ed Whitson wins the Cy Young and leads Cleveland to another World Series. "I dedicate this award to the people of Cleveland, the greatest fans in the world,'' Whitson says. "There were times when I lost confidence and probably would have really struggled had I played in a city that wasn't so supportive."
1987: The Cleveland Browns beat the Broncos in the AFC championship when the Broncos go four-and-out on a final drive that starts at their 2-yard-line. "If only we had a great quarterback capable of leading dramatic comebacks,'' Broncos coach Dan Reeves complains.
1988: After beating the Broncos in the AFC championship game again, the Browns go on to win their second consecutive Super Bowl behind MVP Bernie Kosar.
1989: The Cavaliers cement Cleveland's distinction as "Title Town'' when they win the NBA championship. The only difficulty for the Cavs during the playoffs is Game 5 of the opening series with the Bulls, but they pull that out when Craig Ehlo blocks Michael Jordan's desperation shot at the buzzer. Ehlo says his play -- which will become ever known as The Swat -- was made possible because Jordan was distracted by the glare from all the championship rings worn by Cleveland athletes watching from courtside seats.
1991: The movie "Major League'' hits theaters with the story of the lowly New York Yankees overcoming an owner who purposely tries to field a last-place team so she can trigger an escape clause and move to a more lucrative market. The movie goes on to win the Academy Award for best documentary.
1992: The Indians-Pirates World Series gets record-low ratings. "People are just bored seeing these two dynasties play every year,'' a Nielsen representative says.
1995: Browns owner Art Modell signs a 50-year lease to keep his team in Cleveland's Municipal Stadium. "I know a lot of owners are enhancing their revenue streams by blackmailing their communities into building fabulous new stadiums,'' Modell says. "But I just can't in good conscience leave a stadium with such a rich history of champions in two sports as ours. I just can't see us being as successful anywhere else.'' Steinbrenner congratulates Modell saying, "We shouldn't be spending tax money on new stadiums. Spending that money instead on public education is why Cleveland's public schools are ranked the best in the country.''
1997: The Indians lose the World Series when Jose Mesa blows the lead in the ninth inning of Game 7.
2001: The rich get richer when Derek Jeter signs a $250 million contract with the Indians. "I love New York and all the single women there but I just couldn't stand losing anymore,'' Jeter says. "I want to know what it's like to play in the postseason.'' Despite signing with the Indians, Jeter records Bob Sheppard's voice announcing him to be played at Cleveland home games.
2002: Steinbrenner dramatically increases franchise revenues by creating the Ohio United Indians Network. In addition to Cleveland games, the OUI Network begins airing Indianography documentaries on such Cleveland immortals as Duane Kuiper, Rick Manning, Len Barker and Andre Thornton, aka, Mr. October.
2004: The Red Sox trade Manny Ramirez to Texas for Alex Rodriguez, who goes on to lead Boston back from a 3-0 deficit in the ALCS to beat the Indians, who have now gone four years since their last world championship. The humiliating defeat for Cleveland prompts their fans to complain that Jeter is not a "True Indian.''
2007: The Yankees reach the postseason for the first time in 43 years but baseball's lovable losers are knocked out in the division series when a sudden swarm of midges carries away reliever Joba Chamberlain in a late-inning loss to the Indians.
2008: Weary fans in the Northeast gripe about ESPN's Rust Belt Bias and the network's obsessive coverage of the Indians-Tigers rivalry.
2010: Wanting to stay in the city of champions, LeBron James re-signs with the Cavaliers.
CSI: BOX SCORE
You know the drill. Each week you get a fragment from an old box score and must solve the mystery of what game it was from and why it was significant. Warning: We're starting off the second half with perhaps the most difficult one yet. I give this week's a difficulty rating of 9.5, along with a clue: Think about what isn't there. Answer at the bottom of the column.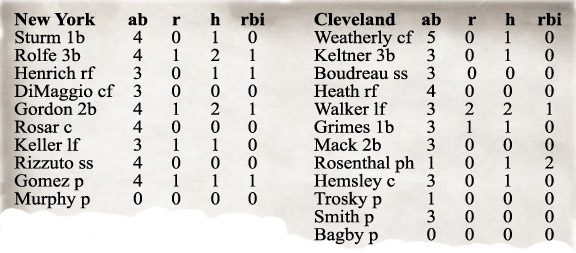 BASEBALL CARD OF THE WEEK
[+] Enlarge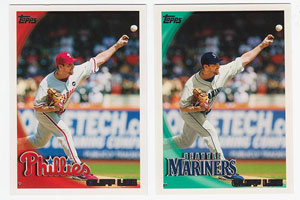 ToppsDon't blink or you might miss Cliff Lee's latest card.
These are the Cliff Lee cards from the 2010 Topps set, showing him as a Phillie (No. 132) and a computer-enhanced update showing him as a Mariner (No. SEA 15). And now they'll have to print another update of him as a Ranger. And then likely print another card next year with another team. Which is amazing. Lee has pitched for four teams in the past year and probably will pitch for five teams in less than two years. And also win a Cy Young award for one team and a World Series game for another. He's not a troublemaker, either. In fact, he was a great influence on the other Mariners pitchers when he was in Seattle. And yet he keeps getting traded. At this rate, I wouldn't be surprised to see him get dealt a couple more times before the deadline, with the Phillies trading four prospects to get him, then trading him away later for three prospects to replenish their farm system.
BOX SCORE LINE OF THE WEEK
San Francisco's Denny Bautista had a nice game last week, throwing eight pitches, all of them out of the strike zone (0 IP, 0 H, 1 R, 1 ER, 2 BB, 0 K). Milwaukee's Chris Narveson got the ball over the plate, not that it helped (3 1/3 IP, 9 H, 10 R, 9 ER, 2 BB, 3 K). Florida's Burke Badenhop needed just two pitches to record two outs and earn a victory Sunday while St. Louis closer Ryan Franklin threw 28 pitches but couldn't get a save (1/3 IP, 6 H, 6 R, 6 ER, 0 BB, 0 K).
All worthy efforts but this week's award is a team award for the Rockies, who scored nine runs in the bottom of the ninth to produce this staggering line:
St. Louis 003 213 000-9 11 1
Colorado 002 000 109-12 19 1
Nine runs in the bottom of the ninth? You don't see that often.
DONNY, YOU'RE OUT OF YOUR ELEMENT
• Under Yankees owner A, New York won 13 pennants and won the World Series 10 times in 24 years. Under Yankees owner B, New York won 15 pennants and won the World Series 10 times in 19 years. Under Yankees owner C, New York won 11 pennants and won the World Series seven times in 37 years. Yankees owner A was Jacob Ruppert, who was a miserly beer baron who gave Babe Ruth a 33 percent paycut after the most popular player in baseball history hit .301 with 34 home runs and 103 RBIs in 1933. Yankees owner B was the equally tight-walleted Dan Topping, Del Webb and Larry MacPhail partnership, which didn't integrate their team until a decade after Jackie Robinson. Yankees owner C was Steinbrenner, who for whatever faults he had, at least handsomely paid players regardless of race. The main point is, except for the eight-year period when CBS owned the team and New York finished under .500 five times and never reached the postseason (aka, baseball's golden era), the Yankees have always dominated the sport. Steinbrenner simply continued the trend through aggressive ownership, albeit not as efficiently until he finally wised up and stopped interfering with his baseball staff's decisions in the mid- and late-90s. With few exceptions (notably the early '70s and '90s), the Yankees have almost usually been a good bet to reach the World Series and the Pirates have usually been an equally good bet to suck.
• One of my favorite moments at the All-Star Game was hearing the recording of Bob Sheppard's voice when Jeter batted. Most PA announcers are forgettable. Sheppard was distinctive and memorable while being respectful and never calling attention to himself, which is a pretty neat trick. He will be missed but thanks to Jeter, we can still hear his wonderful voice.
CSI: BOX-SCORE ANSWER
Give yourself big props if you identified this as the box score from the game Joe DiMaggio's record hitting streak ended at 56 games in July 1941. After going hitless against Cleveland, DiMaggio went on to hit in 16 more consecutive games, giving him a hit in 72 of 73 games. DiMaggio hit .408 during the streak, which is good, but only two points higher than Ted Williams hit the entire season.
Jim Caple is a senior writer for ESPN.com. You can follow him on Twitter at jimcaple.