Commentary
It's time to clean house in Cooperstown
Originally Published:
July 21, 2010
By
Jim Caple
| Page 2
There are two sentences guaranteed to draw a crowd in a bar.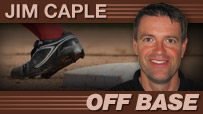 1. "Drinks are on me."
2. "Do you think [FILL IN THE NAME] belongs in the Hall of Fame?"
And by the Hall of Fame, of course, I mean baseball's Hall of Fame, the only one that people care enough to argue over (does any football fan debate whether a player should be in Canton because he played in an era rife with steroids?). As Cooperstown welcomes more members into its already-crowded museum this weekend, here is an even more provocative question. Rather than argue again over who belongs in the Hall of Fame, who should be kicked out of Cooperstown?
1. First of all, let's boot out all owners and executives, especially those who had a hand in creating or maintaining the color barrier. And all those who mercilessly tore the hearts out of cities by moving their teams to other states. And those who stayed but blackmailed communities into building them lucrative new stadiums. And those who cheated players out of richly deserved money with the reserve clause. And those who cheated fans by running their clubs on such a shoestring that it never had a chance to compete. And, well, everyone except Bill Veeck.
I've said it before, I'll say it again. Almost every owner of significance was hated by fans as much as he was loved by them. They are bankers, billionaires and blowhards, and they do not belong on the walls with the players. It's simple; if fans can't argue about which cap should be on your Hall of Fame plaque because you never wore a cap, you shouldn't be in the Hall.
2. That goes double for commissioners.
3. This also means umpires are out, too. Those little beanies they used to wear don't count as caps.
4. Managers can stay, though.
5. Get rid of players with colorful nicknames but questionable résumés. There is a guy named Jay in the Hall of Fame even though he won just 150 games and only technically qualified for the Hall's minimum standard -- at least 10 seasons in the majors -- by pitching exactly one game in three different seasons, including his final two years when he pitched a combined five innings. There also is a guy named Richard who is in the Hall despite going 201-177 with just three 20-win seasons and a lot of very mediocre ones. I bet if they were known by their real names rather than their colorful nicknames, Dizzy Dean and Rube Marquard would not be in Cooperstown. Give them the boot.
However, Goose Goslin (.316, 248 HRs, 1,609 RBIs, 1,483 runs) and Ducky Medwick (.324, 204 HRs, 1,383 RBIs, 1,198 runs) can stay.
6. Remove the generally overrated.
Don Drysdale had some good seasons, no doubt. But in an era when 20-win seasons were the standard, he won 20 games only twice. He had fewer wins, more losses and a worse ERA-plus than Kevin Brown. He had about the same ERA-plus as Bert Blyleven and almost 80 fewer wins. Hal Newhouser was 29-9 in 1944 and 25-9 in 1945, both war years when the majors were so desperate for players that one of his opponents had one arm (Pete Gray). Newhouser pitched 17 seasons and had a winning record in only seven. As colleague and friend Jayson Stark points out in "The Stark Truth," Hack Wilson had five great seasons and seven not-so-great seasons in which he barely combined to hit as many home runs as he did in his famous 56-homer, 191 RBI year. Catcher Ray Schalk's career average was .253 -- the lowest of any Hall of Famer -- and his best season was .281 with 60 RBIs and 57 runs, so he must have received huge bonus points for being one of the 1919 White Sox who did not take a bribe to throw the World Series. Catcher Rick Ferrell was a seven-time All-Star but hit .281 for his career, led the league in passed balls five times and was out-homered by his brother, Wes, who was a pitcher. Give them all the boot.
And finally, remove any overrated Yankees. That means you, Phil Rizzuto.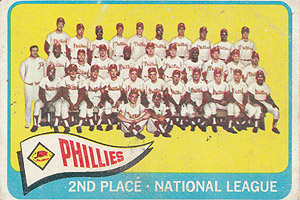 Courtesy of ToppsWhile there are no points for second place, apparently there is a card.
BASEBALL CARD OF THE WEEK
Is this card (Topps 1965, No. 338) just cruel or what? Wouldn't it have been enough to have left the identification simple, like "Philadelphia Phillies"? Instead, they rubbed in Philly's 1964 collapse -- when the team blew a 6½ game lead with 12 to play -- by adding "2ND PLACE" to the front of the card. A disgruntled Philly fan must have been in charge of the design that year.
CSI: BOX SCORE
Here's the deal. I give you a fragment from an old box score. You use your detective skills to figure out what game the box score is from, and why it's significant. After last week's confounding puzzler, here's a much easier box. I give it a difficulty rating of 4.

BOX SCORE LINE OF THE WEEK
Milwaukee's Dave Bush gave up nine runs in the first inning before recovering to hold Pittsburgh to one more run the next three innings (4 IP, 9 H, 10 R, 5 ER, 2 BB, 2 K). But no one can touch Carlos Marmol's performance for the Cubs on Saturday when he turned a 1-0 lead into a 4-1 loss by walking five batters in less than an inning. His line:
2/3 IP, 1 H, 4 R, 4 ER, 5 BB, 1 K, 1 WP
No wonder Lou Piniella is retiring.
DONNY, YOU'RE OUT OF YOUR ELEMENT
• It will be sad to see Lou Piniella leave the managerial ranks after this season. Lou has long been one of the best and most entertaining managers in the game. But managing the Cubs -- dealing with Milton Bradley last year, Carlos Zambrano this year and increasingly bitter Cubs fans every year -- takes a toll. Managing the Cubs can be a death sentence for managerial careers (though Dusty Baker and Jim Riggleman have overcome it) and observing Lou lately it is clear he has lost a little of his passion for managing. For instance, instead of rushing onto the field after a bad call, ripping out first base, tossing it into the outfield, and screaming obscenities at the umpire, he now sits back in the dugout and tells his players, "Hey, we all make mistakes."
• As TBS televises the Steinbrenner episodes on "Seinfeld," it's worth asking how much those shows helped improve his image. Prior to that portrayal, Steinbrenner was so widely vilified that even many Yankees fans disliked him (remember the "Steinbrenner sucks!" chants at Yankee Stadium?). The "Seinfeld" portrayal turned him into a comic caricature. That -- plus a long stretch of success and a cessation of his constant meddling (and firings) -- made him, if not more popular, at least less unpopular.
CSI: BOX SCORE ANSWER
This was the box score from the longest complete shutout in major league history. Carl Hubbell pitched the equivalent of two shutouts by holding the Cardinals scoreless for 18 innings. Pitching fans certainly got their money's worth. This was the first game of a doubleheader. The Giants also won the second game, 1-0, beating Dizzy Dean in a standard nine-inning game. The players evidently were worn out from the first game, which took 4:03 (or about the length of a typical nine-inning Red Sox-Yankees game these days), because the second game lasted just 1:23.
Jim Caple is a senior writer for ESPN.com. You can follow him on Twitter at jimcaple.