Commentary
Miss Iowa USA replies to Miguel Batista
Originally Published:
July 29, 2010
By
Jim Caple
| Page 2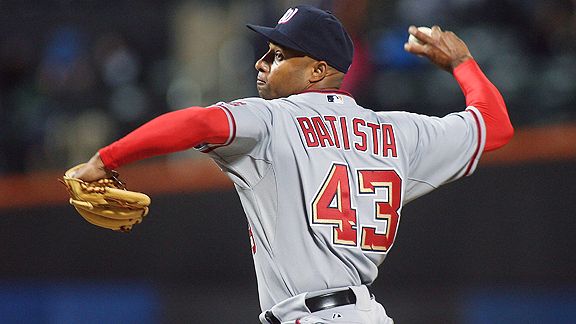 Mike Stobe/Getty ImagesMiguel Batista unwittingly slighted Miss Iowa, but quickly backpedaled with flowers and an apology.
Washington Nationals pitcher Miguel Batista inadvertently insulted a certain beauty pageant winner Tuesday night when he said the following quote while interpreting the boos he heard upon being announced as the emergency starter in place of injured Stephen Strasburg: "Imagine if you go to see Miss Universe, then you end up having Miss Iowa, you might get those kind of boos.''
Quotes like that are one reason why I have always liked Batista. Of course, the current Miss Iowa, Katherine Connors, isn't quite as big a fan. Responded Connors in the Des Moines Register: "I know I can throw a pitch or two! The question is, can Miguel Batista walk the runway in a swimsuit?" (Page 2 hopes we don't find out.)
Batista apologized to Miss Iowa, sending her flowers and explaining to the Washington Post that what he meant was, "People started booing me, and they hadn't seen me throw a pitch yet. It's like you hear 'Miss Iowa,' and you say, 'Iowa?' And then you see her up close and you say, 'Wow, she's gorgeous.'"
[+] Enlarge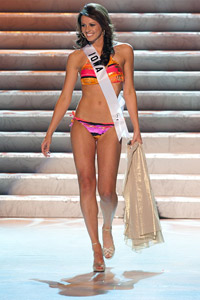 Miss USA Pageant This year's Miss Iowa USA pageant winner, Katherine Connors, won't be booed by Page 2 anytime soon.
For the record, yes, she is. In fact, she's reason enough for a "Field of Dreams'' remake …
JOE JACKSON stands in the sandlot that RAY KINSELLA built on his farm, After so many decades in the wilderness, he can't believe his fortune. He tries to take it all in. The smell of the ballpark in his nose, the coolness of the grass and the thrill of the vision standing in front of him: KATHERINE CONNORS wearing a string bikini.
SHOELESS JOE: Is this heaven?
RAY: No, it's Miss Iowa. But calm down, big guy. She's dating Derek Jeter.
Meanwhile, the Miss Iowa USA pageant responded to Batista's comments by inviting him to serve on the judging panel at the state contest this October. Hopefully, Batista will accept the offer (Lord knows, the Nationals won't still be playing then) because then we could get questions such as these:
"Miss Des Moines, the Deepwater Horizon disaster released hundreds of millions of gallons of oil into the ocean, raising new concerns about our need for fossil fuels and the environmental hazards posed by deep drilling. So tell me, if you were Miss Iowa, do you think it would be ethical to place a foreign substance on the ball when pitching to Albert Pujols with the tying run on second and two out in ninth?"
"Miss Keokuk, the American educational system is receiving increased criticism, particularly in subjects such as math. In fact, students ranked 24th out of 29 countries in a recent survey of math skills. If you were to become Miss Iowa, would you be able to explain how the hell WARP works?
"Miss Cedar Rapids, with the increased popularity of video games and cell phones, American youth are reading fewer and fewer books and gaining less and less appreciation for the written word. So tell me, can you name the major league pitcher who is the author of the book of poetry 'Feelings of Black and White,' and the thriller 'The Avenger of Blood'? Hint: He left Game 5 of the 2001 World Series with a 2-0 lead after throwing 7 2/3 scoreless innings, saved 31 games as a closer in 2005, won 16 games as a starter in 2007 and pitched five scoreless innings in place of Stephen Strasburg? And he's also free tonight after the pageant."
Jim Caple is a senior writer for ESPN.com. You can follow him on Twitter at jimcaple.