Commentary
Comparing Nolan Ryan and Mark Cuban
Originally Published:
August 4, 2010
By
Jim Caple
| Page 2
Sports owners usually become famous only after they buy a team. But the two parties going head-to-head for the Texas Rangers in the bankruptcy auction Wednesday are already nationally renowned.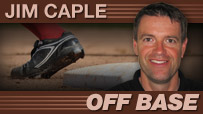 One group is led by Nolan Ryan, the quiet and beloved Hall of Fame pitcher who pitched for 27 seasons, threw seven no-hitters (including one at age 44), struck out a record 5,714 batters, won 324 games and once taught Robin Ventura a very public lesson about proper baseball etiquette. The other is led by multibillionaire Mark Cuban, the outspoken and controversial Dallas Mavericks owner who has taken his team from doormat to perennial playoff team, been fined more than $1 million for insulting referees, competed on "Dancing With the Stars," been thrown through a table at a WWE event and once worked an afternoon selling Blizzards after saying that a league official couldn't successfully manage a Dairy Queen.
Clearly, either would be a welcome change compared to outgoing owner Tom Hicks, who somehow still owes Alex Rodriguez $25 million despite trading him to the Yankees more than six years ago. How would the Rangers operate under each man, though? Off-Base compares the two.
Cuban would bring peace to the arbitration process by going to the hearing, listening to the player's agent make his case and then responding: "Are you sure you're asking for enough? Because I'll pay whatever you want. And I'll throw in an extra plush robe for your locker. Just let me know."
Ryan would bring refreshing perspective to arbitration hearings by saying: "Shoot, in 1973 I won 21 games, pitched 326 innings, struck out 383 batters, threw two no-hitters, made the All-Star team, finished second to Jim Palmer in the Cy Young vote and the Angels paid me $47,000. And I was happy to get it. And you want me to pay you $7 million for going 12-14 with a 4.58 ERA in 197 innings? Son, what do you say we cut through all the B.S., get rid of the lawyers, and you and me just wrestle for it?"
Cuban would sit next to the Texas dugout each game, insulting umpires so often that baseball would finally fund a reliable instant-replay program simply on revenue generated by fines levied against him after his first year.
Ryan would sit in the bullpen, ready and able to take the mound for a couple of innings and strike out batters with 92 mph heat at age 64.
Cuban would add very hot dance teams on the dugout roofs.
Ryan would add dancing groundskeepers.
Cuban would shorten long waits at the concession stands by pitching in to help serve the ice cream sundaes in those mini batting helmets. He also would innovate by serving the sundaes in regulation batting helmets. Would you like your sundae super-sized to the Barry Bonds replica helmet?
Ryan would innovate by selling autographed regulation batting helmets that he personally cracked as a pitcher with 98 mph beanballs.
Cuban would sign every 18-year-old in the Dominican Republic, regardless of the cost, accurately saying it would pay off with division titles for years and years to come.
Ryan would sign Jamie Moyer to a five-year contract, saying, "I think this young man will really help us in a couple of seasons when he fully matures."
Cuban would appeal to free agents by handing out iPads and installing HDTVs and pole dancers at each locker to assure his players have every comfort and technological edge imaginable.
Ryan would replace all TVs with a single 24-inch black-and-white Sylvania in the clubhouse to assure his players spend their pregame in the batting cage or throwing in the bullpen or mowing the outfield.
Cuban would generate extra income by holding WWE wrestling events at the ballpark when the Rangers are out of town.
Ryan would personally hold wrestling matches on the mound when the Rangers are in town. "Any other of you White Sox wanna mess with Texas?"
Cuban would hire a large staff of statistical analysts to search for every possible item of information to judge players and determine the optimum amount of work and rest for a pitcher's development and continued health.
Ryan would rely on scouts and a strict 160-pitch count for the Rangers' pitchers.
Cuban would frequently criticize commissioner Bud Selig for lacking innovation, being too wedded to the past and not marketing the game well enough.
Ryan would think the exact same things but would be too polite to say so in public. Instead, he would settle differences at the owners meetings by putting Selig in a headlock and dispensing noogies until Selig hollered for mercy."Ya'll gonna make the Marlins and Pirates spend that revenue-sharing money? I can't hear you!"
Cuban would outspend every club to turn the Rangers into a perennial postseason team and be a constant pain in the ass to every other owner in baseball while entertaining fans across the nation with his outspokenness. Ryan, meanwhile, would keep the Rangers to a reasonable budget, winning titles occasionally but still not often enough that his players are ever asked for autographs as many times as he is.
BOX SCORE LINE OF THE WEEK
Following the Cubs isn't always rewarding, but it's rarely dull. On Tuesday night, they lost their seventh consecutive game. On Monday night, they lost 18-1 and gave up a team record-tying 26 hits. The day before that they lost 8-7 after starter Carlos Silva left the game in the first inning and checked into a hospital with an abnormal heart rate. The night before that they lost 6-5 when the Rockies' Carlos Gonzalez hit a walk-off homer to complete the cycle (he also stole a base). And the night before that the Cubs lost 17-2 when they allowed 12 runs and 11 consecutive hits, all with two out in the eighth. Several pitchers had a hand in that one, but Andrew Cashner had this award-winning line:
0 IP, 6 H, 6 R, 6 ER, 0 BB, 0 K, 2 HR
According to Elias, there have been more than 3 million half-innings in major league baseball history, but this was the first time 11 consecutive batters have had a hit.
Oh, and in the 18-1 loss to the Brewers, Milwaukee manager Ken Macha reportedly asked to have a fielder's choice/error in the ninth inning changed to a hit, which would have given his team 27 hits and break the Cubs' record for hits allowed.
Put it this way: Silva isn't the only one in Chicago with an abnormal heart rate this season.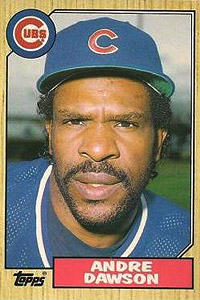 Courtesy of Topps CompanyThe Hawk wore his emotions on his sleeve and his baseball card.
BASEBALL CARD OF THE WEEK
Does Andre Dawson look just a little miffed in this card (Topps, 1987, No. 27T)? Well, he has a right to. A victim of collusion, Dawson hit .287 with 20 home runs for Montreal in 1986 but couldn't get a contract offer from another team for 1987. He eventually offered the Cubs a blank check for his services, agreeing to play for whatever salary they wrote in. The magnanimous Cubs filled in $500,000 (he earned more than $1 million the previous season) plus incentives. For that, Dawson hit 49 home runs with 137 RBIs and won the MVP. He made $1.8 million the next year and $20 million over the rest of his career, so he wound up doing all right. Congrats on entering Cooperstown, Hawk.
CSI: BOX SCORE
The rules of the game: Each week I give you a fragment from an old box score. From those clues, you need to identify what game it came from and why it's significant. Last week I gave you portions of a doubleheader. Here are two more fragments, but they are not from a doubleheader. Instead, they are from games six decades apart. Why have I linked the two? Degree of difficulty: 7.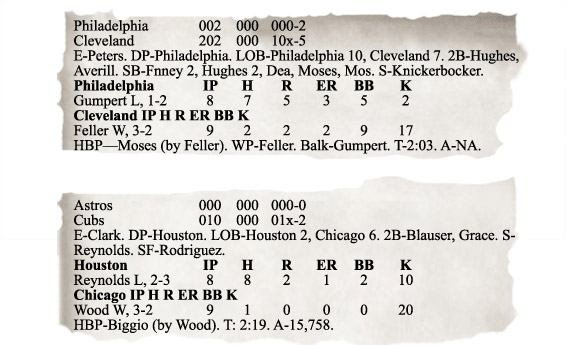 DONNY, YOU'RE OUT OF YOUR ELEMENT
• The most interesting thing about A-Rod's objection to the Rangers' bankruptcy plan (and you'd be concerned, too, if the team owed you almost $25 million) is that the team still owes Mickey Tettleton $1.4 million. Tettleton hasn't played in the majors since 1997, when he hit .091.
• Ozzie Guillen is correct in saying that Asian players get preferential treatment with interpreters. However, that's partly because many of them are established enough overseas to have it written into their contracts as a condition of signing here. Most major league teams do provide language courses in their minor league systems as a way to help Latin players assimilate. And with so many Spanish-speaking players in every organization, players always have someone to communicate with, which is not the case with Asian players. This doesn't make it easy; just easier than it could be. The Mariners also provided an interpreter for Felix Hernandez in his first couple of seasons to help him with the intense media interest, and he now speaks English very well. If you want a feel for the difficulties faced by a Latin player trying to make it in America, rent the very good movie "Sugar."
• These were the attendance figures from Sunday: 32,118; 21,797; 41,019; 37,479; 14,662; 43,338; 35,807; 42,922; 27,560; 36,973; 35,014; 27,964; 38,256; 40,873; 40,374. That's more than a half-million fans in one day, or an average of 34,410 per game. Yeah, baseball is really hurting.
• Hoping to stem speculation that the Mariners will make a managerial change, Seattle general manager Jack Zduriencik said he had an enjoyable dinner with manager Don Wakamatsu and his son Monday night. What the Mariners need is not a new manager, but some hitters. The Mariners are on pace to score only 525 runs, which would be the fewest in the American League since before the DH, and fewer than the Mariners scored in 1994, when they didn't play the last seven weeks of the season due to the strike. It also would be nearly 100 runs fewer than the 1962 Mets scored (617).
CSI: BOX SCORE ANSWER
These fragments are from the games in which Bob Feller struck out 17 batters at age 17 -- yes, 17! -- and Kerry Wood struck out 20 at age 20. Those two games mark the only times a pitcher has struck out his age. (What would be even more impressive would be seeing Jamie Moyer pulling it off.) Oh, and note the attendance for this midweek Cubs game in early May: about 20,000 fans fewer than you would expect today. Let that be a cautionary tale to the new owners that sellout crowds aren't a physical law at Wrigley.
Jim Caple is a senior writer for ESPN.com. You can follow him on Twitter at jimcaple.