Commentary
Learning from the Bad News Bears
Originally Published:
August 25, 2010
By
Jim Caple
| Page 2
Lou Piniella lost his first game of this season 16-5 and he lost his last game 16-5. That would be tough for most teams to pull off but it is child's play for the 2010 Cubs. And by that I mean they play like Little Leaguers. Well, bad Little Leaguers.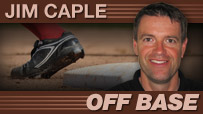 But there is hope. A certain Little League team provides inspiration that even a terrible team can turn things around.
All the Cubs Really Need to Know, They Could Have Learned From the Bad News Bears:
1. Play the kids. Aging veterans have their place but not when you're trying to rebuild a team that hasn't been to the World Series in 65 years. Keep trading the old guys and go with youth. Kelly Leak (12), Ahmad Abdul Raheem (12) and Starlin Castro (20) are the future, not Xavier Nady (31) and Kosuke Fukudome (33).
2. Don't give out ridiculous contracts. At last glance, the Cubs had 10 rookies on the active roster yet even after trading Derrek Lee and Ted Lilly, their payroll for the year is still approximately $130 million. How is that even possible? They owe another $72 million to Alfonso Soriano, who has a full no-trade clause (as if anyone would want his contract). Manager Morris Buttermaker, meanwhile, signed staff ace Amanda Whurlitzer for 12 ballet lessons and a pair of French blue jeans. Every other team in the league ignored Kelly Leak in the draft so the Bears got him for virtually nothing. Are you listening, Jim Hendry?
3. Fight your opponents, not yourselves: How can you build team unity when Carlos Zambrano is always challenging everyone to a fight in his own dugout? You don't have to like all your teammates but as Tanner Boyle showed just before Joey Turner and the other Yankee tossed him into the garbage can, you always have their back in a fight, even if they are a booger-eating spaz.
4. Hire a sympathetic manager: Baseball is hard, especially for young players. When times get tough, a manager shouldn't put more pressure on a player by snarling at him. Sometimes he needs to climb a tree to reassure Ahmad that everything is going to be all right and that he shouldn't retire. (Or in the case of Ryne Sandberg, that he should not come out of retirement.)
5. But hire a firm manager. By the same token, a manager also has to instill discipline. Sometimes when players get out of line you just have to toss beer in their face or grab them and bodily toss them into the dugout or just give up and trade them to Seattle for Carlos Silva.
6. Stay within yourself. In perhaps the most embarrassing moment of the Cubs season (and that's saying something), catcher Koyie Hill forced a San Diego player back to third base in a rundown last week, tagged him out and then walked to the mound to talk with the pitcher. But he didn't call timeout, so San Diego's Will Venable was able to score because home plate was left uncovered. That never would have happened with the Bears because Engelberg was too fat and lazy to ever leave home plate.
7. Take one for the team. The disabled list is tempting and occasionally necessary but sometimes you just have to suck it up and sacrifice your body for the team. Play hurt. And also lean into the pitch if you're hitting below the Mendoza Line.
8. Stick to a pitch count: Sure, it's tempting to stick with young aces game after game until their arms start smoking and Mark Prior winds up on the DL again and again. Resist that urge, though, and let Rudi Stein pitch every once in a while, even if it is the final inning of the championship game.
9. Don't eat chocolate bars on the field. It makes the baseball sticky and hard to control (yes, we're talking to you, Carlos Silva).
10. Have a backup career. Not everyone is cut out for a long baseball career. The world needs pool cleaners, too, Koyie Hill.
11. Inspire yourself with classical music: Get creative with your walkup music. Forget the rap, hip-hop, rock and salsa. Go with The Toreador Song from Bizet's "Carmen.''
12. Be patient. As Buttermaker and Ogilvie point out, Rome wasn't built in a day. It took several hundred years. Which makes a mere 102 years between world championships seem like nothing.
13. Always remember that it's just a game, not boot camp. Don't worry. Relax. Get everyone involved. Let the booger-eating spaz play right field in the big game. Have fun! You're playing baseball at Wrigley Field in front of 40,000-some fans who adore you. And they're drunk!
14. The Yankees suck. Furthermore, they can take their apology and their trophy and shove it straight up their ass. Yeah, just wait until next year. Or the year after that. Or the year after that. Or the year ...
BOXSCORE LINE OF THE WEEK
Until last week, only one manager in the past decade had removed a pitcher with a no-hitter intact in the seventh inning or later (Joe Torre relieved Phil Hughes with one out in the seventh in 2007 with a hamstring injury) -- and then two managers did it in a week. Last week, Ron Gardenhire did it when Kevin Slowey was at 106 pitches after seven innings, and then Ron Washington did it Monday when Rich Harden (6 2/3 IP, 0 H, 0 R, 0 ER, 5 BB, 6 K) was at 111 pitches with two out in the seventh. Both managers made the right move even though Slowey wound up on the DL anyway.
Carl Pavano was on the other end of the spectrum, allowing 15 hits in six innings (6 IP, 15 H, 7 R, 7 ER, 0 BB, 3 K), matching a mark reached by a dozen pitchers in the past decade. And then there was Carlos Marmol, who added to Piniella's angst with another battle with the strike zone Friday, when he both walked the bases loaded and struck out the side (sort of) while blowing a 3-1 lead (1 IP, 1 H, 3 R, 3 ER, 3 BB, 3 K). It was the fourth time Marmol has walked at least three batters in an inning.
This week's award, however, goes to Tampa Bay's Rafael Soriano, who struck out the side Monday without walking anyone or throwing a single ball for that matter. His line:
1 IP, 0 H, 0 R, 0 ER, 0 BB, 3 K, nine pitches
According to ESPN Research, there have been only 44 such immaculate innings in major league history, with three pitchers doing it twice (Lefty Grove, Sandy Koufax and Nolan Ryan).
BASEBALL CARD OF THE WEEK
With Piniella retiring over the weekend, I give you his three rookie cards. That's right, as goldenagebaseballcards.com mentions, Piniella had three rookie cards.
Topps
Topps
Piniella started in 1962 in the Cleveland organization at Class D Selma (.270, 8 HRs, 44 RBIs in 1962), then was drafted by the Washington Senators in the First Year Player Draft and hit .310 and 16 HRs for Class A Peninsula in 1963. That's when he appeared on his first rookie card (1964 Topps, No. 167) in a Senators cap with this description on the back: "Lou looks like a crackerjack prospect.'' Well, he was, but not with Washington because by the time this card came out, he had been traded to the Baltimore Orioles organization, where he had exactly one at-bat in the majors. He was then was traded back to Cleveland in 1966 and spent three years at Triple-A Portland. He appeared on his second rookie card in 1968 (Topps No. 16) with this prediction: "Lou will get his first shot with the Tribe in 1968.'' Well, he did. Sort of. He played in six games and had five at-bats for Cleveland, which then left him unprotected in the expansion draft. The Seattle Pilots picked him and he appeared on his third rookie card with them (Topps No. 394). Note how Topps didn't even bother to use a different photo for the new card.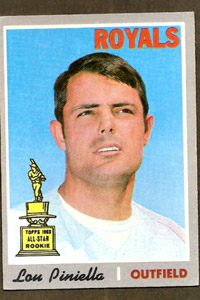 Topps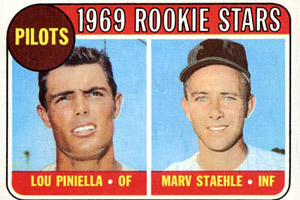 Topps
Lou went to spring training with the Pilots long enough for Jim Bouton to observe in "Ball Four'' that management wasn't too taken with him. "Lou Piniella has the red ass. He doesn't think he's been playing enough. He's a good looking ballplayer, 6'2", handsome, speaks fluent Spanish and unaccented English. He's from Tampa. He says they know they don't want him and that he's going to quit baseball rather than go back to AAA. He says that once you get labeled AAA, that's it.''
Lou and Bouton were right. Pilots management wasn't fond of Lou -- he was, after all, talented -- and so traded him for John Gelnar and Steve Whitaker in spring training 1969 to the Kansas City Royals. Piniella went on to become the 1969 rookie of the year at age 26, five years after his first game in the majors while Gelnar went 3-10 and lost both ends of a doubleheader the day we landed on the moon.
And in 1970, Lou appeared on this card for the Royals with the little trophy signifying he was a Topps rookie of the year. He went on to participate in five World Series (four as a player, once as a manager) and setting records for most bases and caps thrown into the outfield. Enjoy your retirement, Lou. You've earned it but we'll miss you.
CSI: BOXSCORE
Here's how this game works. Each week you get a fragment from an old boxscore and must solve the mystery of what game it was from and why it was significant. I give this one a difficulty rating of 3. Answer at the bottom of the column.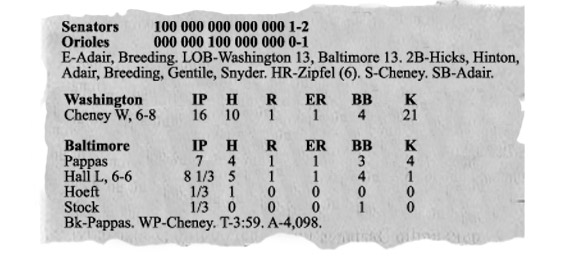 DONNY, YOU'RE OUT OF YOUR ELEMENT
• Nice week for the Pirates. They clinched their 18th consecutive losing season and then someone leaked their financial records, revealing that they made $30 million in 2007 and 2008. If you're a Pittsburgh fan, you must be grinding your teeth over that. But if you're the owner of another team, which would you rather the Pirates do? Take your revenue-sharing money and put it in their wallet rather than invest it in the team like they're supposed to or take your money and try to be more competitive against you?
• Hands up if you weren't surprised by Dustin Pedroia's return to the disabled list due to his broken foot? Everyone wants to come back from an injury as quickly as possible -- being hurt and unable to play just plain sucks -- but Pedroia was asking for a setback. First he insisted on taking grounders while playing on his knees soon after the injury, and then he slid into second on a stolen base in his second game back, which even he called stupid. I feel for the guy, waiting for my Achilles tendonitis to heal is driving me nuts. Which is why the Red Sox should have forced him to be more disciplined with his rehab.
• Here's your chance to have a say in the Hall of Fame voting, or at least for the Frick Award, which honors broadcasters. Beginning Sept. 1, you can vote at the Hall's Facebook site to determine three of the 10 candidates who will eventually wind upon the final ballot that will go to the 20-member voting group.
• I enjoyed some ice cream called "Grandma's Cake Batter'' the other day. Mmmmm. I could just imagine the people at the company sitting around the table, wondering how they can top "Cookie Dough'' as an ice cream flavor. What could we offer that is even better than cookie dough? "Root beer float?'' No, that's been done. "Smores?'' Not sweet enough. "Molten raspberry souffle?'' Too high-falutin. "How about cake batter?" Give that man a raise!
CSI: BOXSCORE ANSWER
You should have gotten this one without too much trouble. Washington Senators starter Tom Cheney struck out a record 21 batters in this game, played Sept. 18, 1962. Sure, it took him 16 innings but no one else has ever struck out that many batters in a game of any length. According to a Wikipedia entry citing a Washington Post story, Cheney threw 228 pitches in the game, or more than twice as many as Harden threw before being removed with a no-hitter intact this week. Although Cheney had his best season the following year (8-9, 2.71) he won only one more game after 1963 and was out of baseball after 1966. His daughter was quoted saying that he blamed the decline of his arm on the 21-strikeout game.
Jim Caple is a senior writer for ESPN.com. You can follow him on Twitter at jimcaple.