Commentary
The case for Pete Rose, Shoeless Joe
Originally Published:
September 8, 2010
By
Jim Caple
| Page 2
My friend Sarge was recently in Las Vegas and saw Pete Rose signing autographs at a shop at Caesar's Palace. Or at least, Rose was available to sign autographs. Nobody was actually buying at the time. Sarge and his wife returned an hour later. Rose was watching the Reds game on TV but there still was nobody buying his autograph. Then again, why would anybody buy one? By now, baseballs and cards NOT signed by Pete Rose are rarer than those signed by Charlie Hustle.
Feeling bad for Rose, however, Sarge broke down and bought an autographed baseball out of sympathy. He said the two talked for about 10 minutes and Rose was very pleasant. "I just felt sorry for him because nobody was buying autographs or even coming into the store," he said. "It was the saddest promotion I've ever seen with no notice anywhere other than a pathetic, small sign hung on the front of the store."
Rose's sad, sordid story adds another chapter this Saturday, the 25th anniversary of the game he broke Ty Cobb's career hits record. Rose is banned from baseball but the Reds received permission to honor him during a pregame ceremony. There was just one problem. Rose already had a commitment. He's being roasted at the Hollywood Casino in nearby Lawrenceburg, Ind. Is anyone surprised by this? The only real question is whether he's reporting the income to the IRS.
Rather than have Rose not be at the ceremony -- or worse, have actor Tom Sizemore and his hairpiece show up in his place -- the casino rearranged its schedule so that Rose can appear at the ballpark and then drive to the roast. Given all that has transpired in the past 25 years, there is no more appropriate doubleheader for Pete Rose on the anniversary of his greatest achievement than to appear at a ballpark and at a casino the same night.
Rose receives a lot of condemnation for continuing to appear at casinos and much of it is justified. I feel some sympathy for him, though. He's banned from earning a living in the only profession in which he's really skilled so he has to pay his bills somehow. I mean, c'mon. It's not as if he can become a hair stylist.
Plus, if so many people are so truly offended by the thought of someone appearing at a casino, then why there are so many casinos in this country and how do they stay in business? It's not like Rose, Charles Barkley and John Daly can be losing money to all of them.
We can continue crossing our fingers and wishing Rose will change and make amends for his gambling by volunteering at Habitat for Humanity to build the Athletics a new ballpark or the Cubs a new spring training facility. Or we can be realistic and realize that isn't going to happen because of his situation, his gambling addiction and his stubborn personality. I'm not suggesting that baseball allow Rose back into the game -- I wouldn't want a known compulsive gambler working for a team -- but after 21 years I don't see any harm in lifting his Hall of Fame ban.
Forever losing your livelihood for gambling is punishment enough compared to other crimes players commit.
The same applies to Joe Jackson. I'm not saying Jackson was innocent but the ongoing Black Sox scandal is that the Hall of Fame has no place for Shoeless Joe on its walls but it does have a spot for Charles Comiskey, the tightwad owner who provoked his players into throwing the World Series by financially abusing them (he also helped maintain baseball's color barrier).
A lifetime ban should not extend beyond the grave. It also should not extend into a museum. Let's finally acknowledge that a player's personal morality is not and never has been a criteria for induction the Hall of Fame despite the Hall's "character clause." If character truly was a criteria, why are racists, drug abusers, adulterers, alcoholics and professed cheats in the Hall?
Rose became baseball's all-time hit king 25 years ago. It's time to finally allow voters to decide whether he and Jackson belong in the Hall. And if they make it, we simply list their baseball sins alongside their achievements thusly.
Joseph Jefferson Jackson
"Shoeless Joe"
Philadelphia, A.L., 1908-09
Cleveland, 1910-1915
Chicago, A.L., 1915-20
Gifted hitter who rose from childhood labor in textile mills to bat .408 in 1910, hit.356 for career (third highest) and also tie all-time record for most male tears generated by a movie about him (originally set by Brian Piccolo). Won World Series with White Sox in 1917 but banned from baseball for his role in throwing the 1919 World Series, along with Charlie Sheen and John Cusack. Only nicknames he hated more than Shoeless Joe were "Dummy," "Einstein" and "That Stupid SOB Who Threw the Series."
Peter Edward Rose
"Charlie Hustle"
Cincinnati, 1963-78
Philadelphia, 1979-83
Montreal 1984
Cincinnati 1984-86
The Hit King holds lifetime record for most hits (4,256) and autographs sold (23,652,511 and counting). Made All-Star team 16 times, hit .300 15 times and won "National League's Worst Haircut" 13 times. Named 1963 Rookie of the Year, 1973 MVP and Caesar's Palace Employee of the Quarter (Fall 2008). Played in World Series six times and won it three times; played in World Series of Poker 24 times and lost each time. Earned nickname "Charlie Hustle" for diving into bases headfirst and shamelessly calling attention to himself by running to first base on walks. Nickname took on unfortunate added connotation when he was banned from baseball in 1989 for betting on games, including own team. Has yet to publicly apologize for betting on baseball or for his horrifying rendition of Brylcreem's "A little dab will do you" jingle.
If you're not convinced this would be a fair compromise, don't worry. If you're still adamantly opposed to Rose ever going into the Hall of Fame, you can take solace in the fact that even if Pete ever were voted in, he probably wouldn't show up to be inducted anyway because he undoubtedly would have a commitment to appear at a casino.
BOXSCORE LINE OF THE WEEK
Sunday would have been a typical game for Felix Hernandez -- he pitched eight innings and didn't allow a run to lower his ERA to 2.30 -- except for one key difference: The Mariners scored enough runs for him to get the victory. It also got him the boxscore line of the week:
8 IP, 4 H, 0 R, 0 ER, 1 BB, 9 K
Does Felix deserve the Cy Young? With less than four weeks left in the season, he's been the American League's best pitcher. At last glance he was second in ERA by just .05 points and led the league in innings (17 more than anyone else), strikeouts and quality starts (four more than anyone else). The one thing that he doesn't have is very many wins (11). But that's not his fault -- the Mariners are averaging just 3.17 runs in his starts and have scored one run or less in nine of them.
Asked how the lack of run support affects him, Felix channeled Crash Davis and said it didn't affect him, that he still had "to make my pitches, keep the team in the game and do my job ... I know those guys are trying, they're trying hard. They want to win, we all want to win. It's just baseball."
Don't rule Felix out of the Cy Young just because he pitches for a terrible team. Put it this way, the Yankees scored as many runs for CC Sabathia by the end of June as the Mariners have scored for Felix all season (95).
CSI: BOXSCORE
Here's how this game works. Each week you get a fragment from an old boxscore and must solve the mystery of what game it was from and why it was significant. After a couple weeks of batting practice, I'm shifting into the pennant stretch with some more challenging boxes. I rate this one a 6.5. Answer at the bottom of the column.

BASEBALL CARD OF THE WEEK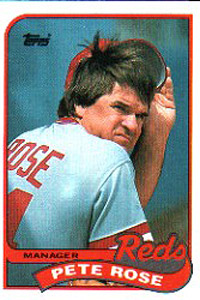 Topps "Aww crap, look at the out of town scoreboard. I'm down nine large."
Isn't this a wonderful photo of Pete? (1989 Topps, No. 505). I'm not sure whether the Reds just lost a game Rose had money on, or John Dowd and Bart Giamatti just said they would like him to explain some betting slips, or Schottzie just left a souvenir in the dugout.
Anyway, here's an interesting thing about the 25th anniversary of Rose breaking Cobb's record 25 years ago Sept. 11: He didn't really break it that day. That's because after a thorough search of past games in the years following, researchers found that Cobb had only 4,189 hits, not 4,191. That means Rose actually broke the record Sept. 8. Which might explain why pitcher Eric Show was so disgusted by the fuss everyone made over Rose's 4,192nd hit.
CSI: BOXSCORE ANSWER
This was the boxscore from the Sept. 19, 1980 game George Brett had two hits to raise his average to .400, the latest in a season anyone has hit .400 since Ted Williams finished the year at .406. Brett slumped after that to finish the year at .390.
Jim Caple is a senior writer for ESPN.com. You can follow him on Twitter at jimcaple.