Commentary
Feeling Giant once again
Originally Published:
September 29, 2010
By
Jim Caple
| Page 2
The Cuban Missile Crisis began the same day Willie McCovey lined out to Bobby Richardson in the bottom of the ninth inning to end the 1962 World Series. I was nine months old at the time. Fortunately for the world, the missile crisis ended more happily than the World Series did for Giants fans. But had we all been killed in nuclear Armageddon, the San Francisco Giants still would have as many world championships in my lifetime as they do now.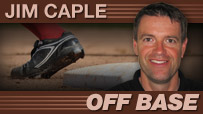 As all Giants fans know too well, they haven't won the World Series since moving to San Francisco in 1958. Thus, with the Giants leading the National League West by two games, I'm hoping for the best and bracing for the worst.
I didn't realize so much pain would be involved when I began rooting for the Giants as a kid in southwest Washington, listening to the fading radio broadcasts from KFBK Sacramento at night, dutifully copying the box scores into my notebook the next day and reading the game stories a couple of evenings later in the out-of-town newspapers at the library. I should have gotten an idea of what lay ahead, however, when my team inexplicably traded Willie Mays to the Mets in 1972 for Charlie Williams. But it was too late by then. What was I going to do, start rooting for the Dodgers?
Mays is one of the greatest players of all time but that didn't matter in San Francisco. The Giants had five Hall of Famers on their roster at the same time several years in the '60s (Mays, Juan Marichal, Willie McCovey, Gaylord Perry and Orlando Cepeda), plus the Alou brothers, and didn't win the World Series. They finished in second place five consecutive seasons, including 1967 when they had Marichal and Perry, and that season's Cy Young winner, Mike McCormick, in their rotation and still finished 10½ games back.
Of course, who wants to finish first with the heartache that accompanies it? The Giants lost the 1962 World Series (delayed three days by rain) in seven games to the Yankees when McCovey hit that screaming line drive to Richardson for the final out with Mays on second and Matty Alou on third in the bottom of the ninth inning of a 1-0 loss. The loss, Roger Angell wrote, was a "gruesome denouement [that] could have been foretold by every lifetime Giant fan."
The ending was so painful that Giants fan Charles Schulz referred to it twice in his Peanuts strip. In one, Charlie Brown and Linus sit silently for the first three panels before Charlie Brown screams, "WHY COULDN'T MCCOVEY HAVE HIT THE BALL JUST THREE FEET HIGHER!!!" A couple of months later Schulz returned to the out. Again, Charlie Brown and Linus sit silently for the first three panels until Charlie Brown screams, "OR WHY COULDN'T McCOVEY HAVE HIT THE BALL EVEN TWO FEET HIGHER?"
The Giants didn't return to the World Series for 27 years. When they did, in 1989, I was covering my first World Series as a baseball writer. I got tickets for my father, brother and brother-in-law and eagerly awaited my first game in Candlestick Park. The Giants were playing in the World Series and I was covering it as a reporter! And then the Loma Prieta earthquake hit minutes before Game 3 at Candlestick. When the series resumed 10 days later, the Athletics completed the four-game sweep over the Giants. At least this time there was no sudden final out to drive us crazy.
The 2002 World Series went off without incident, other than, of course, the way it ended. In Game 6 Barry Bonds hit what may have been the hardest home run in history when he drove a pitch from Frankie Rodriguez (who I still insist should not have been eligible for the postseason roster that year) over the left-field stands and down an entryway to the concession concourse. I was covering that game from the nearby auxiliary press box and went to see who got the ball. That home run put the Giants up 4-0 in the sixth and they went on to take a 5-0 lead with eight outs to go. Walking back to the press box, I smiled and thought, "The Giants are actually going to win the World Series!"
Grrrrr. Scott Spiezio hit a three-run homer in the bottom of the seventh, the Angels rallied to win 6-5 and then beat the Giants in Game 7. Why couldn't Spiezio have hit that fly ball just three feet lower!!!
I still hold it against Spiezio for hitting that home run and I'm not alone. I interviewed pitcher and lifelong Giants fan Chris Bodishbaugh this summer when he was playing for the Golden Baseball League's Victoria Seals. He pitched in an independent league where players earn perhaps $750 to $1,000 a month, when they get paid at all that is, and sometimes have to drive their own vans between games in Arizona and Vancouver. I asked him what pleasures such a league held and he said one was facing Spiezio (who was attempting a comeback). "I pretty much saved everything for him when he got in the box," Bodishbaugh said. "It was fun to get him out, I'm not going to lie." I smiled when he said that.
The Giants also have had crushing defeats before the World Series, losing the 1987 National League Championship Series in seven games and losing a division series three times. They faded late in the 1982 season when my college roommate and I were hoping to drive down to San Francisco for the playoffs. The worst, however, was in 1993, the first year Bonds was in a Giants uniform and the last year before the wild-card system. San Francisco won 103 games that season and had a 9½ game lead on August 7. And they finished in second place (again), one game behind Atlanta. No team since World War II has won so many games without making the postseason, and with the wild card, no team is likely to ever win that many games again without reaching the playoffs.
What is worse, though, coming close but losing out at the bitter end? Or losing so often, you're never even close? Giants fans know the pain of both -- almost half their seasons since 1972 (the year they traded Mays) have been losing seasons (19 of 39), including a 100-loss year in 1985 when Jeffrey Leonard led the team with 62 RBIs.
Of course, worst of all is the threat of losing your team entirely. I don't know why the Giants relocating should have mattered quite so much to me -- as a kid living 700 miles from San Francisco when there was the possibility of them moving to Toronto, and as an adult living 2,000 miles away when they almost moved to Tampa -- but it did. Despite their decades (and success) in New York, they have always been the San Francisco Giants to me and the city has always been a crucial part of the identity, even when I lived several states away.
I must confess that as a baseball writer, my allegiance to my boyhood team isn't as strong as it once was. I've covered too many games from an "impartial" point of view to feel so attached. But the other night I was driving home from Oregon and trying to find the Mariners' game on the radio when I came across the Giants-Dodgers game. It instantly took me back to my childhood when my brother and I listened to the 1971 pennant race with the radio hidden under the blankets in bed. And last Friday night when highlights of a Tim Lincecum victory came on the TV in a bar, I nudged my wife and said, "You know, Lincecum grew up just down the road from us."
So I'm excited again. This can be the Giants year so many of us have waited for. The Giants are in first place with the best rotation in baseball and catcher Buster Posey, who deserves to be rookie of the year. Fifty-two years after moving from New York, after all the near-misses and never-came-closes, after all the pain and misery, San Francisco could finally win it all. That is, the Giants can if they actually score enough runs in support of their pitchers, can hold off the Padres in the NL West, knock off the Phillies/Reds/Atlanta in the NL playoffs, maintain a five-run lead in the seventh inning of the World Series, hit a screaming line drive a few feet higher in the ninth inning and avoid a 7.0 earthquake, five days of monsoon rainfall and a Russian nuclear attack.
Anyway, I've got my fingers crossed. Scott Spiezio isn't playing with any contender is he?
CSI: BOX SCORE
Here's how this game works. Each week you get a fragment from an old box score and must solve the mystery of what game it was from and why it was significant. Without any clues, I give this one a difficulty rating of 7.5. That rating drops to 5.0 with this clue: Gods do not answer letters. Answer at the bottom of the column.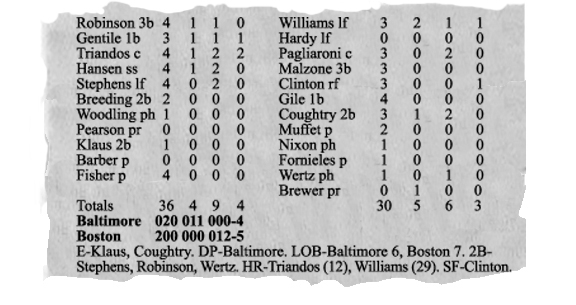 BOX SCORE LINE OF THE WEEK
Same old, same old for Felix Hernandez, who pitched another jewel last Thursday (8 IP, 2 H, 1 R, 1 ER, 4 BB, 5 K) but lost 1-0 -- in his 12 losses, the Mariners have scored a total of seven runs while he was on the mound and no runs at all while he was in the game during his past five losses. Seattle somehow scored three runs for him Tuesday for a 3-1 win, but will 13 wins (14 if he can win Sunday) be enough to get him the Cy Young?
Meanwhile, this week's award goes to Tampa Bay fans for producing this line Monday night when the Rays could have clinched the second postseason berth in club history:
A-12,446.
That crowd prompted third baseman Evan Longoria to say, "We've been playing great baseball all year. Since I've been here in (2006), the fans have wanted a good baseball team. They've wanted to watch a contender. And for us to play good baseball for three years now, and for us to be in a spot to clinch again and go to the playoffs, we're all confused as to why it's only 15,000 to 20,000 in the building." Cy Young candidate David Price commented on the crowd in a tweet: "Had a chance to clinch a post season spot tonight with about 10,000 fans in the stands ... embarrassing.''
Now, it's risky for millionaire players to complain when fans don't spend money in a down economy to watch them play a game. It's just as dangerous for sports writers who sit in the press box eating hot dogs for free to criticize those fans. But why aren't the Rays drawing better? Florida has been hit hard by the recession but so has Detroit, and the Tigers packed their stadium with just under 40,000 fans per game last year.
Is it the stadium? The economy? The location and traffic? A lack of enthusiasm for the team and baseball in the area? Some of the above? All of the above? The fans in Tampa must have their reasons -- all I know is it can't be because the team isn't good enough. If it is the economy, that shouldn't be a problem for Wednesday night's game -- the Rays are giving away 20,000 seats.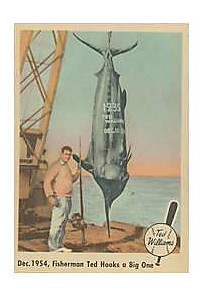 FleerBe it land or sea or air ... the Splendid Splinter was the master of all he surveyed.
BASEBALL CARD OF THE WEEK
I love this card (1959 Fleer, No. 54). As it does now, Topps pretty much enjoyed a monopoly on baseball cards that year so Fleer tried to break it with an interesting strategy. It signed Ted Williams to an exclusive deal -- exclusive for them and for Ted. Fleer's 1959 set featured Ted and only Ted, 80 cards worth. So in addition to cards showing Ted hitting .400, or batting against the shift, or hitting for the cycle, you also got cards of Ted taking an eye exam, Ted flying (and crash-landing) a jet in the war, Ted recovering in the hospital and, in this one, Ted fishing. I'll say this, if anyone's life was worth having its own baseball card set, it was Ted.
DONNIE, YOU'RE OUT OF YOUR ELEMENT
• Over the weekend I saw "The Town," Ben Affleck's new directorial effort. With this and "Gone Baby Gone," Affleck is on his way to reinventing his career as successfully as former infielder Tim Wakefield (or at least Rick Ankiel). I didn't buy the love story for a second -- those two characters getting together is about as likely as Hank Steinbrenner and Larry Lucchino partnering on "Dancing With the Stars" -- but the movie is entertaining and Affleck skillfully moves things along, maintaining a good level of suspense and tension. The movie's climax takes place at Fenway Park, where we witness a robbery and the most violent battle there since Pedro Martinez sent Don Zimmer tumbling to the ground. As the bullets ricocheted and the grenades exploded, I couldn't help thinking, "Well, typical Yankees-Red Sox series." In that final heist, Affleck's crew attempts to steal an estimated $3.5 million in cash after a four-game Yankees series. That sounded a little steep at first, but four sellouts means roughly 160,000 fans. Each one would have to spend just $22 to get to $3.5 million. Even figuring that some would use credit cards, that's barely a beer apiece at Fenway prices.
• Does the wild card add spice to the pennant race? Yes and no. Dividing the leagues into three divisions and including a wild card increases the number of teams in the postseason, which occasionally adds extra drama. But dividing 14 or 16 teams into three divisions can also occasionally lessen the excitement. For instance, while the Padres and Giants repeatedly swap first place in the NL West and also compete with Atlanta for the wild card, imagine if we still had the old pre-wild card NL West. In that case, the Giants, Padres, Reds and Braves would have entered the final week all separated by one game for one playoff spot. Meanwhile, the Rays and Yankees would be fighting for the one playoff spot in the AL East. And yes, I know the season would play out much differently were the teams back in the old alignment, don't let that spoil the fun or the point. More divisions and more playoffs means more participants and more contenders. But it also means that you spread out the good teams, which can sometimes inadvertently throw a damper on everything (such as this season). Just something to keep in mind as people debate whether to add another wild-card team to the mix.
• I was in Pittsburgh last week for an interview with Bill Mazeroski, and as I walked out of the parking ramp outside the stadium, a scalper immediately hit me up, offering me tickets for ... wait for it ... $5. Yes, $5! And that was his initial offer. If I was in the proper mood, I probably could have had him me pay him to take a ticket off his hands. The shame of it is, the Pirates have the most beautiful ballpark in baseball. Here's hoping that one of these days, they can reach the postseason again so everyone can see how wonderful it is.
• Nice promo from the friendly folks at BP, who gave us the oil disaster in the Gulf this year. Cubs fans recently received a scorecard with an attached BP gift card worth $5 to $10. But the Cubs had to win the game for the cards to be worth anything. Naturally, the Cubs lost 13-0, so fans left the game with a worthless card that will provide a nice addition to a landfill and also serve as a nice little reminder from BP that their team isn't any good.
• If you read Dave Schoenfield's piece highlighting Seattle's lowlights at the plate (and check it out if you haven't), here are some more. Troy Tulowitzki has hit as many home runs in September (15) as the Mariners' home run leader has hit (Russell Branyan, 15 with Seattle). He's driven in as many runs (40) as all but three Mariners. And finally, Justin Smoak batted sixth for Seattle's Triple-A farm club. He batted cleanup when the Mariners called him up.
CSI: BOX SCORE ANSWER
This is the box score from Ted Williams' final game, when he went out with a home run in his final at-bat. Williams is one of the few players to go out with a glorious ending. Most everyone else goes out with a forgettable groundout, popout or strikeout. That applies to the great ones, as well. Babe Ruth hit three home runs in one game, including a ball over the roof at Forbes Field, and should have retired then and there. Instead, he hung around for five more games, going 0-for-13 and retiring after a groundout.
Jim Caple is a senior writer for ESPN.com. You can follow him on Twitter at jimcaple.