Commentary
League of extraordinary managers
Originally Published:
October 20, 2010
By
Jim Caple
| Page 2
The Cubs blew it. Mike Quade may be a fine manager but as the past 102 years have proved, managing the Cubs is beyond any single man. If managers such as Lou Piniella, Dusty Baker and Leo Durocher couldn't get the Cubs to the World Series, what hope does one mere mortal have?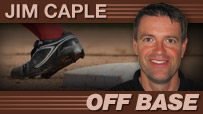 Rather than hiring Quade, the Cubs needed several extraordinary leaders to get them their first world championship in more than a century. They needed to revamp the old College of Coaches. This strategy failed before but that doesn't mean it couldn't work now with the right people. Especially if the Cubs went beyond the usual suspects to hire these, The League of Extraordinary Managers:
Morris Buttermaker ("The Bad News Bears"). There is no one better at turning a team around quickly. He works very well with young players. He'll toss beer on players when they need tough love and loan them his jacket when they need nursing. And not only can Buttermaker manage, he can find, scout and sign players -- he signed his staff ace for just 12 ballet lessons and a pair of blue jeans, and got his best player for virtually nothing after every other team in the league overlooked him in the draft. Can Jim Hendry match that? On the downside, Buttermaker is a hopeless alcoholic who occasionally passes out on the mound, which is something that usually only happens after a manager has been running the Cubs for a while.
Larry Hockett ("Bull Durham"). The credit for Nuke LaLoosh's development always goes to Crash Davis and Annie Savoy but let's be fair: Hockett was the pitching coach in Durham. Working behind the scenes, he was the one most responsible for turning an undisciplined Class A pitcher with no concept of the strike zone ("He hit the Bull mascot twice ... a new league record") into a major leaguer in less than a season. Or do you really think Nuke's turnaround was due to wearing a garter belt while breathing through his eyelids like the lava lizards on the Galapagos Islands? Larry is also knowledgeable in wedding etiquette. Negative: Could go on to become an even more annoying agent than Scott Boras.
Red Blow ("The Natural"): Pop Fisher's bench coach was the real brains behind the Knights' spectacular comeback in their pennant-winning season. Fisher whined much of the season about how he should have been a farmer, stubbornly refused to play Roy Hobbs without bothering to even see whether he had any talent (he wouldn't even let him take batting practice), brought around his questionable niece, Memo (who consorted with gamblers and slept with the players), tried to have his team hypnotized and even suspected Hobbs of using a loaded bat. Red, meanwhile, quietly but persistently lobbied for Hobbs and also went out of his way to make the slugger feel welcome when he was close to leaving the team. (Just be prepared for the headlines every time he makes a wrong move: "Red Blows It Again!")
Lou Brown ("Major League"). I'm not sure if today's players would be motivated to win merely by slowly revealing a naked poster of the owner (thank God Sam Zell isn't in charge any longer), but Brown also is quick to notice mechanical flaws. He corrected Rick (Wild Thing) Vaughn's epic control problems by giving him a pair of glasses. Perhaps he can straighten out Carlos Marmol as well. Downside: Given their fascination with ex-Cleveland managers, the Mariners will probably hire him away as soon as they fire Eric Wedge.
Jimmy Dugan ("A League of Their Own"). A semi-recovering alcoholic, Dugan initially appears to have little to offer. But he loves baseball and could be useful in reminding Carlos Zambrano to stop whining because there is no crying in baseball.
Uchiyama ("Mr. Baseball"): He's a Japanese legend, so famous he goes by just one name (like Ichiro), so that would help Kosuke Fukudome feel more comfortable. More importantly, he was able to handle and win with an aging, arrogant, former big leaguer (Tom Selleck) whom the general manager signed to a ridiculously high salary even though he was a fading, limited star whose best years were well behind him. In other words, Uchiyama is perfect for overseeing the Cubs' $145 million roster.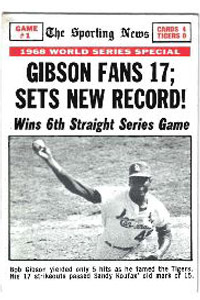 Courtesy of Topps CompanyBob Gibson would have been on the Yankees in a New York minute.
BASEBALL CARD OF THE WEEK
This is one of my favorite cards (1969 Topps, No. 162). I love the design, which looks like a newspaper section front. And Bob Gibson was one of my favorite players in 1968 (Willie Mays and Carl Yastrzemski were the others). And as the impressive performances pile up this postseason, Gibson's Game 1 start still stands out. He struck out 17, walked none, gave up five hits and allowed two runners to second base. How much do you think he could have made on the free agent market?
CSI: BOXSCORE
You know how this works. Each week I give you a fragment from an old boxscore and challenge you to guess the game's significance. Bear in mind these are all postseason boxscores this month. I give this one a difficulty rating of 9.0. Hint: Even true Yankees can be World Series goats.

BOXSCORE LINE OF THE WEEK
David Robertson had a bad night in Game 3 of the ALCS (1/3 IP, 5 H, 5 ER, 5 R, 1 BB, 1 K) but at least he did most of the damage himself. Texas manager Ron Washington used five pitchers to get the first out when the Rangers gave up five runs in the eighth inning of Game 1. Relievers were tumbling out of the Texas bullpen like clowns out of a little circus car. At one point, four consecutive pitches were thrown by four different pitchers, including Darren O'Day and Clay Rapada, who each threw one pitch and gave up run-scoring singles.
But can there be any doubt who this week's winner is? Cliff Lee somehow lived up to the enormous expectations (imagine a Texas pitcher overshadowing a Yankee with more postseason victories than anyone else) by shutting down New York for eight innings while striking out 13 in Game 3 of the ALCS. His line:
8 IP, 2 H, 0 R, 0 ER, 1 BB, 13 K
Lee is 7-0 with a career 1.26 ERA in the postseason. Will he sign with New York during the offseason? Maybe, but he doesn't need to. He already so owns the Yankees that he has to pay real estate taxes.
DONNIE, YOU'RE OUT OF YOUR ELEMENT
• One more line that stood out from Game 3's boxscore? The time of game: 3:18. This was a game in which there was just one walk and eight total baserunners before the ninth inning and yet it still lasted longer than three hours. Yes, the Rangers' six-run ninth inning took time but the game was on a three-hour pace before that. Once again, it isn't the time that postseason games start that is as much a problem as when they end, and the ponderous pace and unnecessary time between pitches is the biggest reason they drag on as late as they do.
• I've got to hand it to Joe Girardi. He really does a fine job in that burrito commercial, one of the most convincing acting performances I've seen by a sports figure. Mariano Rivera, not so much.
• What's the problem in Seattle? Try no consistency of approach. Eric Wedge becomes the eighth manager the Mariners have had since 2002. The Mariners lost 101 games for the second time in three years and saw attendance fall to the lowest level for a full season since 1988, the year before Ken Griffey Jr. reached the majors. And yet Howard (Thick Skin) Lincoln remains in charge.
• The Yankees' 8-0 loss to the Rangers in Game 3 was the most lopsided shutout the Yankees have lost in 361 postseason games but it wasn't their worst postseason loss. Here are five worse ones to warm the hearts of Yankees haters: Game 6, 2001 World Series (15-2); Game 3 1999 ALCS (13-1); Game 3, 2001 ALCS (14-3); Game 1, 1996 World Series (12-1); Game 4, 2000 LDS (11-1).
CSI: BOXSCORE ANSWER
If you guessed this is the boxscore from the game Babe Ruth called his shot, you are wrong (that was in 1932 against the Cubs). This was from Game 7 of the 1926 World Series, when Ruth tried to steal second base with two out in the bottom of the ninth with the Yankees trailing the Cardinals 3-2. Ruth hit four home runs in the series, including three in Game 4, but he was thrown out at second to end the series.
Jim Caple is a senior writer for ESPN.com. You can follow him on Twitter at jimcaple.