Commentary
Ranking the MLB actors
Originally Published:
November 10, 2010
By
Jim Caple
| Page 2
As I blogged last week, Sparky Anderson's death not only took one of baseball's best managers and engaging personalities, it also took one of TV's great actors: His appearance on "WKRP in Cincinnati" is legendary.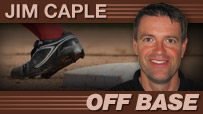 Sparky was just one of many ballplayers/managers to make a mark in TV, though. The two most famous are Bob Uecker, who starred for six years in "Mr. Belvedere," and Chuck Connors, who went on to star in "The Rifleman." But here are 10 notable ballplayers/managers whose TV appearances were far more limited -- and often for good reason:
1. Sparky Anderson: His appearance as the host of WKRP's short-lived call-in show, "The Bullpen" ("Brought to you by Sunluxe Petroleum -- makers of gas, heating oil and a crude but hearty wine"), is very good. But his best line comes when he meets WKRP secretary Jennifer Marlowe (played by '70s sex goddess Loni Anderson). She tells Sparky she went to every Reds home game until he left, and he immediately replies, "Section 110, Row 6, Seat C." Sparky also had a brief cameo on "The White Shadow," in which Coolidge mistakes him for failed independent presidential candidate John Anderson.
Why was Sparky so good? Steve Rushin may have provided the answer in his terrific 1993 Sport Illustrated portrait of Sparky in which childhood friend Billy Consolo reveals that he and Sparky played at a sandlot near the MGM studio, where the Little Rascals and other child stars also played. While Rushin writes that Consolo "cannot confirm with certainty that Spanky played with Sparky ... 'I know we did play with Buckwheat.'"
2. Keith Hernandez: Hernandez appeared in the classic "Seinfeld" two-parter "The Boyfriend," which provides a great running commentary about Jerry's awkward man-crush after he and Keith become friends and the ex-ballplayer subsequently asks Elaine out on a date. His "I'm Keith Hernandez" line will live forever, but don't forget his important role in the brilliant "Double-Spitter" send-up of the JFK assassination.
3. Wage Boggs: Boggs was one of the major league ringers recruited by Mr. Burns for the nuclear plant softball team on "The Simpsons" episode, "Homer at the Bat." He winds up getting punched out by Barney during an argument at Moe's over who was Britain's greatest prime minister, Lord Palmerston or Pitt the Elder. I asked Boggs about the episode once and he said, "People will come up and say, 'Weren't you on "The Simpsons"?' And I'll say, 'Yeah, among other things.'"
Among those other things was a cameo on "Cheers" in which the gang at the bar, thinking he is an impostor, steals his pants. Which wasn't the only costume issue that episode. As "Cheers" writer and baseball broadcaster Ken Levine detailed in his blog, Margot Adams later claimed in a Penthouse interview a few years later that "Boggs asked her for a pair of panties because he had promised the guys on the team that he could come back with Kirstie Alley's panties. I was on the stage when Kirstie read this. Her expression was priceless. Kirstie was very cool about stuff like that. From then on I would occasionally say to her, 'Listen, Kirstie, I'm going to my high school reunion and at graduation I promised the guys that I would bring a pair of your panties to the reunion so if you wouldn't mind ... ?' She always laughed..."
Stay classy, Wade.
4. Leo Durocher: The Dodgers' proximity to Hollywood made them convenient for TV cameos, and Durocher was ready whenever Don Drysdale wasn't (see No. 6). Mr. Leo appeared on "Mr. Ed," in which the talking horse gets a tryout with the Dodgers and homers off Sandy Koufax. Durocher also appeared on "The Beverly Hillbillies"; on the show, he tries to sign Jethro as a pitcher. He performed a similar role on "The Munsters" when Herman shows his baseball talent. Says Durocher of the Frankenstein-esque Herman and his family: "They all look like wetbacks from the petrified forest," a line we can fortunately say would not make the airwaves today.
The question, though, is why Durocher always appeared in these shows representing the Dodgers when he was just a coach and Walter Alston was the manager? My guess is it was because Durocher had decades-old Hollywood connections -- he was once married to actress Laraine Day and was a friend of actor George Raft. At least, I hope that was the reason. The prospect that Alston was simply too bad for such cameo roles even by ballplayer standards is just too frightening to consider.
5. Mark McGwire: "Homer at the Bat" is the best-known Simpsons baseball episode, but McGwire's brief cameo in the 1999 episode "Brother's Little Helper" stands as a great commentary on the public's willingness to turn a blind eye to anything. McGwire was at the peak of his popularity and steroids were of no concern (fans and the media essentially declared they didn't care about performance enhancers the previous summer when they shrugged at reports that Big Mac took andro). After Bart takes a drug to treat his attention deficit disorder, he grows paranoid and becomes convinced that Major League Baseball is spying on Springfield. He hijacks a tank and shoots an MLB satellite from the sky. But McGwire then appears and distracts the citizens by asking, "Do you want to know the terrifying truth, or do you want to see me hit some dingers?" Their answer? "Dingers!"
McGwire also appeared on the lame "Mad About You" in the 1998 episode "Virtual Reality II," in which he gets to kiss Helen Hunt. He was much more credible in that role than when he appeared before Congress on C-Span.
6. Don Drysdale: The apparently always available Don Drysdale appeared more often in '60s prime-time than Mr. Drysdale on "The Beverly Hillbillies." He appeared on four episodes of "The Donna Reed Show," once on "The Rifleman" and once on "The Millionaire." He also had a bit on "The Greatest American Hero" in 1981. But his most famous cameos were on "Leave It to Beaver" and "The Brady Bunch."
In "The Long Distance Phone Call," Beaver and his friends pool their money to place a long-distance phone call to Drysdale in the Dodger Stadium clubhouse after glancing at the front page of the Mayfield Press, where there is a headline in a font size normally reserved for the start of a war: "DON DRYSDALE'S HOME RUN BEATS GIANTS." While it seems odd for the show to make up a headline about a Hall of Fame pitcher slugging a home run, Drysdale did hit 29 home runs in his career, including five in 1961, the season before this episode aired. How did Beaver & Co. know Drysdale would be in the Dodger Stadium clubhouse? Because the only slightly smaller sub-headline screamed: "Today's game being played at Dodger Stadium in Los Angeles." As if the Dodgers would play a home game anywhere else. Must have been a very slow news day in Mayfield.
In "The Dropout," Drysdale shares some baseball experience with Greg Brady as a favor to Mr. Brady, who has designed Drysdale's new house. So what is more unlikely -- a Brady throwing a slider at age 14 that would impress a big league pitcher, or Drysdale hiring the same man who designed the Brady split-level to be the architect for his own home?
7. Ken Griffey Jr.: Griffey had a walk-on role on "The Fresh Prince of Bel-Air," in which he tosses a couple of baseballs at a carnival booth at Will Smith's school. He also appears in "Homer at the Bat," in which his jaw grows to abnormal size after drinking Mr. Burns' "nerve tonic." But all that pales in comparison to his performance on "Harry and the Hendersons," in which he and his father apparently teach proper baseball fundamentals to Harry (a Bigfoot living with a suburban Seattle family), including how to hit the cutoff man. I didn't see the actual episode, but that plot description is simply ludicrous. I mean, I can sort of buy Bigfoot playing baseball. I can even accept a horse homering off Sandy Koufax. But Junior hitting the cutoff man? Please.
8. Derek Jeter: Jeter hosted "Saturday Night Live" shortly after the Yankees lost the 2001 World Series. He hit baseballs into the audience during the opening monologue, appeared in a lame skit about a taco restaurant called "Derek Jeter's Taco Hole," and dressed in drag for a routine about the Yankees wives. Jeter also appeared on "Seinfeld"; George offers hitting advice to him and Bernie Williams. Jeter responds to George's arrogance by saying, "We won the World Series," to which George replies in disgust, "In six games." Jeter would rank higher, but Bernie's delivery of his single line -- "Are you the guy who put us in that Ramada in Milwaukee?" -- easily outshines his teammate.
9. Barry Bonds: Fortunately, I never saw Bonds on "Renegade" or "Beverly Hills 90210" or "Between Brothers." But I did, unfortunately, see him in "Bonds on Bonds." And I'm willing to go out on a limb and say his most believable role was when he played arrogant ballplayer Rondell Hightower on "Nash Bridges."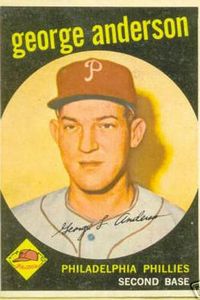 ToppsSparky Anderson lived and breathed the game of baseball.
10. Alan Trammell and Lou Whitaker: Perhaps the most embarrassing ballplayer cameos ever were in this episode of "Magnum P.I.," in which Trammell and Whitaker give Tom Selleck a pair of tickets after he fails to recognize them at a bar. As my friend Sarge says, this scene features some truly appalling acting. And Trammell and Whitaker aren't very good, either.
Honorable mention: Jim Lefebvre appeared on "Gilligan's Island" as a cannibal and on "Batman" as one of the Riddler's henchmen (I think he was "Across"). Steve Garvey appeared on "Baywatch," "Star Trek: The Next Generation" and "Fantasy Island," but alas, not on "All My Children."
BASEBALL CARD OF THE WEEK
Rest in peace, Sparky.
CSI: BOX SCORE
Here's how this game works. Each week you get a fragment from an old box score and must solve the mystery of what game it was from and why it was significant. Consider this one a softball, with a difficulty rating of 2. Answer at the bottom of the column.
CSI: BOX SCORE ANSWER
You'll kick yourself if you didn't get this. This is the box score from the second game of the 1941 season-ending doubleheader between the Red Sox and Athletics. Ted Williams famously entered the day hitting .39955, which would have rounded up to .400 if he had chosen not to play. Instead, he played both games, saying, "If I can't hit .400 all the way, I don't deserve it." He had six hits in eight at-bats, including 2-for-3 in this finale to finish the season at .406, the last time any player has hit .400 in a season.
Jim Caple is a senior writer for ESPN.com. You can follow him on Twitter at jimcaple.