Commentary
Struggling with academics vs. athletics
Originally Published:
December 3, 2010
By
Jim Caple
| Page 2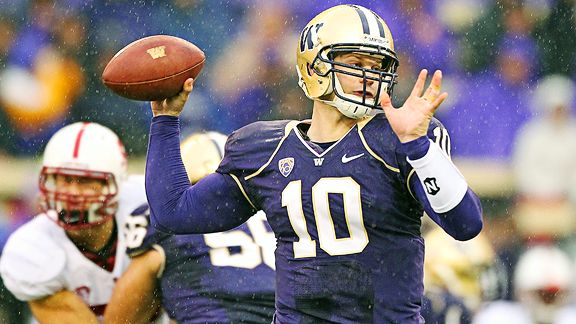 Otto Greule Jr/Getty ImagesJake Locker may be out of the Top 25 in football, but he made it for academics.
The Times of London recently ranked my alma mater, the University of Washington, 23rd on its list of the 200 finest universities in the world. Let me repeat: My school is No. 23 in the world and the fourth-highest-ranked public U.S. university. If only those big foam hands had more fingers on them, I would drive down to Eugene, Ore., and wave them in the face of every one of those damn Ducks.
On the other hand, this marks the ninth consecutive year my Huskies will finish their football season unranked in the AP Top 25 poll. They have been ranked for only one week in the past seven years. So perhaps I'll just stay here in Seattle and avoid anyone from Oregon until after the Ducks get beat in the BCS title game (or better yet, lose to the Beavers on Saturday).
SPORTSNATION: BOOKS VS. SPORTS
Making a BCS bowl may mean fame and fortune for your school, but is that what you want your alma mater to be known for? Vote for where you think the attention and money should go.
• VOTE NOW
Now, which Top 25 is more important? To be among the top 25 in a sport played virtually nowhere else in the world, through a ranking determined by biased sportswriters, many of whom only see some of those 25 teams play? Or for your school of perhaps 40,000 students to be ranked among the top 25 universities in the entire world based on its faculty, research, academic citations, diversity and innovation? The answer, I suppose, depends on whether your team is headed to a decent bowl game and whether you can afford to go as well after paying your tuition/outstanding student loan.
What is more important, personally, your school's academics or its sports? Publicly, we all say academics (well, aside from people in Alabama). But privately, our actions say otherwise. Quick, to which have you have donated more money since graduation -- your alma mater's academic fund or your office NCAA tournament pool? And which do you have hanging somewhere in your house -- your diploma or several bowl game souvenir T-shirts?
Heck, UW president Mark Emmert just left my university to take what is believed to be a higher-paying job as -- wait for it -- president of the NCAA. In other words, he left a prestigious university facing budget cuts and rising tuition to oversee a college sports world taking in so much money even Cam Newton's father would say "OK, I'm good."
And yet there still is not enough money for the schools. According to an NCAA report, only 14 of the 120 FBS schools took in more money than they spent last year. That doesn't seem possible given all the TV revenue, bowl payouts, tournament rights, ticket prices, mandatory facility fees on tickets, mandatory donations for premium tickets, booster funding, T-shirts, sweatshirts, team flags and bobbleheads. But you can understand the problem without an economics degree from Stanford (No. 4 on the Times of London list).
Every cent athletic directors take in they immediately squander on the sort of escalating arms race that usually ends in empire collapse, world war or $640 toilet seats (with $50 toilet paper with your rival's logo).
Washington's rival to the south is a prime example. Thanks to the support of Nike CEO/alumnus/sugar daddy Phil Knight, Oregon has risen to become the AP's top-ranked football team. The UW likes to call itself the Harvard of the Northwest. Well, Oregon is now the Alabama of the Northwest.
When I was a student at Washington in the early '80s, we beat Oregon so often we never even considered it a rival. Now the Ducks beat us so soundly and so regularly that they are our most hated rivals. I'm always amused when other Husky fans whine about Oregon fans' arrogance and rude behavior, because I know these complaints are the exact ones Ducks fans had about Washington in the good old days. Blowback really sucks.
Oregon, I must note, is nowhere to be found on the Times of London's list. So calm down, Ducks. And remember, don't wear your 2010 Pac-10 championship T-shirt when applying for a ditch-digging internship on property owned by a Husky.
The problem with the success of Oregon and such programs is that they prompt other schools to respond in kind by building bigger and better facilities at greater and greater expense. For instance, Washington wants to remodel Husky Stadium, which is often listed among college football's best, at a cost of $250 million.
You know who always winds up paying that bill. It doesn't matter where you move after graduation; the school fundraisers will track you down to hound you for money. If the U.S. had put a college fundraiser in charge, we not only would have found Osama bin Laden years ago, he would have donated enough money to some school for seats on the 50-yard line.
But why are so many schools spending so much on facilities anyway? Why are we paying coaches millions and millions when their not-so-distant predecessors earned far less? Who is benefiting from the self-driven rise in costs? And how? We're still playing the same schools. The players still are not paid (wink, wink). The concession stands still charge way too much for a soda.
How is all this money making any part of the college sports experience better?
If we were talking about professional sports it would be one thing. Pro salaries may be obscene, but teams spend their own money. But we're often talking about public money in collegiate sports. As that NCAA report reveals, even when the athletic department is supposedly self-funded, programs still needed a median of $10 million in institutional subsidies to cover their costs last year. They also feast off the academic associations. After all, where else would those college fans come from if not from current and former students? Even the many fans and boosters with no personal link to a school require a university logo on their six-piece tailgate dinnerware set, picnic hamper and barbecue grill.
How to curb the arms race? One solution is for the NCAA to stop investigating years-old violations -- I think they're still looking into whether Jay Berwanger received a free raccoon coat at Chicago -- long enough to issue a new rule: For every dollar spent on building or remodeling an athletic facility, the department must donate the same amount to the university's academics, either for the construction of needed buildings or for tuition subsidies. Every dollar spent on a revenue coach's contract must be matched by a fund for faculty, preferably for the low-paid graduate assistants who do most of the actual teaching at large schools. For every dollar a shoe or apparel company pays the athletic department to wear its product, it must pay the academic department.
This will not end the arms race -- not as long as Knight and Boone Pickens are around -- but it would slow it considerably. More importantly, any further arms spending would also benefit the students.
People have complained about the excesses of college athletics since Joe Paterno's clothes were actually in style. Can we please finally do something that will make college sports better instead of just more expensive? With all those team flags out there, can we at least fly one for the academic department that, after all, is kind of the reason there can be an athletic department?
By the way, did I mention the Huskies are ranked 23rd in basketball?
Jim Caple is a senior writer for ESPN.com. You can follow him on Twitter at jimcaple.