Commentary
One outrageous year in sports
Originally Published:
December 28, 2010
By
Jim Caple
| Page 2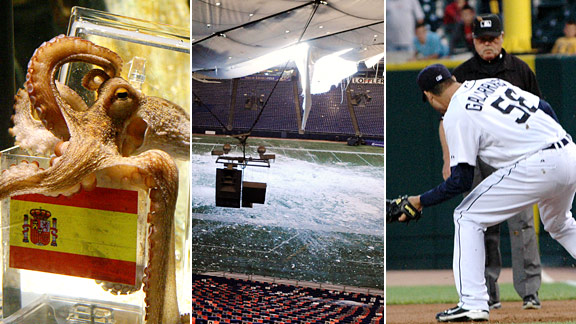 Getty ImagesYes, all this actually happened in 2010: Paul the Octopus, collapsing roof, blown perfect game.
The past year was the most outrageous in history, in that virtually everything outraged us.
You name it -- whether it was the BCS system or the national health care system, running up the score or running up the deficit, blaring vuvuzelas or angry cable news "analysts," tripped football players or leaked classified documents, LeBron James leaving for Miami or Tea Partiers heading to D.C., spilled $9 stadium beers or gushing oil wells, major league umpires and World Cup referees or incumbent politicians and new candidates, Yankees and Patriots or Democrats and Republicans -- Americans were outraged by absolutely whatever and whoever happened to fall in that day's crosshairs.
In fact, you probably were so outraged that you may not even remember these moments from the past year in sports ...
Jan. 1: Americans are outraged when they wake up to find they are tired and hung over after having welcomed the new year in the traditional manner by blowing vuvuzelas, shooting off guns in the Washington Wizards' locker room with Gilbert Arenas and intentionally vomiting on Phillies fans.
Jan. 8: Alabama beats Texas 37-21 in the BCS Championship Game but only after coach Nick Saban successfully negotiates a new, more lucrative contract during halftime. Meanwhile, an undefeated and outraged Boise State loudly complains that the BCS system unjustly prevented it from playing for the championship so it could miss two consecutive, last-second gimme field goals.
Jan. 11: After years of silence, Mark McGwire finally talks about the past, tearfully admitting to Bob Costas he made a terrible mistake that time he agreed to make a cameo appearance on a sitcom as lame as "Mad About You."
Jan. 12: Coach Pete Carroll releases his complexly titled book, "Win Forever: Or At Least Until You Face NCAA Sanctions, Then Leave For The NFL And Win A Little Less Than Every Other Week (Which Still Might Be Good Enough If Your Team Plays In The NFC West)."
Jan. 24: Jets fans are outraged when their team surrenders so many unanswered points in an AFC Championship Game loss that strength and conditioning coach Sal Alosi leads the team in tackles. Meanwhile, the Vikings lose the NFC Championship Game after their apparent game-winning drive is thwarted after Brett Favre is penalized 15 decisive yards for inappropriately inviting Jenn Sterger into the Minnesota huddle.
Feb. 2: After months of intense speculation and courting from teams, Punxsutawney Phil holds a Groundhog Day special televised exclusively on ESPN to declare whether he has seen his shadow. With America anxiously watching, Phil says he saw his shadow, which means an early spring in Miami and six more decades of winter for Cleveland.
[+] Enlarge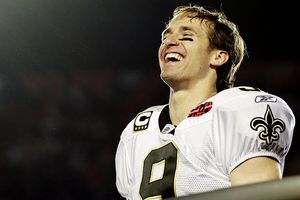 AP Photo/David J. PhillipDrew Brees and the Saints won the Super Bowl after Peyton Manning left to film another commercial.
Feb. 7: The New Orleans Saints win their first Super Bowl when the Indianapolis offense collapses in the fourth quarter because Colts quarterback Peyton Manning leaves to tape more commercial endorsements.
Feb. 12: The world gathers in Vancouver to watch the lavish, quadrennial ceremony that features music from Bryan Adams, Nelly Furtado and Lady Gaga amid spectacular indigenous furs, red-coated Mountie uniforms, feathered-and-sequined silk blouses, pink leather corsets, highly coveted red mittens and enormous beaver pelts when skater Johnny Weir arrives with his costumes for the Winter Olympics.
Feb. 15: Lindsey Vonn wins the Olympic gold medal in the downhill after healing a painful shin injury by applying Austrian cheese to her leg, prompting the NFL to address the problem of concussions with thick layers of Velveeta and Kraft singles applied to the inside of football helmets.
Feb. 16: The Phillies open spring training with pitchers working on fundamental drills -- covering first base, backing up third base, intentionally vomiting on teammates and Tasering fans who run on the field.
Feb. 17: After months of silence and multiple sponsorship losses, Tiger Woods publicly apologizes for his poor facial appearance, explaining that "I repeatedly cut myself shaving with a dull Gillette razor -- I don't know what happened to that company's standards." He says that his Thanksgiving night crash resulted from drinking tainted Gatorade -- "Lord knows what they put in that swill these days." He promises he will take full stock of his life rather than seek the advice of the Accenture financial corporation -- "They promise investment guidance for life but coldly abandon you in a moment of crisis."
Feb. 21: Bode Miller resurrects his image by winning the gold medal in the Super Combined, skillfully skiing down a steep mountain and avoiding columnists' convenient, four-year-old punch lines about excessive carousing.
Feb 28: Relieved volunteers at Canadian suicide prevention hot lines are told to stand down after Sidney Crosby scores the Olympic gold medal-winning goal in overtime.
March 8: After being shut out in Felix Hernandez's first start of the Cactus League, the Mariners declare themselves to be in midseason form.
March 19: No. 1 seed Kansas is upset in the NCAA tournament, ruining everyone's bracket except Paul the Octopus'.
March 25: President Obama's health care bill narrowly passes despite the loud objections of outraged Republicans who maintain that the 50 million Americans without medical insurance can be taken care of more efficiently simply by wrapping Austrian cheese around their bodies.
March 30: After the NCAA expands the men's basketball tournament, Brad Stevens guides Jimmy Chitwood and Hickory High to the Final Four.
March 31: The Red Sox postpone their season opener after placing every player on the disabled list.
April 5: Paul the Octopus wins the Oberhausen, Germany, Aquarium NCAA tournament pool with a perfect score when Duke wins the title 71-69 after Hickory High's Jimmy Chitwood gets caught watching the paint dry while running the old picket fence.
April 10: Outraged Masters chairman Billy Payne publicly criticizes Tiger Woods for his tawdry behavior regarding women, then dismounts his high horse to retreat inside for lunch at the men-only Augusta clubhouse.
April 12: Tiger Woods has a poor showing at The Masters due to being constantly distracted during his backswing by the noise of Vanity Fair clicking photographs of his Waffle House mistresses.
April 15: The Minnesota Twins play their first outdoor home game in 29 years when the Metrodome roof rips open, collapses and blows away.
April 18: Developing into the NBA's most dynamic young player, Kevin Durant leads the Oklahoma City Thunder into the playoffs, provoking the loudest audible groan in Seattle since Starbucks raised the price of a grande soy milk mochaccino by a quarter.
April 21: Mock NFL drafts project Oklahoma quarterback Sam Bradford to be the first drafted player to receive a concussion.
May 7: Baseball fans are dazzled by yet another amazing Jamie Moyer feat when the 48-year-old pitcher is carded by bartenders following his two-hit shutout.
May 9: Americans are outraged when North Korea violates Dallas Braden's airspace by firing dozens of artillery rounds over his mound, provoking the outraged Oakland pitcher to retaliate by throwing a perfect game against the Tampa Bay Rays.
May 13: Cleveland fans are outraged when the Cavaliers are eliminated from the playoffs after LeBron James leaves the city before Game 5 to sign with Miami.
May 20: After years of denying he ever took steroids, Floyd Landis tells ESPN.com that he is changing the title of his book from "Positively False" to "Never Mind."
May 28: The University of Texas responds to new Pac-10 commissioner Larry Scott's overtures to join the conference by leading him on for several weeks, then pinning an "I'm A Tool -- Kick Me" sign to his back.
May 30: The great recession has another effect on the sports world when Dario Franchitti, Marco Andretti and Dan Wheldon are forced to carpool in the Indy 500. Andretti finishes third because he is sitting in the back seat at the time.
May 31: Roy Halladay throws the second perfect game and fifth no-hitter of the season, leaving otherwise outraged Americans amazed that somehow none of them were against the Mariners.
June 2: Americans are outraged when first-base umpire Jim Joyce ruins Armando Galarraga's perfect game when he walks over to the mound with two out in the ninth inning and jinxes the Detroit pitcher by saying, "Do you realize you haven't allowed a single baserunner yet?"
June 3: Ken Griffey Jr., outraged that someone with the Mariners ratted him out for falling asleep in the clubhouse, abruptly retires and ends his 22-year Hall of Fame career. Griffey isn't sure who did it but his prime suspect is Mariners manager/WikiLeaks founder Julian Assange.
[+] Enlarge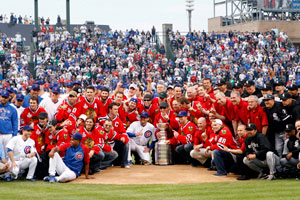 Nam Y. Huh/AP PhotosThe city of Chicago finally celebrated a championship at Wrigley Field.
June 9: Chicago finally celebrates an NHL championship again when Oprah gives out free Stanley Cups to her studio audience.
June 10: Stephen Strasburg becomes the first pitcher in baseball history to be named to the All-Star team, win the Rookie of the Year and Cy Young awards and be inducted into the Hall of Fame before throwing his first pitch.
June 11: An estimated worldwide TV audience of nearly a billion people watches the World Cup opening ceremonies from South Africa. An estimated six billion people worldwide don't watch the ceremony but can still hear the vuvuzelas anyway.
June 12: Nebraska joins the Big Ten and the Wisconsin Badgers promptly throw a 74-yard touchdown pass to run up the score against the Huskers.
June 17: The Lakers take a 68-64 lead over the Celtics in the fourth quarter of Game 7 of the Finals, prompting LeBron James to inquire whether he can sign with Los Angeles so he can earn a championship ring.
June18: Americans are outraged when the U.S. has to settle for a potentially disastrous tie with Slovenia in the World Cup after Maurice Edu's apparent winning goal is disallowed by Jim Joyce.
[+] Enlarge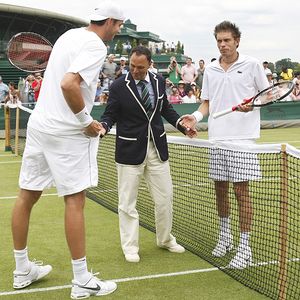 AP Photo/Alastair GrantJohn Isner and Nicolas Mahut played a match for the ages -- meaning, we all aged several years by the end of it.
June 27: Lance Armstrong prepares for his final Tour de France, during which he will compete against arch rival Alberto Contador for three weeks over 2,221 miles, climbing through the Alps and Pyrenees, riding over bone-cracking cobbles and racing in sweltering heat, drenching rain and view-obstructing fog. The longest and most grueling event in sports, however, begins when John Isner and Nicolas Mahut take the court at Wimbledon.
July 1: After signing a record $750 million divorce settlement with Elin Nordegren, Tiger Woods leaves his attorneys' office and goes across the street to a gentlemen's club to drown his sorrows by stuffing postdated checks and IOUs into the strippers' G-strings.
July 3: Serena Williams wins her fourth Wimbledon title but the men's final is delayed pending the finish of the Isner/Mahut match, now tied at 246.
July 5: LeBron James holds a live, nationally televised, prime-time special to announce that Brett Favre will play another season. Americans are outraged that King James had the audacity to interrupt ESPN's coverage of the Isner/Mahut match, now tied at 487.
July 8: "LeBron, The Mini-Series" comes to a dramatic finish in its final episode when he announces that the NBA should be contracted to just one team, Miami.
July 9: The national unemployment rate rises again, except in Cleveland where it falls due to electronic stores hiring extra workers to sell TVs to the tens of thousands of outraged fans who kicked in their screens while watching LeBron announce he was signing with Miami.
July 10: God gets His voice back when St. Peter announces at the Pearly Gates, "Now entering heaven, No. 2, Bob Sheppard ..."
July 11: After correctly predicting every World Cup outcome, including Spain's 1-0 victory over the Netherlands in the final, Paul the Octopus is hired to run financial firm AIG at an annual salary of $10.5 million, plus stock and options, a golden parachute worth $47 million and all the crabs, clams, assorted mollusks and small fish he can eat.
July 22: NFL teams open training camp by holding two-concussion-a-days.
[+] Enlarge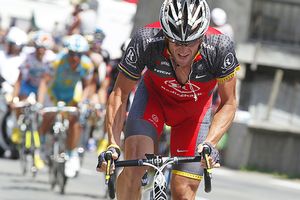 Joel Saget/AFP/Getty ImagesLance Armstrong outraces federal investigators en route to finishing a stage during the Tour de France.
July 27: Lance Armstrong's final Tour de France comes to a painful end when he repeatedly crashes into federal investigators. Meanwhile, Contador wins his third Tour and celebrates by eating tainted beef left over from Floyd Landis' freezer.
August 3: Felix Hernandez strikes out 12 and throws his 13th shutout of the season, lowering his ERA to 1.12, yet he somehow loses again to drop his record to 3-14.
August 12: After a bankruptcy court approves the Nolan Ryan group's bid for the Rangers, the Hall of Famer's first moves as owner are to place Texas pitchers on a strict 180-pitch limit and sign Jamie Moyer to a five-year contract.
August 20: A federal grand jury indicts Roger Clemens, requiring the former pitcher to testify under oath about the third ear growing on his forehead.
August 23: Almost four years after construction began, Dubai officially opens the 160-story, half-mile-high Burj Khalifa. Some 12,000 construction workers toiled each day on the building, which is twice as high as the Empire State Building and contains more than 3 million square feet of office and residential space. The Burj Khalifa, however, is quickly surpassed as the world's tallest structure when the Yankees unveil the George Steinbrenner Memorial Plaque in Monument Park.
Aug. 30: The start of the U.S. Open is delayed pending the completion of Wimbledon's Isner/Mahut match, now tied at 2,529.
Sept. 9: The NFL season opens with the traditional knocking out of the player with the first concussion.
Sept. 11: After James Madison upsets Virginia Tech, new Pac-10 commissioner Larry Scott shrewdly signs up the school for his expanding conference.
[+] Enlarge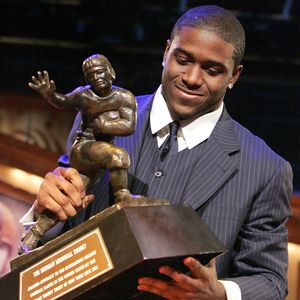 AP Photo/Julie JacobsonReggie Bush was forced to hand over his Heisman Trophy to Cam Newton.
Sept. 15: Reggie Bush returns his Heisman Trophy, which Cam Newton's father immediately insists that Auburn purchase for his son.
Sept. 21: After surviving season-disrupting strikes, the cancellation of the 1994 World Series, the threat of contraction and the steroid era, baseball faces its gravest crisis of all -- the airing of Ken Burns' "The Tenth Inning."
Sept. 30: The world cheers when the trapped Chilean miners are finally freed from the mine shaft but Pittsburgh fans are outraged when no rescuers can reach the Pirates still trapped in the NL East cellar.
Oct. 6: Roy Halladay dazzles Philadelphia fans and shuts down Cincinnati in his first postseason start by Tasering and intentionally vomiting on the Reds.
Oct. 9: After again sweeping Minnesota in the Division Series, the Yankees celebrate by spraying champagne around the inside of the Twins' heads, which they have been subletting for the past eight years.
Oct. 19: The NFL finally responds to the outrage over concussions by issuing $50,000 fines to the doctors who released studies on brain damage in former players.
Oct. 23: Following the Yankees' defeat by the Rangers in the American League Championship Series, dozens of New York fans gather to watch mayor Michael Bloomberg's "2010 Division Series Winners" parade through the Canyon of Heroes.
Oct. 24: Tim Lincecum and the Giants beat heavily-favored Philadelphia in the National League Championship Series when the Phillies are adversely affected by the marijuana haze in San Francisco.
Oct. 29: The Vikings suddenly remember why they let Randy Moss go in the first place.
Nov. 2: Paul the Octopus dies of shock after the Giants actually match his prediction to win their first World Series since moving to San Francisco in 1958.
Nov. 14: Americans are outraged when the Wisconsin Badgers throw another 74-yard touchdown pass against Indiana, running up the score to 90-20 even though the game ended the previous day and the Hoosiers have showered, dressed and gone home.
[+] Enlarge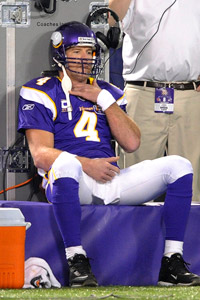 AP Photo/Hannah FoslienAnd coming in last place in the sports person of the year balloting: Brett Favre!
Nov. 18: Americans are outraged by enhanced airport security measures that require you to either pass through backscatter energy-beam scanners so invasive that TSA agents can clearly see Brett Favre's junk, or consent to a creepy pat down in which Jets coach Rex Ryan fondles your feet.
Nov. 26: The biggest shopping day of the year begins when millions of Americans wake up before dawn and flock to the Ohio State locker room for the Buckeyes players' annual Black Friday sale.
Nov. 29: Oregon qualifies for the BCS title game against Auburn when its record-setting, hurry-up offense scores another 56 points even though the Ducks aren't playing.
Dec. 3: The Boxing Hall of Fame inducts Sylvester Stallone for his contributions to the sport with his iconic, Oscar-winning movie "Rocky," then promptly boots him out and bans him for life for "Rocky II," "Rocky IV" and especially "Rocky V."
Dec. 4: Baseball's winter meetings begin poorly for the Yankees when America's credit crisis prevents general manager Brian Cashman from obtaining a mortgage on the state of Arkansas. Meanwhile, Derek Jeter prepares for the holiday season by stocking up on the traditional eggnog, champagne and reality punch.
Dec. 5: Americans are outraged when FIFA awards the 2022 World Cup to Qatar instead of the U.S., citing the Middle East's deep passion for soccer as well as its complete ban on vuvuzelas.
Dec. 11: Brett Favre's record streak of 297 consecutive starts ends after he volunteers to help shovel snow off the Metrodome roof.
Dec. 12: The Miami Dolphins are outraged after Nolan Carroll returns a punt down the sideline only to be tripped by the very soft, petite and beautiful feet of New York Jets coach Rex Ryan's wife, Michelle.
Dec. 17: After more than five decades in broadcasting, Larry King signs off CNN to concentrate on his Twitter updates, such as "I like the Patriots to make the playoffs," "I miss the Negro Leagues" and "Is there more aptly named fruit than the orange?"
Dec. 19: The New York Giants blow a certain victory when punter Joe Pisarcik inexplicably kicks the ball right to Philadelphia's Herman Edwards, who returns it for a game-ending touchdown.
Dec. 20: The Royals begin their 17th rebuilding plan since George Brett was their third baseman by trading Zack Greinke for the Duggar children on the reality show "19 Kids and Counting."
Dec. 21: After the UConn women's basketball team beats Ohio State for its 89th victory in a row, an outraged UConn coach Geno Auriemma rips the "miserable bastards" in the media for not also recognizing when his Huskies passed Oklahoma's college football record 47-game winning streak. He also chastises the media for not adequately pointing out that the Huskies are only 33 wins from breaking Edwin Moses' record for consecutive hurdles victories.
Dec. 25: Tens of millions of children west of the Mississippi are outraged when they wake up and find no presents under their tree because Santa Claus made the disastrous mistake of landing his sleigh on the Metrodome roof.
Dec. 26: The Eagles-Vikings game is postponed for safety concerns when the city of Philadelphia worries that a blizzard could tempt fans to throw so many snowballs at Santa Claus that they will tear their rotator cuffs.
Dec. 27: Wisconsin scores another touchdown on Indiana.
Dec. 31: Outraged Americans bid farewell to the past year in the usual manner by gathering around their TVs to see the traditional Metrodome roof drop, then going to bed so they can wake up and watch Breakfast at Wimbledon with the Isner/Mahut match now tied at 11,873.
Jim Caple is a senior writer for ESPN.com. You can follow him on Twitter at jimcaple.