Commentary
Off Base unleashes 2011 predictions
Originally Published:
December 29, 2010
By
Jim Caple
| Page 2
This is that traditional time for columnists to predict what will happen in the coming year. These predictions are usually embarrassingly wrong, except those that predict the Pittsburgh Pirates will lose, which isn't so much a prediction as a way of life.
And that's the key to making predictions: Stick to the ones that are so tried, true and certain that you just can't miss.
With that in mind, here are Off Base's predictions for 2011: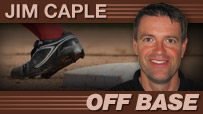 The Pirates will endure their 19th consecutive losing season and whine the entire time that teams from small markets with low revenue simply don't stand a chance in baseball, even though the Cincinnati Reds, Minnesota Twins, Tampa Rays and Oakland Athletics will all make the postseason. The Kansas City Royals will endure their 16th losing season since 1994 and also complain that small-market teams can't compete, even though their fellow Missourians over in St. Louis (a smaller market than Sacramento) will reach the postseason for the eighth time since 2000. Both the Royals and Pirates will also trade away their few good players to save money and (wink, wink) "build for the future."
Having lost out on Carl Crawford and Cliff Lee, the rapidly aging New York Yankees will not reach the postseason, but fans and the media will still go on and on about how baseball needs a salary cap because the Yankees always reach the postseason. (Bonus early prediction for 2012 and 2013: The Yankees will reluctantly swallow their own reality potion when they are forced to pay the Core Four incentive bonuses for keeping moss from growing on the north side of their uniforms.)
Come spring, Ken Griffey Jr.'s knees will feel great and he will be sick of sitting around the house and he will desperately miss baseball and he will hint that he is interested in coming out of retirement to play another season but he will never actually come straight out and announce a clear decision, thereby creating a lot of anxiety, debate and confusion in Seattle.
Without the Yankees to lose to in the division series, the Twins will win the World Series and become baseball's seventh different champion in seven seasons and 10th in 11 seasons. They and the Reds will become the 16th different teams in the World Series in the past 11 seasons, but fans and local media whose teams do not reach the postseason will still complain that baseball lacks competitive balance.
An early blizzard will hit Minnesota during the World Series, forcing the Twins to shift their games to the Metrodome … no, wait. Forget that one.
The Chicago Cubs, it should go without saying, will not play in the World Series. Instead, the Cubs will sign a mediocre player to an expensive multiyear contract that doesn't make any sense and will haunt the team for seasons to come. Nevertheless, the Cubs will keep Jim Hendry as general manager, saying he is improving as GM because he didn't give out two such contracts.
With Opening Day in March, several games will be postponed by bad weather, provoking the media to complain that the season started too early. Several postseason games will also be played in bad weather, provoking the media to complain that the season ended too late. The media will also demand that baseball add another round to the playoffs.
Something will upset Milton Bradley, but it won't be feeling overworked by starting too many games.
The Barry Bonds and Roger Clemens perjury cases will go to trial and the angry media will again rant that the steroid scandal has killed baseball. Meanwhile, major league attendance will rise 6 percent to its highest level in history.
And finally … 49-year-old Jamie Moyer will successfully recover from his Tommy John surgery, pitch well in the winter league and sign a one-year, incentive-laden contract with the Seattle Mariners as part of their continuing rebuilding project.
CSI: BOX SCORE
You know the drill. Each week I give you a fragment from an old box score and challenge you to determine what game it's from and why it's significant. I give this one a difficulty rating of 5.0. Answer below.

BASEBALL CARD OF THE WEEK
[+] Enlarge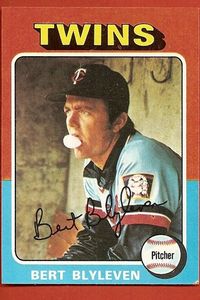 Topps Bert Blyleven recorded 287 wins and 3,701 strikeouts with a 3.31 career ERA over 22 seasons. Those are Hall of Fame numbers.
This card (1975 Topps, No. 30) catches Bert Blyleven blowing bubble gum on the bench, with the Twins' great old "Handshake Across the Mississippi" logo on his sleeve. He is deep in concentration, no doubt contemplating such complex baseball strategies as how to sneak that bubble-gum bubble onto the peak of Rod Carew's cap or give Larry Hisle a hot foot or smash a shaving-cream pie into Steve Braun's face. He's also wearing a windbreaker under his road jersey and is perhaps wondering whether it might be more comfortable to play baseball in Minnesota if the stadium had a roof.
Or perhaps he's just resting in the middle of one of his 242 career complete games or throwing one of his 60 career shutouts (almost as many as Roger Clemens and Pedro Martinez combined), and wondering how long it will take baseball writers to value ERA over wins and realize that pitchers can't control run support.
Like all Topps cards from 1975, this card includes an autograph facsimile. Hopefully when the BBWAA announces the Hall of Fame election results next Wednesday, Blyleven's actual autograph will be able to include the letters "HoF." Blyleven received just 17.5 percent of the vote his first year on the ballot and he fell to 14 percent his second year. But thanks to bloggers and stat-heads making their case for voters to take a closer look at just how good Blyleven was, he's risen steadily since. He fell just five votes short of election last year and is thus looking very, very good this year. Good luck on picking up those last few necessary votes, Bert. You deserve to be in Cooperstown this summer.
DONNIE, YOU'RE OUT OF YOUR ELEMENT
I'm crossing my fingers that Robbie Alomar also picks up those few remaining necessary votes, because he deserves to be in the Hall of Fame as well. Here's my ballot: Alomar, Jeff Bagwell, Blyleven, Barry Larkin, Mark McGwire, Edgar Martinez, Fred McGriff, Jack Morris, Tim Raines and Alan Trammell. And if the Hall didn't limit voters to 10 players, I would include Larry Walker and Rafael Palmeiro as well. …
Forget the recession, the budget deficit, fuel prices, extremist politicians and the Jayson Werth contract -- the worst sign for our nation's future is that "Little Fockers" was the top-grossing movie of the week. Can't wait for the next movie in this series because I just can't get enough jokes about a guy with a last name of Focker. On the other hand, "True Grit" is a terrific movie, and it finished second at the box office, so perhaps there is hope for us yet …
CSI: BOX SCORE ANSWER
This is the top of the box score from one of the greatest games in baseball history: Game 7 of the 1991 World Series, when Jack Morris threw a 1-0, 10-inning shutout just miles from his boyhood home. That game, of course, was played in the Metrodome, the roof of which collapsed in a blizzard a couple of weeks ago. Repairs are going slowly at the Dome, but I hope the roof is back up relatively soon, even if the Twins no longer play there. Roofs come in handy, as the city of Philadelphia could tell you. After all, when the Twins won the World Series in 1991, nearly three feet of snow fell four days after Game 7. That blizzard began on Halloween, which would have been during Game 3 this year.
Jim Caple is a senior writer for ESPN.com. You can follow him on Twitter at jimcaple.