Commentary
It's time for playoff, and the College Bowl
Updated:
January 10, 2011, 2:19 PM ET
By
Jim Caple
| Page 2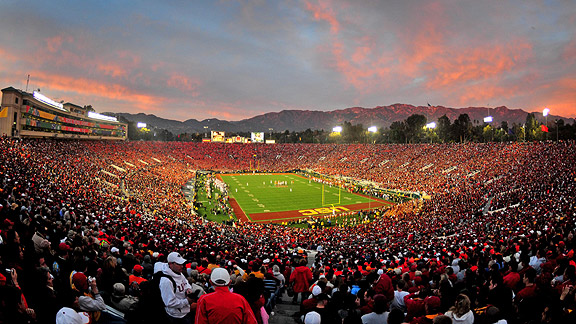 Mark J. Rebilas/US PresswireFor the College Bowl, a scenic, warm-weather home, such as the Rose Bowl, is key.
Enough already. I give in.
After years of defending the bowl system, I finally surrendered to the playoff hawks on New Year's when I tuned the TV to ABC expecting to watch the one traditional bowl that still held at least some meaning. But instead of the Rose Bowl, the local ABC affiliate was showing an old episode of "Northern Exposure."
I know the game shifted to ESPN -- which, I understand, is a fairly popular cable network -- this year, and I was always a "Northern Exposure" fan. But when the Rose Bowl gets bumped for a 20-year-old rerun of Chris in the Morning, the Granddaddy of Them All has officially become indistinguishable from the GoDaddy of the Many.
Worse, the conference most identified with the Rose Bowl was nowhere to be found, as if Pete Carroll had taken it with him when he sneaked out of Los Angeles. This wasn't the first time the Pac-10 wasn't in Pasadena, but with two teams in the top five, this was its most glaring absence. Nothing against TCU but, well, who the hell cares about TCU?
The old bowl system worked just fine, but, unfortunately, playoff proponents have pushed the system far enough into a no-man's land that history and tradition no longer mean anything to the old, established bowls. The system, however, hasn't advanced far enough toward a playoff to provide a compelling reason to care about any particular bowl unless your alma mater is in it. And sometimes not even then. I mean, I'm proud that Washington upset Nebraska in the Holiday Bowl, but it would have been more impressive had the Cornhuskers not followed the U.S. Postal Service holiday recommendations by mailing in their performance by early December.
I would much prefer a return to the old bowl system, but I acknowledge that's as likely as a college marching band playing a song that was actually popular within the past 20 years. It's just not going to happen. So college football might as well go forward toward a playoff. The crucial question is whether the NCAA can do it properly.
I'll leave to others the minor details of how you run a, say, 16-team, four-round tournament without further endangering the health and education of amateur athletes. Instead, I'll focus on the criteria for merging the best of the old bowl experience with modern entertainment possibilities.
1. Pick a good name. One big problem with the Bowl Championship Series is it doesn't even end in a bowl. Tonight is the BCS National Championship Game, not the BCS Bowl. That needs to be rectified. Properly brand the bowl with a solid, no-nonsense name (feeding the world is a wonderful aim, but "Kraft Fight Hunger Bowl' is never going to sell many T-shirts). It doesn't need to be a particularly clever name. What, do you think they spent a lot of time thinking up "Super Bowl"? Of course not. But the name works.
My suggestion: the College Bowl. It's simple, clear, differentiates the game from the NFL and provokes such powerful, appealing memories of student life that if your team gets in, you'll immediately replace your Christmas wreath/menorah in the front window with beer cans stacked in the shape of a pyramid. It also harks back to the old quiz show of the same name, which will come in handy later.
2. Location, location, location: A great appeal of the Rose Bowl was sitting on your couch on a cold, snowy New Year's Day and seeing sunny Pasadena against the backdrop of San Gabriel Mountains. The College Bowl must emulate this with a permanent, scenic site. I initially thought of Hawaii, but that also would eliminate the tradition of packing 12-19 students into a single van and driving nonstop for two or three days until you arrive at the bowl game minutes before the final driver passes out from the stench of vomit, farts, cheap beer, marijuana and something unidentifiable but possibly toxic.
After rejecting Florida (insufficient camera visuals) and New Orleans (no domes allowed!), I decided on Pasadena. I mean, what the heck. It's not like the Rose Bowl is booked after Jan. 1.
3. Battle of the alumni stars: The day before the big game, famous alumni of the two schools battle for bragging rights in a competition based on the old "Superstars" show, with an obstacle course, war canoe race, tandem bike race and tug of war. Tell me you wouldn't watch Texas Longhorns alumni Matthew McConaughey, Renee Zellweger, Roger Clemens, Vince Young, Laura Bush, Tommy Tune, Mary Lou Retton and the guy who played Higgins on "Magnum P.I." pulling the rope against USC's Neil Armstrong, Mark McGwire, George Lucas, Cybill Shepherd, Will Ferrell, Kyra Sedgwick, Tom Selleck and Gen. Norman Schwarzkopf.
4. Player goody bags: We have to throw some bone to the players as nominal compensation for their risking injury through these additional games just so that athletic departments can reap extra millions they will immediately give to their coaches in contract incentive bonuses and higher salaries. So each player shall receive a goody bag with a ring and an iPod, iPad or Apple's other current socially cool iDevice. Providing further incentive to win, when a school advances to the next round, the players will receive the newest update to replace the previously received version which, of course, will be outmoded by then.
Thanks to NCAA rules, players are prohibited from selling these rings or devices. Nor will they be allowed to use them or wear them or take them out of their goody bags.
5. The College Bowl Knowledge Bowl: Schools love to claim their primary mission is to (wink, wink) educate their "student-athletes." Here's incentive to pay more than lip service to that concept.
Before the game, Alex Trebek will host a quiz show featuring four players from each team. So that schools actually take this seriously, whichever team wins the Knowledge Bowl will receive the kickoff and choose field direction at the start of each half in the College Bowl, plus receive an additional timeout per half, as well. And just so the schools can't just send in all walk-on ringers who are fifth on the depth chart, here's the kicker: Each team gets to pick two of the four participants for the opposing school.
Good luck, you SEC teams!
(I think a beer pong tournament would also be entertaining, but there are some issues that need to be worked out first.)
6. College Bowl Parade: A true bowl experience requires a big pregame parade with marching bands playing "Iron Man," cheerleaders dancing atop rose-covered floats and horses s---ting on the pavement. And to kick off the inaugural College Bowl parade, the grand marshal should be the chief neurologist at a participating school, who will ride in a float fashioned into the hemispheres of the brain, allowing him to demonstrate the increased health risks posed by having amateur athletes play as many as 17 games in a season.
Jim Caple is a senior writer for ESPN.com. You can follow him on Twitter at jimcaple.