Commentary
Super Bowl vs. World Series
Originally Published:
February 2, 2011
By
Jim Caple
| Page 2
Five crucial differences between the Super Bowl and the World Series: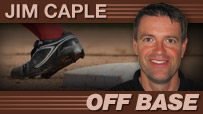 The Super Bowl gives you commercials directed by Ridley Scott that air for $5 million per minute and star Cindy Crawford and Eminem. The World Series gives you the Joe Girardi chalupa commercial.
The Super Bowl gives you halftime shows with Michael Jackson, U2, The Rolling Stones, Paul McCartney, Bruce Springsteen and the Black Eyed Peas. The World Series gives you Ronan Tynan or some equivalent tenor singing "God Bless America."
The Super Bowl gives you all-night, velvet-rope parties hosted by Playboy, Maxim and Diddy at which Oscar winners and lingerie models drink Cristal champagne. The World Series gives you sportswriters sitting around a table at Olive Garden until closing time while they drink Budweiser and wait for someone else to pick up the check.
The Super Bowl has media day, when TV and Internet personalities try to stage news by outlandishly wearing everything from superhero to matador costumes. The World Series has workout day, when sportswriters dress even more ridiculously by wearing their normal street clothes.
But lest you get the impression I'm dumping on the Fall Classic, here's the fifth difference between the Super Bowl and the World Series:
The Super Bowl has columnists spouting the ridiculous notion that it's somehow seen by a billion people even though more than half the United States (i.e., the only country where there are NFL teams) doesn't care enough to bother watching it. The World Series has the same columnists spreading the almost-as-ludicrous notion that no one watches its games even though Games 1, 2 and 4 of the 2009 World Series swept the top three spots in that week's Nielsen ratings with Game 6 taking the first spot the next week.
Sure, the Super Bowl enjoys a massive ratings advantage over the World Series. That's not only because the Super Bowl is enormously popular, though. It also has many ratings advantages over the World Series.
1. The Super Bowl is played on Sunday when most people are home, thus allowing the league to start (and end) the game at a reasonable hour on the East Coast without losing West Coast viewers who otherwise would be at work or driving home on a weekday.
2. Other networks don't even program against the Super Bowl, unlike the World Series, which has to fight against the new fall TV shows.
3. It's played in early February, when the weather is crappy in much of the country and people are not tempted to go outside away from their TVs.
4. It is relentlessly hyped by everyone from sportswriters ("This game is going to be the most awesome game ever since last year's game!") to cooking shows ("What to serve for a perfect Super Bowl party!") to grocery-store circulars ("Shop for your tailgate list here!") until every American feels you could be sent to Guantanamo Bay if you didn't watch.
5. And all this is possible because the game date is scheduled years in advance so everyone can set aside his schedule for it.
The World Series isn't like that. The final game could be Game 7. Or Game 5. Or Game 4. It could be Saturday. Or Monday. Or Thursday. There could be a rainout. There could be more than one rainout. There could even be an earthquake delaying it for more than a week. Which makes it difficult to plan a big party even if you didn't have to attend a PTA meeting that night.
These are all reasons that the Super Bowl trounces the World Series in the ratings, and there is little baseball can do about that. But there is one other reason, and this time baseball is entirely at fault for its declining World Series ratings.
If Pittsburgh and, say, Minnesota, reached the World Series, columnists would moan about what a ratings disaster the matchup was for the league because of the small market sizes. But Pittsburgh and Green Bay made the Super Bowl, and not only did no one lose interest, but the matchup is exciting. Why? Because the NFL skillfully and shrewdly markets itself more as a national game than a regional one, making fans nearly as interested in teams around the league as the local team. That's a very good thing.
This is where baseball is failing miserably, and it's a legacy of longtime ownership complaints that small-market teams didn't have a chance to compete. That was pure myth -- baseball has had as many different teams in the past 10 World Series as the NFL has had in the past 10 Super Bowls. But the league spent so much time spinning the small-market/big-market storyline that it never got around to creating national interest in Tampa Bay or Texas or St. Louis or any other teams from outside the Northeast.
In short, it has taken the "national" out of the national pastime.
The good news is that this is reversible. Baseball can stop complaining and start promoting players around the league as effectively as the NFL. If Peyton Manning can appear in more commercials than the Geico gecko, so can Albert Pujols, Joe Mauer, Tim Lincecum and David Price. If the NFL can excite the nation for an Indianapolis-New Orleans championship, baseball should be able to rouse the country for San Francisco and Texas. If football can turn Super Bowl Sunday into a virtual public holiday, baseball can make the World Series a national Octoberfest.
Others suggest improving World Series ratings by expanding it to nine games or holding it at a neutral, warm-weather site. But baseball doesn't need to emulate the hype around the Super Bowl. How would celebrity parties and more expensive, elaborate commercials make the games any more enjoyable? Baseball doesn't need to provide distractions from the game; it needs to remind fans how exciting all the teams playing those games are.
Well, that and playing a seven-game series every once in a while.
CSI: BOX SCORE
You know the routine. I give you a fragment from an old box score and challenge you to figure what game it came from and why it was significant. I give this one a difficulty of 8. Need a hint? Think about what happens this weekend.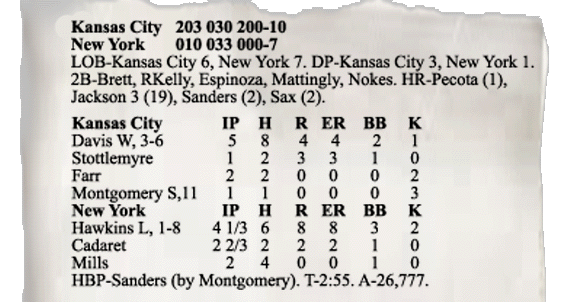 BASEBALL CARD OF THE WEEK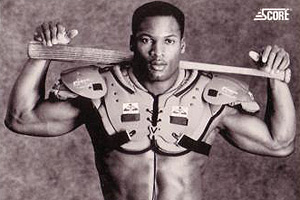 ScoreBack in the early '90s, Bo Jackson knew just about everything.
Whenever people whine about steroids use in baseball and how bad it is, I wonder why they never seem to care about the obvious and considerable health risks of simply playing football. Case in point: Bo Jackson. This card (1990 Score No. 697) shows Jackson at his two-sport best -- baseball bat resting on his shoulder pads. Jackson had hit 32 home runs the previous season -- not counting his famous home run in the 1989 All-Star Game -- and hit 28 in 1990. His future seemed limitless, as did his Q rating. But before the 1991 card sets were released, he suffered the unfortunate hip injury when tackled in football and missed most of the season. He was one of the greatest athletes in history, but the injury cost him more than his football career. He missed the entire 1992 season thanks to a hip replacement, and although he came back in 1993 (dramatically homering in his first at-bat), he was done after 1994. If only he had stuck to baseball, he might still be playing. After all, he's younger than Jamie Moyer.
DONNIE, YOU'RE OUT OF YOUR ELEMENT
• The best thing about the Super Bowl this Sunday? When it's over, it will be one week until pitchers and catchers report.
• Congratulations to R.A. Dickey, who received a two-year, $7.8 million contract extension from the Mets this week. Baseball salaries can be obscene, but Dickey deserves some good fortune. He lost an $810,000 signing bonus as the Rangers' first-round pick in 1996 when a team doctor saw a photo of him on the cover of Baseball America, thought he was holding his arm at a weird angle, brought him in for an examination and discovered he was missing an ulnar collateral ligament. The Rangers pulled their offer and gave him $75,000 instead, but Dickey didn't complain. He stayed positive, persevered over the years, learned a knuckleball and treated everyone with respect and grace. Then he went 11-9 with a 2.84 ERA last season with the Mets, his fifth team in five years. I'm happy for him, and I'm not just saying that because I was his catcher one afternoon.
• I spent a very enjoyable and very enlightening week at umpire school last week. Look for the story near the end of the month.
CSI: BOX SCORE ANSWER
Sharp-eyed fans and frequent readers of Rob Neyer might have recognized this box score from the July 17, 1990, game when Bo Jackson and Deion Sanders met on the field at Yankee Stadium. As Neyer detailed earlier this week, Jackson homered over Sanders' head in his first at-bat, homered over his head his second time up and then homered again his third time up. But while attempting a diving catch of a Sanders line drive, Jackson separated his shoulder and Sanders rounded the bases for a home run. Four home runs in one game from two NFL players -- not bad. Jackson wound up on the disabled list and then homered in his first at-bat back on Aug. 26, giving him home runs in four consecutive at-bats (albeit over six weeks). He knew drama.
Also, note the attendance. Just 26,777 for a mid-July game in Yankee Stadium when two of the biggest names in baseball were meeting. Which just goes to show you those Yankees fans aren't so supportive when their team isn't doing so well.
By the way: Best of luck to Rob, who wrote his last column for ESPN.com this week and is moving on to SB Nation. I started writing Off Base for ESPN.com shortly after Rob started here, and the day he responded to an e-mail and said he liked my column remains a very satisfying memory. Since then, we've shared pizza and beers while arguing movies and baseball (although mostly movies, since we tend to agree on baseball). He will be missed here.
Jim Caple is a senior writer for ESPN.com. You can follow him on Twitter at jimcaple.