Commentary
Cards are the first sign of spring
Originally Published:
February 9, 2011
By
Jim Caple
| Page 2
An ice dam large enough for the Army Corps of Engineers is advancing up your roof, like a glacier steadily prying off your shingles to give your house a $10,000 receding hairline. Your January heating bill looks like Fred Wilpon's July payroll obligations and legal fees. And your car is buried under such a towering snowdrift that Eskimos, walruses and baby harp seals should be around it.
But that's all right because baseball is officially back. No, not pitchers and catchers. They don't report to spring training until next week. I'm talking about something better. The 2011 baseball cards have arrived in the store.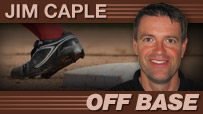 True, the cards won't shovel the driveway for you. They probably won't even help scrape much ice off your windshield. But I know I felt 20 degrees warmer when I opened up my first pack and saw these cards:
Vladimir Guerrero (No. 67): Is Vladdy a Hall of Famer? While he's never led his league in anything other than hits and runs (once each), he's a lifetime .320 hitter with 436 home runs, 1,433 RBIs, 1,268 runs and a .946 career OPS. He's been on nine All-Star teams, was the 2004 MVP and finished third in the MVP voting twice and fourth once. So, yes, he belongs in Cooperstown. I really don't care which team he wears on his Hall of Fame plaque, just so long as it is heavily coated in pine tar.
Aroldis Chapman (No. 110): The back of his card reads, "On September 24, 2010, all 25 of his pitches were timed at triple-digits, one of them the fastest (105.1 mph) Major League pitch ever legitimately recorded." I love how they specify it was 105.1 mph because, you know, just saying 105 mph wouldn't sound so impressively precise. In the old days, this information would have been detailed in a little cartoon of three likely poses:
• Chapman standing on the mound and aiming a flame thrower at the plate.
• A state trooper issuing Chapman a ticket for speeding. (Chapman would, of course, be in his Reds uniform while sitting in the driver's seat of his car, because in baseball card cartoons, ballplayers wear their uniform everywhere they go.)
• A bug-eyed catcher, wearing an asbestos uniform and holding up his glove that has smoke rising from a baseball-sized hole burnt through the leather.
(I loved those old cartoons.)
Anyway, Chapman has one of the most astounding arms in baseball, so naturally the Reds are planning to waste it by keeping him in the bullpen this season. Nice investment of $30 million.
Hank Conger (No. 285): Conger is of Korean descent and the back of his card explains, "'The birth certificate reads Hyun Choi but Conger has always been known as 'Hank' thanks to his father, who admired Hank Aaron." Broadcasters everywhere (outside of Korea) are most appreciative.
Reid Brignac (No. 284): This card reminded me that Brignac ended a much-anticipated matchup between David Price and CC Sabathia last September with a pinch-hit, 11th-inning, walk-off home run to put Tampa Bay in first place over the Yankees. I think I'll always have a soft spot for Brignac.
Diamond giveaway: To celebrate Topps 60th anniversary, there is a code number on the back of this card for the chance to win a diamond or a 1952 Mickey Mantle card. I went to the website to plug in my code only to find out the site isn't ready yet. I hope I win the diamond because then maybe my wife won't complain about my old cards always cluttering the guest room. I doubt she would care much for the Mantle card, though.
Torii Hunter (miniature): This card is one-third the size of a regular card, with a watercolor image of Hunter. He is one of the featured 50 "Champions of Games and Sports," but the names of the others are printed in an even smaller type size than you see for those warnings crawling along the bottom of the screen in a prescription drug commercial. So I've come full circle. When I started collecting baseball cards, I couldn't read. Now I simply can't read the type.
Roy Oswalt (No. 174): Do the Phillies have a better rotation than Atlanta did in the 1990s? They can make a good case with a couple of Cy Youngs, multiple 20-win seasons and postseason MVPs spread among them. But let's wait and see what Oswalt, Roy Halladay, Cliff Lee and Cole Hamels do this season before we rank them with Greg Maddux, Tom Glavine, John Smoltz and Steve Avery. Then, at the end of the year, we can compare their ERA, WHIP, WAR, strikeouts and, most importantly, golf handicaps.
Ubaldo Jimenez (No. 270): I'm not saying Jimenez deserved the Cy Young over Halladay. I don't think he did. But I do think people are inconsistent when they hold the Coors Effect against Rockies batters but then conveniently forget to give Jimenez extra props for pitching in Colorado. Just saying.
Manny Ramirez special (No. TT-31): This isn't the regular Manny card; it's a card with a code number for free digital cards (that website isn't ready to take the code, either). But according to the back of the card, Manny's grandmother gave him a Dodgers jersey when he was 8 years old. Naturally, he immediately complained that he really wanted a Yankees jersey.
Jimmy Rollins (No. 199): The first pack I opened last year had a Tim Lincecum card and a Buster Posey rookie card, which proved to be a great harbinger for the season. Based on how that turned out and the two Phillies in this pack, I am picking Philadelphia to win the World Series this season. Frankly, it's probably as accurate a method of choosing a champion as any other you'll read over the next seven weeks before the season begins.
CSI: BOX SCORE
You know the routine. I give you a fragment from an old box score and challenge you to decipher what game it is from and why that game was important. With spring training just a week away, this is another easier one. I give it a difficulty of 4. Answer below.

BASEBALL CARD OF THE WEEK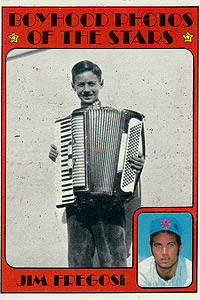 Courtesy of ToppsJim Fregosi really must have upset someone over at Topps.
Two weeks ago I showed you the 1973 Topps card of Jim Fregosi that showed him fouling out to the catcher. This one (1972 Topps No. 346) shows him as a kid playing an accordion! What did Topps have against this man? What did he do to deserve this sort of treatment? At least Joe Torre (1972 Topps No. 341) is wearing a suit.
DONNIE, YOU'RE OUT OF YOUR ELEMENT
• In need of a baseball fix? Listen to this link for the closing theme to "This Week in Baseball." Call me nuts, but hearing this music stirs me as much as the theme to "Star Wars," the Notre Dame Victory March or Beethoven's Ninth. By the way, did you know that the name of the song is "Gathering Crowds" and was composed by Michael Vickers under the pseudonym Patrick J. O'Hara? And that Vickers was a guitarist for the English band Manfred Mann, which is famous for the international hit "Do-Wa Diddy Diddy"? And that Vickers also conducted the orchestra in the Beatles' live recording of "All You Need is Love"? And that Trammell and Whitaker are therefore linked to Lennon and McCartney? Well, now you do.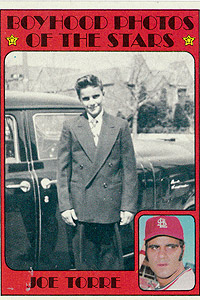 Courtesy of ToppsJoe Torre ... lady killer? OK, you can stop laughing now.
• Doesn't the McCourt divorce case and the Wilpon/Madoff scandal make you long for the day when baseball teams were owned by soulless corporations?
• Joe Posnanski had an amazing stat this week: There are 31 Hall of Fame pitchers born before 1900 and 31 born after 1900. Bear in mind. If a pitcher was born before 1900, his career pretty much started before 1925. And yet we're supposed to think that the 80-plus years since then haven't produced a higher number of Hall of Fame-worthy pitchers? Please. Despite talk of lowered standards, getting into the Hall of Fame may be harder now than ever.
CSI: BOX SCORE ANSWER
This fragment is from the box score when Pittsburgh starter Harvey Haddix pitched 12 perfect innings but his teammates didn't help him out with a single run. So the game went into the bottom of the 13th with Haddix still pitching (it was a different era back then). Felix Mantilla led off with a grounder to Pittsburgh third baseman Don Hoak, who threw wildly to first base for an error that ended the perfect game. Eddie Mathews bunted Mantilla to second base. With a no-hitter still intact, Haddix intentionally walked Hank Aaron to set up a force. Joe Adcock then hit a fly ball over the fence for a game-winning home run that should have provided a final score of 3-0. Aaron, however, didn't see the ball clear the fence and thought it was a ground-rule double, so he peeled off after touching second base and headed to the dugout. When Adcock reached third, the umpires got together and ruled that he was out for "passing" Aaron and his home run was reduced to a double.
Jim Caple is a senior writer for ESPN.com. You can follow him on Twitter at jimcaple.