Commentary
Cricket makes a baseball connection
Originally Published:
March 9, 2011
By
Jim Caple
| Page 2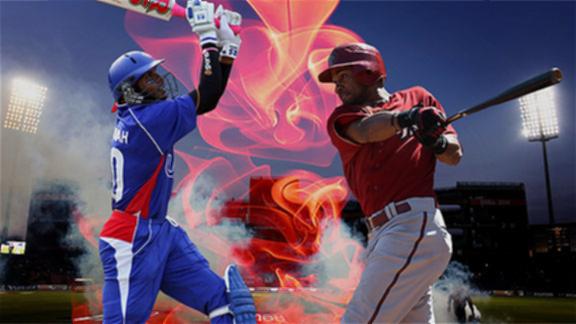 Cricket vs. Baseball
Find out how Chris Young and Justin Upton fared when a cricket ball was thrown their way
Cricket vs. Baseball
SCOTTSDALE, Ariz. -- Arizona outfielder Chris Young introduced himself to Abhimanyu Rajp outside the Diamondbacks' spring training clubhouse: "So you're the guy I'm going to rake?"
Well, we would see about that soon enough. But I was just impressed by Young and teammate Justin Upton for being curious and sporting enough to test their skills in cricket, which could be viewed as a no-win situation for them. If they batted poorly off a cricket bowler, they risked its reflecting poorly on their major league skills. If they batted well, they would get no credit because, after all, they are major leaguers and they should be able to hit any ball thrown their way.
And worst of all, they could get hurt.
Chris Young and Justin Upton to begin season on disabled list after being hit by cricket balls during a video shoot. Diamondbacks plan to sue ESPN for $10 million in damages.
To prevent such injuries, Young and Upton received enough body armor to appease Barry Bonds: shin pads big enough to fit Shrek, a helmet with a face guard and, just in case, protective cups. This wasn't at their request -- all that is standard protection for a cricket batsman. If it seems excessive, consider that a cricket ball is slightly heavier and harder than a baseball, that a bowler throws it from a running start, and that he can throw it at 90-plus mph or give it a spin that bounces the ball directly at the batsman's body.
Think Tim Lincecum, only Lincecum is allowed to throw at the batter.
"You really have to read that spin off the ground," Young said. "You hope it gives you a nice long hop to work with, but he said they've got guys throwing 85 miles an hour bouncing it, so I mean that would be really tough to see. It's tough enough to hit a 90-mile-an-hour fastball straight; it would be even tougher to hit one that's spinning all over the place."
And if that doesn't put an end to the tired jokes about cricket and tea breaks, bear in mind that the fielders don't wear gloves. They catch the ball bare-handed.
I was eager to see Young and Upton swing cricket bats. Cricket had intrigued me the way "Inception" did: Visually stimulating, but I wasn't quite sure what the hell was going on. I mean, I so enjoyed the movie "Lagaan," a vastly entertaining Bollywood musical about cricket, that I bought the DVD and even read Chris England's book about appearing as an extra in it. I also read Angus Bell's "Batting on the Bosphorus: A Liquor-Fueled Cricket Tour Through Eastern Europe." But the specific cricket references in each baffled me as if they were written in a foreign language.
Consider this sequence from "Batting on the Bosphorus":
Their favored forward defensive prods ala French cricket couldn't save the B's top three being fired out. And when they suffered two direct-hit run-outs from the boundary in two balls -- the second from a lazily jogged single -- it looked to be over. But Vladimir, relishing his captain's role, looted the vacant legside boundary with sweeps.
And you thought Ozzie Guillen could be confusing.
But my cricket confusion began to melt away after just a few minutes with Rajp and Aditya Thyagarajan, two of the best cricketers in the United States. Rajp was the top bowler (the equivalent of baseball's pitcher) in the U.S. last year, and Thyagarajan was named the top batsman and top cricketer. Both were born in India but live in Southern California now and have competed internationally for the U.S.
Right now, cricket's popularity in America is highest among the ex-pat community, but Thyagarajan and Rajp want to help grow the sport here until it becomes as mainstream as baseball, basketball or football.
"It has huge potential," Rajp said. "The biggest setback for cricket in this country is the lack of media exposure it gets. People don't know about cricket. People have heard about cricket, but they don't know what it means and how it is played, what are the rules. The biggest factor in every sport trying to develop in any country is media exposure. Once the media exposure kicks in, kids will start to learn, schools will start to get it. … The more exposure cricket gets, the better it will be."
That sounds right. Baseball and cricket share many similarities, and if you love one, chances are you might like the other. After all, there are already cricket fantasy leagues.
A perception in this country is that cricket is a slow game because it can last anywhere from eight hours (or slightly less than the typical Red Sox-Yankees game) for a one-day international game to five days for a Test game. But there is a difference between length of game and pace of game. After all, cricket doesn't have more than a billion fans across more than 100 countries because they find the sport dull. (They have soccer for that.)
"Cricket might be a longer game but in terms of action, it has action pretty much every ball," Thyagarajan said. "There might be a run, there might be no runs, there might be a catch, there might be two runs. It lasts longer, but it's more action-packed."
Plus, cricket recently started a third format (Twenty20) that lasts about three hours to attract fans. The difference in the times for all three formats is determined by the limit on balls thrown to batsmen each game. The fewer the balls, the shorter the game.
Rajp and Thyagarajan explained all this and more to me while we watched the Cricket World Cup in our hotel at close to 3 a.m. With their help, what I saw began to make sense. I still have an enormous amount to learn about cricket -- and I no doubt would have learned more had I not been so tired or trying to figure out how Rajp and Thyagarajan were able to feed a live stream from the Internet into the room TV.
Despite staying up to watch India win, Rajp and Thyagarajan were ready to go the next day against Young and Upton at the Diamondbacks' new spring training facility. Rajp explained where the ball would bounce into the batters depending on where it hit the ground while Thyagarajan helped the ballplayers with their batting techniques. He showed them how to shift their feet and to use a more vertical strike with the cricket bat, which has a flat surface and a much larger sweet spot than a baseball bat. (Albert Pujols could do some serious damage with a cricket bat.)
Young might have joked about raking Rajp, but there was such a good rapport, interest and mutual respect among the four athletes that there was little for me to do other than chase after the balls Young and Upton hit.
Not that I had to run all that far. Young is an All-Star who hit 27 home runs last year. Upton was an All-Star in 2009 and is one of the game's most promising young players. But adjusting to Rajp's spins provided a new twist. They hit several balls hard, but there were no fence-clearing sixes (the cricket equivalent of a home run).
I would not, however, consider this a distressing harbinger for Arizona's season unless the San Francisco Giants sign Murali.
"It's very easy to understand the concept of the game once you play it," Rajp said. "So I think, when they started playing it, they started to get a good hang of it. Both of them have heard of cricket before, but never actually seen it or played it. So once they started holding a bat, swinging at a ball and talking to Aditya about some of the tips of batting, they actually got the grasp of some of the strokes."
"I definitely gained an appreciation for the sport," Young said.
So, as it turned out, this was not a no-win situation for the major league players but a win-win. They got exposure to a new sport and learned much about it, gained an interest in the game, can boast to their teammates that they batted against one of the country's best bowlers -- and they didn't get hurt. Plus, they have another career option.
Asked whether he worried that Young and Upton might one day cost him a spot on the U.S. cricket team, Rajp laughed and said, "In that case, I will start trying baseball."
Jim Caple is a senior writer for ESPN.com. You can follow him on Twitter at jimcaple.