Commentary
Off Base's spring training notes
Originally Published:
March 16, 2011
By
Jim Caple
| Page 2
The offseason can be as exhausting as it is confusing, what with all the rumors, tweets, blogs and player movements. And that's before the annual Off-Base spring training notes: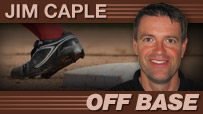 NEW YORK YANKEES: Hank Steinbrenner insisted Tuesday that he was not referring to SS Derek Jeter specifically when he said some players on last year's team spent too much time building 30,000-square-foot mansions in St. Petersburg, reportedly dating Minka Kelly, endorsing Gillette and Gatorade products, appearing in the movie 'The Other Guys' and filing for free agency to demand an unjustified four-year, $88 million contract after batting a career-low .270 with limited range at shortstop at age 36. ... Based on what he's seen so far from RHP Bartolo Colon, RHP Freddy Garcia and RHP Mark Prior, Manager Joe Girardi said the Yankees should be considered the favorites to win the AL East in 2002. ... 3B Alex Rodriguez took part in a batting drill Tuesday in which he was fed fastballs by batting coach Kevin Long and popcorn by Cameron Diaz.
KANSAS CITY ROYALS: The Royals announced LHP Jeff Francis will be their opening day starting pitcher this year and that highly touted prospect LHP John Lamb will be the Brewers opening day pitcher in 2013.
LOS ANGELES ANGELS OF ANAHEIM: The Angels released their media guide Tuesday, which reveals that in addition to Kendrys Morales, several other players have had their names misspelled for years. OF Torii Hunter does indeed have two i's in his first name but the first "i" in Torii should be dotted with a heart and the second should be dotted with a smiley face. Meanwhile, LHP Scott Kazmir should have one of those Heavy Metal umlauts above the "m" in Kazmir.
PITTSBURGH PIRATES: The Pirates are reportedly interested in trading for former Pittsburgh pitcher Doug Drabek's son, RHP Kyle Drabek, so they can eventually lose him to free agency as well.
PHILADELPHIA PHILLIES: The Phillies put single-game tickets for the regular season on sale Wednesday. World Series tickets go on sale Thursday. ... The starting rotation of RHP Roy Halladay, LHP Cliff Lee, LHP Cole Hamels and RHP Roy Oswalt worked Tuesday on their fundamental drills of throwing their gloves in the air and having teammates pile on them after no-hitters and clinching-game victories. ... LHP Jamie Moyer announced he plans to come back next season at age 50 after he learns to pitch right-handed.
SEATTLE MARINERS: GM Jack Zduriencik told reporters now that he's discovered the "information superhighway" on the "World Wide Web," he will be able to search the background of players on askjeeves.com and myspace.com for any criminal history. ... After a thorough examination, team doctors determined that OF Franklin Gutierrez's nausea and upset stomach was caused by prolonged exposure to the Mariners' offense last season.
OAKLAND A's: Despite growing protests demanding his resignation and army rebels advancing near the capitol, LHP Dallas Braden refuses to step down from his mound and has instead declared a state of emergency within a 20-foot radius of the rubber.
SAN FRANCISCO GIANTS: Closer Brian Wilson said his beard is in midseason form and also available for an endorsement deal with Smith Brothers cough drops.
ST. LOUIS CARDINALS: RHP Adam Wainwright is considering experimental Olivia Newton-John Surgery on his right elbow with the hope he can return to the mound this season or earn the role of Sandy in a remake of "Grease."
TAMPA BAY RAYS: In another attempt to fill embarrassingly vacant seats on Opening Day, Tampa Bay announced they will give away tickets in the bleachers, down both foul lines and also on the empty bench in the Rays' bullpen.
MINNESOTA TWINS: Following the positive response to the Kent Hrbek/Ron Gant bobblehead doll, the Twins announced they will hold more bobblehead giveaways commemorating other historic moments in Minnesota history, including the Dave Kingman's fly ball that never came down, Phil Cuzzi's foul ball call and the beloved Chuck Knoblauch hot dog pelting. ... The Twins open the season in Toronto but will skip their scheduled three-game series at Yankee Stadium after that because, as one official said, "What's the point?"
MILWAUKEE BREWERS: The Brewers think that once RHP Zack Greinke's ribs heal sufficiently, he will need three weeks to get his arm strength back and another two weeks to get his jump shot back.
TEXAS RANGERS: The Rangers have asked 3B/DH Michael Young if he would mind sitting in a middle seat on team flights this season so 3B Adrian Gonzalez can have a row to himself.
CSI: BOX SCORE
You know the rules. You get a fragment from an old box score and the challenge of determining what game it is from and why it is significant. I'm warming up for the new season by giving you some Opening Day specials. That should be enough of a hint to turn the difficulty of this box score from a 9.0 to a 7.0. Play ball!

BASEBALL CARD OF THE WEEK
[+] Enlarge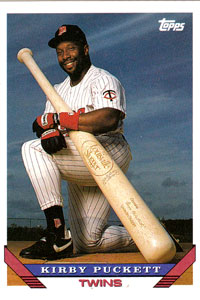 ToppsKirby Puckett's game was even bigger than this bat.
This is a wonderful card (1993 Topps No. 200) because it so beautifully captures Kirby Puckett. He's posing with an enormous bat, which is fitting because he was an excellent hitter (.318 career average) who hit almost everything he could reach. More importantly, he is smiling, which Puck usually did, making his teammates happier and more comfortable (Shane Mack pretty much owed his career to Puck's influence). He also is wearing a Twins uniform, which had been in some doubt the previous winter when he filed for free agency and weighed an offer from the Boston Red Sox before re-signing with Minnesota for $30 million over five years. Albert Pujols wants about that per season, which just shows you how salaries have increased over the years.
It has been five years ago this month that Puck died and I still don't quite believe it.
DONNIE, YOU'RE OUT OF YOUR ELEMENT
• With last week's issue, Joe DiMaggio has now appeared on the cover of Sports Illustrated twice despite retiring three years before the magazine originated in 1954 (he also appeared in 1993). That's more cover appearances than Vladimir Guerrero (once, in 2000). Speaking of Joltin' Joe, there's an odd comment in the Derek Jeter entry of the 2011 Baseball Prospectus. It criticizes Jeter for pushing for a four-years-plus contract during the offseason, which, the writer says, "suggests at least one of the following: (A) while Jeter may be the closest thing the modern Yankees have to Joe DiMaggio, he lacks DiMaggio's sense of dignity; (B) never mind winning, it's money that matters." Ummm, DiMaggio was notorious for holding out for more money. He also was so tight with the wallet that, as Richard Ben Cramer reported in his biography, "Joe DiMaggio: The Hero's Life," he refused to sign baseballs for the hospital that bore his name, forcing the Joe DiMaggio Children's Hospital to buy his autograph for fund-raisers. DiMaggio also allegedly had mob connections. Dignity? Yeah, right.
• The Umps Care charity, which provides assistance to youths and families in need, is holding an online auction through March 20. Among the items/events available are memorabilia signed by Pujols, Halladay, Stephen Strasburg, Nolan Ryan and President Obama, a behind-the-scenes experience with "Baseball Tonight," a hotel room and Green Monster seats to a Red Sox-Yankees series. Go to umpscare.com to make a bid or for further information.
CSI: BOX SCORE ANSWER
Did you spot that this was the 1975 game when Frank Robinson became the first black manager in major league history? Robinson was the player/manager for Cleveland and he added drama to the occasion by hitting a home run in his first at-bat. Robinson guided Cleveland to a 79-80 record his first year and 81-79 his second before being fired during the 1977 season. Robinson's life would make for a very interesting biography. He was a high school basketball teammate of Bill Russell, one of the great players in history, a Triple Crown winner, an MVP in both leagues, a manager and a league executive. And he's not done yet.
Jim Caple is a senior writer for ESPN.com. You can follow him on Twitter at jimcaple.