Commentary
Our national artificial pastime
Originally Published:
April 20, 2011
By
Jim Caple
| Page 2
News Item: A robot designed by University of Pennsylvania engineers will throw out the first pitch at Wednesday's Phillies game. The robot, however, reportedly only throws a 30-40 mph fastball.
CY, ROBOT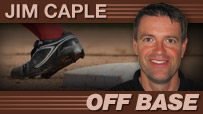 April 2011: PhillieBot throws out the first pitch, then refuses to leave the mound, insisting that even with a top speed of 40 mph it still throws harder than Jamie Moyer. Its creators are forced to dismantle the robot after it angrily projectile-vomits on Phillies fans in the stands and incinerates pitching coach Rich Dubee with a death ray fired from its antennae.
August 2011: Penn engineers design a new, improved PhillieBot 2.0. Its fastball still reaches only 60-70 mph, but it is capable of throwing 220 pitches a game. Cincinnati manager Dusty Baker orders five of the robots for his starting rotation.
December 2011: Apple introduces the iPitcher, an android who has a fastball that tops out in the low 80s, throws a mediocre curveball, a so-so slider, is not compatible with other models and has a low battery life that limits it to one inning maximum per game … but throws left-handed. General managers line up around the block to buy the new droid.
March 2012: The Penn engineers release the PhillieBot 3.0, which is capable of throwing a 100 mph fastball with a nasty slider and an unhittable changeup. It also can throw 250 pitches a game and pitch five days a week. The Phillies release PhillieBot 3.0 at the end of spring training when the robot fails to crack the Philadelphia starting rotation.
November 2012: CalTech engineers introduce a lifelike but utterly soulless android that can hit for power and average to all fields, field its position adequately and register programmed, human-like -- but completely insincere -- emotion. They call it A-Rod D2.
January 2013: Yankees general manager Brian Cashman purchases four A-Rod D2s at a cost of $350 million. Red Sox general manager Theo Epstein buys the remaining two droids. Pirates general manager Neal Huntington buys a set of four Roomba floor vacuum robots from RadioShack.
October 2013: The Blue Jays cry bush league play during the ALCS when the Yankees' A-Rod D2s malfunction and shout "I got it" when running the bases on routine pop flies and spin around the infield repeatedly blaring "Warning, warning! Danger, Robinson Cano!"
May 2014: Google releases a robot manager able to kick dirt on umpires, throw bases into the outfield and knock over postgame spreads. Google calls it the G-Leyland but has to recall it when users report that the robot's hard drive frequently overheats and begins smoking.
September 2014: Microsoft's new "Win Dows '15" droid pitches 352 innings for the Mariners, strikes out a record 387 batters, holds opposing hitters to a .165 batting average, sets a new ERA record at 0.96 and becomes the first artificial pitcher to win a Cy Young after going 12-17 for Seattle.
July 2015: The Astros fire HAL, Facebook's new computer pitching coach, after a crucial save situation is blown in Houston when it refuses repeated orders to open the bullpen door.
November 2017: After decades of public fears about artificial intelligent life taking control of the planet, the long-dreaded day of reckoning finally arrives when MIT engineers introduce BorasBot. The robot agent signs up all the A-Rod D2 as clients and has them all declare free agency in the middle of the World Series.
July 2018: Although wildly popular at first, Facebook's robot baseball writer runs into problems when it gains weight and frequently breaks down after spilling food and beverages into its hard drive.
January 2020: NASA and the Pentagon design a robot capable of throwing a 125 mph fastball and a 100 mph curveball, hitting a baseball 750 feet, running from home to first in two seconds and covering all three outfield positions at the same time. The downside? Each robot costs $817 billion and only works on the moon. The Yankees order 25 of them and begin building a new stadium at the Sea of Tranquility.
CSI: BOX SCORE
You know the rules. You get a fragment from an old box score and the challenge of determining what game it is from and why it is significant. After some recent season-opening softballs to get you back up to speed, I give this one a difficulty rating of 8.5.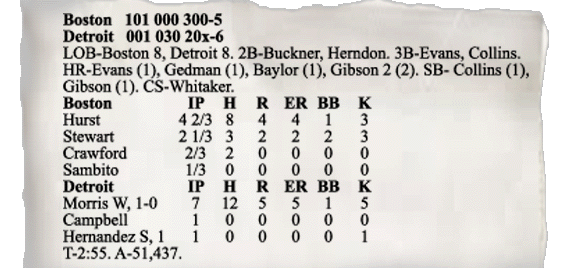 BOX SCORE LINE OF THE WEEK
Tim Lincecum took a no-hitter into the seventh inning (7 1/3 IP, 1 H, 0 R, 0 ER, 3 BB, 9), while Josh Johnson took one into the eighth (7 2/3 IP, 3 H, 1 R, 1 ER, 3 BB, 10 K). But this week's award goes to a pitcher who didn't fare so well: Philadelphia's Kyle Kendrick. He spent last season in the Phillies' rotation but with the addition of Cliff Lee, he finds himself in the bullpen this season. And not pitching very often there, either. Pitching on nine days' rest Sunday, Kendrick struggled a bit with his control, putting up this award-winning line:
1 IP, 1 H, 3 R, 1 ER, 3 BB, 0 K, 1 HBP, 1 WP
[+] Enlarge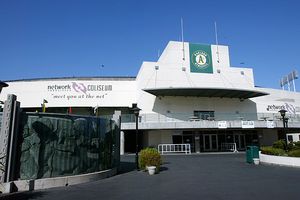 Justin Sullivan/Getty ImagesThe Oakland Coliseum wouldn't be the first good thing Al Davis ruined.
BALLPARK RANKINGS
The Oakland Coliseum. The Athletics don't need a new stadium; they just need the Coliseum returned to its former glory. Once upon a time, this was one of my favorite ballparks. It just felt good to enter the stadium on a sunny day, look out toward the grassy, flower-draped slope above the outfield and listen to the great sound system. But it's too bad that former stadium sponsor McAfee didn't protect the Coliseum from a vicious attack by the Al Davis virus. Because when Oakland erected the dreadful Mount Davis for the Raiders, it eliminated the grass slope, blocked the view of the hills and forever ruined the Coliseum for baseball. It completely changed the ambience from that of a welcoming park to an imposing stadium. Forget tearing down old dams to restore salmon runs -- what environmentalists really need to demand is tearing down Mount Davis to restore a great old ballpark. At least the parking lot remains the best tailgate atmosphere outside the Midwest, but a relaxed, aromatic parking lot is small consolation for a ruined ballpark.
Score: 74
Current rankings:
1. Camden Yards, Baltimore 92
2. Target Field, Minnesota 91
3. The Ballpark in Arlington 77
4. The Oakland Coliseum 74
[+] Enlarge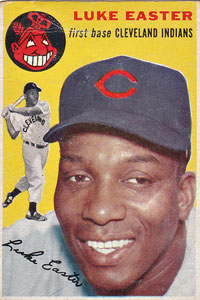 Topps Everyone is an Easter fan this time of year.
BASEBALL CARD OF THE WEEK
I picked up this card (1954 Topps, No. 23) at DJ's Sportscards because my buddy Scooter is a huge Luke Easter fan, having grown up watching him at the end of his career with the Buffalo Bisons (Easter was the first batter to hit a home run over the center-field scoreboard at Buffalo's old Offerman Stadium). When I saw the card I was intrigued by the Indians logo that appeared to have a turn-key at the top of Chief Wahoo's head. Upon closer inspection, it turned out to be a crown. So I assumed the card was from 1955. But it's from 1954, which means it was printed before Cleveland won the American League pennant that season. Which means they must have still been celebrating their 1948 world championship. Well, more power to them, especially since Cleveland fans are still waiting for another world championship. Happy Easter, everyone, and go Shin-Soo Choo!
DONNIE, YOU'RE OUT OF YOUR ELEMENT
• With all this talk of cutting government spending, it's too bad no one cut the Barry Bonds investigation and prosecution before it dedicated years of manpower and millions and millions of dollars into a case that couldn't even produce a guilty verdict on the perjury charges. What a colossal waste of time and money.
• Take a Seat, Please: One problem with those ultra-expensive seats behind home plate is that so often they are left empty because either the team couldn't sell them or the people who bought them would rather watch the game down inside the private club. Empty seats make for an awful visual, especially since you see them so often from the center-field camera. My solution? Copy the Academy Awards strategy with seat-fillers. Teams selling box seats for more than $150 apiece must also employ seat-fillers who sit there when the ticket buyers leave for the bathroom, the bar, etc. Everyone wins -- the teams' games don't look sparsely attended, TV viewers don't have to stare at empty expensive seats and more people are employed. (And don't get me started on the moats that separate those seats from the rest of the great unwashed.)
• Provide Your Own Punchline: The Mariners gave away dirt Monday night. By the way, Seattle's four smallest crowds since moving out of the Kingdome have all been in its past five home games. Last week the team used Groupon to sell luxury-suite tickets for $60 (listed value: $160).
• Lies, Damn Lies and Statistics: Early leader for the Felix Hernandez Award -- San Diego's Dustin Moseley, who is 0-3 with a 1.83 ERA. The Padres have been shut out three times this season -- all three in Moseley's starts. … Cincinnati's Edinson Volquez allowed back-to-back home runs to the other team's first two batters of a game in consecutive starts.
CSI: BOX SCORE ANSWER
This was a tough one, even if you knew it was another Opening Day box score (as you should have picked up from all those 1s next to the home runs, stolen bases and saves, as well as the 1-0 and 0-1 pitching records, and the crowd of 51,437 at Tiger Stadium). Don Baylor's presence in the Red Sox lineup indicates this was either 1986 or 1987 (his only seasons in Boston). And if you know your meaningless trivia, you guessed this was the 1986 opener when Dwight Evans became the first player to ever homer on the very first pitch of the major league season (the Tigers opener started before any other game). It proved to be a harbinger of a very special season for the Red Sox.
Jim Caple is a senior writer for ESPN.com. You can follow him on Twitter at jimcaple.