Commentary
Leave King Felix alone!
Originally Published:
May 11, 2011
By
Jim Caple
| Page 2
Can the rest of the country please let Felix Hernandez pitch in Seattle in peace?
I realize the Yankees and Red Sox could always use another great pitcher in their rotations, but you know something? Struggling teams are not farm clubs for the rich and successful.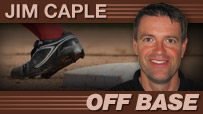 The Mariners had another awful start -- not surprising, given that one of their biggest moves over the winter was signing Jack Cust -- so the national drumbeat mounted that Seattle should react swiftly by trading Felix while his value is at its peak. Because, after all, he just turned 25 and is signed through the year 2014. And why would the Mariners or their fans possibly need or want the American League's best pitcher for this season and the following three years?
Struggling clubs are like Groupon, right? They should give away their product for next to nothing. (And don't get me started on Groupon.) As one National League executive recently told Jayson Stark, "King Felix is young, and he's great and all that, but they're not ready to win with that outfit." Note: Despite their current three-game losing streak, the Mariners have the same record as the Yankees over the past three weeks. But who cares what a team's record is way up in the Pacific Northwest? There are some teams in the East that could use more pitching!
I'll grant you, the Mariners cannot hit. (Or field very well.) But a third of the teams in the majors can't hit anymore, either. And because of this and its pitching, Seattle is as close to first place as the Red Sox, with promising starter Michael Pineda blowing away opponents and first baseman Justin Smoak providing some needed power. Is it really such a stretch to think the Mariners could not possibly be contenders again before Felix's contract expires?
(Long-suffering Mariners fans, please do not answer.)
The Mariners aren't the only ones who are supposed to feed their offspring to the rich and hungry. People said the Padres had to trade Adrian Gonzalez last year even though they've been good enough to either win the NL West or be eliminated the final day of the season in four of the past six years. They said the Royals had to unload Zack Greinke a year after he won the Cy Young and two years before he would be eligible for free agency. Hell, if the Brewers don't get back to .500 soon, I fully expect to hear demands that Milwaukee has to trade Ryan Braun. After all, he's only signed through 2020! The clock is ticking!
Essentially, if you're a team with a losing record and have a good player signed through the next season or the next four AND you don't play in New York, Boston or Philadelphia, people think you're obligated to trade him to a better team for prospects who probably will never amount to anything.
Granted, sometimes such trades make sense -- particularly when a player is in the final months of a contract and the team is buried in the standings -- and sometimes they work out splendidly. But more often they don't work out and a lot of replica jerseys and bobbleheads simply wind up buried in the closets of frustrated fans.
Yes, I know an unhappy star's fragile emotions can play into these trades. And I know this will make me sound like an even older, more bitter writer than I am but & so what if a player isn't happy? It's time to stop giving into pouting millionaire players who no longer like the length of the contract they so happily signed.
I understand their desire to play with a contender and win a World Series. But it can't be anywhere near as gratifying as hanging tough, building the club around you and taking the Royals or Mariners or Pirates or whomever back to the playoffs. (Of course, Ernie Banks might disagree with this perspective.)
So let's keep this simple. Here are the two very basic rules for trades involving star players:
1. If you're a team with a star signed for a couple more seasons, you can't trade him for prospects who may never pan out. Unless, as part of your latest five-year plan, you also lower ticket and concession prices until the team has a winning season again. If you are intentionally going to provide a lesser product for a season or two, you'd better not charge premium prices.
2. If you're a player who signed a contract extension or a long-term deal as a free agent, you are obligated to stay with that team for the term of the deal. No moping. No bellyaching. For crying out loud, have some self-respect and give it your all no matter the team's record. Be a man instead of a spineless, spoiled, self-centered wimp.
And in the meantime -- enough already with the Felix trade talk. Let him be. If any teams want another great pitcher, let them develop one themselves.
(And if this leaves writers and bloggers short of material, I suggest they write that the Brewers ought to trade Prince Fielder to Seattle later this summer.)
CSI: BOX SCORE
You know the rules. You get a fragment of an old box score and the challenge of determining what game it is from and why it is significant. I give this one a difficulty rating of 5.0

BASEBALL CARD OF THE WEEK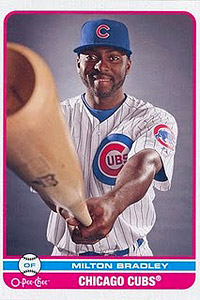 Courtesy of O-Pee-CheeWill someone give Milton another job? Stranger things have happened in this league.
Cubs fans must love this card (2009 O-Pee-Chee No. 349). There's Milton Bradley swinging the big bat general manager Jim Hendry expected, though it appears Milton may be swinging that bat at something other than a pitched ball. The Mariners designated Bradley for assignment Monday, and it's doubtful he will get another job. But don't be too sure. Just consider how many teams crossed their fingers with him previously, despite his record over the years. Bradley only once hit 20 home runs and never scored or drove in as many as 80 runs. He missed so many games (roughly 60 a year for the past nine seasons) that he averaged roughly 13 home runs, 48 RBIs and 54 runs a season, yet six teams still paid him $34 million and endured endless headaches hoping everything would work out in the end. It never did.
BOX SCORE LINE OF THE WEEK
Cliff Lee struck out 16 (7 IP, 9 H, 3 R, 3 ER, 1 H, 16 K) but lost. Angels starter Ervin Santana had a no-hitter intact but had to leave after four innings (4 IP, 0 H, 0 R, 0 ER, 1 BB, 7 K) due to a long rain delay in last Wednesday's marathon in Boston. But this week's award goes, of course, to a pitcher who fared a little better: Detroit's Justin Verlander.
Verlander pitched the second no-hitter in five days, shutting out the Blue Jays while allowing only one walk in the eighth inning. A double play quickly erased that baserunner and Verlander wound up facing the minimum. His line:
9 IP, 0 H, 0 R, 0 ER, 1 BB, 4 K
The no-hitter was Verlander's second, giving him half the total thrown by the Tigers in the past 59 years (four). Of course, these no-hitters are getting to be a little old hat in the majors. This was the 10th no-hitter thrown in the past two years (dating to June of 2009). These things happen. In 1990-91, there were 14 no-hitters.
BALLPARK RANKINGS
[+] Enlarge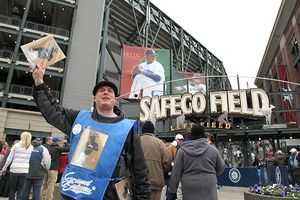 Otto Greule Jr/Getty ImagesThen only thing missing from Seattle's Safeco Field is, well, Seattle.
Safeco Field, Seattle: Depending on your perspective, the Mariners' ballpark is located either at the beginning or the end of Interstate 90. Enter the entrance ramp at Edgar Martinez Drive, set the cruise control and 3,085 miles later you will zoom past Fenway Park and pull into the Ted Williams Tunnel. I've always loved that fact about Safeco (in fact, I once drove that entire road ). Now, I really like this ballpark. I've been to hundreds of games here, and the fans' access throughout the stadium is unparalleled. The new area beyond left field takes stadium concessions to a new level of flavors (think "Top Chef" Goes to the Ballpark), the retractable roof guarantees fan comfort and the dimensions lend themselves to low-scoring, tight games. But the one significant drawback is that it doesn't take advantage of its location. With Elliott Bay and the Olympic Mountains to the west, Mount Rainier and the Cascade Mountains to the east, this is one of the world's most beautiful cities, but this stadium might as well be in Milwaukee. It has no signature spot that says "Seattle." You can't even see the Space Needle from most sections. My tip if you go: Fill up at The 'Pen and grab a seat anywhere, but be sure to take a break to hike up to the outside concourse in the upper deck along the third-base line to catch the sunset over the Olympics for the loveliest view outside of Ichiro taking his stance at the plate.
Score: 87.
Current rankings
1. San Francisco 94
2. Camden Yards, Baltimore 92
3. Target Field, Minnesota 91
4. Safeco Field, Seattle 87
5. Busch Stadium, St. Louis 78
6. The Ballpark in Arlington 77
7. The Oakland Coliseum 74
DONNIE, YOU'RE OUT OF YOUR ELEMENT
" For all the panic over Derek Jeter, I wouldn't be too bent out of shape over having a shortstop with a .336 on-base percentage and on pace to score nearly 100 runs. Is Jeter what he once was? No. But let's have some perspective. There are teams that are worse off.
" One benefit of San Francisco winning the World Series last fall is that we finally have a book about the Giants on store shelves in addition to all the tomes dedicated to the Yankees and Red Sox. There aren't many books about the San Francisco Giants, but "A Band of Misfits" by the fine San Jose Mercury News beat writer Andy Baggarly helps make up for that shortage. It's an entertaining and informative account of the 2010 Giants season, told with great passion and keen insight. Should Giants fans buy it? As a certain ace might say, F--- yeah!
" Count me among others wondering a little why Pepto-Bismol had Aroldis Chapman celebrate Cinco de Mayo in a commercial. Loved the video of his fastball destroying a pink piņata. But why use a Cuban pitcher for a holiday celebrating Mexican heritage? Wouldn't it have been better to use Jorge De La Rosa? Oh well, I guess we can just look forward to the commercial showing Joey Votto homering to set off Fourth of July fireworks a la Roy Hobbs because, you know, Canada and the U.S. are the same country, right?
" When the Pirates woke up Tuesday at 18-17, it was the latest they have been above .500 since May 29, 2004. The Pirates have won 11 games on the road this season after winning just 11 all last year.
CSI: BOX SCORE ANSWER
Did you see the hit next to DiMaggio's name and take a guess that this was the box score from the start of his 56-game hitting streak? If so, good work. DiMaggio started the streak 70 years ago this week. DiMaggio hit .408 during the streak, which is just two points higher than Ted Williams hit for the entire season. Which is why I've always been more impressed by what Williams did over the course of an entire season, rather than what DiMaggio did over two months.
Jim Caple is a senior writer for ESPN.com. You can follow him on Twitter at jimcaple.