Commentary
Predicting Jorge Posada's season
Originally Published:
May 18, 2011
By
Jim Caple
| Page 2
In the most notorious example of player rebellion since Derek Bell's "Operation Shutdown," Jorge Posada refused to play Saturday, apparently because manager Joe Girardi hurt his feelings by having the .165-hitting veteran bat ninth in the lineup.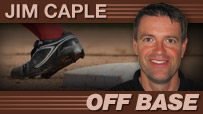 I don't know, but I'm pretty sure that's not the reason Lou Gehrig ended his playing streak.
The Yankees reportedly were so upset by Operation Pout Down they wanted to release Posada. Fortunately, cooler heads prevailed and the team decided merely to embarrass the former catcher who helped them to seven pennants and five world championships. Management also was so angry with team captain Derek Jeter for not ripping his longtime teammate and close friend in front of the always-restrained New York press that the team held a conference call to sort it all out. Girardi then told reporters, "You know, it might be the best time for this to happen. It might be what brings this club even closer."
With the Yankees slumping at the plate, dropping in the standings and facing a possible lawsuit for not passing tips on to their wait staff (have they no shame whatsoever?), the ill feelings figure only to get worse as the season goes along …
June 17: Pitcher CC Sabathia selfishly refuses to start an interleague game against the Cubs at Wrigley Field because Girardi has him batting ninth.
[+] Enlarge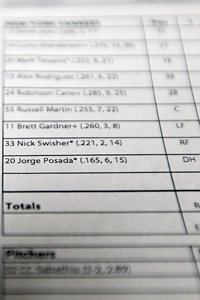 Jim McIsaac/Getty ImagesStick and stones may break my bones but batting ninth will kill me.
June 21: In another selfish display, Posada refuses to put his pants on the same way as everyone else. Trying to jump into them two legs at a time, Posada trips, falls and sprains his ankle. Fortunately, the sprain does not affect his swing. He still can't hit lefties.
June 25: General manager Brian Cashman, team president Randy Levine and new division VP Bill Lumbergh call in Jeter to complain about the poor example he is setting as team captain by not properly filling out his TPS reports.
June 28: Visibly angry, Cashman and Levine hold a hastily arranged news conference to announce that Posada has once again selfishly refused their friend requests on Facebook.
July 12: Posada refuses to play in the All-Star Game in Phoenix or take part in the Home Run Derby or attend the red carpet walk because he wasn't voted on to the team or named to the reserves by American League manager Ron Washington.
July 26: Claiming that he is simply trying to bring the team even closer together, badly slumping Alex Rodriguez selfishly refuses to bat ninth, eighth, seventh, sixth, fifth, fourth, third, second or leadoff against Cy Young winner Felix Hernandez.
July 27-30: Jeter misses a four-game series due to the Yankees ordering him to attend mandatory company-wide orientation, first-aid and sexual-harassment seminars.
Aug. 5: Inspired by the old Chico Escuela routine from "Saturday Night Live," the YES Network airs a new "Yankeeography" titled: "Bad Things About Jorge Posada." Among the charges: Posada often uses the "12 items or less" grocery checkout line even when he has 13 or 14 items, frequently butt-dials people and leaves an awful stink behind in the bathroom.
Aug. 18: Posada selfishly refuses to follow Brett Gardner on Twitter.
[+] Enlarge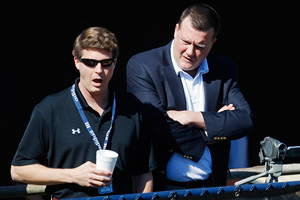 AP Photo/Julie JacobsonDon't worry, Yankee Universe ... Hank and Hal Steinbrenner are here. OK, maybe you should worry a little.
Aug. 23: Levine and owner Hank Steinbrenner blast stadium club waiters for wanting to selfishly keep the 20 percent tips the Yankees require their customers pay them. "I'm sick and tired of selfish waiters pocketing the money we need to pay to selfish players."
Sept. 5: The Yankees replace the "Hip, Hip Jorge" salute on the scoreboard with "Eff you, Jorge!"
Sept. 20: Posada refuses to campaign for U.S. president, declaring, "If nominated I will not run, if elected I will not serve … especially if they put my name on the ballot below the lame guys from the Green or Socialist parties."
Oct. 22: Posada selfishly refuses to take a curtain call after joyous fans chase him off the field Chambliss-like following his pinch-hit, walk-off home run off Tim Wakefield to beat the Red Sox in Game 7 of the ALCS.
Oct. 28: The Yankees win the World Series when Posada hits two home runs and drives in five runs in Game 6 and is named series MVP.
Nov. 26: Despite his .186 batting average during the season, New York re-signs Posada to a two-year, $36 million contract. "He's a true Yankee," Cashman says.
CSI: BOX SCORE
You know the rules. You get a fragment of an old box score and the challenge of determining what game it is from and why it is significant. I give this one a difficulty rating of 7.5.

BOX SCORE LINE OF THE WEEK
Justin Verlander came close to becoming the second pitcher in history to throw consecutive no-hitters but gave up a hit in the sixth (8 IP, 2 H, 1 R, 1 ER, 3 BB, 7 K). Cristhian Martinez became the first reliever in two seasons to pitch at least four innings without allowing a baserunner (4 IP, 0 H, 0 R, 0 ER, 0 BB, 4 K). And then Aroldis Chapman went all Nuke LaLoosh, throwing his 100-plus fastball everywhere but in the strike zone and walking seven batters and hitting another over a two-game, nine-batter stretch (a combined line of 1/3 IP, 0 H, 7 R, 7 ER, 7 BB, 0 K, 1 HBP). It's a wonder he didn't hit the mascot.
But could this award go to anyone other than Kansas City's Vin Mazzaro, who not only allowed 14 runs but allowed those 14 runs in relief? Mazzaro entered Monday's game versus the Indians because starter Kyle Davies left in the first inning after walking the bases loaded and reliever Nate Adcock was ineffective in relief. Fourteen runs later, Mazzaro's ERA had risen from 4.50 to 22.74. His staggering line:
2 1/3 IP, 11 H, 14 R, 14 ER, 3 BB, 2 K
Mazzaro is just the third pitcher since 1947 to allow 14 earned runs in a game, and the first to do so in relief since 1942.
BALLPARK RANKINGS
[+] Enlarge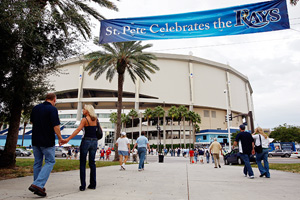 Jamie Squire/Getty ImagesNeedless to say, the Trop didn't fare well in our rankings.
Tropicana Field, Tampa Bay: It's hard to believe now but there was a time in the late '80s and early '90s when this dome was considered a lure for a major league team. No, really. It was. Teams bitching for a new stadium would hold out Tampa Bay as the ideal alternative if they didn't get what they wanted. The White Sox, the Mariners and especially the Giants all threatened to move here. As I said, it's hard to imagine why. The location discourages fans from Tampa, the ring of catwalks are an embarrassment and no one wants to play every baseball game under a roof (it's the only fixed-roof dome left in baseball). I will give the Rays credit for making the best of what they have -- the carnival-like midway behind the outfield was at least a good try -- and I don't think it's a bad thing at all to be able to play multiple sports in one venue rather than force taxpayers to pay for costly separate facilities. But let's just say that no team in another city will ever threaten to move here if it doesn't get a new ballpark.
Score: 68.
Current rankings
1. San Francisco 94
2. Camden Yards, Baltimore 92
3. Target Field, Minnesota 91
4. Safeco Field, Seattle 87
5. Busch Stadium, St. Louis 78
6. The Ballpark in Arlington 77
7. The Oakland Coliseum 74
8. Tropicana Field, Tampa Bay 68
BASEBALL CARD OF THE WEEK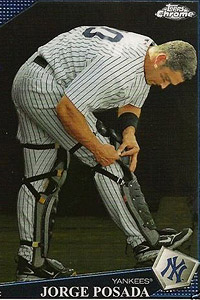 Courtesy of ToppsThe sports world demand of "What have you done for me lately?" is rearing its ugly head on Posada.
Ah, the drama and tension of this card (2009 Topps #101 Chrome Refractor). Is Posada strapping on his shinguards for yet another inning behind the plate for the team he helped win five world championships? Or is one of New York's old Core Four taking them off because he isn't batting suitably high enough in the order?
DONNIE, YOU'RE OUT OF YOUR ELEMENT
• Interleague play starts again this week and boy, I just can't wait to see another tense matchup between those "natural rivals" -- the Mariners and the Padres. Interleague play works fine for teams with true natural rivals in the opposing league, but for everyone else the concept has long since lost its appeal, like dial-up connections. But here's an idea -- courtesy of Mariners baseball information manager Jeff Evans -- to easily spice up the interest level. Wouldn't it be more appealing to fans if interleague games were played by the DH rules of the visiting team? That way, fans in the American League could get to see their pitchers bat for once -- and in the case of the Mariners, I think they would welcome seeing Felix Hernandez bat these days, given his home run off Johan Santana. And fans in the National League would get to see their team play with the DH. The point is, fans in each league would get to see something they otherwise never see, rather than another lame series with an opponent they're supposed to hate for no reason whatsoever.
• Cubs owner Tom Ricketts told Crain's Ed Sherman, "I can't stand it when I hear someone say they can't afford to go to a game. It might be hard to get tickets for a Yankees or Sox game, but there's no reason why they can't afford to go to another game." Evidently, this man has never had to buy a ticket or a beer or pay for parking once in his entire life.
• Nice week for Mariners reliever Brandon League, who blew three save chances and had four losses in four consecutive appearances over six days. The only way it could be worse is if the IRS audited him. While there is controversy in Seattle over whether he should remain "the closer," I'm not sure it's warranted. After all, I don't think he officially is "the closer" because the Mariners haven't played special music for his entrance, and you can't be a "closer" without that, right? (I can't wait until teams play special entrance music for left-handed setup guys and mopup men).
• I very much enjoyed "Everything Must Go," the new dramedy with a splendid Will Ferrell portraying an alcoholic who gets fired and comes home only to find out his wife not only has left him, she's changed the locks and thrown all his possessions on the front lawn. (At least THAT didn't happen to Brandon League.) My one quibble: Ferrell's character is a big baseball fan who cherishes a ball autographed by all the players on the 1978 Yankees world championship team. But he wears one of those awful, ridiculous Yankees jerseys with the player's name on the back (in this case, Munson). Real fans never wear those cheap things. The only acceptable replica jersey is a jersey that, you know, replicates the real thing -- and in the case of the Yankees and Red Sox home jerseys, that means with no name on the back!
• I'm shocked -- shocked! -- that a former athlete, movie star and politician could have been unfaithful to his wife. Who would have imagined?
• The player with the most home runs this season at Target Field has hit five there. Alas for the Twins, that player is Jose Bautista, who has nearly as many home runs in Minnesota this season as the Twins combined (six). Michael Cuddyer has the most home runs by a Twin at their home park (two).
CSI: BOX SCORE ANSWER
This was not an easy one but there was one clue: E-Baylor. That would be Don Baylor, and since he didn't play with the Red Sox until 1986, that means the game was either played that season or the next. That Dave Henderson is still in the Seattle lineup means the game took place in early 1986 before the Mariners traded Hendu to the Red Sox. And fans who know their trivia know that error by Baylor also means this was the game in which Roger Clemens struck out 20 batters. That's because Baylor dropped a foul popup by Gorman Thomas in the fourth inning that allowed Clemens to strike out Thomas in the same at-bat. Without that error, there probably would have been no record.
Jim Caple is a senior writer for ESPN.com. You can follow him on Twitter at jimcaple.