By Jim Caple
Page 2
A couple of days remain at baseball's winter meetings but we already have the winners in the annual Contracts That We Will Be Mocking Within Two Years contest.
Determined to prove they have money to waste -- just like the U.S. teams! -- the Blue Jays signed closer B.J. Ryan (42 career saves) to a five-year, $47 million contract last week. Worried that the Yankees received all the headlines the past couple winters for having wasted money on Kevin Brown and Carl Pavano, the Mets issued a preemptive strike by signing Billy Wagner to a four-year, $43 million contract. Not only are the contracts the largest ever given to relievers, they are the largest contracts given to anyone outside of Halliburton.
The most alarming thing about those contracts? They don't even include the royalty fees for playing "Enter Sandman" when Wagner takes the mound and whatever heavy metal song Ryan prefers.
Don't get me wrong. I'm not saying Ryan and Wagner are bad relievers. I'm just saying both teams could have found someone for the role for a whole lot cheaper. Although important, the closer is the most overrated and readily replaceable role for a team.
Consider the world champion White Sox (and isn't it still strange to see those words strung together? Sort of like still seeing "Oscar winner'' attached to Kim Basinger's name).
Chicago began the season with Shingo Takatsu ($2.5 million) as its closer, then went to Dustin Hermanson ($2 million), who finished with 34 saves and a 2.04 ERA but developed back problems down the stretch. Chicago then slipped rookie Bobby Jenks into the role. Jenks was released by the Angels last winter and has been on the David Wells fitness program most of his career, yet he somehow was good enough to retire the final batters and clinch the World Series win. Jenks earned just a prorated amount of the major-league minimum salary, but he was the man who recorded the final out of Chicago's first world championship in 88 years.
So, even though they went through three closers, the White Sox still spent half the money last year that Toronto will be on the hook for Ryan every season for the next five years. And the closer with whom the Sox wound up winning the championship made more money from his World Series share than his salary.
Did the White Sox get lucky? Not at all. Aside from winning the World Series, what the White Sox did wasn't that unusual. Teams pick up quality closers on the cheap all the time.
The Marlins signed 37-year-old Todd Jones for $1.1 million last year -- Florida was his seventh team since 2001 -- and he saved 40 games. Who had heard of Chad Cordero before this season? Not many people other than the budget-conscious Nationals, who made Cordero their closer and watched him lead the league in saves for just $346,500. The Brewers grabbed Danny Kolb from the Rangers a couple of years ago, made him their cheap and good closer, then let him go when he showed signs of losing his effectiveness (and increasing salary). They replaced him last year by plucking Derrick Turnbow out of the Angels' system and paying him $322,000 to save 39 games with a 1.74 ERA.
Sure, it's easy to look back and point to the bargains after the season. But it is done so regularly with closers (good-bye, Eddie Guardado -- hello, Joe Nathan) that you don't need to slip on a pair of Eric Gagne's goggles to see the logic. Not everyone can close, but the role has devolved so much that quite a few guys can if given the chance. Yet some teams never learn this because they're focused on finding a proven closer (i.e., one who is vastly overpaid).
Is it expensive to lose a couple of games when closers blow ninth-inning leads? Sure. But blown leads happen to the best of closers almost as often as they do to the average ones. It's a whole lot more expensive to pay $30 million to $40 million more for a closer than necessary just because he comes complete with his own theme song.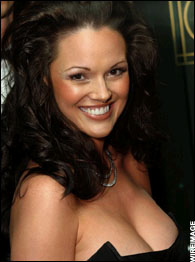 Congratulations, Anna! You've been traded to Kansas City!
FROM LEFT FIELD
Last winter, Kris Benson's wife, Anna, famously told Howard Stern that if she ever caught her husband cheating on her, she would respond by sleeping with everyone on the Mets, including the bat boys. This week she responded to trade rumors involving her husband by telling the New York Daily News, "We would never, ever have signed with New York if they had said they were going to trade us."
Mrs. Benson, who posed topless for Penthouse and has talked to Playboy about posing nude for that magazine, also criticized the Mets for acquiring Carlos Delgado because the Puerto Rican player is "unpatriotic" for not always standing for "God Bless America." (Posing for Playboy, she said, is "All-American.") And, Anna says, one of the reasons the Bensons signed with New York was so they could help the city after 9/11. "We specifically did it for New York, and then they turn around and trade us?" she said to the Daily News. "I just don't understand."
We don't either, Anna. Who wouldn't be upset with a team that pays a guy just $7.5 million a year to win 10 games? In fact, she's only scratching the surface -- Anna has plenty more upsetting her.
The Top 10 Things The Mets Have Done to Piss Off Anna Benson
10. With the loss of Mike Piazza to free agency and the trade of Mike Cameron, the Mets are getting rid of all the really cute teammates.
9. Kris' crude teammates keep inviting her to join them in the showers after a game.
8. The Mets stubbornly refuse to employ Abercrombie & Fitch catalogue models as their batboys.
7. For a photo spread in the team program, the Mets marketing department asked her to pose topless with a pants-less Mr. Met.
6. When they go to strip clubs, Kris' unpatriotic teammates refuse to stand for their lap dances.
5. Unpatriotic concession stands refuse to rename the fries "freedom fries."
4. General manager Omar Minaya asked, "If I said you have a great body, would you hold it against me?"
3. She's still upset about finding out they didn't sign with the New York team Rudy Giuliani roots for.
2. For the 19th consecutive seasons, the unpatriotic Mets didn't visit the president in the White House.
And the No. 1 Thing The Mets Have Done To Piss Off Anna Benson ...
1. Shea Stadium still sucks.
INFIELD CHATTER

"President Bush came out again today for expanding his guest worker program. That's the program where immigrants are eligible to take those low-paying jobs no one wants. Like Dodgers manager."
-- Jay Leno
---
Jim Caple is a senior writer at ESPN.com. His first book, "The Devil Wears Pinstripes," is on sale at bookstores nationwide. It also can be ordered through his Web site, Jimcaple.com.