By Jim Caple
Page 2
The trade deadline came and went, and once again we are disappointed. Not only did the Yankees get richer, but no team pulled off any of the 10 trades we really wanted to see …
1. Derek Jeter to Kansas City for Mike Sweeney.
Because both deserve to see how the other half lives. These perennial All-Stars both reached the majors in 1995 and both have spent their entire careers in one city. But while Jeter has played in the postseason every year, Sweeney has never reached the playoffs, only once played for a winning team and will have finished in last place six times. Would it hurt so much to spread the love? Let Sweeney spend the fall playing meaningful games in front of a stadium packed with passionate fans who watch the scoreboard to see how their division rivals are faring, not for the Chiefs score. And let Jeter better appreciate his good fortune by spending one October like everyone else -- at home complaining about Tim McCarver.
2. Alex Rodriguez to Seattle for Adrian Beltre.
So, Yankees fans think they have a vastly overpaid third baseman who never comes through in the clutch? Let them boo Beltre, who rarely comes through even when it doesn't matter (nine home runs, 45 RBI, 77 strikeouts, .212 average with RISP, $64 million contract). Meanwhile, A-Rod returns to where he still had a good reputation and supportive fans (well, they supported him at the time).
3. Ken Griffey Jr. and Randy Johnson to Seattle for Adam Jones and Joel Pineiro, respectively.
And while we're at it, let's return the other two sure Hall of Famers to Seattle. The Mariners never won the pennant with Junior, A-Rod and the Big Unit but who knows, maybe they could win it with them now. As bad as the AL West is, those three should at least lead them to a division title. Griffey is the center fielder/left-handed DH the Mariners have desperately needed ever since Mike Cameron and Edgar Martinez left, while Johnson gives them another 40-something lefty to pair with Jamie Moyer. And it's a win/win/win deal. The Reds get a promising center field prospect and the Yankees get a starter with fewer losses than Johnson.
4. John Smoltz to Detroit for a pitching prospect.
After 15 years at the top, it's time for Atlanta to cut ties with the 38-year-old Smoltz and build toward the future. Smoltz, meanwhile, would provide great leadership for Detroit's talented young starting rotation and give the Tigers a proven big-game pitcher in their first postseason in almost two decades. And besides, Atlanta owes Detroit for the 1987 trade that sent Smoltz to the Braves for Doyle Alexander.
5. Roger Clemens to Boston for Manny Ramirez.
Manny gets the trade he's always wanted (we're not sure if he ever specifically demanded a trade to Houston, but given how many trade requests he makes, he probably did at some point). The Astros get their needed productive hitter in the lineup. And Clemens goes back to Boston so he can end his career where it began. Besides, what does Houston have to lose? It's not like the Astros ever score any runs to actually win one of the Rocket's starts, anyway.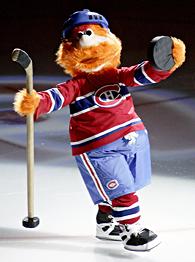 Paul Chiasson/AP Photo
Don't you miss Youppi! during baseball season?
6. Alfonso Soriano to the Montreal Canadiens for Youppi!
It's time to reunite Youppi! with his former team. And if Soriano thinks he's playing out of position now, wait until the Canadiens switch him to left wing.
7. Dontrelle Willis to the Giants for Vinnie Chulk.
The Giants get a Bay Area native who could lift them out of their funk while there still is time to recover in the weak NL West. The Marlins get what they want more than anything else besides a new stadium: a cheap player. They trim $4.3 million from their roster, giving them a payroll of $10 million and 20 players earning less than $350,000. Not bad when you consider they'll receive at least $30 million in revenue-sharing this season. Of course, it's the Florida taxpayers' responsibility to build them a new stadium.
8. Kerry Wood and Mark Prior to the Yankees for Carl Pavano.
Just to give their trainers a change.
9. Scott Rolen to the Twins for Tony Batista.
For once, wouldn't it be great to see the Twins pick up a high-priced All-Star at the deadline? And if Tony La Russa is a managing genius worthy of two best-selling books, he'll find a way to win with Batista.
And finally …
10. Doug Davis to the Tijuana Potros for Randall Simon.
While everyone was focused on Soriano, Bobby Abreu and the other big names in the trade rumors, the Brewers made the biggest roster move of all last week when they added the Chorizo to the Sausage Race. That's a great promotion, but Milwaukee can top it by trading for the most famous name in all of sausage racing.
BOX SCORE LINE OF THE WEEK
The headlines went to the Yankees' acquisition of Abreu (why do teams that whine about the Yankees always wind up giving them players?) but the player in the deal who might help New York the most is pitcher Cory Lidle. While Mike Mussina and Chien-Ming Wang have been very effective, Randy Johnson has been inconsistent at best and showing his age. He gave up nine runs on Saturday and didn't strike out a batter. The Big Unit's rare line:
3 1/3 IP, 6 H, 9 R, 6 ER, 3 BB, 0 K
It was the fifth time in his career Johnson hasn't struck out a batter, and the second time since joining the Yankees last year. He has as many no-strikeout games (one) as double-digit strikeout games this season.
TELL YOUR STATISTICS TO SHUT UP
The Twins are 27-6 at the Metrodome since the state approved funding for a stadium to replace it. … One thing we don't quite understand: Barry Bonds is hitting .240 with fewer home runs (14) than Khalil Greene (15). And yet teams still continue to walk him so much that he has 88 walks (compared to just 55 hits) and a .463 on-base percentage. Meanwhile, teams continue to pitch to David Ortiz with the game on the line. Does this make any sense to anyone? … Another example of the American League's dominance over the National League? Eddie Guardado had gone from Everyday Eddie to Every Other Wednesday Eddie due to his ineffectiveness with the Mariners (1-3, 5.48 ERA, and four ninth-inning, lead-changing home runs), yet he has six saves in nine games and a 1.04 ERA with the Reds. … It's well-known that the Astros don't score runs for Clemens, but what about Moyer and the Mariners? Seattle has been shut out in six of his starts and failed to score a run while he's on the mound in seven. … With two more home runs, Minnesota's Justin Morneau will become the first Twin to hit 30 in a season since Kent Hrbek, Tom Brunansky and Gary Gaetti did so in 1987.
INFIELD CHATTER
"The Dodgers have now lost 13 of their last 14 games since the All-Star break. In fact, at yesterday's game even the players left after the fifth inning to beat the traffic."
-- Jay Leno
Jim Caple is a senior writer for ESPN.com. You can reach Jim at jimcaple.com. Sound off to Page 2 here.