By Jim Caple
Page 2
ST. LOUIS -- Sweat is dripping down my face like the Missouri at flood stage.
My shirt is soaked as thoroughly as a Hooters waitress on wet t-shirt night, my shoulders ache as if I'm carrying Tony Gwynn, my feet howl louder than a WWE announcer ... and the worst part is, I haven't even walked out of the supply room for my night as a vendor at Busch Stadium.
And by St. Louis standards, it's not even that hot. Just 84 degrees at game time; though as I stagger to the last row of the upper deck under the weight of a backpack filled with two dozen 20-ounce bottles, I'm reminded of Whitey Herzog's famous description of Busch Stadium: "It holds the heat well."
I can only hope I sell as much as I drink this night at Busch, the first stop on my sports tour of the Lewis and Clark trail.
---
Alcohol was almost as integral a supply as food and ammunition for the Lewis and Clark expedition. The co-captains issued their men about a half-cup of whiskey per day, which doesn't sound like much until you recall that David Wells wouldn't be born for another 160 years. The whiskey was so important to the expedition that when two men broke into the supply and got drunk one night, they were sentenced to 50 and 100 lashes across their bare backs.
CAPLE'S LEWIS & CLARK TALLY
Miles: 26 from Camp River Dubois to Busch Stadium.

Total states: 2.

Weather: Hot and very humid, with late night thunderstorms.

Diet sodas: 5 units.

"Undaunted Courage" audiotape: President Jefferson asks Meriwether Lewis to lead an expedition to the Pacific.

Lewis and Clark Trail Markers passed: 6
Booze has been a major part of sports as well, even since before the first Ballantine Blast. But it is almost impossible to imagine sports without it today -- and who would want to, given the commercials featuring lingerie models wrestling in a fountain? Beer provides TV networks with staggering advertising revenues, leagues with bewildering rights fees, players with monumental salaries and fans with substantial waistlines. Miller spent $150 million on sports advertising last year, $10 million more than Nike. Budweiser, meanwhile, spent $235 million.
St. Louis-based Budweiser, which controls about half of the U.S. beer market, brewed 111 million barrels last year -- none of which, despite advertising to the contrary, will prompt a super model to pick you up in a crowded bar. The Busch family owned the Cardinals for decades. The stadium still bears their name, and the company is so much a part of St. Louis culture that the Post-Dispatch devoted an editorial last week to the return of the Budweiser lizards in an advertising campaign.
Where better, then, to start my Lewis and Clark sports tour than among the beer vendors at Busch Stadium? Being a beer vendor at Busch is like being a surgeon at the Mayo Clinic, a computer geek at Microsoft, or a police officer at Krispy Kreme.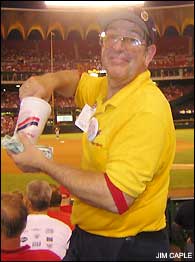 Caple would be better off facing Randy Johnson than following Robert around.
Consider Robert Kolaski, who has vended at Busch for 29 years.
"People always ask me how many beers I've served," he says. "I tell them to multiply about 70 Cardinals games a year, plus eight Rams games and 35 Blues games and 15 Billikens games, by eight-to-10 cases a game, times 24 beers a case, times 29 years."
That's nearly a million beers right there. And the total is probably higher because Kolaski is such a good vendor that he's occasionally brought in for big games at stadiums in Chicago, Cincinnati and Detroit. It's similar to the way the Yankees acquire hired guns down the pennant stretch.
"My record is 47 cases for an August doubleheader here against the Cubs when it was 95 degrees," he says. "That was a good day because it was the Cubs. You don't sell beer like that unless it's the Cubs."
Kolaski is 59 years old and has been vending here since Lou Brock was a Cardinal and beer was 85 cents a cup. Yet, he still runs up the aisles while carrying a 20-pound rack. Forget Albert Pujols -- Kolaski is the best athlete in the stadium. He moves so quickly that Rams defensive back Jerametrius Butler could not cover him one-on-one. I was following Kolaski up one aisle when he suddenly juked me and raced up another aisle. He was pouring a customer a beer while I was still trying to figure out where he had gone.
"You have to be a salesman," he says, scanning the crowd for potential customers. "You have to go down the aisles slow and take your time. Give them a chance to see you. Keep your eyes open. If a guy's beer is half-empty or three-quarters empty, ask him if he'd like a fresh beer to replace it. Sometimes you can sell three or four beers to the guys and his friends that way."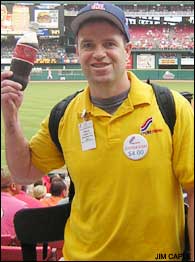 Hey, where's the beer? No, no -- no beer for a rookie.
I don't know how Kolaski does it. I ran five miles at a 7:30-minute pace in the afternoon and didn't sweat as much as I do carrying around those 20-ounce bottles by the second inning.
(And let me digress just a moment to complain about 20-ounce bottles. Does anyone honestly want one of these rather than a 12-ounce can? Doesn't it drive you nuts when you go to the vending machine and find you need two additional quarters to buy a 20-ounce bottle when all you wanted was a can? Is there a reason for this, other than so that companies can charge more money and boost their profits? At a time when obesity is the nation's most pressing health issue, do we really need to be drinking more calories than we want? Besides, by the time you get to the last six ounces or so, the soda is warm.
(And no, I'm not just saying this because those extra eight ounces per can adds 12 pounds to my vending pack.)
As I head out, a vendor walks back from his first trip though the stands with a disgusted look. "I'm not going to lie to you," he says. "They've got so many vendors working tonight that you're not going to make any money."
He's right about that. Vendors receive no salary, just a 12-to-16 percent commission, plus tips. A good beer vendor such as Kolaski can make $150 to $200 a night. A bad vendor peddling soda or hot dogs makes considerably less. That's where I come in.
LEWIS & CLARK BUDGET
Before the Corps of Discovery set off, President Jefferson gave Meriwether Lewis the most generous expense allowance in American history (aside from Major League Baseball's per diem): a letter of credit backed by the U.S. government that allowed him to purchase anything he needed along the route.

The expedition loaded its keel boat with several tons of supplies, including 18 kegs of whiskey, 600 pounds of grease, 226 pounds of gunpowder and 193 pounds of potable soup (which they hated). They also carried beads, blankets, shirts, cloth, tobacco and alcohol to give as presents to the Native Americans.

I am not quite so heavily stocked. I have two suitcases in the trunk of my rental car; an abridged version of the Lewis and Clark Journals; a well-read copy of Dayton Duncan's superb 1987 travelogue of the trail, "Out West;'' an audio version of Stephen Ambrose's "Undaunted Courage;'' two Lewis and Clark guidebooks; a road atlas; an ice chest of diet Pepsi; two Lewis and Clark pewter figurines for the dashboard; and an ever-growing bag of souvenir t-shirts.

I don't have a letter of credit from the U.S. government. But I do have a Visa card with a $25,000 spending limit.
With a full load of bottles fresh from the supply area, I lap the stadium and then lap it again without making a sale. The St. Louis faithful wear so many Cardinals t-shirts that Busch Stadium is a virtual red sea, yet so few people are buying from me that I feel like Moses peddling pork sandwiches instead of pop. If this were an episode of "The Apprentice," I'd already be wheeling my suitcase out the lobby.
I go up and down the aisles shouting "Who's thirsty?" and "Ice cold Coke!" and "Buy a bottle, get your photo on Page 2!" and "Come on, for God's sake, take pity on me and please buy some soda!" and finally "Naked photos of Anna Kournikova!" To no avail. I'm exaggerating my sales pitch slightly, but no one bites at anything I say. One fan even looks at me strangely and hollers, "Are you trying to pick me up?"
Eventually, however, a woman takes pity on me and buys a bottle. I sell two more and I suddenly feel like Sam Walton. Sales pick up substantially. By the sixth inning, I've sold 37 bottles. And then sales hit a wall. I don't sell another bottle the rest of the game. Not one. As I calculate my sad earnings for the night -- $27, including tips -- I wonder if baseball would be better if players were paid on a commission basis.
"That would be the day," Kolaski says. "There wouldn't be any competition -- none of them would play."
It's a damn hard way to make a living. Kolaski wears knee pads and elbow pads, but they only help so much. "I have a hard time in the morning," he admits. "I get up in the morning and my legs just ache. It's especially hard on a day game after a night game for an old guy like me."
And Kolaski isn't even the oldest vendor. John Anich started vending at old Sportsman's Park when Stan Musial was a young man, and he still works the Busch aisles.
"I was going to retire when McGwire retired. Now I'm saying I'll go to the All-Star Game in 2008," Kolaski says. "There's one guy with more seniority than me, and I'm going to wait until he retires and then I'll be No. 1."
Best of luck, Rob -- I'm so drained from my single night that I feel like No. 2.
I also smell like it. When I stumble back to the parking ramp and climb into my car, I get a good whiff of my sweat-soaked clothes and body and instantly understand why no one bought anything from me the last two innings.
TOMORROW: Lewis and Clark re-enactors on the Missouri.
Jim Caple is a senior writer for ESPN.com