By Jim Caple
Page 2
LEXINGTON, Mo. -- There has been rain and wind and mud and trains and mosquitoes -- Oh, Lord, have there been mosquitoes! -- but the only truly bad moments for the Lewis and Clark Discovery Expedition came last week when the crew had to first bury, and then dig up, the body of Seaman, their Newfoundland dog.
I'll get to that sad story a little later. But first, listen to Ralph Duren describe what it's like to re-enact Lewis and Clark's journey, day-by-day.
"Everything is the same. We're fighting the river, the mud and the mosquitoes. We read every day in Lewis and Clark's journals, 'We set off in torrential rains.' And we do, too, because it's rained almost every day,'' Duren says. "We had 50-mile winds one night and the rain was falling sideways. There's been constant thunder and lightning. The Missouri River's been high the entire way. And the driftwood -- sometimes it looks like you could walk across the river on it. We see huge trees and logs floating down. We see drifts as big as a house.
"And the trains -- the trains are never-ceasing. Every half-hour or 20 minutes, all night long. Our camps are usually close to the river so we're always right next to the railroad tracks. Sometimes, it seems like the trains are coming right through the tent.
"And the ground is always saturated, so we're always sleeping on wet ground.''
In other words, it's a bit like playing for the Expos. And Duren -- like everyone else on the Discovery Expedition -- is loving every minute of the trip.
CAPLE'S LEWIS & CLARK TALLY
Miles: 240 from St. Louis to Lexington (281 total).

Total states: 2.

Weather: Hot and humid, with late night thunderstorms.

Diet sodas: 3 units.

"Undaunted Courage" audiotape: Lewis and Clark begin their expedition up the Missouri.

Lewis and Clark Trail Markers passed: 20 (26 total)

Traffic citations: Zero.

Price of gas: $1.74 per gallon.
I came across these Lewis and Clark re-enactors about 45 minutes east of Kansas City on the second day of my own Lewis and Clark sports driving tour. I left St. Charles, Mo., at 11 in the morning and arrived in Lexington (pop. 5,000) about three hours later. The re-enactors left St. Charles on May 21 and were just tying up their keelboat on the Lexington riverbank when I arrived.
This bicentennial re-creation actually began last year, when the Discovery Expedition re-enacted Meriwether Lewis's trip down the Ohio River to St. Louis. This summer, they're taking the keelboat up the Missouri River as far as Fort Mandan, where Lewis and Clark spent the 1804-05 winter. Next spring, the Expedition will set out from Fort Mandan and cross the Rockies by foot and horse before canoeing down the Columbia River to Fort Clatsop on the Oregon Coast. And then they'll retrace their journey and return to St. Louis -- in 2006.
It is the longest and largest historical re-creation ever attempted. It's like a 28-month fantasy camp, only there aren't any fat former-players explaining how to hit a curveball. They even wear throwback costumes, though I don't know if they're officially licensed.
"I take my clothes to the laundry when I can, but you can't get the mud out,'' Duren says. "I wash with Tide, and you can't tell the difference when I'm done.''
Scott Mandrell, who grew up just miles from the trail's start, portrays Capt. Lewis. Bud Clark portrays William Clark, his great-great-great grandfather. Others portray various members of the expedition. A Native-American portraying Sacajawea will join them next year in Mandan.
As for York, Clark's slave, "The guy broke his leg and couldn't do it,'' Duren says. "It's hard to find someone to play a slave.''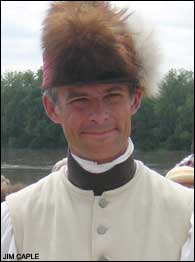 Playing Capt. Lewis is a 24-7 job for Scott Mandrell.
The 1804 Lewis and Clark Voyage of Discovery powered its keelboat by pole, oar, sail and, when the going was especially tough -- and it often was -- by pulling it with ropes from the shore. It must have been like wrapping a rope around Chicago Bears tackle Aaron Gibson and dragging him through the mud from St. Louis to North Dakota. The re-created keelboat has an engine that keeps the crew on schedule, transporting them up the river at a safe, sane three-to-four miles per hour -- or what David Bright describes as "a nice speed to see the world go by.'' But it still isn't easy work. Maintenance on the boat, setting up camp each day and mingling with the local residents along the river keeps the men busy 14-to-16 hours a day.
The Expedition attempts to be as faithful as possible to the original trek, with these notable exceptions: They avoid the medical treatments of blood-letting and mercury-based laxatives. They're also allowed into town to shower, launder and supplant their whiskey rations.
"We keep saying, 'We're going to do this, we're going to do this;' and that is certainly our intent -- to go to the Pacific and back,'' Mandrell says. "But we could hit a drift tomorrow in the river and lose our boat, and that would be that. It was a colossal task 200 years ago, and it still is today.''
Mandrell is so dedicated to this project that he began it by riding his horse from Washington, D.C. to Pittsburgh last summer to re-create a portion of Lewis' preparation. That required getting special permits to ride on roads and highways, but he did it. When he talks about Lewis and Clark, he speaks with such inspiration and conviction that I'm ready to grab a rope and drag the keelboat up the Missouri for him.
Many of the crew are retirees or teachers who can afford to take off for several months. Others are simply putting their careers aside for what is truly a once-in-a-lifetime experience.
"I told my wife, 'I promise I won't do this for another 200 years','' Russ Wright says.
Bob Anderson, a descendent of original member George Shannon, mortgaged his home to help finance the trip. "It's insanity, isn't it?'' he says.
Maybe. But then again, so is spending $400 on a Wes Unseld replica jersey. And when you buy one of those, you don't get to travel to the ocean.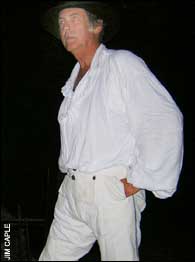 Bud Clark has dibs on William Clark. After all, William was his great-great-great grandfather.
Some of the crew come in for a week or two and leave. Many will go all the way to Fort Mandan in North Dakota before they return to their regular lives. A few, such as Clark's great-great-great-great grandson, Churchill Clark, plan to go the entire route.
"I'll walk to the ocean if I have to,'' he says. "I plan to spend the winter in North Dakota. Most guys will go home for the winter. I understand that -- with family and kids and jobs, they have to. But me, I can't do that. I have to do the whole thing the way Lewis and Clark did. I hope to stay right in Fort Mandan. And if I can't do that, I'll get a job in the area and find a place to stay.''
He already has an offer to spend the winter as a buffalo skinner in North Dakota.
"I've never done it,'' he says. "I know it's a smelly job, but it's something that will get me through the winter and keep me going the rest of the tour. Plus, it will look good on the resume. 'Experience: Waiter. Waiter. Waiter. Waiter. Buffalo skinner. Waiter.'"
The Expedition has a large support crew following in trucks, and it does a live webcast every Thursday. But the explorers also are removed enough from the modern world that Detroit-resident Bud Clark didn't know the Pistons had defeated the Lakers until I told him. And he'd been on the river long enough that it wasn't that big a deal to him.
"It's an honor and privilege to portray Capt. Clark,'' he says. "It's difficult to put into words. You have to get out here and sit by the fire and share the conversation and the camaraderie.
"The best part is not one earth-shattering thing. It's the little bits of hospitality we receive from the small towns along the way. If anybody thinks this country has lost its sense of community, they need to come out like this.''
LEWIS & CLARK TRANSPORTATION
The Corps of Discovery's keelboat was specially constructed for Lewis and Clark in Pittsburgh in 1803. Essentially, it was a 55-foot barge filled with supplies underneath the deck and along the sides. It needed a crew of 22. It was roughly half the size of the Pirate ship inside the Tampa Bay Buccaneers stadium, and very rarely shot footballs to Native Americans on the riverbank.

The Corps also took two smaller, but still rather substantial, boats that they called pirogues (similar to the boat you see in the painting of Washington crossing the Delaware). They took the keelboat as far as Fort Mandan in North Dakota, then sent it back down-river in the spring of 1805, when they proceeded on to the rougher portion of the Missouri.

There is a half-replica of the keel boat at Camp River Dubuis outside of St. Louis that shows how the boat was packed. There normally is a full replica at St. Charles as well, but that is the one being used this summer by the re-creation crew.

The best replicas, however, are two versions at Lewis and Clark State Park near Onawa, Iowa, on I-29. They are so splendid it's almost worth driving to the Iowa-Nebraska border just to see them.

I do not have any sort of water vessel on my journey. I have only a 2003 Chevy Malibu. But it can easily do 90 miles an hour (as far as I've pushed it so far, but I haven't reached Montana yet) and very rarely needs to be towed by rope (at least so far -- cross fingers).
Of course, cover enough of the country and you're bound to come across people who aren't so wonderful. Consider the sad affair with Seaman, the dog named after Meriwether Lewis's trusty Newfoundland. He had been with the expedition since last summer and was its most popular figure whenever the crew landed in a town.
But Mandrell woke up one morning last week and found the dog dead. The Expedition buried him, only to learn that the police suspected someone in town had poisoned him. They wanted to perform an autopsy.
"We needed to exhume the body for the police investigation,'' Churchill Clark says. "We dug him up during a fireworks display. Everyone was watching the fireworks, so they didn't see what we were doing. It was pretty tough.''
Who would kill an innocent, friendly dog? As someone says, "It's more dangerous now than it was in Lewis and Clark's day.''
But that disturbing story is unrepresentative of the Expedition's journey so far. Their voyage has been one of exploration, wonder, history, friendship and so much hospitality from the towns they pass that, Bright says, "It's like trick-or-treating across the country.''
We talk passionately late into the night about the lives Lewis and Clark led and about the lives the re-enactors have temporarily left behind. Soon, I'm not sure whether those are mosquito bites rising on my arms or goosebumps. And as fireflies light up the woods, a ham roasts on the campfire and a train whistle blows nearby, I'm tempted to not only spend the night with the expedition but to quit my job and sail off with them the next day.
Or at least, I'm tempted until I find out they start each day at 6 a.m.
"Lewis and Clark is a story that belongs to all Americans,'' Bud Clark says, "and if someone doesn't think so, they need to dig a little deeper. There's something in there for them, too.''
NOTE: You can read more and get weekly updates from the re-creation expedition's website: lewisandclark.net.
TOMORROW: We proceed on to Kansas City and the Negro Leagues Baseball Museum.
Jim Caple is a senior writer for ESPN.com