By Jim Caple
Page 2
OMAHA, Neb. -- The Lewis and Clark expedition reached here after 66 days of back-breaking labor -- poling, rowing and dragging a keelboat weighing more than 15 tons through the mud and against the fast current of the Missouri River. They often averaged less than a mile per hour on the river, as they fought mosquitoes, heavy rains, wet clothes, blisters, ulcers and malaria.
The slackers.
Texas, Cal-State Fullerton, Arizona, Miami, Georgia, South Carolina, Arkansas and LSU reached Omaha only after surpassing a much more daunting challenge: beating all rivals and advancing through the Regionals and Super Regionals to qualify for the College World Series.
While the NCAA Basketball Final Four site changes every year, the CWS has been held here for 55 years at Rosenblatt Stadium, just a missed cutoff man from where Lewis and Clark stopped on the riverbank two centuries ago. The Corps of Discovery stayed in the area several days to hold a council with the chiefs of the Missouri and Oto tribes and, more importantly, to get in the general admission ticket line for the Texas-Arkansas game.
CAPLE'S LEWIS & CLARK TALLY
Miles: 190 from Kansas City to Omaha (740 total, including side trips).

Total states: 5.

Weather: Cool and rainy.

Diet sodas: 1 unit.

"Undaunted Courage" audiotape: Lewis and Clark arrive at the Mandan village and hire the occasionally-useless interpreter Charboneau and his always-invaluable young wife, Sacajawea.

Lewis and Clark Trail Markers passed: 12 (42 total)

Roads/streets named for athletes: George Brett Super Highway in Kansas City and Bob Gibson Blvd. in Omaha.

Price of gas: $1.79.

Traffic citations: None.
Or, at least, it seemed like the people there had been standing in line for 200 years. Especially when it started to rain.
General admission tickets -- reserved tickets for the CWS are so precious that I think Mutual of Omaha's Marlin Perkins is still on the waiting list -- are sold with no game specified and no game guaranteed. You go to whichever game you want; but if more people choose the game than there are seats available, you might not get in.
That was the case for the first-round game between Texas and Arkansas when I rolled into town on my sports road trip on the Lewis and Clark Trail. By the fifth inning, the line of fans was still several hundred strong snaking outside the general admission gate. Additional people could get inside only as other fans left the stadium. Thus, the fans in line were in the odd position of rooting for enough rain to drive people out of the bleachers, but not enough rain to postpone the game.
I know college basketball's Final Four is one of the grandest events in sports. But when you've got fans standing in the rain and still hoping to get into a game in the fifth inning, you've got something pretty special. There are always rumors that the NCAA will move the College World Series, but Omaha is just the right size to be the host city. It's large enough to provide a sufficient population base to make the CWS a big deal, and small enough that there aren't major league teams around to steal the attention.
"We have a saying around here," says Jim Conant, a local tennis pro. "Pro sports have a purpose -- to make college sports look good."
ESPN Motion at the CWS
Texas will play Cal State-Fullerton in the College World Series. See a preview in ESPN Motion now.

Plus, Nebraskans are famous for being good, supportive fans. You'll hear a heckler in Omaha about as often as you hear one of its citizens ask for a vegan menu. And the goodwill spreads as easily as Heinz 57. Wander among the tailgaters in the parking lot, and you won't be hungry enough to buy anything from the concession stand. Outside a motorhome so lavish it's probably an NCAA violation, LSU fan Glen Henson is serving up gumbo good enough to justify the Louisiana Purchase all by itself.
"I live 1,100 miles away, but it just wouldn't be the College World Series if it wasn't here in Omaha," Henson says.
(Then there are the young women at the barbecue joint who loudly announced that they were "looking for ESPN guys." Unfortunately, this bit of news was relayed to me by my wife, who has joined me, Sacajawea-like, along the trail.)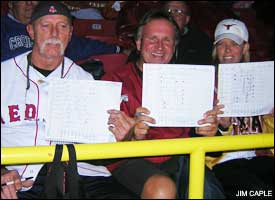 Bob Lovejoy, Kevin Lingren and Jill Lovejoy always keep score at the College World Series.
"I'm not just blowing smoke -- they are just such genuinely nice people here that you can't believe it," says Nick Iovacchini, who played for Rice when the Owls reached the College World Series in 1999. "The people get so excited about the College World Series. It wouldn't be the same if it wasn't here.
"It celebrates amateur baseball."
After finishing up at college, Iovacchini pursued his baseball dream by playing two seasons in Italy for a team in Milan.
"It was baseball in the twilight zone," he says. "Their culture permeates the game, and they do stuff we would never do here. Like, I booted a ball at shortstop and a teammate just glared at me, like, 'What the hell are you doing?'"
EXPANSION TEAMS
Of the eight College World Series teams, five are from states that did not exist at the time of the Lewis and Clark expedition -- Cal-State Fullerton, Arizona, Texas, Arkansas and Lousiana State.

It was the Louisiana Purchase that spurred the expedition -- after Thomas Jefferson bought the vast territory from France in 1803 for $15 million, he sent Lewis and Clark out to explore what he had purchased. Or, at least, a portion of the purchase, which added 565 million acres to United States territory. That not only doubled the nation's size, it's almost as large as Detroit's Comerica Park.
Knowing he would never play in the majors, Iovacchini and his friends, Frank Cerullo and Tony Dokoupil, have started a company that sells necklaces made from the seams of baseballs. They carefully cut a narrow band of leather surrounding the seams, add a baseball-shaped clasp and -- lo and behold -- they have what they hope will be the latest in fashion.
"I made them for friends to start with, until there were all these torn-up baseballs everywhere in my room," Iovacchini says.
When it came time to market their product, they naturally chose to set up a booth across from Rosenblatt Stadium. If you're going to sell something that holds baseballs together, you might as well go to the game's very core.
The three recently acquired rights to use major league logos on the necklaces -- the Red Sox models, I assume, are chokers -- but the real appeal may be necklaces custom-made from baseballs and softballs that have a special meaning to fans. A home run caught at a major league game, a game-winning hit from high school, a championship ball from a softball tournament -- you can wear them all near to your heart (or at least your carotid artery).
There are fashion statements and then there are fashion statements. CWS season-ticket holder Bob Lovejoy sits behind home plate in a Curt Schilling replica Red Sox jersey, though not because he's that big a Boston fan.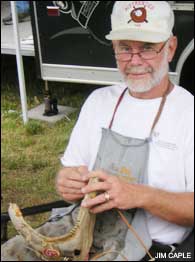 Mitt Mender Dan Bouska, stitching up a glove.
"I wear this just to p--- off Yankees fans," he says.
Lovejoy moved from Omaha to Denver several years ago, but he makes certain to come back each June for the CWS. He wouldn't think of giving up his tickets just because he lives 550 miles away. Baseball, family and friends bring him back every year, and all three are with him this night. He's sitting with his college-age daughter, Jill, and his friend, Kevin Lingren. All three are keeping such meticulous scorebooks that I can only assume Bill James is a relative.
"I've got all my scorebooks from all the games going back to 1980 or 1981," Lingren says. "I've got scorebooks from when Clemens pitched here and when Bonds played here. Every once in a while, I'll pick one up and glance through it."
I doubt he needs the reminder. His memories of those games are as vivid as the Imax screen showing "Lewis and Clark: The Journey" just beyond the right-field bleachers at the Omaha zoo.
Andy Peterson sits nearby with his 15-year-old son, Drew. He's been bringing him to the CWS since he was a couple months old, just as his father did when Andy was a child.
"My dad was like Kevin -- hardcore," he says. "He'd never miss a game. After he died in 1993, it was tough coming back into the stadium."
He did, though; and now he can't imagine not being here. Baseball mends broken hearts.
And Dan Bouska mends broken gloves. Wearing a cap that reads "Mitt Mender," he sits just outside the stadium, re-lacing a first baseman's glove so worn that Gil Hodges might have bought it used. He started out by fixing his own gloves, and then started mending his friends' gloves. Soon, he was doing it for anyone who asked. Just last week, a woman brought him a 1955 Herb Score model that she wanted repaired as a Father's Day present.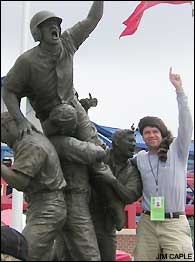 Jim looks like he's having lots of fun in Omaha, doesn't he?
Dad, you want to play catch?
"I tell people, don't buy a new glove. They can always be fixed," Bouska says. "What I get a lot is people telling me to lay their gloves down properly at night. They tell me to be sure and put a ball in the web and lay it down the right way. I can sense they love the gloves.
"I did a glove for a little boy with no fingers. He was a Vietnamese orphan who'd had the fingers blown off his hand. He was adopted by parents here in Omaha and they were at the College World Series, and they asked me to fix a glove so that he could close the glove with his stubs. I did, and now he has a glove. I guess that's about the best story I have."
A goal of the Lewis and Clark expedition was to establish trade along the Missouri River. Based on the streets surrounding Rosenblatt, it succeeded.
Virtually all the homeowners across from the stadium rent out their lawns to vendors and sell advertising space on their walls and roofs. In addition to the baseball necklaces, caps and T-shirts (I'm going to need a bigger car), there is even someone offering Cuban rolled cigars.
"It's pretty hectic, but it's fun," says Shawn Shoemaker, waving in cars to park on his lawn for $20. "The only problem is when the College World Series ends. You still have trucks and cars going by all day, but it's not a festival anymore. It's just traffic."
And that's true of the CWS as well. If the NCAA moved it from Omaha, it wouldn't be a festival anymore. It wouldn't be family anymore. It wouldn't be home anymore. It would just be more traffic on the crowded sports calendar.
This is the College World Series. This is Omaha. This is where it's worth buying a ticket just to stand outside in the rain, where the game's very seams hug you around the neck, and where you don't even need fingers to get a lifelong grip on baseball.
Jim Caple is a senior writer for ESPN.com