By Jim Caple and Buster Olney
ESPN.com
In six weeks or so, the World Baseball Classic will become a reality.
For better or worse. We don't raise the issue in that last paragraph idly. Near as we can tell in our spirited coffee-klatch yak-fests, opinion is split right down the middle here at the Worldwide Leader about whether the WBC is the best idea to come along since penicillin or the worst baseball notion since Michael Jordan convinced himself he could hit a curveball. Even two of the best baseball minds at ESPN.com (uhhh, that'd be us) can't agree on the merits and faults. So we decided to air it out right here and now, just between us. Let the debate begin.
Jim Caple:
I know you're opposed to the WBC, Buster, but you have to admit that at the very least it's provided great entertainment just listening to A-Rod explain his choice of country. The Dominican Republic ... the U.S. ... the Dominican ... the U.S. He's sort of the WBC's Anne Heche -- constantly switching teams. Here's the latest: He's considering the Netherlands because he got talked into buying a time-share in Curacao last winter, but he's withholding his
final
decision until seeing which country is giving out the nicest goodie bags.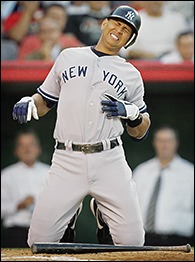 AP
USA or Dominican Republic? It was an agonizing decision for A-Rod.
Buster Olney: No, no, Jim, here's the very latest: A-Rod has decided to switch back from representing the Netherlands to the U.S. because -- MAJOR NEWS FLASH -- he was born in the U.S. As if that makes any sense. Anyway, it's not so much that I'm against the theory of the World Baseball Classic; growing the game internationally is a good idea. But the method of execution is ridiculous: We're supposed to believe this is a serious competition, and yet it's timed for when the players are in the worst possible condition for baseball they can be, and the most dominant force in the entire tournament will be pitch counts. If they wanted the best possible competition, they would stop the regular season in July, split up into national teams and stare each other down on the diamond for a couple of weeks. But they won't do that because it'll cost Major League Baseball money, and so what we are left with is something a little more serious than those Rock 'n' Jock softball games. A-Rod would have a tough time picking a team for that, as well.
Jim:
I'll grant you, the timing isn't perfect. Like you said, no one is willing to shut down the game for a couple weeks for an experimental tournament. But that said, what's so horrible with doing the best they can now and playing it in the spring? So what if pitchers won't be in peak condition? No one said this modest little tournament will prove which country has the best team or which system of government is best or which country gets the tax revenue from A-Rod's salary. But it will be an interesting competition that will provide some heat and spark some interest. And maybe, just maybe, it grows to the point where fans would be excited enough to justify shutting down the season for a couple weeks.
Buster:
I think there is a significant portion of the players who really would prefer if this thing just went away. But they're in a bind: If they say publicly that they don't want to play, they'll be accused of being unpatriotic (and there are a lot of Democrats who know what that feels like). So for now, they'll go along with it, like a herd of sheep. But you can bet there are going to be a whole lot of phantom injuries in late February -- slightly strained groins and such.
Jim:
Well, we wouldn't want to upset Donald Fehr by making some of baseball's best players miss a round of golf because they have to play an
entire
nine-inning game during spring training, now would we? What's the big deal about playing, anyway? Guys are either going to get ready for the season by playing in a meaningless Grapefruit League game in Kissimmee, or they can get ready by playing in a game that has a little more excitement. Players always complain about how spring training is too long. Well, finally here's something to break up the monotony.
Buster:
Don't get me wrong. Personally, I don't care whether a player participates. But the possibility of being deemed unpatriotic scares some players to death. That's why A-Rod is in his mess, because he cares so much about how he's perceived and doesn't want to be seen as dissin' the Dominican or the U.S. What will you think the first time a closer gets yanked in the middle of the ninth inning because of his pitch count?
Jim:
A-Rod is in a mess only because he keeps saying such stupid things. No one else really cares whose uniform he wears; it's just that he keeps setting himself up for so many irresistible punch lines with his tortured, overwrought explanations. "Sports participation should only include the admiration and respect an athlete has for a nation and family.'' "I intend to play baseball only when I am dedicated to both.'' What's he going to say next? That he'll play, but he won't swing a bat at the old horsehide because he doesn't want to offend PETA?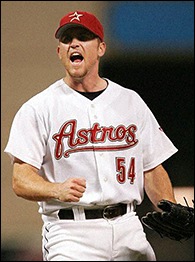 AP
When a closer like Brad Lidge uses up his pitch count, he's just another set-up man.
Calm down, man. If you don't want to play, just say so and make room for someone else. We're choosing up sides for a baseball tournament, not a war. No one is going to question anyone's patriotism or say that the terrorists win if A-Rod doesn't show up (though the Bush administration might start eavesdropping on their infield chatter).
Buster:
I think there is an excellent chance that as A-Rod plays for the U.S., he'll wear a cap that has the Dominican flag hand-stitched into the side, and the names of all Dominican leaders, past and present, written on the back of his shoes and underneath his cap.
Jim:
That's funny. And sadly, probably not far off the mark. Hey, I didn't answer your question about pitch counts. You're right. The limits could lead to some very sticky situations. And the WBC format isn't perfect. And the timing isn't great. And the ban on Cuba is indefensible. It's a sad commentary when our government's foreign policy would be wiser, more sophisticated and ultimately more successful by quoting a line from "The Bad News Bears in Breaking Training.''
Let them play!
So, yes, there are some problems with the WBC. But so what? The bottom line is this is going to be one hell of a lot more interesting than watching the Brewers play the Royals in Maryvale.
Jim Caple is a senior writer at ESPN.com. His first book, "The Devil Wears Pinstripes," is on sale at bookstores nationwide. It also can be ordered through his Web site, Jimcaple.com.
Buster Olney is a senior writer for ESPN The Magazine.