Commentary
The latest batch of dancing stars
Originally Published:
March 22, 2010
By
Kelley Carter
| Special to Page 2
ABC's "Dancing with the Stars" returns for its 10th season on Monday night, and once again will feature a hodgepodge of celebrities taking to the dance floor. In the past, we've seen an NFL superstar, a couple of Olympic medalists, and pop stars take home the top prize. Who will be this season's big winner? It's anyone's guess. Here's a breakdown of the contestants:
[+] Enlarge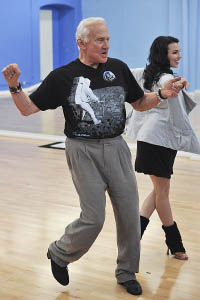 AP Photo/ Vince BucciFormer astronaut Buzz Aldrin rehearses with Ashly Costa.
BUZZ ALDRIN AND ASHLY COSTA
Claim to fame: Aldrin is an astronaut and was the second man to walk on the moon. Also, he released a rap song last year -- going where no astronaut has gone before.
Why they likely will win: With all due respect to Michael Jackson, Aldrin is an original moon walker.
Why they likely won't win: If Aldrin dances to the rap song he released last year, it may be a wrap.
CHAD OCHOCINCO AND CHERYL BURKE
Claim to fame: A Cincinnati Bengals wide receiver who famously -- and legally -- changed his last name to match that of his jersey number.
Why they likely will win: In seasons past, football players have done extremely well -- Emmitt Smith was the Season 3 winner and is credited with making dancing look manly.
Why they likely won't win: Do running backs do it better? Or can a wide receiver hang in there, too? We shall see.
ERIN ANDREWS AND MAKSIM CHMERKOVSKIY
Claim to fame: Andrews is an ESPN sportscaster who covers college football and Major League Baseball. (Page 2 interviewed Andrews ahead of her debut on "Dancing with the Stars" -- click here to read the interview.)
Why they likely will win: A woman who covers sports? Score. Even better, March Madness will soon be over and her fans can turn away from sports -- temporarily -- to help vote her in.
Why they likely won't win: A little thing called the NCAA national championship game -- also on a Monday night -- may keep folks from tuning in for what could be a critical voting episode for Andrews. Plus, in the past, reporters on the show have struggled to get fan votes. It's a conspiracy!
[+] Enlarge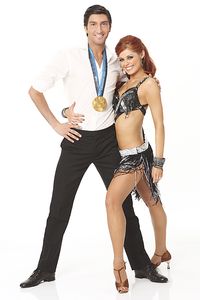 Craig Sjodin/ABCEvan Lysacek has gone from the Olympics straight to "Dancing with the Stars."
EVAN LYSACEK AND ANNA TREBUNSKAYA
Claim to fame: Lysacek is an Olympic gold-medal figure skater.
Why they likely will win: Athletes of all kinds tend to go far in this competition. Kristi Yamaguchi and Apolo Anton Ohno (a speedskater) have claimed the title in seasons past. You've got to have some sort of rhythm in order to dance on ice.
Why they likely won't win: Just because you can dance on ice, doesn't mean you can do it in shoes. Or does it?
JAKE PAVELKA AND CHELSIE HIGHTOWER
Claim to fame: He's the newly engaged "Bachelor" from the hit ABC series.
Why they likely will win: He's an airline pilot who, in his free time, takes dancing lessons. Hello? He's a ringer.
Why they likely won't win: His fiancée Vienna may not like seeing him partnered up with another woman; let's be on the lookout for an "early-out injury."
KATE GOSSELIN AND TONY DOVOLANI
Claim to fame: Gosselin was a part of TLC's breakout reality show "Jon & Kate Plus 8," and is coming off the heels of a very public and bitter breakup with her husband. For several months, their breakup dominated the covers of tabloid magazines; there's not a housewife in America who isn't aware of who she is.
Why they likely will win: Gosselin is doing this to help support her family, so she's hungry and eager to do well.
Why they likely won't win: She's already dissing her partner. She told Jimmy Kimmel that she didn't get who she wanted because "he was too quiet." C'mon, Kate. You, better than anyone, know that public dissing doesn't bode well for the partnership.
NIECY NASH AND LOUIS VAN AMSTEL
Claim to fame: Nash is a comedian whose work has been seen on the Comedy Central TV show "Reno 911!" among others.
Why they likely will win: Comedians know how to laugh at themselves -- a trait which will bode well when it comes to taking criticism from the judges.
Why they likely won't win: Does being funny equal being a great dancer?
NICOLE SCHERZINGER AND DEREK HOUGH
Claim to fame: Scherzinger is the sexy lead singer of the Pussycat Dolls.
Why they likely will win: She's already won a reality-show talent competition -- before she got the lead-singer gig for the Dolls, she was on the little-watched "Popstars" show on the WB, on which she was selected to be a part of a girl group called Eden's Crush. That aside, she is a performer who dances and sings, and pop stars have done very well on this show in seasons past (Drew Lachey and Lance Bass were both winners).
Why they likely won't win: Pop stars do well on this show -- Drew Lachey (of 98 Degrees) and Lance Bass (of 'N Sync) have won in seasons past. But a female pop singer has yet to close the deal.
[+] Enlarge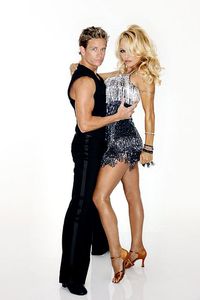 ABC/Craig SjodinThere will certainly be plenty of buzz about Pamela Anderson's performances.
PAMELA ANDERSON AND DAMIAN WHITEWOOD
Claim to fame: She's the best-known "Baywatch" babe, who was married to rocker Tommy Lee. She also was married briefly to Kid Rock.
Why they likely will win: Anderson is a hot mom with curves, and in spite of her indiscretions -- ahem, a naughty tape with Lee -- people love her.
Why they likely won't win: Can she move? We'll have to see.
SHANNEN DOHERTY AND MARK BALLAS
Claim to fame: Doherty is the wild child we loved to hate when she played Brenda on the original "Beverly Hills 90210" series.
Why they likely will win: Everyone loves a bad girl, right?
Why they likely won't win: Eh, then again, people may still be mad at Brenda for the whole Dylan-Kelly mess.
AIDEN TURNER AND EDYTA SLIWINSKA
Claim to fame: Turner is an actor on the legendary soap opera "All My Children," and he also has been an Avon model.
Why they likely will win: He's on a soap opera and he's modeled for Avon -- two things that drive America. The first winner of this series was Kelly Monaco from "General Hospital."
Why they likely won't win: He's one of the lesser-known celebrities, and may struggle to get votes.
Kelley L. Carter is a freelance entertainment reporter. She can be reached at thekelleylcarter.com.