Commentary
Dan Lyle is Captain America of rugby
Originally Published:
June 1, 2010
By
Kelley Carter
| Special to Page 2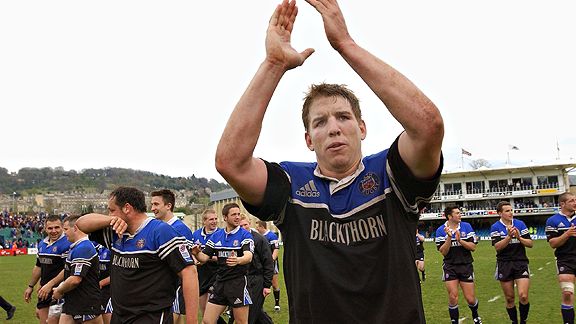 John Gichigi/Getty ImagesFormer VMI tight end Dan Lyle salutes Bath Rugby fans after a 2002 victory over Leeds Tykes.
Fourteen years ago, Dan Lyle made a decision that made his pals want to check his temperature.
At 25, he was struggling to get a job playing professional football. After a few training camp tryouts, he finally got the call he'd been waiting for -- the Minnesota Vikings wanted him. That offer sounded good; the former Virginia Military Institute tight end could have fulfilled his lifelong dream for a league minimum salary, about $170,000 at the time.
But he passed.
Instead, he packed up and headed to Europe, choosing to play rugby for the Bath Football Club, a premiere team in England.
What?
"They looked at me like I'm crazy. The NFL is the [ultimate]. And I thought about that. But something was pulling me in the other direction. I had an opportunity to do something no one has ever done before," Lyle said, pausing before speaking again, "and I have had not one regret doing it."
You better believe he hasn't.
Lyle is the quintessential poster boy for a sport that is about to get its due.
Rugby sevens becomes an Olympic sport in 2016. Later this week, the USA Sevens College Championships will showcase 16 top universities. The tournament runs Friday through Sunday in Columbus, Ohio, with coverage on NBC.
Lyle, now a rugby demigod, is the tournament director for USA Sevens.
Because of his size -- he's 6-foot-5 and weighed 252 pounds -- and background, Lyle became known as Captain America when he played for Bath. After graduating from VMI in 1992, Lyle began playing rugby at age 23 to fill the void left by college football.
He started playing overseas in 1996. By '98, Lyle led Bath to a Heineken Cup title as European champion. While in Europe, he served on the Professional Rugby Players Association and helped negotiate the first collective bargaining agreement in Euro rugby.
In his role with USA Sevens, Lyle is helping to raise the profile of the game in America. He wants to persuade former college football players to take up the sport, and he said exposure on NBC this weekend will spread the word.
"There are some kids that are late bloomers or not picked for the D-I school that can and will choose rugby. I was one of those late people," he said.
With a chuckle, Lyle said rugby isn't too destructive -- only a little bit, and in a therapeutic way.
"It's not a sport that's violent. It's a fun-running cool game," he said. "It's a disciplined, physical sport. But it doesn't take the number of coaches and the dollars that football does. People are using it to get out that inner aggression, yes, but it's really just a fun team sport."
Kelley L. Carter is a freelance entertainment reporter. She can be reached at thekelleylcarter.com.