Commentary
Super Bowl XLV: The commercials
Updated:
February 4, 2011, 2:48 PM ET
By
Kelley Carter
| Special to Page 2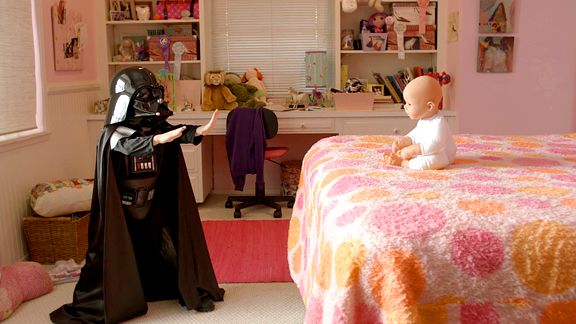 Courtesy Volkswagen Volkswagen's "The Force" commercial is one of 15 automaker ads that will run during the Super Bowl.
There's an audience out there who couldn't care less about who's playing on Super Bowl Sunday.
What really matters? The commercials, of course.
It's the day that the suits on New York's Madison Avenue go head-to-head with one another to see which brand can outdo the next when it comes to creativity and delivering good, meaty watercooler chat the next day.
This year's narrative is interesting -- Sunday's Super Bowl matchup will welcome an onslaught of car commercials. All totaled, eight automakers will be advertising in the big game, and just about everyone will be making use of social media this year to epic proportions.
The eight automakers will run a combined total of 15 spots, almost double the amount of time the industry bought during last year's game.
Here are a few commercials that should keep you on the couch this year: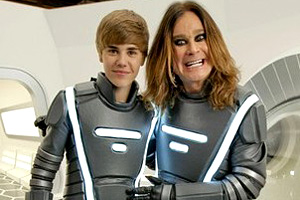 Best BuyJustin Bieber and Ozzy Osbourne, together. Finally.
Best Buy
Talk about odd couple: Kitschy pop star Justin Bieber and aging rocker Ozzy Osbourne pair up to pitch for the retailer. The commercial will air during the third quarter of the game and looks to be futuristic, considering that the released photos of the pair have then wearing matching space-age costumes. "That one is gonna be interesting to me to watch as an advertising person, moreso than as a consumer, because I just don't know how they're going to make anything of value out of that other than they have two oddball sort of celebrities together," said Jason Peterson, chief creative officer at Euro RSCG Chicago. "I'm looking forward to seeing the brilliance or train wreck that's gonna come out of that. I have a 9-year-old daughter and a 17-year-old niece, and they both equally hate Justin Bieber. Even Ozzy Osbourne has zero relevance."
Groupon
The online discounter, which sends daily e-mails with heavily discounted goods or services, is being extremely tight-lipped about what's to come of its commercial, but it is hoping that the ad will raise brand awareness. The company has only been around since 2008, and has grown considerably in the last year, mostly because of word of mouth. "Everything we've done has been online-focused," said Rob Solomon, the company's president. "We've used the Internet to grow our business. So this is our first commercial ever. Now we're using the offline world to drive people to the online world. Now we want to be like Coke and Chevy and have that brand recognition from the physical world. We're all going after the same thing." And as far as the commercial? "One thing I can tell you is that the director is a really killer movie director, Christopher Guest of 'Spinal Tap,'" Solomon said. "If you think about his mockumentary approach and how Groupon is a cheeky, weird personality, that combination is interesting. But I would get shot if I tell you what it is." Look for Groupon's three spots pregame, in the third quarter and in the middle of "Glee," which follows the big game.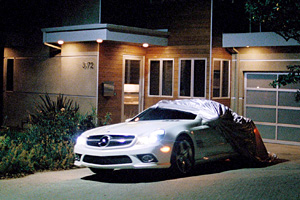 Mercedes-Benz Mercedes-Benz's commercial will feature Janis Joplin's song about company.
Mercedes-Benz
The automaker is toasting its 125th year and for the occasion will roll out five new products, featuring sleeker, younger and sportier versions of the luxury car. For the ad, it will showcase iconic versions of the car from various decades and set it to the sounds of Janis Joplin's soulful "Mercedes Benz." There's a fun celebrity in the mix, too, Sean (Diddy) Combs, who is no stranger to a talk-about Super Bowl commercial. "That song is such an iconic thing that's a part of pop culture from the 1960s," said Steve Cannon, of Mercedes-Benz. "You mix in Janis Joplin, throw in a little P. Diddy, and we've got a story that not many other brands could ever attempt to tell."
Snickers
Last year, Snickers knocked it out the park by capitalizing on the Betty White pop culture phenomenon. (Remember the 80-year-old actress suited up and got tackled?) This year's commercial features Richard Lewis and Rosanne Barr. A quick preview of the ad shows that the two are on a construction job and words pop up on the screen saying, "This is your job. These are your bosses. What could go wrong?" "Snickers did a great job last year with the Betty White thing," Peterson said. "I loved it because they really did tap into cultural things and into the back of our minds. It was a great retro use of a branded, niche celebrity."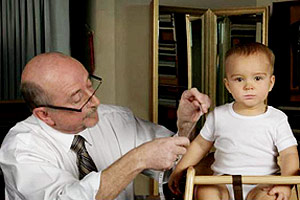 E*TradeThe E*TRADE baby continues his run as a commercial stalwart.
E*TRADE
One of Sunday's ads features a baby who does well enough investing to hire a tailor. This is the fifth consecutive year for the online brokerage company to advertise in the bowl game, and it's the fourth year that it has featured the talking babies. It will be premiering two new talking baby commercial spots, slated to debut during and immediately following the game. The baby also has his own page on Twitter. "The babies are just so surprising and differentiating when we first rolled them out. It really captured attention," said Lea Stendahl, E*TRADE's vice president of marketing. "I think the baby also is really unexpected. A talking baby is not revolutionary, but this combination that we've created, with this grown-up voice, his investing savvy and his surprising sense of humor, is really unexpected. People seem to love it. He's plain funny and entertaining. He's a baby. But he still has a message. He's still talking about things that are relatable to everyday people. People have really embraced that."
Volkswagen
"Star Wars" faithful, grab hold of your hearts because a kid dressed as Darth Vader makes an appearance in one of the automaker's two 30 second spots. In one aptly titled "The Force," you'll hear the iconic "Imperial March" and see that same kid try to use the Force. In another one, look for 3D insects. "I think it's safe to say that we will have the most inventive commercial within ... from what I've seen thus far of all the commercials and advertisers that are gonna be in there," said Tim Ellis, vice president of marketing for Volkswagen. "To create that forest, we consulted together with the London Natural History Museum. We went out and we built this 25- to 40-foot forest on a soundstage, using real materials gathered from a farm."
Budweiser
The old standby. "I always look forward to the Budweiser ads. I think Budweiser's probably one of the staples of the Super Bowl," said Jason Maloni, the senior vice president and chair of sports & entertainment practice for Levick Strategic Communications. "You can count four or five different ads of different types. I mean, who didn't cry when the little baby Clydesdale, a couple years ago, was when he saw his older brother pulling the Budweiser wagon and hoping one day that he'd be that horse? I think Budweiser's done a great job of creating some memorable characters that we all look forward to seeing, and I always count on them for laughter during the Super Bowl."
Kelley L. Carter is a Los Angeles-based entertainment freelancer.