Philadelphia Eagles receiver DeSean Jackson cost himself a touchdown reception on "Monday Night Football" and created turmoil for fantasy owners around the world when he threw the ball down in celebration a yard shy of the end zone.
The play was initially ruled a touchdown, but the call was reversed after a Cowboys challenge. Fortunately for the Eagles, Brian Westbrook scored on the next play, although Dallas went on to win 41-37.
Click here to see Jackson's gaffe.
This wasn't Jackson's first episode of premature celebration, either.
In the 2005 U.S. Army All-American Bowl in San Antonio, a high school all-star game, Jackson tried to flip into the end zone from the 5-yard line … but landed a yard short and coughed up the ball.
This got us thinking about football celebrations gone wrong. Here's a sampling: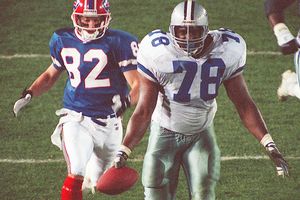 AP Photo/Douglas C. Pizac
Leon Lett was too busy showboating to hear
Don Beebe's footsteps in Super Bowl XXVII.
• Any list of celebrations gone wrong correctly begins with Leon Lett, who famously slowed down to showboat during a return of a fumble recovery in Super Bowl XXVII. Buffalo's Don Beebe knocked the ball away at the last moment, and Lett missed out on a sure touchdown. Of course, the Cowboys forced eight additional turnovers and romped to a 52-17 victory nonetheless.
• Not even two weeks ago, Washington's Jake Locker was flagged for unsportsmanlike conduct for exuberantly flipping the ball overhead after scoring in the last minute against No. 15 Brigham Young. The ensuing extra-point try -- which would've tied the game with two seconds left -- was blocked. The Pac-10 later supported its officials' decision.
• Georgia coach Mark Richt actually orchestrated a celebration penalty in last season's game against Florida to make sure his players were running high on emotion. Georgia went on to win 42-30 and ultimately earned a BCS bowl berth.
• Sticking with Georgia, return man Mikey Henderson fumbled while celebrating a 64-yard punt return against Western Kentucky in 2006. The ball bounced out of the end zone for a touchback, but Henderson scored on a 67-yard punt return just over a minute later as the Bulldogs cruised to a 48-12 win.
• Alabama defenders were flagged for excessive celebration after Crimson Tide safety Charles Jones intercepted Arkansas quarterback Matt Jones in overtime during a 2003 game. Alabama was backed up 15 yards and subsequently missed a 38-yard field-goal attempt that would've won the game. Instead, Arkansas kicked the winning field goal in the second overtime.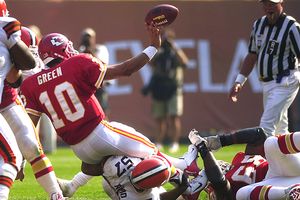 AP Photo/Tony Dejak
Cleveland's Dwayne Rudd mistakenly thought he sacked Trent Green to end this 2002 game. Instead, Rudd's ensuing celebration gave the Chiefs new life.
• Browns linebacker Dwayne Rudd threw his helmet in celebration of what he thought was a game-ending sack of Chiefs quarterback Trent Green in 2002. But Rudd didn't see Green flip the ball to Kansas City lineman John Tait, who rumbled 28 yards to the Cleveland 25-yard line with no time remaining on the clock. Officials penalized the Browns for Rudd's celebration, and then Morten Anderson kicked the winning field goal for the Chiefs on an untimed down.
• Oregon State's Chad Johnson dropped the ball 2 yards shy of the end zone while strutting for a 74-yard score in the 2001 Fiesta Bowl … but officials didn't see the gaffe and signaled touchdown anyway.
• As a rookie with the Steelers in 2000, Plaxico Burress celebrated a 19-yard reception against the Jaguars by spiking the ball. Unfortunately for Burress, he had fallen to the ground untouched, and the ball was live. Jacksonville's Danny Clark returned the fumble 44 yards, but Pittsburgh still won 24-13.
• Similarly, Chargers receiver Vincent Jackson spun the ball on the turf in celebration after a 13-yard catch on a fourth-and-2 play against Oakland in 2006. Like Burress, Jackson went to the ground untouched. Oakland's Fabian Washington covered the ball, but officials ruled that Jackson's move constituted an illegal forward pass. Even with the penalty, San Diego converted the first down. The Chargers went on to win 21-14.
• Rob Carpenter celebrated his first touchdown for the New York Jets by spiking the ball in the team's 1992 exhibition opener. One problem: He had only crossed the 5-yard line.
• Steelers wideout Dave Smith held up and spiked the ball prior to crossing the goal line in a game against the Chiefs in 1971. The ball rolled through the end zone for a touchback, instead of a Pittsburgh touchdown.
• Finally … don't try this at home.
Did we overlook your favorite celebration gone wrong? Be sure to post your comment below.
ESPN fantasy editor Nate Ravitz and the ESPN research department contributed to this report.
Thomas Neumann is an editor for Page 2. You can contact him here.