Single page view
Page 2 staff
Is Rafael Palmeiro a cheater?
Did Sammy Sosa or Mark McGwire cheat? (OK, we'll forgive Sammy's corked bat.)
We'll leave all steroid users and alleged steroid users off this list -- for now. Feel free to plug them in where you see fit. But here are 10 other cheaters from baseball history.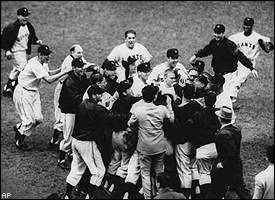 Bobby Thomson is mobbed by his Giants' teammates after hitting the "shot heard 'round the world."
1. 1951 New York Giants
A few years ago the Giants admitted they had an elaborate sign-stealing system in place at the Polo Grounds in 1951. Did it help them erase the 13½-game lead the Dodgers had in August? Did Bobby Thomson know what Ralph Branca was throwing when he hit his "Shot heard around the world?" Those questions are unanswerable, even by Thomson, who exhibited Clintonesque qualities when questioned by the Wall Street Journal. "I'd have to say more no than yes," he said, then equivocated some more before finally saying that no, he didn't steal the sign for that pitch.
But there's no doubt that the Giants cheated. Coach Herman Franks would sit in the Giants clubhouse, conveniently located past center field, and use a telescope to read the catcher's signs. He'd then set off a bell or buzzer in the Giants bullpen that would identify the next pitch, and a relay man would signal it in to the hitter.
But here's the ironic part: after July 19, when the Giants began their 52-18 tear to win the pennant, they actually hit worse at home than before their tear: through July 19, they had an 814 OPS at the Polo Grounds; after, they had a 761 OPS (as reported by Rob Neyer in 2001). It was a pitching improvement that sparked the pennant comeback more than anything.
2. John McGraw
In the field, wrote Geoffrey C. Ward and Ken Burns in "Baseball: An Illustrated History," the 155-pound McGraw "held far bigger base runners back by the belt, blocked them, tripped them, spiked them -- and rarely complained when they did the same to him." He was known to grab onto runners belts as they were rounding third, and grab the belt loops of runners tagging up at third. "He uses every low and contemptible method that his erratic brain can conceive to win a play by a dirty trick," wrote one reporter.
3. Gaylord Perry
Perry compiled his 314-265 record on the wings of a Vaseline ball. He'd stand on the mound, touching his cap or his sleeve, either loading up the ball or trying to convince batters he was doing so. In 1982, he was finally caught throwing his "spitball," and he became one of the very few pitchers to be suspended for doctoring the ball.
Gene Tenace, who was Perry's catcher with the Padres, said the ball was sometimes so loaded he couldn't throw it back to the mound. Indians president Gabe Paul defended Perry: "Gaylord is a very honorable man," he said. "He only calls for the spitter when he needs it."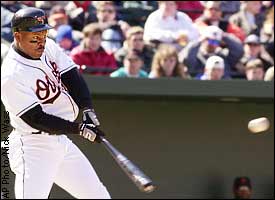 Albert Belle reportedly used more cork than a vintner.
4. Albert Belle
On July 15, 1994, Belle's bat was confiscated by umpire Dave Phillips after White Sox manager Gene Lamont voiced his suspicion that the bat was corked. The Indians knew it was corked, and set out to replace the bat, which Phillips had put in his locker. During the game, Indians pitcher Jason Grimsley wriggled through a crawl space above the ceiling above the umpires' locker room, dropped through an escape hatch, and replaced the corked model with a conventional one. "My heart was going 1,000 miles a second," said Grimsley. "I just rolled the dice, a crapshoot."
But the caper was easily found out -- the faux Belle model Grimsley had put in Phillips locker had Paul Sorrento's name on it. Belle was suspended for seven games. Omar Vizquel later wrote about the "Batgate" incident in his autobiography: "The problem, of course, was that all of Albert's bats were corked."
5. Joe Niekro
Aug. 3, 1987: Niekro's on the mound in Anaheim, pitching for the Twins against the Angels. He throws a slider that breaks the laws of physics. When plate umpire Tim Tschida visits the mound to have a look, an emery board flies out of Niekro's pocket. Niekro's also carrying a small piece of sandpaper "contoured to fit a finger," according to second-base ump Steve Palermo.
Niekro's ejected and suspended for 10 days. "The guy was so blatant," said Palermo. "It was like a guy walking down the street carrying a bottle of booze during Prohibition." Niekro denied any wrongdoing, arguing that as a knuckleballer, he needed the emery board to file his fingernails. And the sandpaper? "Sometimes I sweat a lot, and the emery board gets wet," he explained. "And I'll also use the paper for small blisters."
6. Whitey Ford
Ford used his wedding ring to cut the ball, or had catcher Elston Howard put a nice slice in it with a buckle on his shin guard. Ford also planted mud pies around the mound and used them to load the ball. He confessed that when pitching against the Dodgers in the 1963 World Series, "I used enough mud to build a dam." He also threw a "gunk ball," which combined a mixture of baby oil, turpentine, and resin. He kept the "gunk" in a roll-on dispenser, which, the story goes, Yogi Berra once mistook for deodorant, gluing his arms to his sides in the process.