A Letter To My Younger Self
by James Clausen
Sept. 8, 2027
I have seen the future, and there is no clarity like that of retrospection; so take heed, young Jimmy.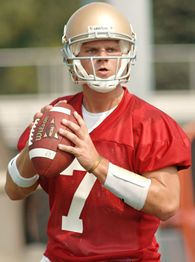 Joe Raymond/AP Photo
Clear off the mantle, Jimmy. There might be some bronze hardware on the way.
You are days away from your first start in blue and gold. Fatefully, hours before the laces touch your fingertips in front of that roaring crowd in Happy Valley on Saturday, Beano Cook will make a prediction that continues to echo across airwaves to this day.
Not one, but four Heisman Trophies on your mantle by 2010, he'll say.
I wish you wouldn't have to hear all this hype, because you are an enigma, Jim. Stories about you were breathed around campus like a vision of Lady of the Lake. Your potential was bigger than a 14-story messiah mural, and your legend was bloating faster than your coach's belly at a early-bird buffet. I wish you would have saved that voice mail -- the one from Beckham going on about how he had never seen such a highly anticipated era quite like your arrival to South Bend. That's the stuff you'll miss someday, kiddo.
But looking back at you now, I'd say you sure showed up. Three Heismans and two national titles for the Irish, not bad for a private-school boy.
If the QB-by-committee experiment hadn't marred your freshman season with that insurmountable opening loss to Georgia Tech, you would have raked in all four trophies. No matter. You'll hardly miss that last Heisman with those two championships you brought to South Bend. Woulda been three if it weren't for that blocked field goal in the loss to Navy your junior year. But those things happen.
Related content
• Vote: How will Notre Dame fare?
• Charlie Weis on ESPN Radio

I remember the sports talk radio heads buzzing like power lines in a heat wave after you dismantled No. 1 USC on a crisp October night back in '07. The "Reggie Bush Push" quickly faded in memory after the "Jimmy Jam" wedged into the end zone and history books for that last-second, 34-31 win over the Trojans. Those were the days.
Your future is so bright, Jim. Laugh off all that stuff about bone spurs and biceps implants. That stuff's not printed on your ID -- and if it is, it's time for a new fake. Not that you need one. You've got super seniors buying your booze, you're so money. You're a purebred California signal-caller with nothing but a handful of high school rings and hair product to weigh you down. YOU are the new gold standard.
You'll be just fine out there. You just tell that QB coach of yours to back off. We didn't grow up in Berwick, Pa. We're not destined to life on the sideline with clipboards and mock turtlenecks. We lived up to the hype.
After you move on to play in Oakland, remember that Casey, Rick, Brady and Carlyle will always be just a phone call away. No matter what happens in the NFL, you'll still have that rich tradition and religious fan devotion to fall back on. Don't ever let Raider Nation bring you down because of the career-ending injury. That wasn't your fault. Those guys drafted a QB in the first round 14 straight years. None of them panned out … yet you get singled out?
Here's what matters: savor these next four years.
We're Irish for life now. After all these years they still love you, and all because you didn't go to USC. Me and you, Hornung and Holtz -- we've all got honorary masters of football divinity.
You're a Domer now, Jimmy, and someone, somewhere will always have a soft spot for you, even though the hype is trying to eat you alive.
Mary Buckheit is a Page 2 columnist. She can be reached at marybuckheit@hotmail.com.