Redskins' Cooley is an open book, via the Internet
It's 9:30 p.m. Sunday night, and I'm on the train back to New York City when my cell phone rings. Washington Redskins tight end Chris Cooley is calling. "I have a great story about today -- you won't believe what happened," Cooley said. Considering I had talked to him in the locker room just a few hours earlier, after the Redskins' 29-24 victory over the New Orleans Saints, I wondered what could have happened since.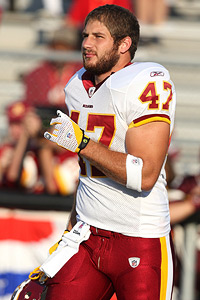 Joe Robbins/Getty Images
Chris Cooley has emerged as one of the best, and most popular, tight ends in the NFL.
Apparently, Cooley's anatomy had become a hot topic on the sports satire Web site Deadspin (among other sites) after he accidentally posted a rather revealing self-photo Sunday morning. Cooley says he meant to document a page in the team playbook, which was open on his lap. He snapped a quick photo and posted it to his blog on his Web site,
The Cooley Zone
. And, oh yes, he wasn't wearing any clothes. "No one told me about it all day," Cooley said, laughing. "When we finally found out tonight, the site had already gotten like 17,000 page views before we could take it down. I couldn't believe I did that."
In today's voyeuristic world of MySpace, Facebook and reality TV galore, our society is a curious one, especially concerning celebrities. We want to know what time they woke up, what they ate for breakfast, and where they're going out at night. And the celebrities -- athletes or otherwise -- usually don't want to reveal these things, trying to maintain a separation between their public and private lives.
But then there's Chris Cooley. The 26-year-old from Powell, Wyo., beginning his fifth season as a Redskin, has become a fan favorite in Washington, as much for his affable, "welcome to my world" personality as for his football talent. Last March, with the help of his younger brother Tanner, Cooley started his own Web site, which includes an autobiographical blog that has further catapulted his celebrity.
Five minutes into my first meeting with Cooley last fall, he was joking about drawing sketches of naked women (he's a very talented artist), making fun of teammate Clinton Portis and talking about his upcoming nuptials to his now-wife (and former Redskins cheerleader) Christy Oglevee. Dressed in a T-shirt and gym shorts, he was easygoing and lacking in pretentiousness -- Will Ferrell meets Ashton Kutcher. Talking to him again last week at the Skins' practice facility, Cooley opted to have us take a seat in the hallway -- on the floor. When Portis joined us, the three of us were hanging out in the hall, college dorm-style, while other players and coaches walked by. (Cooley couldn't resist offering a few colorful comments about his teammates as they passed by.)
Perhaps Cooley's best explainer is his blog, which averages close to 20,000 hits per day. Cooley says it started as a casual way to show fans what a pro athlete's life is like off the field. Now, the blog is so organized that he and his brother have a wipe-board calendar mapping out the next month's worth of posts -- including videos of events like their recent fantasy football draft, which featured teammates, including Jason Campbell, Colt Brennan, Santana Moss, Fred Smoot and Mike Sellers (the standings are updated on the site each week). Other videos include Cooley cooking his family's aebleskivers, a breakfast favorite that he prepares on a "typical off-day morning."
When not posting videos, Cooley holds fan contests (like his recent beard-growing contest) or offers up anecdotes of his life at home and at work. While a fair number of athletes blog through mediums such as NFL.com, Yahoo or their own sites, Cooley's blog is different. He shares intimate (often non-football) details and is willing to tell people just about anything -- even if it means embarrassing himself. "The main way I've connected with fans is trying to tell real stories," Cooley said. "People will see or find out a lot about you anyway, so better if it comes from you."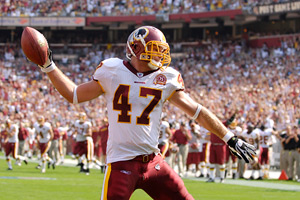 AP Photo/Nick Wass
Cooley's blog has given fans an inside look at the life of a NFL player.
For example, when Cooley injured his quad during practice last week, rather than have the media speculating on his status, he posted a blog updating readers on the injury. (It wasn't serious, but he said he was mad he had to miss his first practice in four years.)
Cooley's open-book policy has led to the occasional gaffe, like Sunday's revealing photo. Last spring, he accidentally posted a photo of a personal check with his account information and address. And at times he'll offer some frank commentary on the league (overpaid rookies and training camps were a hot topic this summer) that some people see as a bit controversial. But overall, he thinks it's worth it. "Fans tell me they feel like they know me," Cooley said. "I'll be out to dinner and they'll just come up and want to talk about something I posted."
Cooley's wife has definitely noticed a change. "When I first met him [three years ago], we could go out and no one would recognize him," she said. "But now, everyone does. Even on our honeymoon in the Bahamas -- it's crazy." But, as she pointed out, it's not all bad. When the Backstreet Boys, her favorite band growing up, came to town, Cooley's celebrity helped them score backstage passes and a chat with the crooners.
Portis, one of Cooley's closest friends, has appeared in several blog videos and says the two have their own TV show in the making. (Judging by the ideas they threw around in front of me, it's still a work in progress.) CP loves the blog. "It gives you an opportunity to show a different side of you, so people can relate to you as a normal person," Portis said. "We may be pro athletes, but we do the same stupid stuff that other people do."
While there's been talk of turning the blog videos into a reality series, Cooley is content with the site as it stands. He and Tanner, who is hoping to attend medical school in the D.C. area next fall, plan to further the site and continue their partnership with Comcast Sports Network, which runs weekly video content with Cooley but lets him post the pieces on his blog, as well. Tanner also manages the site's sale of Cooley memorabilia (all proceeds are donated to charity).
Still, don't think Cooley is all fun all the time. "When I mess up, I have a major temper, like a 9-year-old's tantrum," Cooley said. "Even if I mess up in practice, it's crushing. I can't stand it." He'll grab helmets and break them. He says he's already broken eight or nine in practice this season.
Most game helmets, however, have been spared. Cooley was voted to the Pro Bowl last year after racking up 786 receiving yards. And during Sunday's game against the Saints (in which he tallied 72 yards), the Fox announcers noted that his name "should come up more often when talking about the best tight ends in the league."
He's also one of the most likeable. Tanner describes the multiple times over the years that Cooley has let teammates stay at his house, drive his cars and be a part of his extended family. Close friend Todd Yoder, an occasional blog contributor, said, "You just like being around the kid."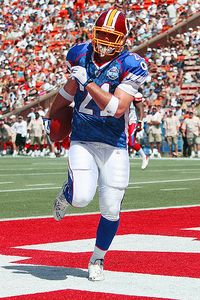 Paul Spinelli/Getty Images
Cooley scored a touchdown in last year's Pro Bowl -- probably not his last appearance in Hawaii.
Cooley has the same attitude toward his teammates. When asked what he loves most about playing football, he answered, "It's the team, the guys. I love showing up to work and having 50 guys that act like we're in high school. Any real problems in your life are erased when you walk through the door. It's such a cool environment, which I think is why guys play so long. No one wants to leave it."
Brennan, the Redskins' rookie quarterback, said Cooley has been a great help to him in his first year in the NFL. "He's a good guy who's a lot of fun," Brennan said. "A unique personality, and he's been a real great guy as far as [being] a veteran taking a rookie under his wing to teach him about the league."
If he weren't playing football, Cooley said he'd be an art teacher or a high school football coach. His mom, a high school teacher in Ashburn, Va., is the blog's main editor. On off days, for fun, Cooley and his wife head to the mall and play the "name game" -- they sit on a bench and yell out random names as people walk by ("Hey Matt! Hey John!") and see if they're right. "I think the biggest thing is I'm very easy to relate to," Cooley said. "I'm a lot like people who feel like they could be playing in the NFL. I'm not the greatest athlete or the best at anything, but I work really hard and stuff turns out well for me."
After 30 minutes of talking last week, Cooley left one question unanswered: What's the one thing a reporter should ask you but never has? "That's a good question…" Cooley said, before trailing off. Three days later, he still didn't have an answer. Then he was asked this question: What about something no one knows about him, but should? "Nothing that isn't already out there," Cooley replied.
Go figure.
Anna Katherine Clemmons is a reporter for ESPN The Magazine.