How to stay warm at Sunday's games
Sunday's weather forecast for Green Bay calls for below-zero wind chill with possible snow flurries. It won't be much better in Foxborough -- temps in the 20s but windy.
Here is Page 2's guide to cold-weather games:
1. Go to Best Buy
2. Purchase HDTV
3. Hang TV on living room wall
4. Adjust thermostat
5. Hope no Giants player "moons" the Lambeau crowd with Joe Buck in the booth
6. Enjoy!
We asked readers to provide cold weather survival tips -- and you didn't disappoint. Here are the best: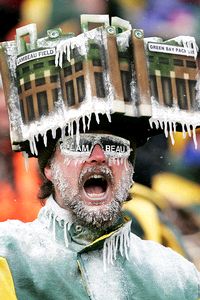 AP Photo/Mike Roemer
Some fans just try to survive the cold … and then there are those who revel in it.
Not surprisingly, many of you suggested liquor. Enough booze might make you forget about the weather … and perhaps the game. Not to get preachy, but since we're trying to be somewhat helpful here, we should point out that alcohol actually speeds the loss of body heat.

From Mike in Philadelphia:
Obviously, the more layers you have on the better, but despite my insulated winter boots, wool socks, and footwarmer packets, my feet would still freeze from just having them on that cold concrete for about four hours. One year in the NFC Championship a few years back I finally wised up and brought a copy of the Sunday paper in with me and put on the ground in front of my seat. Using that to insulate my feet from the cold concrete made all the difference in the world and I was able to enjoy the game in comfort, while my buddy froze his toes off.

From Lisa in Waddy, Ky.:
As a lifelong Packer fan who also spent a decade in Western New York rooting for the Buffalo Bills (including all four of their Super Bowl years), I have two words for you: silk long johns. Trust me on this. Extremely lightweight, comfortable and unbelievably warm. Long before fancy chemical warmers (for wimps!), silk long johns, and sock and glove liners, were the secret weapon of the truly tough.
From Matthew in Cape Coral, Fla.:
Josh Brown won't be needing them anymore, so maybe someone could borrow his battery heated pants.
From Jennifer in Bethel, Conn.
Layer, layer, layer and keep the feet warm! My dad and I go to all the Giants games and standing on the concrete can get cold some night games. We use those bootwarmers that heat up when they hit the air, they are great! Use 2 per shoe and you will stay toasty warm!
From Tommy in Seerey, Mass.:
At a Cornell vs. Dartmouth football game a few years ago, I packed my jacket full of handwarmers. (I think I used around 80.) The temperature was close to 10 degrees that day, but I was sweating.
From Dan in St. Louis:
As a member of the Wisconsin Band, I sat through a number of cold games in Madison and Green Bay, while my outer appearance could show no more than my uniform. The key is layers. Under my uniform (which was wool, at least) I wore a tight T-Shirt, a turtle neck, Flannel Boxers, long underwear and a pair of athletic socks under a thick pair of the black socks that were part of the uniform. During performance, I wore a pair of glove liners under my standard white gloves, and in the seats I topped that with both winter gloves AND a pair of mittens (the fact that I played trombone helped). Up top, I wore both earmuffs topped off with a head band and a hat (all of which came off my head for performance, but I got hot and sweaty during performance no matter how cold).
From Richard in Norfolk, Va.
While playing Division III football this year, nothing could keep me warmer than thinking of Tom Brady's smile. Now that my season is over, I can fully wrap myself in his warmth.
From Marty in Detroit:
Throw a couple of potatoes wrapped in foil on the grill during the tailgate. When you leave, put them in your coat pocket for a combination handwarmer/snack. If you're in Green Bay, you may even be able to grate some cheese off of your fellow fans' headgear.
From John in New York:
Almost best way: Napkins from the concession stand stuff into the sleeves of your jacket and pants. Best way: Your team actually winning!
From Bill in Scranton, Pa.
The "Al Bundy." Four Fingers in your pants, thumbs sticking out.
Sound off to Page 2 here.