These guys were worth the big bucks
Baseball's first free agent was Catfish Hunter, declared a free agent after the 1974 season when Oakland A's owner Charles Finley failed to pay an insurance premium as required in Hunter's contract.
Hunter had won the AL's Cy Young Award in '74 after winning 25 games. He was 28 years old. You can imagine the demand for his services. According to accounts, the only team besides Oakland not to pursue Hunter was the Giants. A young owner of the Yankees named George Steinbrenner won the bidding war, signing Hunter to a five-year deal worth $3.35 million. That's an average salary of $670,000 per season. Considering baseball's highest-paid player in 1974 was Dick Allen of the White Sox at $250,000, you can see why baseball players were suddenly drooling over the huge pot of cash available to them if only they could eliminate the reserve clause (they would; the free-agency era began after the 1976 season).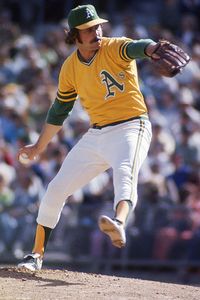 Focus on Sport/Getty Images
Catfish Hunter left the A's to become baseball's first star free agent.
As for Hunter, he won 23 games in 1975, finishing second in Cy Young voting, and 17 more in 1976 as the Yankees returned to the World Series for the first time since 1964. Injuries limited Hunter the next two seasons but he did help the Yankees win the World Series both years. He retired after winning just two games in 1979, and while he was hardly an ace throughout his five-year Yankee tenure, it's hard to argue that King George wasn't pleased with his investment. With the Yankees shelling out $161 million for CC Sabathia and $180 million for Mark Teixeira, it got us thinking of baseball's best-ever free-agent signings. Buyer beware: It's much easier compiling a list of
bad
free-agent signings (check back next week) than it is of good ones. Here's our list of the 10 best, considering only players who changed teams. Reggie Jackson, Yankees, 1977
The background:
Another former Oakland star, the A's had traded Reggie to Baltimore in 1976, knowing they would lose him anyway. The 1973 AL MVP, Reggie was already a controversial personality and would be turning 31 years old in '77. But he had finished second in the AL in home runs and first in slugging percentage in '76.
The contract:
Five years, $3.5 million.
The reward:
Yankees, meet Mr. October. Reggie famously blasted his three home runs in Game 6 of the 1977 World Series and then hit .462 in the 1978 ALCS and .391 in the World Series as they won it again. He signed with California after a poor 1981 season, but he left as a Yankee legend.
Goose Gossage, Yankees, 1978
The background: After coming up with the White Sox, Gossage was traded to Pittsburgh in 1977, where he had one of the greatest relief seasons ever: 11-9, 133 innings, 78 hits, 151 strikeouts, 1.62 ERA. He was acknowledged as perhaps the hardest thrower in the game (along with Nolan Ryan), and even though Sparky Lyle had won the AL Cy Young Award in '77 while serving as the Yankees' closer, the Bronx Bombers opened their wallets.
The contract:
Six years, $2.8 million.
The reward:
Gossage paid immediate dividends, pitching 134 innings in '78 and saving the AL East tiebreaker game against the Red Sox. He was on the mound as the Yankees clinched their second straight World Series title. His ERAs in his six seasons in New York: 2.01, 2.62, 2.27, 0.77, 2.23, 2.27. Why did it take him so long to get into the Hall of Fame?
Pete Rose, Phillies, 1979
The background: Charlie Hustle was still going strong, even though he'd be turning 38 for the 1979 season: He was coming off a season in which he hit .302 with 51 doubles and had an NL-record 44-game hitting streak. He was arguably the most famous and most popular player in the sport, even though he wasn't a big home-run hitter and had the worst haircut in MLB history. The Phillies surprisingly signed Rose, and this 1979 story in Sports Illustrated shows how the Phillies' deal with their local TV affiliate helped justify their "big" expenditure.
The contract:
Four years, $3.2 million.
The reward:
While the Phillies failed to make the playoffs in '79 after winning the NL East the previous three seasons, Rose (moved to first base in Philly) did play every game and hit .331. The next season, Rose wasn't really
all
that valuable -- he hit .282 with just one home run, not exactly stellar totals from your first baseman -- but the Phillies won their first World Series title in franchise history. In fact, going back to the franchise's debut in 1883, the Phillies had never finished first in the pre-World Series days and had been to only two World Series. Rose's hustle and leadership might have been the final ingredient the Phillies needed. Jack Morris, Twins, 1991
The background:
One of the AL's top hurlers during the '80s, Morris had a couple of tough seasons with Detroit, going 6-14, 4.86 in 1989 and 15-18, 4.51 in 1990. The Twins had gone 74-88 in 1990, but had a couple of second-year starters to build around in Scott Erickson and Kevin Tapani. They needed a veteran leader for the pitching staff. Morris signed with his hometown team.
The contract:
One year, $3.7 million.
The reward:
While the contract was for just one year, the Twins did make Morris the second-highest-paid player in the AL that season. He rewarded them with 18 wins, 247 innings, a 3.43 ERA and, of course, the greatest World Series Game 7 pitching performance in history.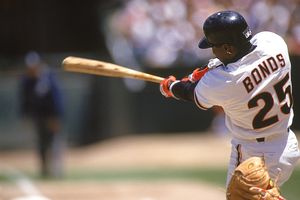 Otto Greule Jr/Getty Images
Barry Bonds in 1993 -- the year he led the NL with 46 home runs, a .458 on-base percentage and .677 slugging percentage.
Barry Bonds, Giants, 1993
The background: Bonds was the NL MVP with the Pirates in 1990 and 1992 and finished second in 1991, as the Pirates won the East all three seasons. Alas, Bonds hit just .191 with three RBIs in 20 postseason games and failed to throw out Sid Bream at home plate as Pittsburgh lost all three NLCS. Many believe the Pirates didn't re-sign Bonds because they had chosen instead to sign the less-talented (but white) Andy Van Slyke to a big deal (he had signed a three-year, $12.6 million contract before the 1991 season). Bonds, in a 1992 article in the New York Times, referred to Van Slyke as the "Great White Hope" and "Mr. Pittsburgh." He also indicated Van Slyke had received preferential treatment over Bobby Bonilla from Pirates management (Bonilla had signed with the Mets as a free agent after 1991). It's probably more accurate to suggest Bonds was unlikely to sign with Pittsburgh regardless of the Pirates' interest -- especially once the bidding hit record highs.
The contract:
Six years, $43.75 million.
The reward:
The Giants had lost 90 games in 1992 but had an immediate turnaround, winning 103 games, although
they lost the division title on the season's final day
. Bonds won the MVP Award that season, hitting .336 with 46 home runs. It wouldn't be his best season with the club.
Greg Maddux, Braves, 1993
The background: Maddux had won 20 games and the Cy Young Award for the first time with the Cubs in 1992, going 20-11 with a 2.18 ERA. He was 26 years old, durable (he had never missed a start) and much-desired. The Cubs reportedly offered five years and $27.5 million and the Yankees even more, but he signed with Atlanta.
The contract:
Five years, $28 million.
The reward:
The Braves made Maddux the NL's fourth-highest-paid player in 1993, always a risky proposition for a pitcher. He won 20 games and a second Cy Young Award. Over the next two seasons, he went 35-8 with a 1.60 ERA and won two more Cy Youngs. He slumped to fifth and second in the Cy Young voting in '96 and '97. How good was he during this peak? He allowed just 42 home runs over those five seasons. That's fewer home runs than Bert Blyleven
twice
allowed in a season.
Randy Johnson, Diamondbacks, 1999
The background: Seattle had traded Johnson to Houston at the trading deadline in 1998, and the Big Unit absolutely destroyed National League hitters, going 10-1 with a 1.28 ERA in 11 starts. While Johnson had made 34 starts in '98, there were lingering concerns about a bad back that had forced him to miss most of the 1996 season.
The contract:
Four years, $53 million.
The reward:
The Diamondbacks, then entering their second year of existence, become immediate contenders, winning 100 games and the NL West title. They would trade for Curt Schilling a year later and win the 2001 World Series and another division title in '02. Johnson won four straight Cy Young Awards, going 81-27 and striking out 1,417 batters during his first four years in the desert. Manny Ramirez, Red Sox, 2001
The background:
Ramirez had driven in a remarkable 432 runs over his previous three seasons with Cleveland (despite missing 44 games in 2000) and had hit a career-high .351 in 2000. Despite his physical and mental lapses in the field and on the bases, he and Alex Rodriguez were the two prize commodities in the 2000-01 free-agent market.
The contract:
Eight years, $160 million.
The reward:
Former Red Sox GM Dan Duquette stunned the baseball world with this deal (although it was nearly
$100 million
less than what the Rangers signed A-Rod for). In fact, the Red Sox themselves realized it was nearly impossible for a player to literally earn this kind of salary; after Duquette was fired, the new regime actually put Ramirez on waivers following the 2003 ALCS loss to the Yankees. Good fortune struck for Boston when no team picked him up, so they kept him. In 2004, Ramirez hit .308 with 43 home runs and 130 RBIs and finished third in the MVP voting … oh, and was named World Series MVP as the Red Sox ended some kind of curse. It's safe to say, with the Red Sox winning again in 2007 (with Ramirez driving in 16 runs in 14 postseason games), Boston would not have the two championships without Ramirez. Yes, every franchise can't afford $160 million; for the Red Sox, Duquette's folly proved fabulous.
Ichiro Suzuki, Mariners, 2001
The background: The biggest superstar in Japan, Suzuki had hit .385, .342, .356, .345, .358, .343 and .387 in his seven full seasons there, and had topped 20 home runs twice. Still, no Japanese position player had ever played in the U.S., and there were concerns the slightly built outfielder wouldn't be able to handle major league fastballs.
The contract:
Three years, $27.125 million (including $13.125 posting fee).
The reward:
The excellent Web site
fangraphs.com
has Suzuki being valued at $102.9 million from 2002 through 2008, against actual salaries of $69.5 million. And those totals don't include 2001, when Ichiro made $5.7 million while winning the AL MVP Award and leading the Mariners to an all-time record 116 regular-season victories. He's been durable (200-plus hits and 100-plus runs all eight of his major league seasons) and superb on the bases and in the field (eight Gold Gloves). While his increasing salary -- $17.1 million in 2008 -- means he's now
overpaid
, the Mariners have earned a terrific payback on their initial investment.
David Ortiz, Red Sox, 2003
The background: He wasn't a true free agent in the standard sense; the Twins had non-tendered Ortiz, then turning 27, after a .272/.339/.500 season in 125 games. But every team had a chance to sign the lefty slugger, who had battled inconsistency and minor injuries in Minnesota. Boston signed him to provide help at first base and DH.
The contract:
One year, $1.25 million.
The reward:
Even the Red Sox didn't know
exactly
what they had; Jeremy Giambi received as much playing time early in the season. Ortiz had just 117 plate appearances with two home runs through May before heating up. He hit 27 home runs the final three months, became a legendary fantasy waiver-wire pickup and finished at .288 with 31 bombs. The Red Sox made the ALCS, a love affair was born, and the next year Big Papi's heroics helped them win it all.
Honorable mention:
Bobby Grich (Angels, 1977), Nolan Ryan (Astros, 1980), Carlton Fisk (White Sox, 1981), Andre Dawson (Cubs, 1987), Kirk Gibson (Dodgers, 1988), Nolan Ryan (Rangers, 1989), Terry Pendleton (Braves, 1991), Vladimir Guerrero (Angels, 2004).