The Cubs: 99 years of misery
1920
Record: 75-79
Finished 5th in the National League, 18 games out
A fine front office at work: "I'd play for half my salary if I could hit in this dump (Wrigley Field) all the time." -- Babe Ruth in 1920
The performance of Cubs reliever Sweetbreads Bailey is hardly tasty (should've stuck with his real name, Abraham Lincoln Bailey). A local boy from nearby Joliet, Ill., Bailey posts his lone victory on Sept. 17, but still ends up with a 7.12 ERA. (He helps erase an amazing season for Pete Alexander, who goes 27-14 while throwing 363 innings.)
1921
Record: 64-89
Finished 7th in the National League, 30 games out
Ex-Cub Factor: Pitcher Fred Toney wins a ring with the New York Giants.
The '21 Cubs are kind of like the modern-day Pittsburgh Pirates: Not much hitting, not much pitching and not too much interesting. But they field a pitching staff that includes guys named Speed, Virgil, Buck, Hippo, Elmer, Percy, Ollie, Oscar, Sweetbreads and two guys named Lefty.
1922
Record: 80-74
Finished 5th in the National League, 13 games out
Wait, what happened? Shortstop Charlie Hollocher steals 19 bases ... but gets caught stealing 29 times.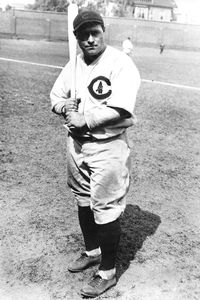 AP Photo
John McGraw gave up on the 5-foot-6 powerhouse, but Hack Wilson turned into a star with the Cubs in the late '20s.
It isn't just another Friday afternoon tilt at Wrigley on Aug. 25. No, it may have been the worst-played game in major league history: Cubs 26, Phillies 23. (Yes, remarkably, the Cubbies actually win.) The teams combine for 51 hits, 23 walks and 10 errors. In three other games in August, the Cubs give up 16, 17 and 19 runs. They don't win any of those.
1923
Record: 83-71
Finished 4th in the National League, 12.5 games out
Whoa! He played here? Jigger Statz hits .319, but with a name like that you would think he would have found more ways to cheat.
The first inning of a May 31 game against the Reds is symbolic of the season. Cincinnati gets out to a 1-0 lead, scoring on an error by rookie second baseman George Grantham. The Reds go on to win 3-2, handing Chicago its fourth of six straight losses. Not to pick on Grantham (he finished second in the NL in stolen bases and was one of the best-hitting second basemen of the era), but his glove left something to be desired. He commits 55 errors in 1923, 25 more than any other second baseman and an NL record for his position. It's only fitting that Grantham earns the nickname "Boots."
1924
Record: 81-72
Finished 5th in the National League, 12 games out
RIP, Cubbie: Frank Chance, the player-manager of the last World Series champion Cubs team, passes away at age 47 due to asthma and tuberculosis.
Hooks Cotter. Sparky Adams. Jigger Statz. Denver Grigsby. Rip Wheeler. Sheriff Blake. But we digress ... the Cubs are 1½ games out of first on June 25, leading the Pirates in the ninth inning, when Pittsburgh relief pitcher Emil Yde doubles to tie the game; Yde then triples in the 14th to win it. The Cubs score one run their next three games and are never again in the playoff picture.
1925
Record: 68-86
Finished last in the National League, 27.5 games out
Wait, what happened? Sheriff Blake sets the tone for the pitching staff with 18 losses and a 4.86 ERA.
Even die-hards have tried to misremember the Rabbit Maranville era in Chicago. Acquired as part of an offseason trade with the Pirates, the little 5-foot-5 shortstop becomes known for walking on hotel ledges, eating goldfish and hanging out after hours. In other words, he likes, umm, his adult beverages. Anyway, manager Bill Killefer is fired on July 6 and the Cubs announce Maranville will be the player-manager. As Glenn Stout writes in "The Cubs," "They'd just given the inmate the keys to the asylum." Maranville doesn't last the season as the Cubs plummet to last place for the first time in franchise history.
WORLD SERIES WINNERS
1920: Cleveland Indians 5, Brooklyn Dodgers 2
1921: New York Giants 5, New York Yankees 3
1922: New York Giants 4, New York Yankees 0
1923: New York Yankees 4, New York Giants
1924: Washington Senators 4, New York Giants 3
1925: Pittsburgh Pirates 4, Washington Senators 3
1926: St. Louis Cardinals 4, New York Yankees 3
1927: New York Yankees 4, Pittsburgh Pirates 0
1928: New York Yankees 4, St. Louis Cardinals 0
1929: Philadelphia A's 4, Chicago Cubs 1
1926
Record: 82-72
Finished 4th in the National League, seven games out
RIP, Cubbie: "Wild" Bill Hutchison the franchise leader wild pitches (120) and losses (158) passes away at 66.
Under new manager Joe McCarthy, the season's big news happens on June 22, when the Cubs waive Hall of Fame pitcher Alexander after he clashes with McCarthy over his drinking. (Alexander was an alcoholic.) The Cardinals pick him up and he helps them to the pennant and World Series title. In fact, he's far from done; he wins 37 games the next two seasons and could have pushed the Cubs to pennants both years.
1927
Record: 85-68
Finished 4th in the National League, 8.5 games out
Wait, what happened? Cubs shortstop Jimmy Cooney is credited with an unassisted triple play in game against the Pirates.
The Cubs lead the NL by six games on Aug. 16. But they lose 6-5 the next day to Brooklyn and go 16-28 over their final 44 games. Some blame McCarthy for overusing ace pitcher Charley Root, who pitches 309 innings and finishes with 26 wins but wins just once over the final three weeks. In other words, envision the way Dusty Baker handled Mark Prior in 2003.
1928
Record: 91-63
Finished 3rd in the National League, four games out
Wait, what happened? On Sept. 18, the Boston Braves and Chicago Cubs combine to set a league record with eight double plays.
The Cubs pitch well (first in the league in runs allowed) and Hall of Famers Gabby Hartnett, Hack Wilson and Kiki Cuyler pound the ball. But Root goes 14-18, perhaps still recovering from the previous season's slinging. The other main culprits are second baseman Freddie Maguire and third baseman Clyde Beck, who are fine fielders but liabilities at the plate. So there you go, Cubs fans: If not for Maguire and Beck, maybe you would have won it all in 1928!
1929
Record: 98-54
Finished 1st in the National League, lost World Series to the Philadelphia A's 4-1
Wait, what happened? Cubs second baseman Rogers Hornsby wins the MVP award, hitting .380 with 39 homers and 149 RBIs.
Only the Cubs, our friends, only the Cubs can lose a World Series game like this ... but first, let's go back to the offseason. The Cubs purchase the controversial Hornsby from the Boston Braves for five players and a reported $200,000. Nobody likes Hornsby, but the sucker can hit. Now, fast-forward to Game 4 of the World Series against the Philadelphia A's. Up 8-0 and just nine outs from tying the series, Chicago allows 10 runs in the bottom of the inning. Root starts the inning, which goes like this: home run, single, single, single, single, pop out, single, new pitcher, inside-the-park home run, walk, new pitcher, single, single, new pitcher, hit by pitch, double. Two days later, just for good measure, the Cubs blow a 2-0 lead in the bottom of the ninth and lose 3-2.
Futility by the decades: 1909-1919 | 1920-1929 | 1930-1939 | 1940-1949 | 1950-1959 | 1960-1969 | 1970-1979 | 1980-1989 | 1990-1999 | 2000-2007
Research and text by Brett Edgerton, Mark Simon and Jeremy Lundblad of the ESPN Research Department. Additional contributions from Page 2 editors David Schoenfield and Michael Philbrick.