The Cubs: 99 years of misery
1990
Record: 77-85
Finished 4th in the National League East, 18 games out
Wait, what happened? First-round pick Lance Dickson reaches the majors by the end of the season. He starts three games, loses them all and never pitches again in the majors.
The Cubs beat the eventual champion Reds in 16 innings on May 22, but that about signifies the end of the 1990 highlight reel. They blow a three-run lead in the eighth the next day, then allow 35 runs over the next three games. So begins a 3-12 stretch that increases their deficit from five games to 12½. The main culprits: "Closer" Mitch Williams goes 1-8, second-year outfielders Jerome Walton and Dwight Smith don't hit, and shortstop Shawon Dunston has more errors than walks.
1991
Record: 77-83
Finished 4th in the National League East, 20 games out
Missed out on drafting: Nomar Garciaparra, who went to the Brewers with the 130th pick (he didn't sign). Cubs' first-round pick Doug Glanville is traded after two seasons.
Highly touted third baseman Gary Scott goes 0-for-3 in his major league debut; the Cubs lose 4-1 to the Cardinals on Opening Day. Scott lasts a month and a half, hitting .165. His time in the majors concludes after he hits .156 in 96 at-bats the following season.
1992
Record: 78-84
Finished 4th in the National League East, 18 games out
Wait, what happened? Courtesy of a trade with the White Sox (for George Bell), and for the low, low price of $180,000 that first year, the Cubs introduce Sammy Sosa to the Friendly Confines.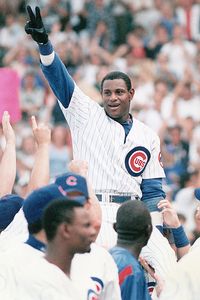 Stephen Green/MLB Photos via Getty Images
Acquired in 1992 from the White Sox, Sammy Sosa would (for a time, anyway) become the most popular Cubbie.
The one good thing we can say about this team is at least they put the ball in play. Of course, it usually turns into an out. The Cubs have the fewest strikeouts in the league but rank 10th in runs scored. The third basemen, led by Steve Buechele, hit .219 and slugged .300. By "led," we mean, "Hey, at least Greg Maddux won the Cy Young Award and we're sure the Tribune will sign him to a nice, fat long-term contract. We're sure he won't sign with the Braves, return to Wrigley on Opening Day 1993 and pitch a 1-0 shutout and then win three more Cy Youngs in a row. We're sure that won't happen, but if it does, at least we have Steve Buechele."
1993
Record: 84-78
Finished 4th in the National League East, 13 games out
Wait, what happened? On July 7, Reds pitcher Tom Browning leaves the dugout at Wrigley to watch the game from the roof of a building on Sheffield Avenue. Browning was later fined $500 by the league.
Teams that scored 10 or more runs in a game won 95 percent of their games in 2007. But that was 2007. In 1993, the Cubs lose four games in which they score 10-plus runs. The first came on April 17, a game in which the Cubs rally from four down in the ninth to tie Philly, then nearly rally from three back in the 11th. After scoring twice, the Cubs run out of players and use Randy Myers as a pinch-hitter for Bob Scanlan. With one on and one out, Myers tries to drop a bunt, but alas, the Phillies turn it into a game-ending double play.
1994
Record: 49-64 (strike year)
Finished 5th in the National League Central, 16.5 games out
Whoa! He played here? Pitcher Mike Morgan sums up the last-place Cubs with a 2-10, 6.69 ERA performance. Morgan would later win a World Series ring with the Diamondbacks.
The Cubbies trade Jose Vizcaino to the Mets for Anthony Young, apparently believing that Young's 3-30 record over the previous two seasons would help push the team over the top. Amazingly, it does not. The Cubs start 9-22 (losing on Opening Day despite three home runs from Tuffy Rhodes), clearly inspired by Young's winning presence.
1995
Record: 74-71
Finished 5th in the National League Central, 12 games out
Ex-Cub Factor: Greg Maddux wins his fourth consecutive Cy Young award -- the last three with the Braves.
From Opening Day through the first 35 games, the Cubs hold, at worst, a share of first place. On June 5, they lose to the Braves 7-5 on Mark Lemke's two-run triple in the seventh inning. Thus begins the inevitable June Swoon that Northsiders have come to know and dread. A 9-20 month turns the Cubs into the Cubs.
WORLD SERIES WINNERS
1990: Cincinnati Reds 4, Oakland A's 0
1991: Minnesota Twins 4, Atlanta Braves 3
1992: Toronto Blue Jays 4, Atlanta Braves 2
1993: Toronto Blue Jays 4, Philadelphia Phillies 2
1994: World Series cancelled
1995: Atlanta Braves 4, Cleveland Indians 2
1996: New York Yankees 4, Atlanta Braves 2
1997: Florida Marlins 4, Cleveland Indians 3
1998: New York Yankes 4, San Diego Padres 0
1999: New York Yankees 4, Atlanta Braves 0
1996
Record: 76-86
Finished 4th in the National League Central, 12 games out
Ex-Cub Factor: Joe Girardi wins a ring with the Yankees.
The Cubs are just five games back as they head to St. Louis for a three-game series with the first-place Cardinals. And when Chicago takes a 3-1 lead on a Ryne Sandberg homer in the eighth, all things seem possible. Then the Cards strike for four in the bottom of the inning and go on to sweep by scores of 5-3, 5-3 and 5-4 in 13. When the brutal 0-8 stretch is over, nothing seems possible.
1997
Record: 68-94
Finished last in the National League Central, 16 games out
Missed out on keeping: Jon Garland! Garland was the Cubs' first-round pick (10th overall) but was traded a year later to the White Sox for reliever Matt Karchner.
It's hard to believe, but there is a low point in Cubs history. And the first 14 games of 1997 are it: The Cubs lose all 14 games.
1998
Record: 90-73
Finished 2nd in the National League Central, 12.5 games out
RIP, Cubbie: Harry Caray dies at the age of 84.
It was a miracle season, from Sammy Sosa's 66 home runs to Kerry Wood's 20-strikeout game to Rod Beck's 51 saves to Kevin Orie's .181 batting average (oops). The Cubs beat the Giants in a one-game tiebreaker to win the wild card. In Game 2 of the NLDS in Atlanta, Kevin Tapani is rolling, two outs from a complete-game, shutout victory ... until Javy Lopez belts one into the left-field seats. Tie game. Aided by an error, the Braves win it in 10 on a Chipper Jones RBI single. A potentially tied series turns into the completion of a three-game sweep two nights later at Wrigley.
1999
Record: 67-95
Finished last in the National League Central, 30 games out
Wait, what happened? With 66 homers in 1998 and 63 in 1999, Sammy Sosa joins Mark McGwire in hitting 60 home runs in consecutive seasons.
Did we mention that Kerry Wood threw 115 or more pitches 12 times as a rookie in '98? The team's high hopes don't last long as Wood, who, in his first spring training start, blows out his arm after 26 pitches and misses the entire season after Tommy John surgery. So much for following up on that playoff berth. And after 95 defeats, so much for the Jim Riggleman era. Pass the hanky.
Futility by the decades: 1909-1919 | 1920-1929 | 1930-1939 | 1940-1949 | 1950-1959 | 1960-1969 | 1970-1979 | 1980-1989 | 1990-1999 | 2000-2007
Research and text by Brett Edgerton, Mark Simon and Jeremy Lundblad of the ESPN Research Department. Additional contributions from Page 2 editors David Schoenfield and Michael Philbrick.