Commentary
A music Q&A with Marquis Daniels
Originally Published:
January 21, 2010
By
Kaitee Daley
| Special to Page 2
Editor's note: Kaitee Daley quizzed Boston Celtics swingman Marquis Daniels about his favorite pursuit outside of basketball -- rap music.
Page 2: How did you first get into rapping?
Marquis Daniels: I think all athletes want to be rappers and all rappers want to be athletes in some kind of way. I started rapping when I was in middle school, just joking around and putting stuff together. … Then I got to college and I started recording on a tape recorder that you're supposed to use for recording a teacher talking in class. … Once I got into Dallas with the Mavericks, I had a studio put up in my house and I recorded a couple of songs in there. Since then, I've put out a couple of mixtapes and recorded some songs with big-name artists … I got one with Trina, a couple of songs with Gucci Mane. He's a real good friend of mine.
[+] Enlarge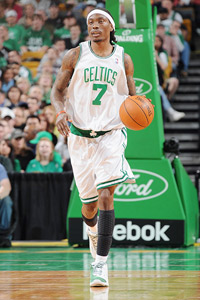 Brian Babineau/NBAE/Getty ImagesMarquis Daniels is more than just a pro basketball player.
Gucci Mane was on everything this past year …
Yeah I've known him for a couple of years now; we recorded two or three songs together. He's made a good name for himself so things are working out for him.
So, if you look at NBA players before who've released songs, there's this perception out there that it's a joke. Why should people take you seriously?
Most NBA rappers talk about ball. When I rap I don't use any basketball synonyms or anything that links me to basketball, because I try to separate it, give you a different side of me. People that know my background and my coming up, they know that my rap is just me. The stuff I rap about is stuff I've either seen, done, or been through. So people can kind of relate to it. I don't just try to talk about cars, clothes, and girls either.
OK, but have you listened to other NBA players' attempts at rapping?
Naw, actually I haven't. I've been hearing that there are some NBA guys who are rapping.
Well there are the veterans like Shaq …
True, true.
Do you think you could take him in a rap battle?
Yeah I think I could. I mean, rapping is just like sports. It's a competition, and everybody wants to be better. So I would love to take someone on.
What would you say if J.J. Redick challenged you?
I'd welcome it. I heard he raps. It's a good hobby for everyone to do. It just shows a different side of you. But it isn't easy, by far.
You're too nice. Now I'm sure your teammates have a lot of personality, but if you could pick one of them to cut something in a studio with you, who would it be?
Probably Tony Allen or Rasheed Wallace. I think Rasheed may have done something before … Tony has heard my music before because he's a huge Gucci Mane fan.
Editor's note: Rasheed did kill beat box-style in this Pistons "Jingle Bells" remix and his dance moves are a must-see.
Did you have any big musical influences growing up?
I listened to everything. I was a really big UGK fan. Hot Boyz, I listened to a lot of those guys even though we're around the same age, but I still liked their music. And Outkast. I mean really, if it was good, I was listening to it.
For people who don't know, how did you come up with your rap handle, Q6?
Q is my nickname. My mom, she used to call me "Quisey" so I just kept that Q, and my basketball number was 6 before I got to Boston.
Do you ever see yourself rapping as a profession?
I'm a basketball player first. I play basketball. But rapping is something fun. It's another passion of mine and it's something that I want to be good at. Who knows, maybe I could do it one day?
Kaitee Daley is an editor for ESPN.com. You can follow her on Twitter at @daleysports.