1. The Immaculate Reception
2. James Harrison's 100-yard interception return for a touchdown in Super Bowl XLIII
3. Ben Roethlisberger to Santonio Holmes: Super Bowl XLIII-winning touchdown
4. Bill Mazeroski's 1960 World Series-winning homer 5. Mario Lemieux scores the winner with 11 seconds left in Game 1 of the '92 Stanley Cup finals
6. Pops Stargell's home run in Game 7 of the '79 World Series
7. Terry Bradshaw to Lynn Swann: 64-yard, fourth-quarter TD in Super Bowl X
8. John Stallworth's 73-yard, fourth-quarter TD catch in Super Bowl XIV
9. Roethlisberger's tackle of the Colts' Nick Harper in the '05 AFC playoffs
10. Troy Polamalu's interception return for a touchdown in the '08 AFC Championship Game
11. Lemieux scores on the first shot of his first shift of his NHL career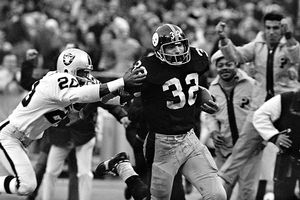 AP Photo/Harry Cabluck
Is there any doubt which play sits atop this list?
12. Tony Dorsett breaks the all-time NCAA rushing record in a '76 game at Navy
13. Bobby Clemente's 3,000th -- and final -- hit
14. Clemente's solo homer in Game 7 of the '71 World Series
15. Mark Recchi's game-winning goal in Game 6 of the '91 Wales Conference finals
16. Lemieux's empty-netter against the Bruins in Game 6 of the '91 Wales finals, sending the Pens to their first Stanley Cup finals
17. Lemieux's split-the-defensemen goal in Game 2 of the '91 Stanley Cup finals
18. Ronnie Francis beats Mike Richter from the blue line in the '92 Stanley Cup playoffs
19. Fast Willie Parker's 75-yard TD run in Super Bowl XL
20. "The Save" -- Frankie Pietrangelo robs Peter Stastny in the '91 Stanley Cup playoffs
21. Lemieux's breakaway goal against the Flyers in the Igloo in the '97 playoffs before his first retirement
22. Jack Lambert throws Cliff Harris to the ground after Roy Gerela's miss in Super Bowl X
23. Danny Marino to John Brown: on fourth-and-5 in the '82 Sugar Bowl
24. Swann's juggling, diving catch over the Cowboys' Mark Washington in the second quarter of Super Bowl X
25. Manny Sanguillen's game-winning pinch hit in Game 2 of the '79 World Series
26. Mad Dog White's second-quarter safety of the Vikes' Fran Tarkenton in Super Bowl IX
27. Antwaan Randle El to Hines Ward: touchdown in Super Bowl XL
28. Jerome Lane breaks the backboard against Providence
29. Max Talbot's game-tying goal and Petr Sykora's overtime winner in Game 5 of the '08 Stanley Cup finals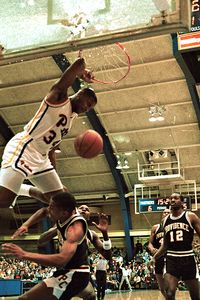 AP Photo/John Zeedick
"Send it in, Jerome!"
30. Lemieux's dominant, late-third-period penalty kill after Troy Loney's five-minute major in Game 4 of the '91 Stanley Cup finals
31. Bradshaw to Swann: fourth-quarter TD in Super Bowl XIII
32. Mark Smith's pinch-hit, three-run walkoff homer clinches Francisco Cordova/Ricardo Rincon no-hitter for the '97 Freak Show Pirates
33. Lemieux scores his fourth goal of the game, in overtime, from his bum in the must-win, second-to-last game of the '88 regular season in Washington (ironically, it was then-Caps defenseman Larry Murphy who took out Lemieux's legs)
34. Norm Johnson's onside kick in Super Bowl XXX
35. Rod Woodson forcing an overtime fumble at Houston in the '89 wild-card playoff game to set up Gary Anderson's 50-yard winner (Myron Cope called it "An Act of Rod")
36. Willie Williams' shoestring tackle of Indy's Lamont Warren on third-and-1 in the fourth quarter of the '95 AFC title game
37. Dave Parker's two putouts from right field in the '79 All-Star Game
38. Petr Nedved's goal in the fourth overtime against the Caps in the '96 playoffs
39. Darius Kasparaitis' series-winning overtime goal against the Sabres in the '01 playoffs
40. Lemieux's goal in his 2000 comeback game against the Maple Leafs
41. Deshea Townsend's pick six of the Cowboys' Tony Romo in '08
42. Jerome Bettis runs over the Bears' Brian Urlacher in '05
43. Carlton Williamson's late-fourth-quarter interception of Penn State's Todd Blackledge seals Pitt's 1980 victory in Beaver Stadium
44. Franco Harris' third-quarter touchdown versus the Vikes in Super Bowl IX
45. Jack Lambert's late-fourth-quarter interception of the Rams' Vince Ferragamo in Super Bowl XIV
46. Glen Edwards' deflected interception of Roger Staubach to clinch Super Bowl X
47. Stallworth turns Bradshaw's short pass into a 79-yard touchdown in Super Bowl XIII
48. Holmes' punt return touchdown versus the Chargers in the '08 AFC playoffs
49. Lemieux's fifth goal in a '93 game against the Rangers draws a standing ovation from Madison Square Garden fans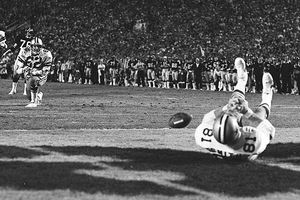 AP Photo/Phil Sandlin
"Bless his heart, he's got to be the sickest man in America."
50. (Four-way tie) Cowboys' Jackie Smith's end-zone drop in Super Bowl XIII / Oilers' Mike Renfro's no-catch in '79 AFC Championship Game / Colts' Aaron Bailey's Hail Mary drop in '95 AFC Championship Game / Colts' Mike Vanderjagt's missed field goal in '05 AFC playoffs
51. Bobby Bonilla starts a bases-loaded double play off the bat of the Reds' Joe Oliver to end Game 5 and keep '90 NLCS alive
52. Francis to Kevin Stevens for overtime-winning goal against the Caps in Game 2 of the '91 playoffs
53. Freshman walk-on Pat Viancourt replaces injured kicker Eric Schubert and boots a 43-yard field goal as time expires to lift Pitt past Syracuse in '83
54. James Harrison's body slam of a Browns fan in '05
55. Billy Owens' interception touchdown clinches the win versus Penn State in '87; JoePa cries about Mike Gottfried celebrating in the pile with the players
56. Richie Hebner's eighth-inning homer off the Giants' Juan Marichal gives the Bucs the Game 3 win in the '71 NLCS
57. Andy Russell's 93-yard touchdown on a fumble recovery against the Colts in the '75 AFC divisional playoffs
58. Swann's 47-yard TD catch in Super Bowl XIV
59. (Tie) Ryan Clark's '08 hit on Pats' Wes Welker / Clark's hit on Ravens' Willis McGahee in '08 AFC Championship Game
60. Mean Joe Greene gives a kid his jersey in exchange for a soda
Dave Dameshek is the host of "Dameshek on Demand" daily podcast, available on Page 2, L.A.'s 710ESPN.com and Pittsburgh's 1250ESPN.com. You can e-mail him at dave@710espn.com.