Commentary
A code of conduct we all should follow
Originally Published:
July 30, 2009
By
Dave Dameshek
| Special to Page 2
With the past two summers' hottest soap opera, "Days of Favre's Lives," now canceled (or at least on hiatus for a few days), football fans now are squarely focused on NFL commissioner Roger Goodell's decision this week regarding Michael Vick's future in the NFL. And while we can debate whether the ruling was too severe (it was), the fact of the matter is, players are employees and, as such, are subject to the rules and regulations set forth by those who write their checks.
FAN CODE OF CONDUCT PODCAST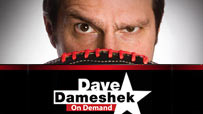 Looking for Dave Dameshek's complete code of conduct? Listen up! Podcast

However, the commissioner went too far last summer with his fan code of conduct. We aren't his employees. Matter of fact, since we're the ones who pay for the tickets, aren't we his bosses on some level? How dare he try to dictate the behavior of fans?
So thanks, Commish Goody-Goody-Dell, but we can handle it ourselves. With the help of my listeners, I hereby present to you a real fan code of conduct, constructed not unlike our nation's constitution: for the fans, by the fans.
Rule 1: A fan may not wear the apparel of more than one team per sport at any given time.
A couple of weeks ago, I had an otherwise delightful visit to Chavez Ravine interrupted by a confusing and disturbing sight -- a guy wearing a Dodgers cap and a Red Sox jersey. What gives? Was he a tourist, picking up some Dodgers gear while also supporting his hometown ballclub? Or was he a hometown Dodgers fan also jumping on the Red Sox Nation bandwagon? Either way, it was unacceptable. For him, and for you. One team per sport. Period.
Rule 2: Rooting for two teams that play the same sport in the same town is strictly prohibited.
This might seem obvious, but there happen to be lots of big-city folk out there who are under the mistaken impression that because their metropolis offers the luxury of choice, they're allowed to simply hedge their bets and cheer on both teams. Of course, "sports polygamy," as Bill Simmons has tabbed this shameful act, is a no-no. A New York baseball fan must choose the Yankees or the Mets and then go about despising the other. Same principle applies for New York-area hoops and hockey fans, Chicago baseball fans, and I suppose L.A. baseball fans (although, to be fair, Anaheim is not L.A., no matter what silly name Artie Moreno gives his team) …
Want to know the rest of the rules? Click the link in the box at the top-right of your screen and listen to Dave Dameshek's special podcast on the topic.