Commentary
Page 2's Trash-talk survival guide
Originally Published:
September 4, 2009
By
Dave Dameshek
| Special to Page 2
Thanks, LaGarrette Blount.
Because of you, our long-awaited glorious first weekend of college football will now be interrupted by puritanical hand-wringing over your punch, what led up to it and what they say about the moral state of 21st-century athletics.
DAMESHEK: COLLEGE FOOTBALL PREVIEW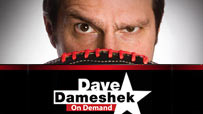 In honor of college football's arrival, Dave lists the reasons why the collegiate game is more enjoyable than the NFL. Dameshek On Demand podcast

And I was so looking forward to some good old X's and O's.
There's no question Blount deserved to get punted for the rest of the season. At least. But please, everybody, let's all take a deep breath before throwing the baby out with the bathwater. Let's just throw out this particular crybaby. Blount got a feelings boo-boo 'cause a big blue meanie named Byron Hout talked a little trash. He reacted badly. It doesn't mean the walls of our society are crumbling.
I don't know about you, but I think sports have been a lot more interesting thanks to trash-talking.
Reggie Miller vs. Spike Lee. Peyton Manning vs. Mike Vanderjagt. Deion Sanders vs. Tim McCarver. Jim Rome vs. Jim Everett. Kobe vs. Shaq. Mike Tyson vs. Lennox Lewis' delicious babies.
We already know the NCAA and its No Fun big brother don't like it. They've been doing everything in their power to rid the world of this scourge. Penalties for unsportsmanlike conduct, excessive celebration and taunting are already in place. If these buzzkills have their way, on some fall Saturday soon, trash-talking and other forms of taunting after a touchdown will result in the six points being taken off the board.
Let's get it over with already and replace human beings with robots. Otherwise, it would be nice if these rulemakers would just ascend to their pristine homes upon Mt. Pious and leave the rest of us down here in the real world alone.
I'm encouraged by modern athletes' ongoing commitment to talking trash here in the increasingly prudish 21st century. However, I'm concerned by the lack of quality.
Even before Thursday night's hullabaloo on the blue turf, there were these:
Boston's newly minted Hall of Famer, Jim Rice, bombed with this crack: "You see a Manny Ramirez, you see an A-Rod, you see Jeter … Guys that I played against and with, these guys you're talking about cannot compare … We didn't have the baggy uniforms. We didn't have the dreadlocks … It was a clean game, and now they're setting a bad example for the young guys."
With all due respect, Jim, maybe it would be best if you just went back to not talking.
Then again, Rice at least deserves credit for going after the archrival Yanks. That's better than the shots John Riggins and Clinton Portis, the first- and second-leading rushers in Redskins history, have been taking at each other.
C'mon, fellas! This is not helping your team make headway in the NFC East. Instead of cannibalizing each other, start trashing some Cowboys, Eagles and Giants. It's not as if they haven't given you plenty of fodder.
Like anything else in life, there's a right way and wrong way to talk trash. Maybe these guidelines will help:
DO mimic sports-movie bad guys; real life isn't nearly as generous to would-be heroes.
Remember the scene in "Hoosiers" when little end-of-the-bench scrub Ollie had to make two free throws to send the Huskers to the Indiana state championship game? You might recall an opposing player stops by to say, "I didn't know they grew 'em so small down on the farm." Ollie, of course, shakes it off and hits both free throws, Jimmy Chitwood hits the buzzer-beater a couple of days later and they all live happily ever after.
If only reality were so kind. Right, Gilbert Arenas? Back in the '06 NBA playoffs, with the Wiz up one in the waning moments of Game 6 against the Cavs, Agent Zero lived down to his nickname by missing both free throws, the second one after LeBron James whispered in his ear, "If you miss both of those free throws, the game is over." Cleveland's Damon Jones hit the game-winner with 4.8 seconds left to end the series, but LeBron deserves a tip of the hat for some well-timed trash talk.
DON'T let your mouth write checks your team's butt can't cash.
It was pretty cool when Jim Tressel, on the night he was introduced to Buckeye Nation back in '01, declared, "I can assure you that you will be proud of your young people in the classroom, in the community, and most especially in 310 days in Ann Arbor, Michigan, on the football field." Probably wouldn't seem all that cool, though, if Ohio State hadn't since won seven out of eight against the Wolverines since that statement.
I'm sure new Tennessee coach Lane Kiffin was hoping for the same effect when he said "I'm really looking forward to … singing 'Rocky Top' all night long after we beat Florida."
Problem is, Lane, you don't have anywhere near the talent Ohio State had when Tressel pulled on his first scarlet sweater vest. Your players are gonna pay big-time for that crack. The only question is, will the Gators back off before hitting triple digits?
DON'T start a fight with a guy who's packing hardware.
During the '96 Stanley Cup playoffs, Chicago's Jeremy Roenick and Colorado's Patrick Roy got into a verbal back-and-forth through the media. Roenick made a crack about Roy "getting his jock out of the rafters" after Roenick scored on a breakaway. Roy shot back with, "I can't hear what Jeremy's saying; I've got two Stanley Cup rings plugging my ears."
Zing! And English is Roy's second language!
Postscript: Roy's Avalanche went on to win the series and the Cup. Roenick just retired after 20 seasons with zero Cups.
DO look over your shoulder before picking on the little guy.
Otherwise known as the Cliff Harris Rule, in honor of the Dallas safety's foolish decision to congratulate Steelers kicker Roy Gerela after his second missed field goal in Super Bowl X. Go to 3:40 in this clip.
Like so many NHLers who have had to answer to goons after picking on a high-scoring pretty boy, Harris was taught a lesson that day.
DON'T motivate a legendary winner to stick it to you.
In other words, choose your target wisely.
In the days leading up to Super Bowl XIII, Dallas linebacker Thomas "Hollywood" Henderson said of Pittsburgh quarterback Terry Bradshaw, "He couldn't spell 'cat' if you spotted him the 'c' and the 'a'." Funny, sure, but Bradshaw went out and threw for 318 yards and four touchdowns. Hey Hollywood, can you spell "dope" if I spot you the "d" and the "o"?
That's two straight pro-Steelers anecdotes. Surely they understand the pitfalls of trash talk, right? I refer you to Anthony Smith, who in '07 guaranteed the Steelers would beat Tom Brady and the Patriots during their 16-0 season. Not only did the Pats thump Pittsburgh, Brady embarrassed Smith several times by throwing at -- and over -- him all game long.
The Steelers, by the by, have since parted ways with Smith.
DON'T talk trash after a preseason game.
It's pathetic. After the Pats-Bengals exhibition game a couple of weeks ago, Chinedum Ndukwe tweeted, "We got a win … brady ate dirt …" Yeah, you sacked Brady. In a meaningless game. C'mon, fella: Raise those personal goals. Between this and "Hard Knocks," it's easy to see why the Bengals are the Bengals.
DO study the masters.
By "masters," I mean "NFL head coaches." I'm not sure why, but these guys are the best trash-talkers in sports. How good are they? I'll even sit through those annoying beer ads with the "hip young dudes" asking questions at a press conference just to hear Jim Mora say "Playoffs?!" for the millionth time. Now that's commitment.
Yeah, NFL coaches are some of the all-time great insulters. Parcells. Ditka. Buddy Ryan. The aforementioned "Diddly-Poo" Mora.
Trying to pick the best of this group is probably as tough as it was for Academy Award voters back in 1994 trying to decide between "Pulp Fiction," "Forrest Gump," "Quiz Show" and "The Shawshank Redemption" (and "Hoop Dreams" wasn't even nominated!). By the way, they got it wrong by giving the Oscar to "Forrest Gump," but I digress.
No such worries here, though. I feel pretty good about my choice. I'm going just slightly under the radar and going with the late, great John McKay, who left powerhouse USC to become the Tampa Bay Bucs' first-ever head coach.
After his team went 0-14 in 1976, McKay said, "We will be back. Maybe not this century, but we will be back and we will be a better football team."
After a loss to the Vikings in '79, he said, "We stunk. We blocked bad. We were terrible on defense, and our kicking game made up for it by being absolutely horrible. I saw nothing that delighted me. We ran on the field fairly well."
After losing on "Monday Night Football" in '80, he said, "We set 'Monday Night Football' back 2,000 years."
Best of all, when asked what he thought about his team's execution, he said, "I'm in favor of it."
Is there a coach out there now who's half that funny?
We need one.
The single best dig I've heard, though, came from the NHL. Devils coach Jim Schoenfeld in the '88 Cup playoffs. New Jersey versus Boston. Schoenfeld caught up with paunchy referee Don Koharski in the hallway after the game to discuss what he thought was a lousy job of officiating. Koharski somehow fell down but thought Schoenfeld had tripped him. He shouted "You're done!" to Schoenfeld, who came back with "You fell, you fat pig! Have another doughnut!"
A masterpiece. The Mona Lisa of trash talk. The Doughnut Lisa?
Koharski was so offended, he and the other officials refused to show up for the next game after the league refused to suspend Schoenfeld. Apparently, former NHL commissioner John Ziegler had a sense of humor.
Which brings me to the bizarre story of Caster Semenya, the South African runner who's been accused of manhood.
There are a lot of strange aspects to the story, but what if she does, in fact, end up being a she? Ouch!
But it's hardly up there among the best gender-based digs in sports history. Bill Parcells once referred to his own receiver, Terry Glenn, as "she." Even better was when then-Laker Shaquille O'Neal called the archrival in California's capital "the Sacramento Queens" and referred to the San Antonio Spurs as "a WNBA team."
All this goes to show trash-talking is ingrained in sports. As Mr. Hout reminded us last night, it can't be repressed.
So please, NCAA, go ahead and punish the puncher, but don't waste your time trying to stop the punchlines.
2009 College Football Preview

Will Florida repeat as BCS champion? Which teams will surprise? Who'll walk away with the major awards? ESPN.com's 2009 college football preview has the answers.
The National Scene
Big 12 Preview
ACC Preview
Notre Dame, MAC & Sun Belt Preview
SEC East
SEC West
Pac-10
Big East
C-USA, MWC and WAC Preview
Big Ten Preview