Commentary
The football season twists and turns
Originally Published:
September 23, 2009
By
Dave Dameshek
| Page 2
I'm sure we've all known the guy who thinks it's necessary to point out that the new girl he's seeing is beneath his standards, for one reason or another. He tells you she's not attractive enough, not smart enough, too crazy, not crazy enough … whatever. Then, two years later, he's engaged to her. Even though you don't bring up his initial comments, you know that he knows that you remember what he said. As a result, he's gotta be feeling pretty guilty, right?
[+] Enlarge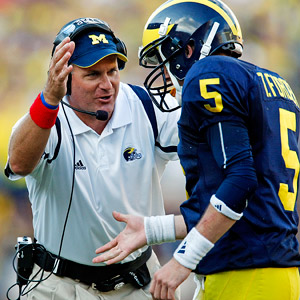 AP Photo/Tony DingRich-Rod was a happy camper after the Wolverines' win over Notre Dame.
Well, that's how Michigan Wolverines fans must be feeling right now. Sure, they're over the moon about their team's being undefeated, ranked in the Top 25 and quarterbacked by a kid who looks better than Ohio State's more heralded signal-caller. What's more, this season could look even better a month from now. If Michigan can win its next four games -- which they'll be favored to do against Indiana, at Michigan State, at Iowa and Delaware State -- it'll set up a titanic clash against No. 5 Penn State. In other words, exciting times for fans of the Maize and Blue.
Only problem is, I would estimate that roughly zero percent of those fans were excited about where their team seemed to be headed about a month ago. In fact, most of them were probably downright outraged. The question wasn't whether coach Rich Rodriguez would be fired, but at what point between Labor Day and Christmas it would happen. If a popularity poll had been taken around the state at that time, he'd have ranked somewhere between Ron Artest and Joey Harrington.
Point is, whether you're talking about your new ladyfriend or newish football coach, be careful what you say. A nagging sense of guilt might get in the way of your ability to enjoy things when you're proven wrong.
Then again …
Maybe those fans weren't wrong. Maybe these early days of the season are just a mirage. Maybe the Wolverines will go into a tailspin after getting upset this weekend by Indiana. (Nah, sorry, just some wishful thinking from a Hoosiers alum.)
Here's all I'm saying: The college and NFL football seasons are still just getting warmed up. It's way too early to look at teams' records and make assumptions about who's good and who stinks. (Well, besides those two NFL teams in Missouri; the Rams and Chiefs both definitely stink.)
The pros have played only 120 minutes so far. Sure, fans of the Saints, Jets and Niners have reason to be excited, but they shouldn't go make flight reservations to Miami just yet. Anybody out there think the Broncos are better than the Chargers, Eagles or Steelers? The standings say they are. Patriots fans need to take a deep breath and stop acting like the apocalypse has arrived. (Although I must say, I was stunned to see Tom Brady -- knee issue or not -- complete fewer than 50 percent of his passes in a game. Move over, JaMarcus Russell, you've got company!)
Football season is like an Adam Sandler movie. You've got a fetching girl-next-door (the Lombardi Trophy), her seemingly perfect boyfriend who ends up being a phony jerk (a team that looks good now but will flop later on), and the flawed-but-loveable hero who wins the girl's heart in the end (the team that wins the Super Bowl).
We're just getting through the opening credits of this season. We don't yet know which teams are the jerks and which teams are the heroes, so I suggest we just settle in and enjoy the show.
On second thought, let's pause the show for a sec while I get a few other things off my chest. I feel another movie analogy coming on …
DAMESHEK: WEEK 2 NFL REVIEW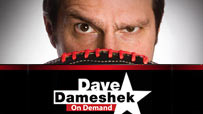 Scouts Inc.'s Matt Williamson joins Dave to discuss all things NFL, including the
2-0 New York Jets and New Orleans Saints. Dameshek On Demand podcast
• Can someone please explain the spell Tony Romo has cast over most of the football-watching media? I get it, his story is like the plot of a feel-good sports movie. (See? Told you.) An undrafted kid from a small college overcomes the odds to wrangle the starting quarterback job for the Dallas Cowboys and a beautiful starlet to boot (yeah, kids, there once was a time when Jessica Simpson was foxy). Problem is, those movies usually have a happy ending. Romo's been the starter since 2005 and still hasn't won a playoff game. To put that in perspective, in 2005 Ben Roethlisberger won his first Super Bowl; Matt Ryan and Joe Flacco were college juniors; and Mark Sanchez redshirted while Matt Leinart led USC to the Rose Bowl (yeah, kids, there once was a time when Matt Leinart was considered better than Mark Sanchez). Four years later, the media still describes Romo as "developing." Is it me, or this is the longest, most anticlimactic movie since "A.I."?
• I like a good joke as much as anyone, but enough's enough with those Oregon uniforms already. Did you see what they were wearing Saturday? I think it's clear that something unspeakably bad happened to Phil Knight when he was a student at Oregon. Now he's carrying out his diabolical plan to humiliate the university more and more with each passing season.
• I might be in the minority on this, but I still love watching an NFL game in September and seeing the dirt baseball infield out there on the gridiron. Only thing better is when it rains.
• One critique for the latest incarnation of "Inside the NFL": Somebody needs to get James Brown a bigger chair. He looks like he's sitting at a kid's desk during an elementary school parent/teacher conference.
• While we're on that show, I miss Harry Kalas. It's sad not hearing his voice over the highlights. I've been watching since the show's very early days, when it was just Len Dawson, Nick Buoniconti and the fantastic NFL Films game footage narrated by the late, great HK. There are almost 7 billion people flapping their gums on this planet, and not one of us has a voice as good as Kalas' or John Facenda's? C'mon, human beings -- someone's gotta speak up and carry the torch!
• Cris Collinsworth was right when he said the NFL should fill all those unfilled stadium seats with kids. The league loves to validate its puritanical no-fun rules by saying it's all about making the right impression on kids. Well then, Goody-Goody-Dell, if you care so much about children, give 'em those empty seats!
• Thank goodness Floyd Mayweather Jr. beat Juan Manuel Marquez on Saturday night -- I don't think I could stomach the idea of urine-drinking's becoming the hip new workout fad.
• Heartbreaking fantasy football tale of the week: My wife was out for a hike Sunday morning while I was home with our 2-year-old and 6-month-old. Here on the West Coast, the games kick off at 10 a.m. By the time I found out Wes Welker was inactive, it was too late for me to bench him in favor of Dwayne Bowe. With his 48 yards receiving and a touchdown, Bowe went for 11 points. My team lost by 10. Sure, I could blame the Patriots for their cryptic abuse of the injury report, or my wife for enjoying her weekend. But no, I blame my kids. Instead of watching the pregame shows, they wanted to paint and eat oatmeal. If I didn't know any better, I'd swear they didn't care about football.
• Please don't come after me for saying this, Rex Ryan, but I'm inclined to side with the 49ers on those Michael Crabtree tampering accusations. How many times can the same guy, Jets GM Mike Tannenbaum, be accused of foul play before we just assume that something fishy is going on in the organization? Maybe some of the gossip about Lindsay Lohan is made-up nonsense, but it can't all be wrong. Know what I mean?
• Most absurd headline I saw online this week, courtesy of CNN.com: "Kid scores 1,019,000 on Guitar Hero." This is CNN? When did they get out of the news business?
• Of all the game-show singers on the face of the earth, why did the Cowboys have Jordin Sparks sing the national anthem at the unveiling of the Jerry Jones Shrine/Stadium on Sunday night? As you probably know, Sparks is the daughter of Phillippi Sparks, former defensive back for the New York Giants (aka the team the Cowboys were playing). Last time she sang the anthem before an NFL game? Super Bowl XLII, when the Giants upset the Patriots. Bizarre choice, Jerry.
• Was it a coincidence that Jeff Feagles, the 43-year-old punter for the Giants, consistently boomed his kicks near that ridiculous scoreboard, while his Cowboys counterpart, Mat McBriar, never came close? I think not. How petrified would you be if you were Mat McBriar? He'll keep those punts nice and low all season long if he knows what's good for him. Hitting that scoreboard with one of his boots would be the equivalent of kicking Jerry Jones right in his plastic face.
[+] Enlarge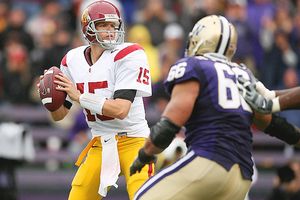 Otto Greule Jr/Getty ImagesPoor Aaron Corp -- will he ever live the Washington game down?
• Since my heart isn't a bottomless well of emotion, I need to figure out which college quarterback I should pity more, USC's Aaron Corp or Michigan State's Kirk Cousins. On Saturday, Cousins had the Spartans at the Notre Dame 18-yard line and in position to either tie or beat the Fighting Irish (and likely end Charlie Weis' tenure there) with just over a minute left in regulation. On first down, he had Larry Caper open -- wide open -- in the end zone, but somehow managed to overthrow him. Maybe the only worse throw I've seen this season came on the next play, when Cousins flipped the ball, jai alai style, to Notre Dame DB Kyle McCarthy. Heartbreaking -- but then again, at least the loss didn't cost Michigan State a shot at the BCS title game. USC's loss to Washington, conversely, probably did, and Corp was the goat. What a miserable few weeks for this kid! Breaks his leg, loses his starting job to Matt Barkley, watches from the sideline as Barkley becomes a USC legend against Ohio State, then goes 0-for-10 on third-down conversions in a loss to Washington. Deep down, he's gotta be rooting for the Trojans to lose again this season with Barkley in there. If they don't, and that one loss keeps the team out of the BCS title game, he'll be remembered by USC fans for a long time, and not in a good way.
(You know what? I've made a decision. I'm not going to pity either of them. They're younger than I am, they're probably getting chased around campus by foxy co-eds and they get to play college football. When's Dameshek gonna get his moment in the sun already?)
• A couple days before watching the Steelers' Jeff Reed and Santonio Holmes share gift-wrapping responsibilities in the Bears' win Sunday, I watched the NFL Network's replay of the last game the two teams played at Soldier Field back in Nov. 1995 (a game, by the way, I attended). A few quick observations:
1. Sunday's game was an inverted copy of the '95 Steelers win. Just as Holmes dropped big passes -- including a touchdown -- that would've put the game away, the Bears' best receiver in '95, Curtis Conway, dropped big passes -- including a touchdown -- that would've put the game away. And just as Reed missed game-clinching kicks he usually makes, the Bears' kicker in '95, Kevin Butler, missed a game-clinching kick he'd usually make. Coincidence? Yeah, probably.
2. Dick Enberg, the '95 game's play-by-play man, mentioned an insane stat: The Bears' offensive line at the time hadn't been called for holding since the previous November. No holding calls for an entire year?! Not one?! Doesn't it seem like every team these days gets called for holding a half-dozen times per game? Amazing.
3. I watched the replay of a 14-year-old regular-season game that I already witnessed in person. What kind of life am I leading? I can hear Corp and Cousins laughing at me right now.
• Move over, Brett Favre. There's apparently a new sheriff in town. His name is Peyton Manning, and he's the subject of the sort of fawning hyperbole traditionally reserved only for Favre. By the end of Monday night's Colts-Dolphins broadcast, I was convinced Manning had defeated the Dolphins all by himself. Were Donald Brown, Pierre Garcon, Reggie Wayne and Dallas Clark even out there? I only vaguely recall hearing their names mentioned during the four-hour Manning lovefest. The weirdest part was, Tuesday morning's "SportsCenter" posed the question, "Which Manning is better?" Listen, if Monday night is gonna be devoted to genuflecting at the altar of Peyton, the next morning can't be spent debating whether he's better than his little brother.
• Which will last longer, the Detroit Lions' longest winning streak this season, or Michael Strahan's new sitcom?
While you ponder that mind-bender, let's look ahead to 10 of this weekend's games:
College Football
Illinois at Ohio State (-14): Time for the Sweater Vest's guys to make their annual run at weaseling their way back into title-game contention.
Fresno State at Cincinnati (-16.5): Two reasons: (1) The Bearcats are for real; (2) by the time this game is played, Fresno State will have traveled from central California to Wisconsin to central California to Cincinnati in 15 days.
TCU (+2) at Clemson: The Horned Frogs have somehow managed to get even less respect than the other good non-BCS teams.
Pitt (+2) at NC State: I keep saying the ACC is worse than the Big East. Time for Pitt to prove me right. (Am I really banking on Coach Wannstache? What's wrong with me?)
Washington State at USC (-45.5): I couldn't pass up the opportunity to take a side in this one. Remember, it's not a 45-point spread; it's 45.5. I'd love to hear the bookmakers' reason for adding that extra half-point in a game they see having more than a six-touchdown margin.
NFL
Titans (+2.5) at Jets: Man, I'm really asking for it, right, Rex?
Chiefs at Eagles (-9.5): Even before the Saints' blowout victory Sunday, I said I wasn't as sold on Philly's D as everybody else. I am, however, convinced of KC's putridity.
Steelers at Bengals (+4): I don't wanna get too crazy about it, but this is the AFC North version of last week's Jets-Pats game. What a validating win it'd be for Cincy's organization.
Packers (-7) at Rams: The two teams' respective results last week threw this number out of whack. Pack wins by double-digits.
Giants (-7) at Buccaneers: Good luck with that top-five pick in next year's draft, Bucs.
Before you follow my advice with those picks, be forewarned: I went 1-4 in college and 2-3 in the NFL last week. It's like choosing to watch Michael Strahan's new sitcom and then complaining you didn't like it. You really have only yourself to blame.
Now, if you'll excuse me, a replay of the Vikings-Oilers game from October 1983 is about to start. Man, I really gotta get a life.
Check out Page 2 Monday through Friday for Dave Dameshek's daily podcast.