Commentary
Where have all the good teams gone?
Originally Published:
October 1, 2009
By
Dave Dameshek
| Page 2
Welcome to October. Things are about to get really good.
In addition to football, we've got the major league baseball playoffs starting next week. The NHL regular season is just getting going. By the end of the month, the NBA will be here, too.
Apologies in advance to my lovely wife -- I'll see you on Thanksgiving.
The humidity is already giving way to nice, crisp air. Soon enough, the leaves will turn from green to glorious shades of orange and gold. Hopefully, the Seahawks' jerseys will follow suit.
It's all part of the best month on the sports calendar.
Unfortunately, an unusually high number of football teams are going to miss the good times. For them, the season's already over.
Championship contenders are vanishing as fast as America's middle class, good sitcoms on network TV and Kevin Federline's ability to see his own feet. K-OverFed, am I right?
Compare the college polls from this season to last. At roughly the same point in '08, you had to go down to No. 14 to find a team with a loss. Four SEC teams, four Big 12 teams, two Big Ten teams and a Big East team all were undefeated, in the mix and chasing undefeated USC.
[+] Enlarge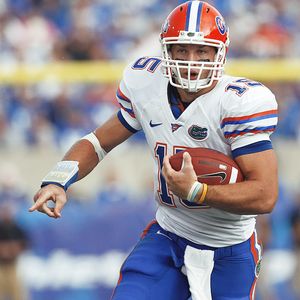 AP Photo/Ed ReinkeFlorida looks pretty strong, but if Tim Tebow doesn't bounce back well, who knows?
This season, Virginia Tech -- the highest-ranked one-loss team -- is all the way up at No. 6. Ahead of them, there's just Florida, Texas, Alabama, LSU and Boise State. And we know the BCS would never allow Boise State into the title game.
For whatever reason, 2009 just doesn't have many good teams still standing. It's like a season of "Survivor" in which almost all the contestants have their torches extinguished before the end of the first episode.
This awful scourge has also afflicted the AFC. Here's something crazy to mull over as we transition into October.
You remember that Denver at Cincinnati game in Week 1, right? The one you knew was going to be lame the second you saw those two garbage teams matched against each other. The one that lived down to those expectations for the first 59 minutes. The one that ended with the Brandon Stokley fluke. Yeah, that one.
Well, that silly, poorly played game is going to end up affecting the AFC playoff picture.
Think about it.
If it weren't for Stokley, the Bengals would be undefeated and tied with the Ravens atop the AFC North. More importantly, the Bengals would hold a two-game lead on the Steelers. As it is, Cincinnati is just a loss in Pittsburgh away from being tied with the defending Super Bowl champs.
What's it matter, you say? You're thinking that, even though they're 2-1, the Bengals aren't really any good. For that matter, neither are the Steelers. Guess what? You're absolutely right. But take a long look around the AFC. I think you'll reach the same conclusion I have. One of those two teams is going to the playoffs -- not because either team is particularly good, but because they're a little less lousy than the rest of the teams out there.
Here's the grim reality just three games into the season. The 0-3 Titans and Dolphins are dead in the water, and the 1-2 Jags and Texans are in deep trouble. All four of those teams were considered to be playoff contenders a month ago.
[+] Enlarge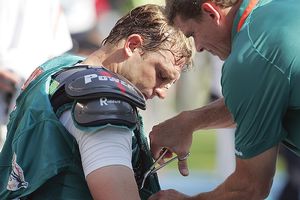 AP Photo/Chris ParkAn 0-3 record, starting quarterback is out for the season -- that's called a very rough start.
So who's still in the picture?
In the East, the J-E-T-S are on the rise. The Jets and Pats will fight it out for the division crown, and the other will get a wild-card berth.
In the South, the Colts will be the only team still playing come playoff time.
The North will go to the Ravens.
And in the West, it will be the Chargers.
That's five teams. The league usually requires six for the playoffs, but maybe this season they ought to just waive that rule, due to rampant mediocrity.
What about the Broncos, you ask?
Listen, I don't mean to marginalize Denver's 3-0 record, but along with that lucky win against Cincy, Denver has beaten Cleveland and Oakland. In other words, the football gods took pity on Josh McDaniels after his rough summer. Don't worry, though. The gods haven't gone soft. They're about to give the Broncos a big slap of reality in the coming weeks. Matter of fact, make that nine or 10 slaps. Look at the rest of their schedule: Dallas, New England, at San Diego, at Baltimore, Pittsburgh, at Washington, San Diego, New York Giants, at Indianapolis and at Philadelphia. They've still got the Chiefs twice and the Raiders once -- but even assuming three wins in those games, the Broncos will be fortunate to avoid having two digits in the loss column by the end of the season.
So who's left? The Steelers and the Bengals.
I guess I'll take the Steelers, under the assumption that the return of Troy Polamalu, and his hair, will get the Steel Curtain back on track. Either way, though, I'm not feeling terribly inspired.
At least we have the NFC, home to the mighty Giants, Saints and … and … the Vikings, with their old QB who falls apart down the stretch? The Packers, who lost at home to the Bengals a couple weeks ago?
Hmm. This is getting depressing. How 'bout we just move on to some other matters:
• T.O.'s streak of 185 straight games with a catch is over. Don't feel bad, though. It clearly didn't mean that much to him. If it did, he would've been willing to take a hit from hard-charging Saints safety Darren Sharper in exchange for the grab. Instead, T.O. did a nice job of acting like the ball was 30 yards over his head … until it landed about two feet to his left. On the bright side, I can't wait to hear how he'll pin this one on the media.
• Hey, have you heard the so-so news?! There's going to be a 35th bowl game next season! Take that, March Madness. Your tournament has 65 measly teams. College football's postseason is going to have a whopping 70 teams. Fine, so 68 of those teams will be playing for absolutely nothing -- but since when did that matter? The newest addition to the bowl mix will be played in the new Yankee Stadium, which actually sounds pretty cool. New York City around the holidays. Football in a ballpark, just like the Giants used to do it in the old Yankee Stadium back in the day. Maybe it'll even snow? How charming. Here's the only problem. The Yankee Bowl will pit the Big East's fourth-best team against the Big 12's seventh-best team. Yuck. Hey, Santa, instead of coal, stuff tickets to that clash of the titans in the stockings of the kids on your "naughty" list.
By the way, typing the phrase "bowl mix" makes me wonder why the Chex Mix people haven't started sponsoring a bowl yet. Makes sense, right? The Chex Mix Bowl. Hurry up, Chex, before Kellogg's or Campbell's beats you to the punch … bowl! Help, I can't stop.
[+] Enlarge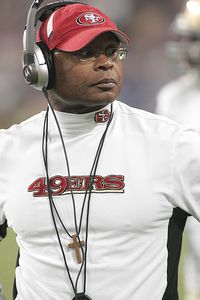 AP Photo/Paul BattagliaYeah, there is a lot going on around there.
• Mike Singletary has the 49ers looking like the class of the NFC West. Sorry, I didn't mean for that to sound like damning with faint praise. I'm just trying to say I think they're legit. One thing, though, Mike: Between the headset wires, stopwatch and crucifix, you've got too much going on around your neck. It's a disaster waiting to happen. Lucky for you, I'm here to help. Just have the equipment manager make you a stopwatch in the shape of a crucifix. See? Problem solved. You're welcome.
• This week's most absurd Top 25 poll rankings: USC and Houston both have gone on the road and beaten teams ranked in the top 10 (No. 8 Ohio State and No. 5 Oklahoma State, respectively). The Cougars are undefeated; the Trojans are not. Why, then, is USC ranked ahead of Houston? Please hold your comments until the end. I'm just getting started. How can Ohio State, which lost at home to USC, be ranked ahead of Iowa, which just beat No. 5 Penn State in Happy Valley? Cal just got embarrassed at home by Oregon. UCLA is undefeated. So why are the Bears still in the Top 25 while the Bruins are on the outside looking in? Oklahoma is 12 spots higher than BYU -- yet BYU beat Oklahoma. Oh, college football, you know I love you, but you're getting tougher for me to defend to the naysayers than hockey.
• Speaking of puck, I'm delighted to have the NHL back. It's going to be tough to top last spring's Stanley Cup excitement, but do yourself a favor and check it out. Lots of great rivalries are developing. Red Wings-Blackhawks, Penguins-Capitals, Crosby-Ovechkin, Bettman-logic … it's gonna be dandy.
• I hope Sunday's practical joke on our eyes was worth it, Seahawks. Mark my words: Your franchise will be the butt of jokes for decades to come. How do I know? Because people still mock the Chicago White Sox for wearing these shorts in a 1976 game. Same goes for Cher after her unfortunate wardrobe choice at the '86 Academy Awards. And unlike you, Seahawks, at least the Sox and Cher have actually won something during their existence. This will haunt you forever, so you may as well embrace it and change your logo to that "Ghostbusters" ghost. He matches the color scheme and everything.
• This week's request to NFL analysts: Please stop referring to Steelers defensive coordinator Dick LeBeau's blitz packages as "exotic." Yes, they've confused quarterbacks for years now (well, not so far in '09, but it's still early). Yes, they're partially responsible for LeBeau's recent nomination for the Hall of Fame. But exotic? No. They weren't concocted with a Sherpa atop the Himalayas, they weren't interpreted from ancient scrolls that had been buried with an Egyptian mummy, and they weren't conceived while chewing ayahuasca on the banks of the Amazon. LeBeau came up with them during his time in Cincinnati. As in, Ohio. So no, they aren't exotic. But the fact that something worthwhile was created in the Land of the Bengals is, indeed, the rarest of discoveries.
• This week's request to NFL marketers: Please stop telling us that Peyton Manning and Eli Manning are brothers. We know. We've absorbed that information. It's amazing. I'm not being snarky, either. It really is amazing. That's exactly the point, though. You need to stop for the sake of Cooper Manning, their older sibling. The guy's got two brothers, and both have been Super Bowl MVPs. I'm sure it'd be fun for one of your siblings to be a rich and famous celebrity, but both of them? For Cooper, it's the equivalent of being born into the "Incredibles" family but not having superpowers. And don't even get me started on Gary Sutter, who had to watch in street clothes while all six of his brothers played in the NHL. Can you imagine what kind of self-esteem issues that poor sap's got?
• If you've watched even one football game this season, you're probably familiar with the Viagra ad that features a middle-aged man watching TV and his wife/ladyfriend reading magazines in their living room. Thanks presumably to the effects of the drug, the guy suddenly perks up and leers across the room at the woman. He walks to the sliding-glass door, opens it and throws the TV remote control out onto the lawn. The wife follows suit, throwing her magazines outside. They proceed to dance, cuddle and commit other suggestive acts that I have no interest seeing gray-haired people engage in.
I don't care about the magazines. But throwing a perfectly good remote on the lawn really makes me mad. For all we know, that poor, innocent remote had to spend the rest of the night out there. And maybe the house had sprinklers on a timer, set to turn on the next morning? And if that's the case, the remote would be ruined. What kind of man would do such a thing? More importantly, what kind of man would write the above paragraph?
Time for some soul-searching, Dave. But before that, it's time for this weekend's best bets:
College Football
Penn State (-7) at Illinois: The Illini are quietly one of the country's biggest disappointments. Good thing "Zook" sounds like an expletive if shouted with the proper amount of outrage.
LSU at Georgia (-2): The Tigers are going to get caught looking ahead to Florida next week. The sad thing is, they're going to get whipped in that game, too.
Florida State (-4.5) at Boston College: The Seminoles' roller coaster should be going up this week, right?
Ohio State (-17.5) at Indiana: Like I said last week, it's that time of the year for the Buckeyes to weasel their way back into BCS contention.
USC (-5) at Cal: The higher-profile games are the ones Coach Carroll almost always wins. Plus, the Trojans will be playing for Stafon Johnson.
NFL
Raiders at Texans (-9): On one hand, it seems plum loco to take Houston giving that many points. On the other hand, JaMarcus Russell.
Giants (-8) at Chiefs: I'm going with the Giants until they prove me wrong.
Buccaneers at Redskins (-7): I'm going against the Bucs until they prove me wrong.
Cowboys (-3) at Broncos: If nothing else, the matchup of Dallas versus the Broncos' quarterback will help wrestling fans fondly recall Cowboy Bob Orton.
Packers (+3.5) at Vikings: Deep down, Favre knows it would be wrong to win this game.
Now, if you'll excuse me, I've got to go spend some quality time with my TV remote.
Check out Page 2 every day for Dave Dameshek's podcast.