Commentary
Another potpourri of pigskin
Originally Published:
October 15, 2009
By
Dave Dameshek
| Page 2
I've watched "Lost" since season one.
I've stood at the craps table in Vegas as night turned into day, trying in vain to convince the dice to work in my favor.
I've tried and tried and tried again to determine how it's possible for Mariah Carey to be the top-selling female recording artist of all time when no one I've ever known has purchased one of her albums.
Point is, I'm no quitter. Even if my chances of solving a riddle are slim, I'll stick it out.
Just five weeks into the '09 NFL season, though, I'm almost ready to wave the white flag. I can't figure it out. Matter of fact, things are getting murkier the further along we go.
Here are the facts:
This past Sunday, Kyle Orton outplayed Tom Brady.
[+] Enlarge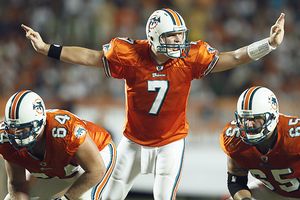 AP Photo/Wilfredo LeeChad Henne has the look of a decisive field general, with the exception of the ridiculous orange jersey.
The Bengals went into Baltimore and out-toughed, outplayed and outscored the Ravens.
The Browns won a game in which their QB went 2-for-17.
The first-place Niners and their Mike Singletary-crafted defense lost at home. By five touchdowns.
On Monday night, Chad Henne looked like Dan Marino.
If the AFC playoffs started this weekend, the Broncos, Bengals and Jets would be division champions.
Thank goodness for the league's crummy teams. At least we can count on the Chiefs, Rams, Browns, Bills and Raiders to provide some consistency.
Even in the realm of laughingstocks, though, there's something strange going on. If we add Carolina, Washington, Tampa Bay and Tennessee to the list of the lousy, there are nine teams which might actually be worse than the Detroit Lions.
So what trends can we point to for some clarity?
Could it be that '09 is more about offense than defense? Makes sense on the surface. Last year's best teams -- Pittsburgh, Baltimore, Tennessee, the Giants and Philly -- all had dominant D's. This season, no one does (although the Giants might change that when/if they get everyone healthy).
Instead, teams which score a whole lot -- Indy, New Orleans, Philly, Atlanta and Minnesota -- look like the favorites. Only problem is, Tuesday Morning Quarterback basically blew that theory to shreds this week. Using statistics and keen analysis over reckless conjecture? Dirty pool, Easterbrook.
We know success is not based on the quality of a team's uniforms. The Colts and Giants have great uniforms, but so do the Raiders and Browns. The Seahawks lost their only game in those grotesque green jerseys, but the Broncos won their only game in their unsightly throwbacks -- which even Dave Winfield would've called garish.
Here's a trend with some potential -- teams coming off their bye went 4-0 this past weekend. The Falcons destroyed the Niners, the Eagles whipped the Bucs, Arizona squeaked past Houston and the Panthers were slightly less crappy than the Redskins. If Chicago, Green Bay, San Diego and New Orleans all win this weekend, we'll know we're on to something. Until then, though, the sample size is a little too small.
The wisest approach is probably to wait a few more weeks before making any determinations about the season. The best prediction is that things are going to change.
At this point last season, the Colts were 2-2, and the Dolphins and Eagles were 2-3. Indy and Miami ended up winning their divisions, and all three teams went to the playoffs. The Broncos, Cowboys, Bills and Redskins were all 4-1. None were playing by the time January rolled around.
[+] Enlarge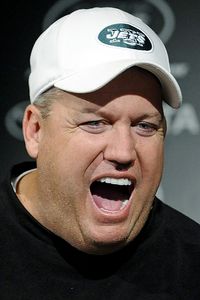 AP Photo/Bill KostrounNot only does Rex Ryan have the Jets in first place heading into a stretch of winnable games, he could also pass for Sam Kinison.
Which brings us back to right now. Setting aside the Colts, who look definitively better than their AFC South foes, and the Giants, who look like the best team in the league, the next three games for other division leaders will clarify whether they're contenders or pretenders.
Here's how their respective schedules look in the short term (from toughest to easiest, with bye weeks removed):
Broncos: at Chargers, at Ravens, Steelers
Saints: Giants, at Dolphins, Falcons
Vikings: Ravens, at Steelers, at Packers
Bengals: Texans, Bears, Ravens
Niners: at Texans, at Colts, Titans
Jets: Bills, at Raiders, Dolphins
All right, so Rex Ryan and "The Sanchise" don't have it too bad, but keep in mind that Tom Brady hasn't hit his stride yet. As for Denver, New Orleans and Minnesota, I wouldn't be surprised if any or all dropped three straight. Would you?
If you answered "yes," I'm guessing you're one of those people who thinks he's got "Lost" all figured out, too.
Here are some other pearls you couldn't possibly live without …
• Heroic, possibly Heisman-clinching effort by Tim Tebow last Saturday night in Death Valley against LSU, but the Gators also would've won with backup John Brantley.
• This Week's Biggest Game Ever (NFL edition) -- Giants at Saints. As our pal Matt Williamson of Scouts Inc. points out, the Saints don't want to go into the Meadowlands for a January playoff game. Conversely, the Giants don't want to play on the fast track of the Superdome with a trip to the Super Bowl on the line. This game will give one of these teams the leg up for the top seed in the NFC.
• This Week's Biggest Game Ever (college edition) -- The Red River Rivalry. Unless you're a fan of chaos, root for Texas to beat Oklahoma. If the Sooners win, the BCS is completely up for grabs.
• Annoying Broadcaster Cliché of the Week -- "This game is gonna come down to execution." Has there ever been a game that didn't? Well, aside from the one Derek Anderson played in last Sunday.
[+] Enlarge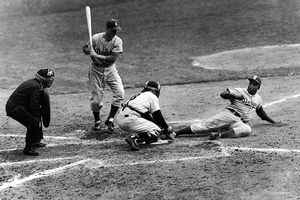 AP Photo/John RooneyYes, this is a football column, but the possibility of a Dodgers-Yankees World Series reminds us of iconic moments, such as Jackie Robinson's steal of home.
• With all due respect to the Phillies and Halos, here's hoping we get the Dodgers and Yankees in the World Series. Torre, Mattingly, Manny, A-Rod, Jeter, L.A.'s young arms, New York's high-priced veteran arms, Vin Scully, Steinbrenner, new Yankee Stadium, old Dodger Stadium. Three words: Ooh. La. La. Best of all, it would solidify these two teams as sports' best championship rivalry (as in: legendary foes that almost never square off unless there's a major title on the line). Right now, the short list looks this:
1. Yankees/Dodgers
2. Celtics/Lakers
3. Steelers/Cowboys
4. Ali/Frazier
5. * Reserved for the Red Wings and Penguins, in hopes they'll meet at least one more time in the Stanley Cup finals
Honorable mention: Borg/McEnroe, Federer/Nadal, Nicklaus/Palmer, Randy Savage/Ricky "The Dragon" Steamboat
• Am I seeing things, or did that green No. 4 on Brett Favre's gold jersey in his jeans commercial disappear?
• All right, maybe it's not particularly amazing that the Vikings' Pat and Kevin Williams play the same position for the same team at the same time but are unrelated -- Williams isn't exactly an obscure name. It does, though, remind me of the fact the Los Angeles Rams used to concurrently have two defensive players, Jack and Jim Youngblood, who were unrelated. During the same era in Cleveland, the Browns had two running backs, Greg and Mike Pruitt, who were unrelated. Want more? Even if you don't, here you go -- the Dallas Cowboys had Drew and Preston Pearson, two skill position players who were unrelated. Why am I the only person fascinated by this?
Fine, I'll just move on …
This weekend's best bets in college football
Cincinnati (-1.5) at South Florida: If any Big East team is equipped to overcome the intimidation of a half-empty stadium that features a toy pirate boat in the end zone, it's the Bearcats.
USC (-10) at Notre Dame: No, I don't think Pete Carroll's Trojans are anything special. Yes, I think Chaz Weis' Irish are lucky to not be under .500 right now.
Miami (-14) at Central Florida: How can Jacory Harris & Friends be ranked behind USC and Ohio State right now? The Canes' only loss was at fourth-ranked Virginia Tech. The Buckeyes lost at home to the Trojans, who lost at Washington. No sense.
South Carolina at Alabama (-17.5): For the second year in a row, no one's talking about the Tide. Makes sense. It's not like they have a winning tradition or play in a good conference.
Oklahoma at Texas (-3.5): Sam Bradford may be back, but he's not gonna be on the field against the Longhorns' offense. How cool would it be if was, though?
This weekend's best bets in the NFL
Let's try out that trend I mentioned earlier about teams coming off a bye. That means …
Broncos at Chargers (-4): I feel very confident about this one.
Lions at Packers (-13.5): This one, too.
Giants at Saints (-3): Hmm … self-doubt is creeping in.
Bears (+3) at Falcons: Uh-oh.
Browns at Steelers (-14): After the huge loss of highly underrated defensive end Aaron Smith, Pittsburgh will hit the field without one of its Pro Bowl-caliber players. The Browns will hit the field with 53 non-Pro Bowl-caliber players.
Check out Page 2 daily for Dave Dameshek's podcast.