Commentary
Urban Meyer, just do the right thing
Originally Published:
October 19, 2009
By
Dave Dameshek
| Page 2
Just to be clear, I don't hate the BCS. At least, not as much as most people.
I still say college football has the most compelling regular season of any sport.
It's just that this season is starting to feel very… familiar. Not that that's always a bad thing. Sometimes you can't beat a rerun. If I'm flipping the channels and come across "Goodfellas," I'm watching until the end, all the way through Henry Hill shutting his front door in Arizona. So what if I've already seen it 142 times? It's a great movie.
Then there's "The Dark Knight." Really good movie the first time I saw it. Sure, the conclusion took too long, was kind of lame, and left some unsatisfying loose ends. I forgave all that because of the swell stuff that preceded it. I was even able to enjoy the movie upon second and third viewings. Now though, I find myself resenting the whole movie because I know how annoying the ending's going to be.
And that's how I'm beginning to feel about college football. Yeah, Saturday was another dandy. I oughta know -- I spent the entire day on the couch watching. But in the back of my mind, I couldn't shake the thought that this season is headed toward a lame, unsatisfying ending that takes way too long to get through.
So instead, here's a fresh final scene -- one I'd like to see play out on the makeshift victory stand of the Rose Bowl on Jan. 7, 2010, just after Florida defeats Texas in the BCS National Championship Game.
---
(Exterior of the Rose Bowl, at night.)
Confetti swirling. Texas cheerleaders weeping. Tim Tebow giving praise to God for liking his team better than the other team.
[+] Enlarge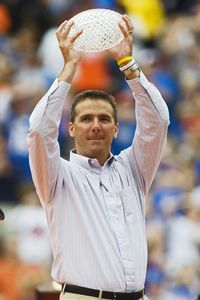 AP Photo/Phil SandlinThrow that trophy on the ground Urban, come on!
The corporate sponsor's blazer-clad rep hands Florida coach Urban Meyer the BCS crystal trophy. The sideline reporter sticks a microphone in Meyer's face. He sops away some Gatorade from his hair and brow, then begins speaking.
Meyer: "I'd like to thank the fans, the voters, and especially the computer programmers who made this possible. I also have to thank Arkansas for giving that game away on our home field back in October. You were very, very generous that day.
"However, as much as winning a second straight national championship means to us, we simply can't accept it in good conscience. Yes, I'm proud of our team, but Chris Petersen at Boise State is proud of his team, too. So is Gary Patterson at TCU. Brian Kelly in Cincinnati. Kirk Ferentz in Iowa. Randy Shannon in Miami. A lot of teams had great seasons, so it just doesn't feel right to put ourselves above them.
"What I'm saying is, our sport needs a playoff system. Any argument in the BCS's favor -- other than one that acknowledges it's the most profitable system for the schools, conferences and bowls -- is just an empty rationalization.
"I'm no Alan Greenspan, but hasn't the lesson of the last year and a half in this country been that maximizing profitability at the expense of all else can lead to disaster?
"So, on behalf of every D-1 football program, for the schools who haven't been given a fair shake, for all that's fair and just, no more national championships will be decided by computers! The tyranny of the BCS ends tonight! (Meyer raises the crystal over his head.) Freedom!"
Meyer shatters the crystal trophy on the ground beneath him and walks off with his chin held high.
The stunned crowd sits silently for a moment. From the last row of the stadium, a lone Gators fan begins clapping his hands slowly. The fan next to him follows suit. Then another fan, and another, until every single person in the stadium is on his or her feet cheering wildly.
And … scene.
---
Ridiculous, you say? Never would happen in a million years? I understand the thinking. There's just too much at stake for a guy like Meyer to take a stand on principle, right?
[+] Enlarge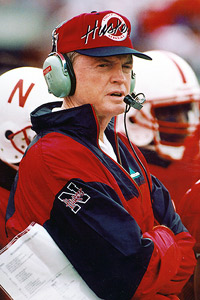 Nebraska/Collegiate Images/Getty ImagesTom Osborne showed tremendous guts back in 1984.
Maybe, but do he and the coaches of this season's other BCS-approved title contenders have to deal with any more pressure than Tom Osborne had on his shoulders a quarter-century ago? Osborne's mighty Nebraska Cornhuskers were No. 1, the nation's only undefeated team, and a prohibitive favorite going into the 1984 Orange Bowl against No. 5 Miami.
Nebraska had been down 31-17 in the fourth quarter, but got to within a point with less than a minute left after Jeff Smith took a fourth-and-eight option pitch from Turner Gill for a 24-yard touchdown. (That's not a misprint -- they ran the option on fourth-and-eight with the season on the line! How cool is that?)
Osborne could've clinched the national championship by just kicking the extra point. (Remember, these were the days before overtime.) His Huskers would've remained the only team without a loss. Instead, he went for two. It failed. A freshman named Bernie Kosar became a legend and launched the Hurricanes dynasty.
So why didn't Osborne take the easy path to what would've been his first national title? After all, back in 1966, Ara Parseghian had his Notre Dame team play for a 10-10 tie at Michigan State and was still rewarded with a national championship.
When asked why he didn't do the same, Osborne said, "I don't think that's the way to do it."
I ask again, how cool is that?
Osborne would have to wait another decade before finally getting that first national championship, but he ultimately defined himself more by choosing not to sit back and allow the system to work to his advantage on that night in Miami. (By the way, when people say the '06 Texas-USC Rose Bowl was the best college football game they've ever seen, I assume they didn't see the '84 Orange Bowl.)
Sometimes you become more legendary for what you don't do. Remember the '99 NLCS? In the 15th inning of Game 5 against the Braves, Mets third baseman Robin Ventura hit a grand slam … except it wasn't a grand slam, because Ventura stopped after rounding first base. Sure, he could've gone down in baseball history as the first player ever to win a postseason game with a grand slam, but it wasn't about that. His team had won the game. And as a fringe benefit, he's now remembered for an even more distinct feat: "The Grand Slam Single."
[+] Enlarge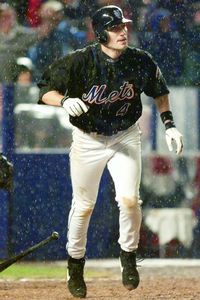 Matt Campbell/AFP/Getty ImagesRobin Ventura stopped at first base, and made the moment even more memorable.
See, Urban? There are plenty of examples of sports figures who've done something bold or selfless -- or both -- for the greater good.
It's hard to come up with a better example than what the football players at the University at Buffalo did back in 1958 when they skipped the Tangerine Bowl rather than play without their two African-American teammates.
Or consider what Joe Kapp did in 1969 -- less significant in social terms compared with what those Buffalo players did, but probably equivalent in terms of team unity. Kapp had been voted the Minnesota Vikings' MVP that season, but refused to accept the award because, by his logic, all 40 players deserved it.
A lot of guys say they couldn't have done it without their teammates, but how many of them actually leave the hardware on the podium?
Another good awards-related one for you, Urban: Ving Rhames was great in the title role of "Don King: Only in America" but almost no one would remember that he won a Golden Globe if he'd just collected his gold statue, thanked his agent, and walked off the stage. Instead, he created a moment by which all other acceptance speeches are judged. (Sorry Kanye, you took a good run at the title, but no dice.)
And speaking of taking a run at the title, the BCS formula has now informed us that Florida's got the inside track to Pasadena.
No offense to the Gators, but here we go again. Another exciting season boiling down to the lamest conclusion imaginable, a computer-generated championship game.
So soulless. So unfair. So familiar.
But since my opinion doesn't matter, it's up to you, Urban Meyer. If you find yourself holding that crystal football late at night on Jan. 10, do the right thing. Smash it.
Make like Tom Osborne and go for it. Ving it.
Like The Joker says in "The Dark Knight," "Introduce a little anarchy. Upset the established order."
What? I said I liked the movie the first few times I saw it.
Check out Page 2 daily for Dave Dameshek's podcast.