Commentary
Bring back the old bowl system, please
Originally Published:
October 26, 2009
By
Dave Dameshek
| Page 2
I wouldn't be surprised if I'm named Father of the Year.
This Sunday, I skipped watching my beloved Pittsburgh Steelers host the undefeated Minnesota Vikings so that I could go to a Halloween carnival with my 2½-year-old daughter.
If I do win an award, though, I'll have to share it with TiVo. See, TiVo allowed me to record the game and watch it -- without commercials! -- when we got back from the shindig.
It's the latest example of why I'm in favor of progress.
Without progress, I wouldn't have real-time updates on my fantasy teams, caller ID, or salt-and-vinegar kettle chips. Thanks to progress, we've got radio shows on TV, TV shows online, and movies on our phones.
The Wright brothers did their thing at Kitty Hawk in 1903. A little more than 100 years later, taking a flight is as easy as stowing yourself away in your father's experimental weather balloon. (Or is it?)
Point is, progress is good.
Sometimes, though, through trial and error, it becomes clear that well enough should've been left alone.
Bruce Jenner's face proves that.
So does Jay Leno's 10 p.m. show.
And so do the AFL throwback uniforms we're seeing this season. Anyone with two eyes and an ounce of fashion sense knows the more modern unis are inferior to the retro getups. (And yes, I'm including the Broncos' brown-and-mustard ensemble -- it took a second viewing, but I really dig those earth-toned threads.)
I assume you saw the first two "Terminator" movies. Computers of the near future turn evil and destroy us. The message is, there can be such a thing as too much progress. "The Matrix" delivers the same lesson. You think Schwarzenegger and Keanu would make all that up? Don't be silly.
Now, it's time for college football to acknowledge its computers are evil and in the process of destroying things. The old-school approach worked just fine. Sorry, I'm not going to argue here for a playoff system. For all the greed-based reasons that have been detailed ad nauseam, it ain't gonna happen any time soon. We're stuck with the polls.
No problem. I can play it your way too, BCS. You like rankings? I've got your rankings right here.
Dave's Top Five Days on the Sports Calendar to Spend in Front of the TV:
1. Saturday and/or Sunday of the NFL divisional playoffs
2. The first Thursday of March Madness
3. MLB's Opening Day
4. NFL draft Saturday (time will tell how the move to Thursday night affects my opinion)
5. Brett Favre's annual retirement announcement
Unfortunately, the day that used to rank above all of those no longer exists. Or at least it's been so diminished it's hardly recognizable.
New Year's Day.
Until the powers that be "fixed" things, Jan. 1 was the crown jewel on my sports calendar. Five games, perfectly distributed throughout the day, played by arguably the 10 best college football teams in the country. No dead weight anywhere on the schedule.
[+] Enlarge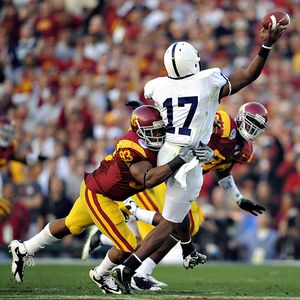 AP Photo/Mark J. TerrillThe Rose Bowl is still played on New Year's Day, but the other big games are spread out on the calendar.
It was the athletic Advil for the hangover caused by the previous night's festivities -- the pigskin Paxil for the depression brought on by realizing your holiday vacation is just about over.
The Fiesta Bowl served as a zesty appetizer, two potent teams shooting it out in the desert.
An hour or so later, the Cotton Bowl kicked off in Dallas, pitting the Southwest Conference champ (was it always Texas, or did it just seem that way?) against another top-quality foe.
Next came the Rose Bowl. Big Ten champ versus Pac-10 champ. Midwest versus West Coast. Corn-fed brawn versus suntanned flash. More often than not, it was USC, UCLA or Washington versus Ohio State or Michigan.
And then it was time for a prime-time doubleheader. The Orange Bowl featured the Big Eight champ (read: whoever won that season's Oklahoma-Nebraska game) versus a mighty team like Penn State, Notre Dame or Miami.
At the same time, 700 miles to the northwest, the SEC champ battled another top team in the Sugar Bowl.
When those five games were finished and you put your head on the pillow, you always knew who the national champion was.
Well, almost always. Once a decade or so, two teams would share the title. So what? The BCS system hasn't silenced those teams that think they got jobbed. At least with the old system, it was all wrapped up in one day. Now the bowl series lingers on and on pointlessly, well past its welcome. Like Dick Cheney.
I know they still play games on New Year's Day, but the matchups are generally underwhelming -- I'd rather watch the NHL outdoor snow bowl. It used to be that getting an invitation to a New Year's Day bowl had cachet. It was a huge achievement. Now it's a consolation prize. Matter of fact, every bowl game -- other than the BCS Championship Game -- is about nothing more than the paycheck.
If USC and Iowa are playing in the Rose Bowl presented by Citi on Jan. 1 instead of the Citi National Championship Game in the Rose Bowl a week later, they'll both be disappointed. The rest of us will just be confused.
Is this what the BCS shysters call progress? I'll tell you one thing I won't call it: entertaining.
Please just give me back the old system. If you do, I promise Jan. 1 will be a treat for every college football fan. Here's how it would look this year:
FIESTA BOWL: (Note: No sponsorship names will sully the lovely simplicity of the bowls' monikers here.) LSU vs. loser of USC-Oregon
COTTON BOWL: (Because I'm going back to the old way, the conferences will return to their old constructs, too.) Texas vs. loser of Florida-Alabama
ROSE BOWL: Winner of USC-Oregon vs. Iowa
ORANGE BOWL: Oklahoma vs. Cincinnati
SUGAR BOWL: Winner of Florida-Alabama vs. TCU
All right, so maybe you're underwhelmed by the prospect of seeing the Gators go up against the Horned Frogs. Think of it this way, though -- TCU is a school with zero recruiting clout and no recent winning track record, but they'd be getting a shot at the national title against one of the big boys.
Now that's progress.
Check out Page 2 daily for Dave Dameshek's podcast.