By Kieran Darcy
Page 2
NEW YORK -- It was a Super Sunday of sorts in New York City yesterday. You had the Yanks and Red Sox renewing their rivalry in the afternoon. Later on, the Knicks and Nets squared off in the NBA playoffs. But a few hundred fans spent their sports day somewhere else, starting in the a.m., at the Theater at Madison Square Garden.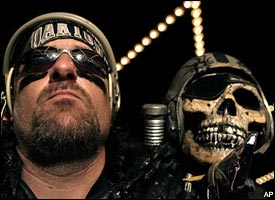 Giving new meaning to the term Draft diehards.
The day before, a few thousand fans packed the Theater for Day 1 of the NFL Draft, many spending several hours on line outside that morning to get one of the 4,000 free tickets being distributed. They saw star players, like Eli Manning and Kellen Winslow, get chosen and pose with their new uniforms. But on Sunday, Day 2, when rounds 4 through 7 take place, only the true draft diehards were in attendance.
Rick Smith was one of them. For the past five years, Smith and some college buddies from Boston have spent a spring weekend in Manhattan attending the draft. On Saturday they stuck around at Madison Square Garden for almost every pick, before finally leaving around 9 p.m. to grab a decent dinner. On Sunday they were back at MSG at 10 a.m., right after breakfast, an hour before Day 2 even began. The vibe inside the Theater on Sunday was rather bizarre for a sports event. It was eerily quiet for the most part, except for this subdued buzz that seemed to permeate the room, as fans held discussions with one another. Groups of them were scattered all over -- the only section that was packed was the one right in front of the cameras and the ESPN television set. Practically half the fans were wearing jerseys -- lots of Tom Bradys and Michael Vicks, and even some old school ones like Warren Moon's Houston Oilers uniform. And many guys (and the crowd was almost exclusively guys) were reading newspapers or programs.
Smith had on a pair of black sweats to go along with his black No. 97 jersey -- Kendrell Bell's of the Pittsburgh Steelers. Although he now calls East Charleston, Vermont home, Smith grew up in Pittsburgh and remains a serious Steelers fan. But this was far from his normal Sunday attire -- Smith actually serves as a pastor at a local church in East Charleston.
This Sunday, his mind was on other matters. He had his official NFL Draft transistor radio on, with a single earphone planted in his left ear. He had his Cool Ranch Doritos and his Cheez-Its nearby. And he was clutching his clipboard all day long, reading up on players in his program and keeping track of the picks.
"I actually like Day 2 better," Smith said. "The pace is quicker. There are more surprises. And there are guys picked that most people have never heard of or seen play. And it's fun to root for the underdogs like that."
Each team got a maximum of five minutes to make their selections on Day 2. There were only rare moments when the crowd showed any real excitement -- like when ESPN analyst Mike Golic started stuffing whole Krispy Kreme donuts into his mouth. Or there was the sarcastic roar when the final score of an NFL Europe game between Amsterdam and Frankfurt was announced. The hometown Jets and Giants selections usually elicited a few cheers. But many of the 159 picks that were announced Sunday drew no noticeable reaction.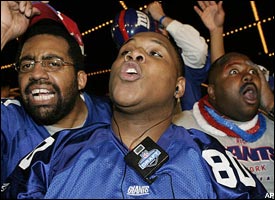 Giants fans always know when the camera's on.
In fact, the fans seemed to only get really worked up when the director behind the TV camera told them to do so. But Smith wasn't concerned with this at all. Even while some of his buddies were being interviewed for ESPN2's "Cold Pizza," Smith remained focused on his clipboard, often squinting at it and scribbling in his program.
After all, the draft is a culmination of a full year of research for Smith. He's an amateur draft guru that follows college prospects all year long. In fact, he and his buddies have a mock draft contest on Day 1 every year, in which they try to predict what players will be selected in the first two rounds. The winner each year has their name added to a plaque that they bought, and get to keep it for the next year, Stanley Cup style. And Smith will be taking home that plaque for the second time this year.
"This is definitely the highlight of our year," Smith said. "It really separates the true fan from everyone else. The average fan would be bored out of his skull here. But we love it. And hey, it's free! Although we would definitely pay to get in if we had to."
The fact that Smith won the mock draft contest came as no surprise after observing him on Sunday. Even when his beloved Steelers were on the clock and made their selections, he usually just continued to squint at his clipboard and take notes. Meanwile, some of his buddies spent much of the day playing spades with a deck of cards on top of a cardboard box.
His friends would come to him for analysis. After the Steelers' 7th-round pick, their final pick of the draft, was announced -- Eric Taylor, a defensive tackle from Memphis -- one friend called out to Smith, "Hey, do we know anything about this guy? Is he a true tackle, or is he more likely to play on the end?"
Smith had Taylor's info at his fingertips in just a couple of seconds. "Well, he's 6'2", weighs 302. But his 40 time's pretty slow. So, not sure what he can do."
Overall, Smith was very happy with the Steelers' draft picks this year, particularly their first-round selection. "Things broke our way," he said. "Now we've got our quarterback of the future in Ben Roethlisberger. I'm very excited."
Smith and his buddies stayed for every last one of the 159 picks made on Sunday -- Smith analyzing his info packet to the very end. The Oakland Raiders owned the 255th and final pick. As their five minutes on the clock ticked down, Smith finally stood up -- partly for being stiff, partly in anticipation. The last pick in the draft every year is named Mr. Irrelevant -- and along with that comes a week-long celebration in Newport Beach, California, complete with a trophy and a parade in his honor.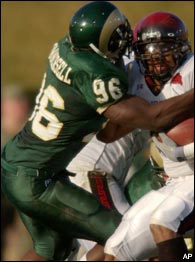 Andre Sommersell (left) received one of the louder cheers on Day 2.
"If I was gonna be drafted, that's where I'd want to be picked," Smith said to his friends while they waited. "Dead last. Mr. Irrelevant!"
Smith and his crew try to predict who Mr. Irrelevant will be every year, just for fun -- but they've never gotten it right. The Raiders used all five minutes at their disposal. The crowd that remained -- a couple hundred people or so -- seemed to be itching to go home, and counted down the final few ticks on the clock in unison. Finally, 77-year-old Paul Salata, the creator of Mr. Irrelevant, and last year's title holder, Ryan Hoag, made the announcement.
This year's Mr. Irreleveant? Linebacker Andre Sommersell of Colorado State. "Get ready for the biggest week of your life," said Salata.
Smith yelled, "Yeah!" and pumped his fist in the air -- the most emotion he'd shown all day. And then, suddenly, it was over for another year. After 16 hours and 29 minutes of "action" over two days. Smith picked up his trash, packed up his bag, and strapped it across his shoulder.
But he lingered, looking around at the empty stage for a moment. He'll have a long wait until his favorite sporting "event" comes around again. But he's got something to look forward to. When the seventh round began, they gave out "Day 2 Diehard" forms to all the fans that had stuck around that long. Those fans fill them out, and the NFL mails them two reserved tickets for the 2005 Draft, so they're guaranteed seats.
You can bet Rick Smith and his buddies will be there.
You can e-mail Kieran Darcy at kieran.d.darcy@espn3.com.