By Kieran Darcy
Page 2
Conference play is about heat up, and everyone is wondering how the nation's top teams will fare once they begin facing conference foes on a regular basis.
But let's take a little different approach: I took a look back to see which major-conference teams had the worst pre-conference season. I picked one team from each of the big six conferences (ACC, Big 12, Big East, Big Ten, Pac-10, SEC).
ACC: Virginia (5-4)
Bad losses: Fordham, Arizona (by 30)
Best win: Northwestern
Big 12: Missouri (5-4)
Bad losses: Sam Houston St., Davidson
Best win: Northwestern St.
Big East: South Florida (6-6)
Bad losses: Florida International, Texas A&M-Corpus Christi, Bethune-Cookman
Best win: Georgia Southern
Hey, college hoops fans ...
Want to contribute to the College Hoops Report Card? Send your questions, and nominations for the subject categories, here.
Big Ten: Purdue (6-4)
Bad losses: Evansville, Loyola-Chicago
Best win: South Alabama
Pac-10: Stanford (4-5)
Bad losses: UC Irvine, Montana, UC Davis
Best win: Denver
SEC: Mississippi St. (9-3)
Bad losses: Northwestern St., SE Louisiana
Best win: Charlotte
And the "winner" is … the Stanford Cardinal. I didn't pick this list based on disappointment -- if so, I would probably have gone with Miami (Fla.) instead of Virginia in the ACC, for instance, since I expected a lot more from the Hurricanes. The fact is, Stanford has three really bad losses.
But beyond that, Stanford is the biggest disappointment on this list. None of the other five teams were expected to make the NCAA Tournament. But most people, including myself, thought Stanford had enough talent to make a decent run in the Big Dance.
Now it needs to regroup -- and it can. That's the great thing about this time of year. It's not too late.
PHYS. ED.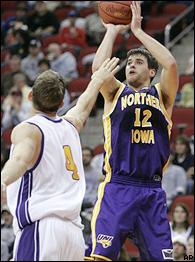 AP
Ben Jacobson hopes to shoot Northern Iowa past the first round of the Big Dance.
The 2004 NCAA Tournament: No. 3 seed Georgia Tech leads No. 14 seed Northern Iowa, 63-60. Fifteen ticks left on the clock. Northern Iowa has the ball. The team's best 3-point shooter is sophomore guard Ben Jacobson -- but he's struggled all game, shooting just 2-for-13 from the field. Still, he gets the ball and fires an off-balance 3-pointer from the corner with the clock winding down. "It felt good the whole way," says Jacobson.
The shot hit the back rim and bounced off. Northern Iowa went home. Georgia Tech moved on, eventually to the national championship game.
Last season, the Panthers had another close call in the Tournament, losing to Wisconsin in the first round, 57-52. "I definitely look back, and think about the what-ifs," says Jacobson. "We had opportunities to win both those games. But I get a lot of confidence from coming so close."
This season, the Panthers hope to get over that hump -- and they're off to a 10-2 start, including wins against Iowa and at LSU. If they do, Jacobson will be a big reason why. The 6-foot-3 guard from Sioux City, Iowa, the preseason Missouri Valley Conference player of the year, leads Northern Iowa at 14.7 points per game. This past week, Jacobson led the Panthers with 21 points in a win over Dayton, and 23 in an overtime loss at Bradley.
Jacobson worked hard this offseason on his game, especially his ballhandling and his strength. But his scoring is actually down a bit from a year ago, when he averaged 17.9 ppg. "He's a marked man," says coach Greg McDermott. "I've been trying to let the game come to me," says Jacobson. "Teams are putting a lot of their attention towards me, but that's fine. My teammates have done a good job."
Last season, the Panthers were 21-11, and got an at-large bid coming out of the much-improved Missouri Valley Conference. This season they've got all five starters back, and the plan is to earn an automatic bid. But even if they don't, they'll likely be back in the Big Dance. And they'll be dangerous.
Oh, and one more thing.
More College Hoops
Check out ESPN.com's College Hoops index for everything you'd want to know about the game.
"There are several players across the country who say they want the ball in their hands when the game is being decided, but some are really fearful of it, afraid to fail," says McDermott. "Ben is not. He prepares for those moments. When the game is on the line, he wants the ball, and he shines the brightest."
Now he just wants one more shot in March.
SCIENCE

I'm not a big fan of
John Calipari
's substitution patterns, and the way he yanks kids in and out of games sometimes. But you've got to give him credit for a move he made in Memphis' win over Gonzaga Tuesday night. Adam Morrison was dominating the Tigers -- 34 points midway through the second half. Clearly something needed to be done … if anything could be done?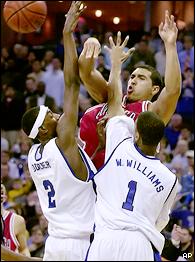 AP
Memphis' swarming defense gave Gonzaga fits at times.
Besides the fact both teams were ranked in the top 10, another reason Gonzaga-Memphis was such a hyped game was because it would feature a matchup between Morrison and Memphis' Rodney Carney. Carney had already shut down Duke's J.J. Redick, holding him scoreless in the second half in Memphis' three-point loss to the Blue Devils. But Calipari eventually decided to switch things up, and had freshman Shawne Williams guard Morrison, even though Williams had three fouls. The 6-foot-8 Morrison had been doing a lot of his damage inside -- Williams (6-foot-9) has a couple extra inches on the 6-7 Carney.
The gamble worked. With the help of some double-teams, the Tigers held Morrison scoreless over the final 9:31 of the game (a pretty remarkable feat, if you've been watching Morrison light it up all season). And Memphis went on to score a huge victory.
MATH

I woke up at about 8 a.m. Thursday morning, and, as usual, began reading recaps of the college hoops games from the previous night. When I saw this score, I jumped out of bed, with a big smile on my face.
Carnegie Mellon 51
Princeton 46
Forgive me for taking pleasure in another team's pain. But I know pain. I was courtside at the Palestra on that fateful night in Febraury of '99, when Princeton came back from a 40-13 deficit with just over 15 minutes to play to beat my Penn Quakers, 50-49 -- one of the greatest comebacks in NCAA history.
It's been a long season for Princeton already. The Tigers are currently 2-8. They lost to Monmouth 41-21, tying the mark for the lowest team-point total since the 3-point shot was introduced in 1986. But losing to a Division III team is an all-time low point for the program -- it had never lost to a D-III team in 27 previous matchups.
And I mean no disrespect to Carnegie Mellon, or Division III as a whole, where there is some high-quality basketball played. And Carnegie Mellon is undefeated (10-0), and ranked No. 22 in the D-III national poll.
Nevertheless, this is an embarrassing loss for Princeton -- at home, to a D-III team that hadn't played a game in 17 days. For that, I've got to give the Tigers an F.
It's probably the first one they've ever received.
LANGUAGE

After Marco Killingsworth shot 9 for 10 from the foul line in Indiana's 73-55 win over Butler last Friday, Indiana coach
Mike Davis
said: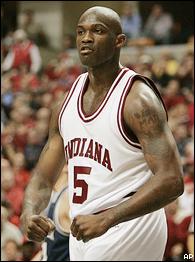 AP
Doesn't Marco Killingsworth look a little like Shaq?
"Dang. I guess we can't call him Shaq anymore."
Davis said this because Killingsworth came into that game shooting just 54 percent from the line. But I found the quote amusing because, in many ways, Killingsworth reminds me of Shaq -- as much as a left-handed player five inches shorter than Shaq can. And not because of his free-throw shooting. Killingsworth has a huge upper body, and he's so adept at using his muscle to score inside.
But Davis is right. You can't call him Shaq, because Killingsworth can actually step out and shoot the 3 on occasion. He's already made three treys this season, in eight attempts. Shaq did not attempt a 3-pointer in three seasons at LSU. And he's only 1 for 20 from downtown in the NBA. He made the only 3-pointer of his career way back in the 1995-96 season, with Orlando.
RECESS
Thoughts from games I watched this past week:
• I did watch some of the Louisville-Detroit game on Christmas Eve. Detroit's a pretty decent mid-major team, but I still wasn't too impressed with the Cardinals' 56-48 victory -- they shot only 37.8 percent from the field. They'll need to be a whole lot better when they host Villanova next Thursday.
• With no college hoops games on Sunday or Monday, I had to resort to watching a little NBA action -- including Knicks-Nets on Monday night (yes, sadly, I'm a Knicks fan). But it was fun to watch Nate Robinson again -- he scored a season-high 21. He was a dynamic college player to watch and it looks like he's turning into a pretty fun pro, too.
• It kind of scares me that I watched Adam Morrison put up 34 points on Memphis in the first 30 minutes Tuesday night, and I wasn't jumping out of my chair. He's just been so good that I'm starting to get used to it.
• Gonzaga and Memphis are both definitely Final Four contenders -- but Memphis is so much more athletic, and it shows particularly on the defensive end. The Tigers are incredibly talented, but their youth remains a question mark. Right now, I'd say Gonzaga is a safer pick to reach the Final Four, because of Morrison and its experience. But the Tigers may be the better choice to win the national championship, because if they get on a roll, watch out.
HISTORY

The last time
Memphis
hosted a game between two top-10 teams was during the 1985-86 season, when the No. 9 Tigers knocked off No. 5 Kansas 83-80 in OT. But what I found more interesting was the last time Memphis played any game against an opponent also in the top 10 was during the 1995-96 season, when the No. 3 Tigers fell to No. 1 UMass, 64-61, in the old Atlantic-10 Conference USA Challenge. Marcus Camby had 23 points for the Minutemen, outplaying Memphis big man Lorenzen Wright (who now plays for the Memphis Grizzlies).
You know where I'm going with this one. That UMass team was coached by none other than John Calipari. Calipari, with a little help from Camby, led that team to the Final Four. Ten years later, he may be returning.
ART

On Tuesday night, Syracuse played Towson. Not at the Carrier Dome. And not at Towson (which is located in Maryland, for those who don't know). They played the game in Wilkes-Barre, Pa. -- approximately 150 miles from Syracuse, and 175 miles from Towson, Md. (thanks, MapQuest!).
Why? Jim Boeheim scheduled the game there so his star senior, Gerry McNamara, could play in front of his hometown crowd one more time. McNamara hails from nearby Scranton, and is hugely popular in the area.
Scheduling itself is an art form in college basketball. But scheduling a game to honor a senior is an especially beautiful one. You can chide Boeheim all you want for his penchant for not scheduling his team to leave the state until January (and this was the Orange's first game outside of New York). But he deserves a high-five for this one.
And McNamara put on a good show, with 20 points, seven assists and five steals in an 86-52 victory.
ENGLISH

In honor of Bucknell's trip to Cameron Indoor Stadium this coming Monday, this week I'm recommending you pick up
"The Last Amateurs: Playing for Glory and Honor in Division I College Basketball"
by John Feinstein.
Feinstein spent the 1999-2000 season chronicling the Patriot League, one of the least-heralded conferences in D-I hoops. I'm biased, coming from a school that plays in a similar conference, but this book is a great read. And the Patriot League has represented itself quite well in NCAA Tournament play the past few years. Holy Cross made the Big Dance three straight seasons, from 2001-03. In '01 they lost a heartbreaker to No. 2 seed Kentucky 72-68. In '02 they hung in before losing to Final Four-bound No. 1 seed Kansas 70-59. And in '03 they lost another thriller to another Final Four-bound squad, No. 3 seed Marquette (led by Dwyane Wade) 72-68. And last season Bucknell got over the hump, shocking No. 3 seed Kansas in the first round.
Bottom line is, you'll enjoy the book. And enjoy watching Bucknell try to knock off the nation's No. 1 team.
CLASS PARTICIPATION

Well,
last week's poll
went pretty much how I expected -- more than 55 percent of you were most excited to watch the NFL on Christmas Eve, with the "A Christmas Story" marathon coming in a distant second. But what disappointed me was that Louisville vs. Detroit, the only college hoops game of the day, finished dead last. Yes, the Nevada-Central Florida Hawaii Bowl turned out to be a thriller, and maybe most of you don't have the ESPN Full Court package -- but c'mon people, this column is for college hoops fans!
That said, I'll give you another chance this week. New Year's Eve is Saturday. And it's a huge sports day. You've got two NFL games: Denver vs. San Diego (neither team is playing for anything) and the Giants vs. the Raiders (Oakland's out, Giants are in, just playing for seeding). You've got three college football bowl games, but they feature only one ranked team (TCU), and none are huge games.
You've also got eight NBA games, highlighted by Pistons vs. Cavs. And you've got 10 NHL games, highlighted by Kings vs. Stars (I know nothing about hockey, I just picked the matchup featuring the teams with the most combined points).
But best of all, you've got a veritable cornucopia of excellent college basketball games. LSU-Ohio St. Arizona-Washington. Cal-UCLA. Villanova-Temple. Alabama-Oklahoma. Wisconsin-Pitt. St. Joe's-Gonzaga.
So what are you going to watch this New Year's Eve? Vote in the poll at the top-right of this page. You know what my answer is.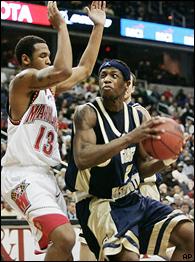 AP
GW knocked off Maryland -- can they beat another ACC squad Friday night?
And remember, please do send me questions for next week's column, or nominations for the different subject categories. You can e-mail me here. Now, here are a couple of the questions I received in the past week:
If GW can win at N.C. State on Dec. 30, what are we to think of GW? Are they the '04 St. Joe's of this season?
-- Aaron, Arlington, Va.
A win at N.C. State would be big -- because the Colonials only have one quality win so far, against Maryland, and N.C. State is off to a great start too. Is George Washington an NCAA Tournament team? Absolutely. Will it win the A-10? Most likely. But GW is not as good as St. Joe's was two years ago, and they won't stay undefeated nearly as long.
Which Big East team is in the most trouble because of its expansion?
-- John, Seaford, N.Y.
I wouldn't say the expansion hurts any one team the most. But I think it will definitely hurt schools like St. John's and Seton Hall that are trying to rebuild their programs. They are just going to be buried near the bottom of the standings by all the top-flight programs ahead of them, and they will have a tough time even qualifying for the Big East tournament. That won't help in recruiting -- it'll just make it more difficult to improve the perception of the program.
HOMEWORK ASSIGNMENT
Two fantastic doubleheaders to watch this week -- one a pair of intriguing non-conference matchups, the other a pair of pivotal early conference matchups:
Texas at Memphis (Monday, 2:30 p.m. ET, ESPN): Daniel Gibson vs. Darius Washington. Need I say more?
Bucknell at Duke (Monday, 4:30 p.m. ET, ESPN): Unless you're a Duke alum, how could you not root for the Bison in Cameron?
Villanova at Louisville (Thursday, 7 p.m. ET, ESPN2): I expect this game to be in the high 80s -- and for the Wildcats to snag a huge win.
Michigan St. at Illinois (Thursday, 9 p.m. ET, ESPN2): To all you angry Illini fans who e-mailed me this past week -- yes, I know your team is outstanding at home. And I still think the Spartans will win. Should be a great game, no matter the outcome.
Happy New Year!
Kieran Darcy is an editor at ESPN.com and a contributor to ESPN The Magazine. You can e-mail him at kieran.d.darcy@espn3.com.