By Kieran Darcy
Page 2
Thursday was one of the biggest holidays of the calendar year: Groundhog Day. Inspired, I decided to come up with my own top-10 list of best animal team nicknames.
A quick aside: It's amazing how many D-I teams are named the Tigers, Panthers, Wildcats, Cougars, etc. No generic nicknames made my list. Nor did any teams from the top major conferences in the country -- that's just no fun!
So, without further ado, here's my list, in alphabetical order by school -- and please vote in the poll to your right for your favorite!
* Campbell Fighting Camels (Camels fighting ... do camels fight? How?)
* Canisius Golden Griffins (Has the head, forepart and wings of an eagle, and the body, hind legs and tail of a lion -- sounds very cool, although it's just mythical.)
* Coastal Carolina Chanticleers (Chanticleer is a fancy name for a rooster.)
* Delaware Fighting Blue Hens (Blue hens are my favorite.)
* IPFW Mastodons (Looks something like a mammoth elephant -- gets extra points for being extinct.)
* Marshall Thundering Herd (Sounds much more intimidating than just "Buffaloes.")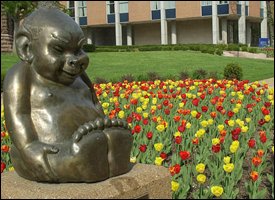 AP
That's a Billiken statue at St. Louis. Cute, ain't it?
* North Florida Ospreys (A large fish-eating hawk -- I think I've seen these in Red Lobster.)
*St. Louis Billikens (Is a Billiken an animal? Seems no one's really quite sure what it is. What the heck, I like it.)
*UC Irvine Anteaters (Might be the scariest-looking animal around.)
*UMKC Kangaroos (A great nickname for a basketball team, isn't it?)
Incidentally, the team on this list with the best record this season is UC Irvine, at 12-9. The team with the worst record is North Florida, at 5-15. Overall, these 10 teams are 81-120 on the season. Seven out of the 10 have losing records. Maybe it doesn't pay to have a cool nickname, huh?
By the way, there are two D-I Seahawks squads -- UNC-Wilmington (17-6) and Wagner (10-8) -- but no Steelers.
And, somewhat surprisingly, no Groundhogs.
PHYS. ED.

LSU coach John Brady calls
Darrel Mitchell
the "Silent Assassin." But Mitchell's play has been quite loud of late. This past week, he led the Tigers with 28 points in a 79-73 win at Ole Miss and 27 points and 8 assists in an 84-69 win over Auburn. In those two games, he shot 16-for-23 from the field, made 7 of 11 3-point attempts and sank all 16 of his free throws.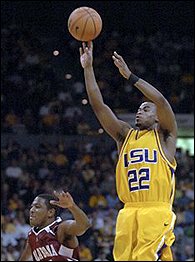 AP
Darrel Mitchell has been unstoppable for LSU the past couple weeks.
On the season, the 5-11 senior from St. Martinville, La. is second in the SEC in scoring, averaging 18.4 points per game, and tied for fourth in the SEC in assists at 4.8 per game. And with Mitchell leading the way, LSU (15-5) has quietly rattled off seven wins in a row, making it the last unbeaten team in SEC play.
"Darrel's just been outstanding," Brady says. "He's playing a position he's barely played since high school, and he's blossomed into as good a point guard as there is in our league."
Mitchell's only manning the point instead of the two-guard position because junior Tack Minor was suspended for the first semester for violating the school's honor code, then tore the meniscus in his left knee in his third game back -- he's out for the season. But Mitchell has been able to find a good balance between passing and scoring. Watching lots of game film has helped, as has the guidance of his father, Darrel Sr., who was also his high school coach.
"You have to reverse your scoring mentality and focus more on getting your teammates involved," Mitchell says. "But it's really fun. I'm really comfortable there."
What the Tigers aren't comfortable with is the lack of national recognition they are receiving. Despite the winning streak, and the spotless SEC record, LSU wasn't even ranked in the ESPN coaches' poll this past week (the Tigers were ranked No. 24 in the AP poll). That might have something to do with their five nonconference losses, but they are worth a closer look. Those five losses were to Houston, to Northern Iowa, at Cincinnati, at Ohio State and at UConn -- by a combined 11 points. They lost by a single point at No. 1 UConn. They also own a win at West Virginia, a game in which Mitchell scored 26 points and hit the game-winning 3 in overtime.
Hey, college hoops fans ...
Want to contribute to the College Hoops Report Card? Send your questions, and nominations for the subject categories, here.
"Yeah, we feel we aren't getting enough respect," Mitchell says. "But we use that as motivation. If we keep winning games, the recognition will come."
Mitchell didn't always speak so strongly. The reason Brady calls him the "Silent Assassin" is because he used to be very quiet on and off the court, content to let his game do the talking. But this team features three freshmen in the starting lineup, and Mitchell is the only senior on the roster. He knew he'd need to be a more vocal leader this season -- and he has done just that.
But Brady still pegs that nickname on him. When Mitchell heard that Thursday, he chuckled, then said, "He called me that the other night. I like it. It's a nice little nickname."
The Silent Assassin's a nice little player, too.
SCIENCE

I have mixed feelings on the moves of Boston College coach
Al Skinner
in the second half against Duke on Wednesday. On the one hand, I give him credit for keeping his players' heads in the game after they fell behind 61-43 with less than 13 minutes to go. And, I like that he didn't take out Craig Smith and Sean Marshall when they picked up their fourth fouls at the 7:43 and 5:44 marks, respectively -- even though both eventually fouled out pretty early. BC was in the middle of its comeback run, and he didn't mess with that momentum.
More College Hoops
Check out ESPN.com's College Hoops index for everything you'd want to know about the game.
I also didn't mind the Eagles going for the quick two points when they were down 79-76 with 21 seconds to play. But they should have been able to keep the ball out of J.J. Redick's hands on the ensuing inbounds play. And the second time they were down by three, 81-78, with 14 seconds left, I would have run a play for a 3-point shot. Yes, Tyrese Rice got fouled by Shelden Williams on his drive to the basket -- it should have been called. But it leaves such an empty feeling in your stomach when you don't at least get off one tying attempt.
MATH

Talk about a turnaround: On Wednesday, Temple defeated UMass
76-47
-- just 11 days after UMass defeated Temple
60-34
. That's a 55-point swing.
That 34-point total on Jan. 21 was Temple's lowest since 1973 -- and it occurred on coach John Chaney's 74th birthday. But he had to be pleased with his team's effort Wednesday night. And he also must be happy to see his Owls heating up after playing their brutal-as-usual early-season schedule.
Temple has won three straight since the no-O loss to UMass, also including wins over Xavier and Maryland. At 12-7, 5-3 in the conference, the Owls are back in the thick of the race for second place in the A-10 behind George Washington.
LANGUAGE

After Memphis defeated Tulsa 84-61 Wednesday, Memphis coach
John Calipari
said, regarding Rodney Carney (according to The Associated Press):
"I know J.J. Redick is good and I know [Adam] Morrison is good, but you've got to have him in the same breath. ... Neither one of those two are athletic like him. He shoots the ball the same as they do. His numbers are the same for his career."
Carney does not shoot the ball the same as Redick and Morrison. I'll let their numbers this season do the talking: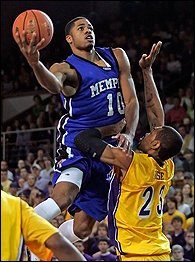 AP
Rodney Carney's a better athlete -- but he's not a better college player than Redick and Morrison.
Redick: 27.8 ppg, 50.4 FG%, 44.6 3P%, 86.7 FT%
Morrison: 29.0 ppg, 52.4 FG%, 41.8 3P%, 78.5 FT%
Carney: 18.2 ppg, 45.3 FG%, 41.8 3P%, 66.7 FT%


Nor do Carney's numbers stack up over the three players' careers:
Redick: (4 seasons) 19.2 ppg, 43.3 FG%, 40.7 3P%, 92.0 FT%
Morrison: (3 seasons) 18.7 ppg, 51.4 FG%, 34.7 3P%, 76.4 FT%
Carney: (4 seasons) 14.1 ppg, 41.5 FG%, 36.5 3P%, 70.9 FT%
I do not think Carney deserves to be mentioned in the same breath as Redick and Morrison if that breath is spent contemplating the national player of the year. Memphis-friendly critics might counter that Carney scores his 18.2 ppg in only 25.7 minutes per game while Redick and Morrison average over 36 minutes per game. I would counter: If Carney's that good, why doesn't he play more minutes?
I'm not basing my argument solely on the numbers, anyway. I've watched all three players play quite a bit, and I think Redick and Morrison are clearly a cut above. Is Carney the most athletic of the three? Absolutely. Is Carney the best defender of the three? Probably -- although Redick's defense is underrated. But Redick and Morrison are having better seasons. They've had better college careers. And with the game on the line, I'd rather have either of those two take the big shot.
RECESS
Other thoughts from games I watched this past week:
• I thought Pitt might get blown out of the state of Connecticut by the Huskies on Tuesday. I've overestimated the Panthers the past few years, but was very impressed Pitt hung so tough. Looks as though I underestimated them this season.
• Looked like a great atmosphere at Boston College for the Duke game, but I think Doug Flutie is haunting me. I'll confess: I've never been a big fan. But every time I think I won't have to deal with him anymore, he does something like drop-kick an extra point or appear on camera every 10 seconds during a college hoops game.
• Stanford has shown a lot of guts getting back in the Pac-10 race. First the Cardinal snagged that win over Washington, then they staged another great comeback at Oregon on Thursday.
HISTORY

Earlier, I mentioned Temple scoring just 34 points in its loss to UMass on Jan. 21 -- Temple's lowest point total since 1973. This week, I learned what happened in Temple's previous low-point game. On Dec. 15, 1973, Temple lost to Tennessee,
11-6
.
The most detailed article I could find about this game is this one. The short version is that Temple was playing at Tennessee in the Volunteer Classic and Temple coach Don Casey thought his team's best chance to win was to stall (the shot clock hadn't been introduced yet). Tennessee was content to sit back in a zone defense. Thus the extremely low score. In fact, it was the lowest-scoring major college game since 1938.
Apparently, the Vols even played an intrasquad scrimmage after the game so the angry crowd would get to see a real game. Pretty wild stuff.
ART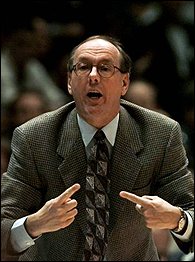 AP
Ahh, the good ol' days.
Syracuse is celebrating the 25th anniversary of the Carrier Dome this season. As part of that celebration, Wednesday night was "Dress Like Coach Boeheim Night" -- fans were encouraged to come to the Orange's game vs. Rutgers dressed the way Boeheim would have back in 1980. That meant, chiefly, wearing a hideously plaid sports jacket.
I'm dishing out an A to anyone who did it -- I love that look. Unfortunately, Boeheim dresses a little better these days. I flipped over to that game specifically to see the fans' attire -- and I'm glad I did because I got to see some of Quincy Douby's 41-point effort for Rutgers (a Carrier Dome record), and the great finishes to regulation and overtime. It was a huge win for Syracuse -- perhaps one that will save its season. I just can't believe the Orange won it on a 3-pointer from Terrence Roberts!
ENGLISH

When thinking about Temple scoring only 34 points, I can't help but wish I could have been a fly on the wall in the Temple locker room after that one. I'll admit, I'm a big John Chaney fan. I'll never forget getting to attend
one of his legendary early-morning practices
a few years ago -- where I couldn't help but be impressed by his basketball knowledge ... and chuckle at the verbal jabs he hit his players with.
Thus, I'm recommending "Chaney: Playing for a Legend" by Donald Hunt, with Aaron McKie and Eddie Jones. Bet you like Chaney a whole lot more after reading this one.
CLASS PARTICIPATION

Last week, 56.7 percent of you sided with me, preferring the old-school Big East over the brand-new Big East. Honestly, I thought that percentage would be a little larger.
I've already mentioned this week's poll up top -- remember the mascots? -- so let's move on to this week's questions. Remember, please send me questions for next week's column, or nominations for the different subject categories, here.
"Can my Wolverines of Ann Arbor keep up their Big Ten-leading pace?"
-- Graham, Lansing, Mich.
Michigan will make the NCAA Tournament for the first time since 1998. And I think it has enough talent to make a run to the Sweet 16. It is currently tied with Illinois and Iowa for the Big Ten lead at 6-2. But I wouldn't pick the Wolverines to win the regular-season title. Their remaining schedule -- particularly their final four games (at Michigan State, vs. Illinois, at Ohio State, vs. Indiana) -- is extremely tough.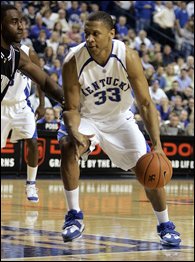 AP
Randolph Morris has definitely helped Kentucky since his return.
"After watching Kentucky storm back from an 18-point deficit against a tough Arkansas team, and Randolph Morris being a key part of that comeback, I ask you if Kentucky has reestablished themselves as a Final Four contender with Morris inside?"
-- Brian, Pittsburgh
Brian, Kentucky is not a Final Four team. But at least the Wildcats look like an NCAA Tournament team again. They've won five straight, but they really need at least a split in their next two games (at Florida on Saturday, vs. Tennessee on Tuesday) to keep the momentum going. If they lose both, I could see another tailspin happening.
HOMEWORK ASSIGNMENT
UConn at Indiana (Saturday, 1 p.m. ET, CBS): The Hoosiers have been so hot and cold ... but if they're hot, they can beat the Huskies.
Oklahoma at Kansas (Sunday, 1 p.m. ET, CBS): Who cares about Steelers-Seahawks? I'm more excited about Sooners-Jayhawks. (But check your local listings -- at least in the Northeast, CBS will be showing Army-Navy instead.)
Duke at North Carolina (Tuesday, 9 p.m. ET, ESPN): Very curious to see whether the young Tar Heels can hang with the Blue Devils. At home, I think they can.
West Virginia at Pittsburgh (Thursday, 9 p.m. ET, ESPN): The hoops edition of the "Backyard Brawl" is a pivotal Big East matchup.
Kieran Darcy is an editor at ESPN.com and a contributor to ESPN The Magazine. You can e-mail him at kieran.d.darcy@espn3.com.