By Kieran Darcy
Page 2
On Monday night, after their game against Texas-Pan American, the Texas A&M Corpus Christi Islanders' season will be over. The players will file out of the American Bank Center, then wake up the next morning with nothing to look forward to but next season.
Most likely, they'll have won that game Monday night. Meaning they'll have finished 20-8 for the second consecutive season. Pretty good record, right? Wondering how come their season is ending on Feb. 27? Why no postseason? Why no March Madness?
'Cause Corpus Christi's got no conference.
College basketball is one of the few places where it sucks to be independent. Texas A&M Corpus Christi has been on its own since it began Division I play in 1999. Coach Ronnie Arrow started the program from scratch -- the school didn't even have a team before that. "We had no offices, no basketballs, no pens, no pencils," Arrow says. "We didn't even have a mascot."
But the Islanders -- so named because the school actually is located on an island -- have done pretty darn well for an independent. They've posted three winning seasons in a row. And if they win Monday night, they'll become the first independent team since Notre Dame in 1989 to post back-to-back 20-win seasons.
AP Photo/Tony Avelar
Cedric Smith and the rest of the Islanders hope to soar to new heights next season. (AP Photo/Tony Avelar)
If you've heard of them, it's probably because of their success last season, when they had wins against ACC (Florida State), Big 12 (Baylor) and Conference USA (TCU) opponents. This season, they came up just short at Missouri and at Houston, although they did score a victory against a Big East school (South Florida). The toughest part is scheduling the bigger programs -- the Islanders can usually hold their own in the games. "We don't get the respect a lot of other programs get, as an independent," junior guard Josh Ervin says. "But once we step on the court, we feel we can compete with just about anybody in the country."
Next season, Texas A&M Corpus Christi will finally get a chance to compete in a conference -- the Southland Conference has accepted them into its fold. And with just one senior on the roster, almost everyone on this year's squad will get to enjoy that experience. "We're really excited," Ervin says. "We really feel that we can compete pretty well in the Southland next year."
But for now, the Islanders are just about done. They'll continue to practice right up until Selection Sunday -- with the slimmest of hopes the NIT committee might call. But realistically, their next game's not till November.
And what they're really looking forward to is next March.
PHYS. ED.

Albany entered Division I the same year as Texas A&M Corpus Christi, in 1999. But the Great Danes are a lot closer to making their March Madness dreams come true, thanks in large part to
Jamar Wilson
.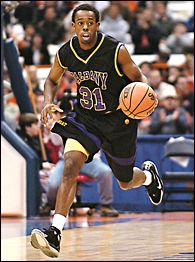 University at Albany
Jamar Wilson hopes to lead Albany to its first Big Dance. (University at Albany)
Wilson, a 6-foot-1 junior, is averaging 17.9 points, 4.8 rebounds and 3.9 assists per game this season. This past week, he scored 28 in a 70-67 BracketBusters loss at Virginia Commonwealth, 21 in a 76-64 win over Vermont and 13 in a 78-71 overtime loss at New Hampshire. The Great Danes are 17-10 (12-3) and already have clinched a share of the regular-season America East title and the top seed in the league's postseason tournament.
Wilson hails from the Bronx, N.Y., but played his high school hoops at a nationally prominent school on Long Island. Albany coach Will Brown recruited him extremely hard, and Wilson signed with the school before his senior year. His senior season, bigger programs like Pepperdine and San Diego started coming after him -- but Wilson didn't budge.
"I wanted to stick with my decision," Wilson says. "Coach Brown talked to me about starting something new at Albany and being a building block. I really wanted to be a part of it."
"We got lucky," his coach says.
Brown was also lucky that the America East accepted Albany so quickly -- the Great Danes began play in the conference in the 2001-02 season. That helped Brown recruit more talented players. But Wilson has been Albany's biggest star, particularly on offense. He loves to drive to the basket, but you also have to respect his 3-point range. And he's deadly from the foul line. "He's just a playmaker," Brown says. "He can make something out of nothing, and he'll get you a bucket when you need it."
Hey, College Hoops Fans...
Want to contribute to the College Hoops Report Card? Send your questions, and nominations for the subject categories, here.
Albany will need a few more key buckets from Wilson to get where it wants to go -- its first NCAA Tournament. The Great Danes' best finish before this season was 13-15, a year ago. But they're the favorites now. It'll help that they'll host the America East championship game if they make it that far. And it'll help to have the ball in a player like Wilson's hands with the game on the line.
"When we turn 40 or 50, I want to be able to look back and say that we went to the tournament and we were the first ones," Wilson says.
A few folks down in Corpus Christi, Texas, just might be watching.
SCIENCE

In George Washington's 77-65 win over La Salle on Wednesday, Pops Mensah-Bonsu, GW's second-leading scorer, twisted his left knee late in the first half. And GW coach
Karl Hobbs
never brought Mensah-Bonsu back in the game, even though it was tight for a good portion of the second half. Hobbs made the right call. The Colonials have plenty of scorers. A loss would have ruined their perfect Atlantic 10 record and could have significantly impacted their NCAA seeding. But it was better to play it safe and determine the extent of Mensah-Bonsu's injury before playing him again.
More College Hoops
Check out ESPN.com's College Hoops index for everything you'd want to know about the game.
Turns out Mensah-Bonsu tore cartilage in that knee and is out for the rest of the regular season and possibly for the conference tournament.
MATH

In its 60-58 loss to Syracuse on Monday, West Virginia took 33 3-point shots (and made 12). That number's rather high -- but not shocking, as the Mountaineers are averaging 28.9 3-point attempts per game this season, second most in the country behind Troy.
What's startling is the number of free throws West Virginia shot against Syracuse: Zero. In fact, it was the first time in Carrier Dome history a team didn't shoot a single free throw in a game.
Yes, this was a game between two zone-playing teams, and not many fouls were called (Syracuse only shot seven free throws). Nevertheless, the Mountaineers need to find a way to get to the foul line more. They're shooting 74.5 percent from there this season -- 28th nationally -- and they need to keep defenses honest by attacking the basket and getting fouled from time to time. Otherwise, defenses are just going to gang up on them on the perimeter.
LANGUAGE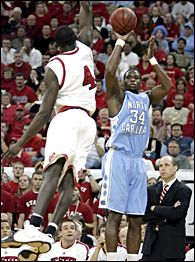 AP Photo/Chuck Burton
David Noel's not surprised his Tar Heels are playing so well. (AP Photo/Chuck Burton)
"We know what we lost, and we know what we have. I knew the caliber of players we had left on this team."
That quote's from North Carolina swingman David Noel, after his Tar Heels crushed NC State 95-71 in Raleigh on Wednesday. Give Noel and Carolina credit. Not many people, myself included, thought UNC could be this good this season. Roy Williams' blend of unheralded veterans like Noel and Reyshawn Terry and young talent like Tyler Hansbrough has produced great results. The Heels have a good shot at finishing second in the ACC, and will be a pain in the neck come tournament time.
RECESS
Other thoughts from this past week:
• I've admittedly got a soft spot for mid-majors, so Bucknell-Northern Iowa was one of my favorite games of the season. Bucknell blew the game, but I really hope both teams make the NCAA Tournament.
• I also must admit -- I'm hooked on "Knight School."
• I always tune in to watch a little figure skating come Olympics time. I remember actually getting nervous for the skaters when I was younger, afraid they would fall. Now I derive a little too much pleasure from seeing their butts hit the ice. Not sure what that says about me. But I'm sure I'm not alone.
HISTORY

Texas Tech guard Jarrius Jackson scored 41 points in a 70-64 win at Nebraska on Saturday. Jackson was just two points away from tying the single-game scoring record in the Bob Devaney Sports Center -- set in 1991, by none other than USC's
Harold Miner
.
Miner entered my mind again during the NBA Slam Dunk Contest on Saturday night, for obvious reasons -- "Baby Jordan" won the Slam Dunk title in 1993 and 1995. Miner averaged more than 20 points per game in each of his three seasons at Southern California, including 26.3 ppg in 1991-92. He was selected by Miami with the 12th pick in the 1992 NBA draft, and he posted averages of 10.3, 10.5 and 7.3 points per game in his three seasons with the Heat. He was then traded to the Cavs, playing just 19 games with Cleveland before being released. That was the end of his NBA career. Miner will turn 35 years old this coming May 5. C'mon, somebody pick him up!
Click here to go back in time and watch a couple of Baby Jordan's best highlights.
ART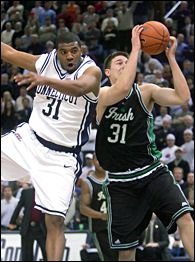 AP Photo/Bob Child
The black uniforms weren't lucky for long for ND. (AP Photo/Bob Child)
I must admit, I've never been a big fan of black uniforms. And I'm not too fond of the black uniforms Notre Dame debuted Saturday against Seton Hall. The Fighting Irish, who have lost so many close games this season, beat the Pirates -- so they decided to wear the black uniforms again Monday night against UConn. ND guard Colin Falls said the black duds were lucky. Well, apparently not -- because the Irish lost another heartbreaker to the Huskies, 75-74 in OT.
Notre Dame has lost 11 games this season by a grand total of 44 points -- only a 4-point margin per defeat. Perhaps black is the most appropriate color to wear after all.
ENGLISH

This is the last report card for February. We're all itching to get to Championship Week and Selection Sunday and to fill out our brackets. Can you imagine life without March Madness? It hasn't always been this way. And a new book,
How March Became Madness:
How the NCAA Tournament Became the Greatest Sporting Event in America, details how the Big Dance came about, including why a game between Houston and UCLA in the Astrodome in 1968 was so important.
CLASS PARTICIPATION

Last week I wrote about
how "disappointed" I am in J.J. Redick
that he has let his free-throw percentage slip this season. To all the readers who wrote me outraged about my stance -- I was
kidding
! Can't believe you went for that.
Redick, without question, would get my Player of the Year vote right now. In last week's poll, 72.4 percent of you said you are not disappointed in Redick. Good job. To all those who voted that you are disappointed in him -- I'm just going to chalk that up to Duke hate.
On to this week's poll question: Would you rather see more mid-majors in the NCAA field of 65, or more major conference teams? Please vote at the top right of this page.
Remember, please do send me questions for next week's column or nominations for the different subject categories. You can e-mail me here.
The question supply was kinda poor this week -- c'mon, people, you can do better.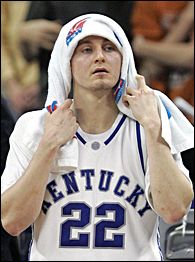 AP Photo/David J. Phillip
Patrick Sparks will be pretty blue if Kentucky doesn't go dancing. (AP Photo/David J. Phillip)
With Kentucky and Louisville struggling, do you think that Western Kentucky could be the only team from the state to make the NCAA Tournament, and could they be the best team in Kentucky?
-- Charles, Hancock County, Ky.
Don't forget Murray State (20-6, 16-3), which has already clinched the Ohio Valley regular-season title. Odds are there will be more than one team in the field from Kentucky. Western Kentucky certainly has a good chance to come out of the Sun Belt -- and the Hilltoppers might be the best team in the state this season. But don't rule out UK -- the Wildcats aren't out of the mix by any means, although the final three games of their SEC schedule are very tough (at LSU, at Tennessee, vs. Florida).
Wouldn't it be ironic if Kentucky guard Patrick Sparks didn't make the Big Dance in his senior season -- after transferring from Western Kentucky?
A curling report card? As those Guinness ads would say, "Brilliant!" If people in the U.S. can love golf, they can get into this sport of strategy and incredible skill. You have no idea how hard it is to throw a 42 lb. "stone" so that it stops where you want it to until you've tried it. And that's not even including putting spin on the stone and curling it around other stones. Well done! I hope curling gets more PR in the U.S.
-- Louis, Evanston, Ill.
Again, nothing against curling, but I was kidding about the Curling Report Card!
HOMEWORK ASSIGNMENT
Kansas at Texas (Saturday, 9 p.m. ET, ESPN): Basically the Big 12 regular-season title game.
Villanova at UConn (Sunday, 2 p.m. ET, CBS): We're spoiled getting to see this matchup twice in less than two weeks.
Pitt at West Virginia (Monday, 7 p.m. ET, ESPN): A big game for seeding purposes in the Big East Tournament.
UCLA at California (Thursday, 10:30 p.m. ET, check local listings): The top two teams in the Pac-10 do battle.
Kieran Darcy is an editor at ESPN.com and a contributor to ESPN The Magazine. You can e-mail him at kieran.d.darcy@espn3.com.